human rights campaigners lose supreme court appeal over northern ireland's abortion laws on a legal technicality
But judges still found that the current Northern Irish abortion law violates human rights.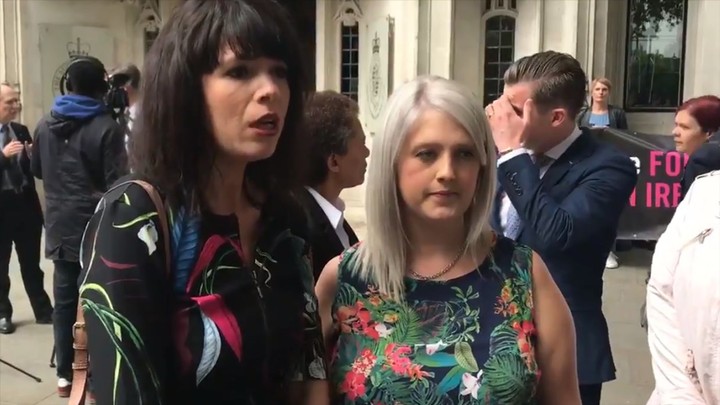 Photo via Amnesty Int'l NI, Twitter.
Human rights campaigners face a heavy blow today after losing a UK Supreme Court battle which sought to prove that Northern Ireland's current abortion laws are in violation of human rights.
The appeal, which was brought to the Supreme Court by the Northern Ireland Human Rights Commission, argued that the existing law in the province -- which still lists having an abortion as a criminal offence punishable with up to 14 years in prison -- was in direct contradiction with human rights laws when it comes to the issues of fatal foetal abnormality and sexual crimes. But the case was defeated on a technical legal point, concerning whether the issue had the required standing to come to court in the first place.
The legal technicality focuses on the requirement for a case to be brought to the court by a woman who was pregnant as a result of a sexual crime or carrying a fetus with a fatal abnormality. As a result, Supreme Court judges were unable to make a formal declaration of incompatibility, which would have led to a change in abortion law for Northern Irish women, a result campaigners had been hoping for.
Now, the responsibility for changing the draconian abortion laws in Northern Ireland, where the UK's 1967 Abortion Act was never extended, will fall to politicians in Westminster or Stormont (Belfast's devolved government which is currently collapsed).
However, while today's result is not what campaigners hoped for, it's not a complete admission of defeat. The majority of judges in court today did say that the existing law in Northern Ireland was in fact incompatible with human rights law in certain cases. Lord Justice Kerr said: "The court has expressed the clear view that the law of Northern Ireland on abortion is incompatible with article 8 of the Convention in relation to cases of fatal foetal abnormality and by a majority of 4 to 3 that it is also incompatible with that article in cases of rape and incest."
The judge added that while the court were unable to make a legally binding decision, the issue is still "worthy of close consideration" by those who will ultimately decide on whether to change Northern Ireland's law.
Focusing on the judges comments, Amnesty International's Northern Ireland campaigner Grainne Teggart said in a statement: "The highest court in the land has ruled that the UK is in breach of its own human rights obligations to women in Northern Ireland who are governed by this draconian law. This is hugely significant and makes clear there is nowhere left for the government to hide on this issue.
"All eyes are now on the UK government. Theresa May can no longer sit back and do nothing whilst countless women continue to suffer on her watch. This must be the final nail in the coffin for Northern Ireland's abortion ban."
"A failure to act would be a cruel betrayal of women."