10 things we learned from that insane lindsay lohan article
Celebrate July 4 by following her beach club commandments.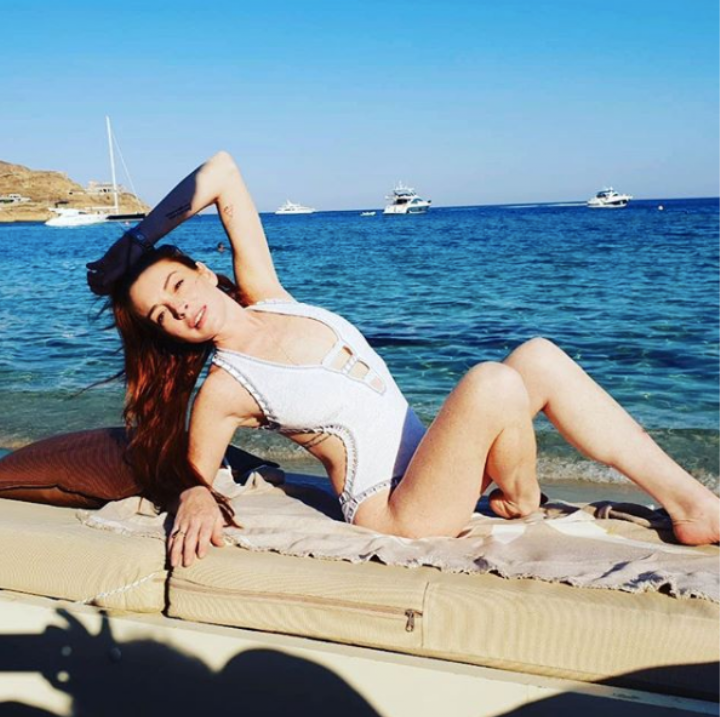 Image via Instagram.
"You Can't Hurt Lindsay Lohan Now" has to be the article of the summer, chronicling Lindsay Lohan's transformation from international superstar actress to Mykonos beach club owner. Lohan professes to having taken control of her career and image, and seems intent on remaining a vague recluse living in Dubai, with trips to Mykonos to selfie herself at her club. Not that we can blame her — she hasn't exactly been treated kindly by the press, even if she has seemed a bit of a wreck. Having said that, as the piece by Gabrielle Bluestone points out, in Dubai "unmarried women can still be arrested or deported for the crime of becoming pregnant." Less than ideal.
Obviously however, with summer truly upon us, and the beach beckoning for July 4, there is something attractive about the thought of sipping spritzes vaguely adjacent to Ms. Lohan on the Mediterranean sea. Here are all the most thrilling facts from her interview.
She's lost the weird, faux-European accent.
Which is somehow quite disappointing.
She has a "trusty" baseball cap that says "RUSSIA" on it.
Lindsay Lohan — KGB spy?
She's lived in Dubai since 2008.
"It's the safest place. It's less demanding. America is always like, 'Go go go go go!'"
She's planning on opening a Lohan island there.
No word on what it'll be shaped like.
She doesn't do shoots unless she's paid.
Something the fashion industry could probably learn from.
Tiffany Trump is going to visit her.
Not who we'd want to be stuck on a desert island with.
She meditates twice a day.
Oprah taught her, obviously.
She's optioned a psychological thriller.
Author Tina Seskis tracked her down after seeing a paparazzi picture of Lohan reading her book.
She's planning a show based on the beach club.
It's going to be like the iconic Vanderpump Rules.
Above all, she's an exceptionally normal person.
"I'm a normal, nice person. A good person. I don't have any bad intentions. And my past has to stay in the past."