kelela's "blue light" video is a sultry celebration of hair
The R&B queen's dreadlocks come to life in her latest visual from "Take Me Apart."
|
07 November 2017, 4:24pm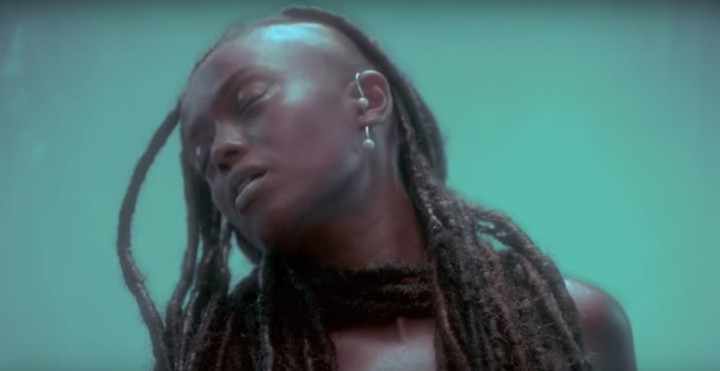 Still via YouTube.
Kelela is no stranger to incredible hair moments. At Calvin Klein's spring/summer 18 show in September, she stole the show with an asymmetrical bob of dreadlocks adorned with gleaming transparent baubles, a look so strong she's been recreating it on tour. Her go-to hair guru Nai'vasha Johnson later created a 2.0 version using oversized gold hoops. Kelela's hair is a recurring theme in her videos. The alt-R&B queen's recent visual for "LMK" showed her trying on a series of blonde bob and waist-length red wigs before returning to her signature dreadlocks.
In Kelela's new Helmi-directed video for "Blue Light," those locs takes on a life of their own, snaking around her neck and waist before unzipping her dress and forming a blindfold over her eyes. The final shot shows Kelela engulfed in masses of dreadlocks like a real-life black Rapunzel. "Watch me have sex wit my hair in the Blue Light video," Kelela wrote on Twitter. How could you decline such an invitation? Get lost in the sultry soprano's new video below, and check out her upcoming tour dates here.