why can't we let the "stranger things" kids be kids?
The young cast of "Stranger Things" is getting a whole lot of attention, and not all of it is positive.
|
09 November 2017, 9:06pm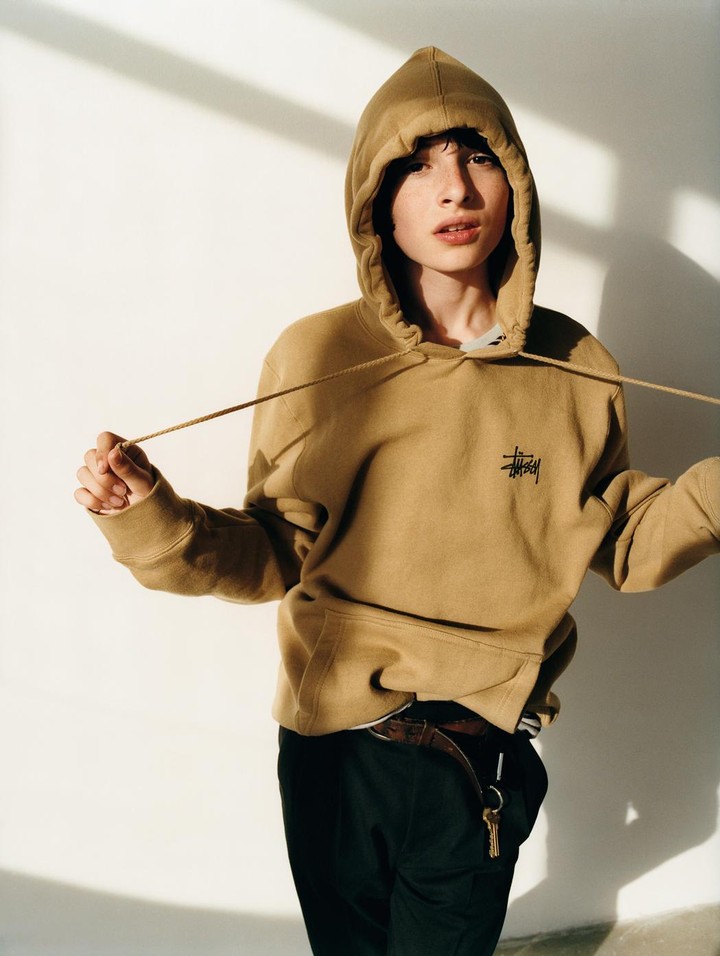 Part of Stranger Things's appeal is that its stars are very young. This makes it all the more impressive when Millie Bobby Brown (14) destroys Nicki Minaj's "Monster" rap verse, Finn Wolfhard (14) nails a cover of New Order's "Age of Consent," or Noah Schnapp (then just 12) addresses stereotyping of LGBTQ characters. It also makes it totally uncool for fans to demand anything other than that the actors show up to work, as Wolfhard is now kindly reminding us. (Wolfhard himself recently sent the fandom into a furor, after he failed to take a selfie with an adult fan who waited outside his hotel.)
"Hey everybody!" Wolfhard wrote in a very polite tweet last night. "I don't wanna ex-communicate anyone from this fandom, but if you are for real you will not harass my friends, or co-workers. Ya'll know who you are." He continued, "Why I even have to tweet that, I don't know. Anyone who calls themselves a 'fan' and actively goes after someone for literally acting and doing their job is ridiculous. Think b4 ya type boiiii"
Wolfhard didn't get specific about which co-stars he was sticking up for, but it could have been just about any of the crew. Millie Bobby Brown has been sexualized by Instagram commenters, a Senior Executive of NBCUniversal, and Yandy.com, which last month added Eleven to its repertoire of sexy Halloween costumes. Sadie Sink — who has already had to defend the Duffer brothers over a controversial unscripted kiss scene — initially faced cruel backlash from fans who didn't want a new character on the show. As Shannon Purser made clear when defending Wolfhard against claims he was "heartless" for turning down a selfie, playing fan favorite Barb has led to some unwarranted interactions. And at 20, Purser is a veteran compared to some of her co-stars.
"Okay, no," Purser wrote in a Twitter thread last weekend. "No actor is under any obligation to stop for anyone. Finn is an incredibly kind human. But he's human and he needs breaks too. I experience this on a significantly smaller scale, obviously, but I've had people waiting for me in hotel lobbies, at my airport gate, etc. And I'm an adult. I can't imagine being inundated with all this attention at his age. It's intimidating. So, from one big sister to the world, don't you DARE make young actors feel guilty or indebted to you because they couldn't say hi."
"They give you their art," she urged. "They love their fans. Don't take advantage of that. And if you can't handle them needing space, stay away."
Overly passionate pop culture fandoms are not unique to 2017. Potterheads, Sherlockians, Gleeks, and Cumberbitches can get as fanatical as Beliebers or Little Monsters. But Stranger Things is fairly unique in that the show's audience trends older than its main characters do. Netflix may be skewing younger with its content, but grown men are still dressing up as Eleven, and a creeped-out Millie Bobby Brown is well aware of it. Wolfhard recently described 27-year-old Ali Michael's joking request to "hit me up in four years" as "gross" — but actually appeared more freaked out by TMZ's cameras being shoved in his face. It's not cool to make kids uncomfortable, and it's even less cool to make money off doing so.
Adults shouldn't need to be reminded that the Stranger Things kids are still kids, no matter how convincing they are as a supernatural Motown supergroup. Luckily, the supportive responses to the kids' weird week prove that overly obsessive fans are in the minority.