"the video embraces homo-decadence, but in a banal situation" – how the knife inspired benjamin alexander huseby
The Oslo-born, Berlin-based photographer and GmbH founding member discusses the impact of watching the Swedish electronic duo's Johan Renck-directed Pass This One video.
|
26 October 2017, 12:07pm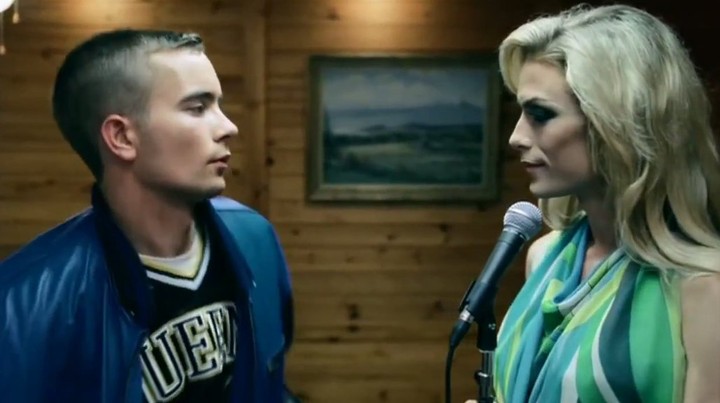 Throughout the past two decades, photographer Benjamin Alexander Huseby has shot fashion editorials for your favourite magazines, from i-D to Arena Homme+, Vogue to V Man, Self Service to AnOther and has exhibited work at galleries including the Whitechapel and Dicksmith in London, as well as Oslo's Fotogalleriet and KunstWerke in Berlin, the city in which he currently resides. In 2016, he and Serhat Isik, along with various collaborators, launched GmbH -- a Berlin-based unisex and multicultural fashion label, which draws inspiration from the city's Techno scene and fuses it with an ethical commitment to utilising deadstock fabrics. GmbH has since successfully shown a collection in Paris and been shortlisted for the prestigious LVMH Prize for young designers. Here, Huseby chooses the genius video for Swedish duo The Knife's 2003 single, Pass This On, as his all time favourite pop video.
Directed by Johan Renck, the narrative depicts a glamorous blonde singer -- in real life, one of Sweden's most well known female impersonators named Rickard Engfors -- performing in what looks like a shabby community centre, to an initially disinterested audience. By the end of the song, however, the slinky diva has mesmerised not only one particular young man (Olof Dreijer from The Knife), who dances around her as though hypnotised, but also well and truly 'owned' the rest of the crowd whom similarly succumb to her charms.
"I first became aware of the video for Pass This On when I was in my early 20s, living between Oslo and London, at a time in which I had accidentally became a fashion photographer, but was about to start an MA at the art academy in Oslo. I remember watching the video on TV alone and being so confused. It all seemed so mundane, but strange -- it was too good to be Norwegian, but the video looked so Scandi. Who was singing? What was this?
What was so brilliant about the video was this familiar feeling of a generic Scandinavian community centre, or youth club, or old people's home... everything, except the drag queen miming to the song. But was she the star? Was she the artist?
And then the line in the song, "I'm in love with your brother..." and a hot guy, who I later discovered was Olof, one half of the band, started dancing. The video was somehow embracing homo-decadence and drag, but in a sort of banal everyday situation. The drag queen felt like it could me or my friends -- a young gay and outrageously dressed club kid, being around all these ordinary straight people. It captured that tension I always felt between this Scandinavian down-to-earth, anti-decadent humility and myself, but also a sense of acceptance and tolerance.
One of my favourite moments is when Olof starts dancing close to the singer... and then they all start dancing. It's social democracy in action, a feeling of 'we are all in this together.' It is filmed a bit with the aesthetic of any Scandi TV drama, which makes it feel even more real. It's hyper-real Scandi banality.
I think both in my own work and with GmbH I have always been focusing on a sense of realism, a kind of ordinariness. Maybe somewhat idolised, but never a fantasy. And of course the multicultural gang of teenagers dancing together in the video for Pass This On in what looks like an old people's home could totally be a GmbH movie if we made one. In 2005, I directed a video of three friends in drag [Jonny Woo, James Jeanette from Wild Daughter and Batty Lashes] for Mark E. Smith and Mouse on Mars' collaboration, Von Sudenfed Fledermaus, I'm sure this was partly -- if subconsciously -- influenced by the Pass This On video.
I've since seen The Knife perform live a few times, both when they played with masks behind keyboards and more recently when they staged something more like a social-realist musical. And I sometimes bump into Olof at the local supermarket, buying organic vegetables.
Pass This On is still so relevant. The Knife's lack of creative compromise, driven by idealism and being unashamedly political is something everyone could be inspired by."