playing basketball and getting life lessons from kobe bryant and riccardo tisci
We hung out with the dream team in Paris to celebrate the launch of the new NikeLab x RT Victorious Minotaurs collection.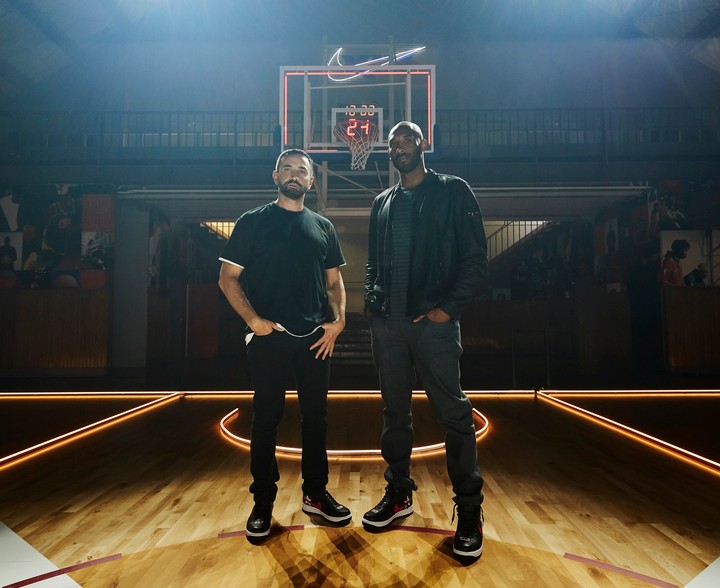 Riccard Tisci and Kobe Bryant
Riccardo Tisci as we know him -- the superstar designer -- might never have been. His name may have instead been emblazoned across a basketball shirt, if fate hadn't intervened with an accident that cut short his burgeoning sports career. Thankfully the fashion gods knew what Tisci was destined for. The setback only momentarily impacted his love for the game, and it's now back in full force. Last night, in a Parisian sports hall restored by Nike for the kids of the city's 19th arrondissement, the Italian designer celebrated the launch of his new collaboration with NikeLab. Named Victorious Minotaurs, the range includes a reinterpretation of the Air Force 1 sneaker along with other classics such as the Destroyer jacket, and the brand new Basketball Oxford shirt.
The Paris launch party was also the chance for Tisci to live out his alternate reality as a basketball star, doing some dribbling with absolute legend Kobe Bryant. i-D hung out with the two of them to talk about the spirit of sport, the importance of being impatient and what the future might look like -- just before Riccardo, Kobe and footballer Neymar Jr (seriously) hit the court for a match.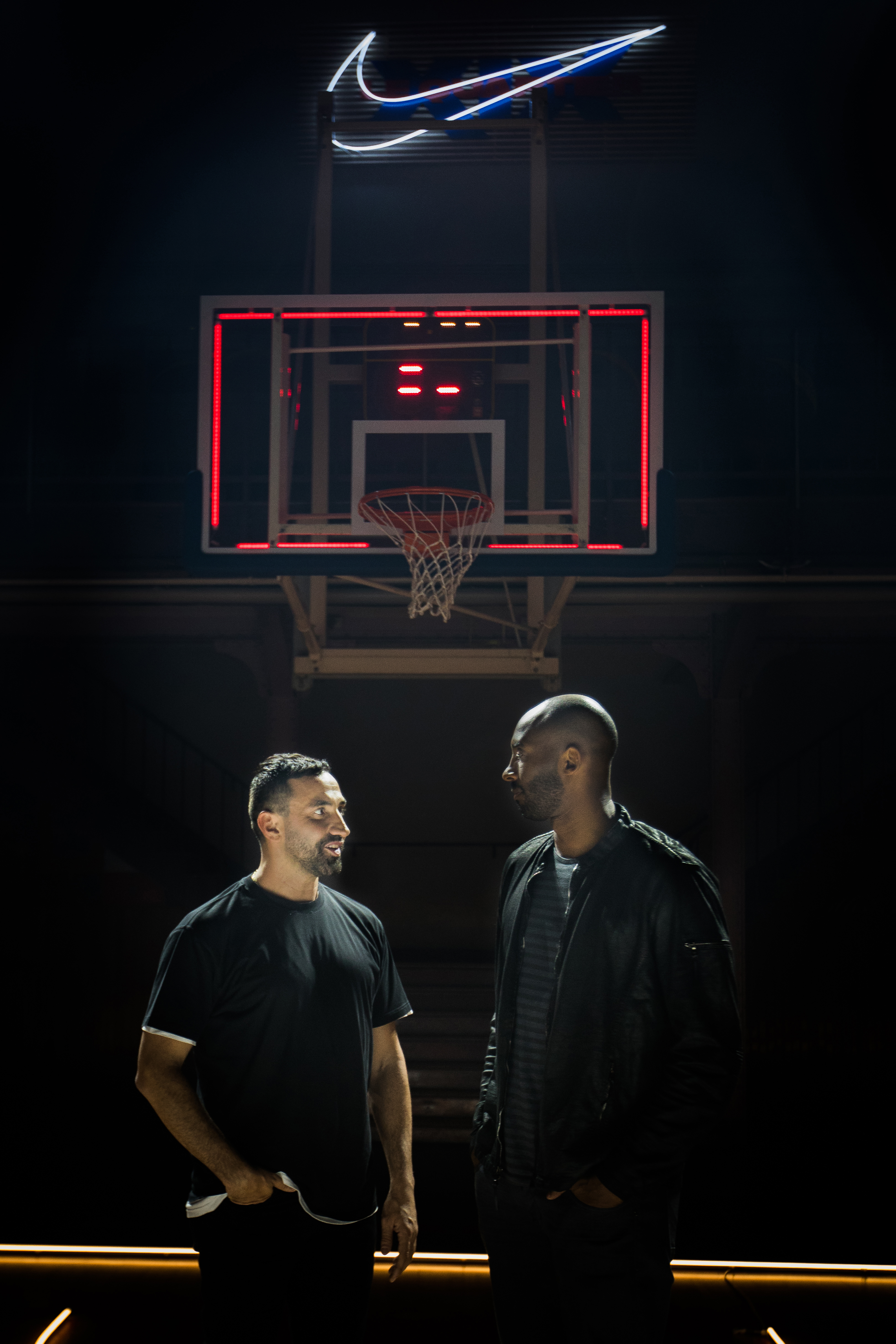 Is this the first time you two have met? Kobe: Just right now! Riccardo: Yes, it's the first time actually.
But you're familiar with each other's work... Riccardo: Me of his work, for sure! He's the king! Kobe: I would say Riccardo's work is emotionally creative and visually stimulating. Fashion is also about communicating a message that you are going to interpret emotionally. Riccardo is one of those designers that can take a design and make it art.
Riccardo, I know you're a big basketball fan, how did your love for the game start? Riccardo: It was like a love relationship and then I hated it because when I was a kid I was actually a promising player -- I played a lot from 9 to 14 -- then I had a car accident and stopped. So for a moment I didn't love sport anymore. But for me basketball was very important. I come from a very poor family and it was a democratic environment. Everybody, rich and poor, would come and play at the same level. For a few years after my accident, it was difficult for me to enjoy any kind of sports. Then, when I was 25 or 26 I started liking it again. Later on, it became one of the main inspirations of my collections. It's not only about the game, basketball players today, they are rock stars. That's why I called the collection Victorious Minotaurs, they are part of the mythology. They are modern heroes.
Kobe, what about you and fashion? Kobe: My fashion was always based on sports. The new generation is really really into fashion. For me, it was always related to the game. What am I going to wear, is it going to help me be better today? What fabric or type of clothing do I need to be better today? This fabric is too heavy. My fashion was always centred on performance. I'm a geek. When I stepped on a court I wanted to make sure my uniform was sharp, my sneakers where sharp, I wanted to make sure everything was sharp. Style also requires a lot of creativity and imagination.
Riccardo, you're arguably the designer that most contributed to fusing sportswear with fashion over the past ten years… Riccardo: We always have to go back to the street, it's where everything starts. That's why I love basketball so much, it's happening right in the streets. Sportswear is a really big thing in people's lives. That said, it's true that people didn't dare to touch it. Kobe: Sport is a live representation of what our life is. Riccardo saw that. He talked to people on a deeper level because he understood that it was about much more than the game. It's culture.
You've both been collaborating with Nike for a few years now, how's that going? Kobe: When I started working with Nike in 2013 it was a dream come true, really. The thing about Nike is that we really push each other. We all understood it was about challenge. Big companies sometimes prefer to play it safe but it's not the case here. Ricardo: To be honest it is one of the best experiences of my life. With their research and development, they are a great teacher, but they also know how to learn from you. They took a risk with me, to work with a classic designer. When I first started working with them I was a leader at Givenchy but I had to sit down and listen, about the technology, their crazy knowledge -- and it was amazing. But when I want to push them, like with this collection where I introduced skirts, a shirt, they listen and take the risk as well. They push things, they are very spiritual.
Just out of curiosity, what was your first pair of Nike trainers? Riccardo: Air Force 1. Kobe: Mine were 1988 Jordan's. Riccardo: For me it wasn't related to the basket. When I was 16, it was a moment of fashion, when hip-hop became huge. You could see girls like Madonna or Neneh Cherry mixing sportswear, bling, leather and sneakers. I loved it.
You're both taking a break from an intense life. How does it feel? Riccardo: I've been working for about 30 years. I'm taking some time off now. I never stopped from the age of 19. So I think it was the right moment to take it slower and spend time with my family, my sisters and my mother who is 89 years old. Kobe: I am ready to start from scratch again. It's a very exciting feeling. It's amazing to be back at that stage -- building everything piece by piece all over again.
The world has changed a lot since you both started in fashion and basketball. What do you think of the newer generations? How do you connect with them? Kobe: I think it's our responsibility to teach them that there is no shortcut to success. You grow up and you see Tisci or myself, and might think, 'I want that now!' But there are a lot of things to do, you have to work a lot, focus on this, focus on that. It's being patient but it's not, you have to push and work for success, and want it every day, you have to want it now. It is all about teaching the new generations to have this patient impatience. Riccardo: Everybody is obsessed with millennials. But to be honest I think they are doing just fine. They know where to go.
New generations don't see any difference between a fashion icon, a sports champion or a pop star… What do you think it says about our times? Riccardo: I'm a very shy person. For years it was extremely difficult for me to talk in public, the only way I could express myself was through my designs. But I think it's a good thing now that fashion is followed and loved like a true part of pop culture.
Kobe: Even if you don't want to be a designer or a professional basketball player there are things to be learned. The whole world is your library. You have everything at your fingertips. And there is something to be learned from everybody.