how a queer arthouse movie fueled the internet's most unlikely fandom
The precocious young stans of "Call Me by Your Name" reveal why they're head over heels in love with a movie most of them haven't seen yet.
|
30 October 2017, 11:07am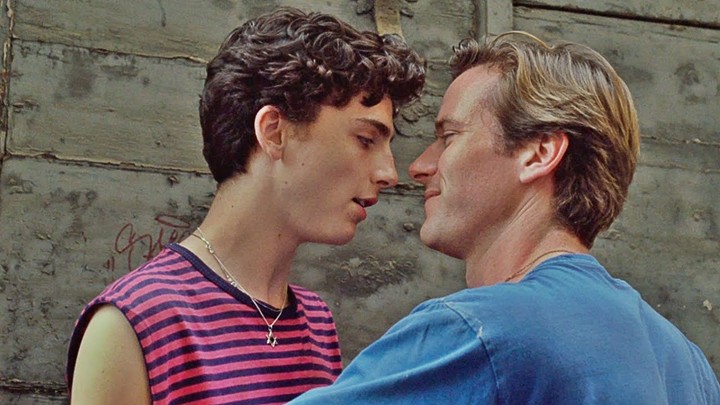 This article was originally published by i-D UK.
Let's not lie: the internet can be a pretty sweet place, despite its flaws. It's a boredom-quashing source of endless entertainment and an unrivaled tool for modern day political activism. Not only that, but social media's brilliant ability to bring people together has made it a hotbed for the re-upped version of the old-fashioned fan club, populating Twitter and Tumblr with a strange infatuation for everybody from Justin Bieber to Twilight's Bella and Edward. A new breed, we've named these millennial packs of unwavering admirers, "stans."
Thought the stan-provoked slew of niche memes, love-heart-eye emojis, and hashtag campaigns was reserved for the pop cultural elite? Think again. There's an unlikely film – a queer arthouse love story – that's captured the hearts of the swooning, liberal, and social media savvy youth of today.
Directed by Luca Guadagnino and starring Hollywood heartthrobs Armie Hammer and Timothée Chalamet, Call Me by Your Name is the film stealing hearts on Twitter and Tumblr feeds around the world. It first bowed at the Sundance Film Festival back in January to a sea of five-star reviews, with one critic calling it "life changing." Since then, it's lived up to that praise, becoming an arthouse movie phenomenon outside of the usual cinephile circles.
Call Me by Your Name tells the story of Elio, a 17-year-old boy spending his summer swimming, transcribing sheet music, and lounging around at his father's villa, "somewhere in Northern Italy." His serene, lackadaisical lifestyle is turned upside down by the arrival of his dad's new assistant Oliver, an impossibly handsome 24-year-old from the U.S. Together, over the course of a few short weeks, the two fall for each other, simultaneously experiencing the electric beauty of young, uninhibited love in the throbbing, Mediterranean heat. On paper, it could be the kind of book your mother would read by the pool on vacation: a wise tale of lust and sexual boundaries being broken; only it's reached a group of twenty-somethings well versed in internet culture, too.
You can spot Call Me by Your Name's ardent stans from afar. Their profiles – adorned with GIFs of the film's most touching moments and Armie Hammer memes aplenty – are shrines to it. Usually, their display names on Twitter are bookended by peach emojis, too: a reference to the film's most infamous scene in which Elio turns a stone fruit into a masturbatory aid, one that later becomes a semen-filled snack for his dewy-skinned summer beau.
So what kind of person professes their infatuation with an indie queer romance film set in 1980s Italy to the world, all via their social media? Wise, free-thinking millennials, that's who.
A much more respectful, if still playful style of stan, Call Me by Your Name's average follower wasn't swept up in the infantile hysteria attached to a series like Twilight or The Hunger Games. "To be honest, those franchises can't really compare," 19-year-old stan Latoria shrugs, when I ask if she's ever been in love with a work of fiction like this before. "I didn't have much of an emotional response to them the way I did with Call Me by Your Name; I didn't reread or analyse each word of those books." Melanie, a teenage Armie Hammer lover from Florida, was similarly awestruck by it. "Something about this story is impacting me in a way I've never experienced [before] – even without seeing it yet, I know that."
That's a common thread that runs through the Call Me by Your Name standom. Banking on its festival success, many of the fans are rooting for a film they've never seen before. Instead, they're assured of its brilliance by the few trailers, clips, and press conferences that appear online. From this, they construct their own narrative, tapping into Timothee and Armie's real-life relationship as a way to decode their unseen, on-screen chemistry.
Matthew, a 26-year-old stan from Los Angeles, is one of the few who actually has had the opportunity to see the film: six times, to be exact. He was there for its Sundance premiere (where he watched it twice), seeing it four more times at the Berlinale, Toronto Film Festival and San Diego Film Festival respectively. A truly transatlantic fan, he doesn't know how much his stanning has cost him. "I still try not to think about [it]," he confesses. Rosie, a British fan, finally saw it at London Film Festival and "cried for 3 hours straight the whole way home."
Elio and Oliver's relationship has touched Melanie on a deeper and more personal level, thanks to the way the pair channel bisexuality in fiction. "I resonate with their desire," she tells me, "their knowingness of things beyond them while being ignorant to how to cure a broken heart or figure out how to make something concrete – like love or a fleeting summer romance. A story like this is an awakening experience that sticks with you."
But it was Elio in particular that drew in Latoria. She doesn't feel like she's experienced first love yet, but still sees a lot of herself in him. "The way he over analyzes every word and gesture, it felt as if I was reading my own thoughts about an experience I've never had."
An emotional attachment to Elio and Oliver's story hasn't stopped stans from turning their new-found love into a good-humored internet gag. Like an obsolete attempt to try and go viral, their creations are destined to go over the head of anybody who isn't fully invested in the Call Me By Your Name universe. I ask the stans what tweets and memes about the film they like the most. Their answers, gloriously niche, are all different. One revels in online content about the unexpectedly sordid way Elio envisions his relationship with Oliver. Another loves the reinvention of Gretchen – a Brazilian meme star that appeared in Katy Perry's "Swish Swish" video – as a Call Me by Your Name superfan.
But stans and non-obsessives alike are mourning the loss of @armiedancingto, an account that, earlier this month, launched the film's first bonafide, successful meme. The ongoing joke took a clip of Oliver dancing awkwardly to The Psychedelic Furs, removed the sound, and lay queer anthems like Carly Rae Jepsen's Cut to the Feeling to Madonna's "Like a Virgin" on top of it. It caused such a stir that IndieWire and Entertainment Weekly took notice, writing about it before the account was banished from the internet in the name of copyright infringement. It's the perfect example of how geeky, insular, and refreshingly oblivious these fandoms can be, even when, as if from nowhere, they sprout their own gems of good-natured viral content.
These stans' adoration for Call Me by Your Name is a beautiful sign of how times have come for queer stories. If this film was released thirty years ago, around the time it was set, can you think of how its fans would come together and discuss every minute detail of it? They wouldn't have. Back then, the world's taste for these kinds of stories was still fledgling, coming to terms with whether or not they truly wanted queer characters on screen and, if so, how unambiguous their sexuality would be. Nowadays, the internet has become a tool to educate the next generation, showing them that's there's more to queer narratives than what's fed to them by mainstream media. Thanks to the internet, films like Call Me by Your Name can afford to be fascinating and universal, and don't have to find their audience by simply pandering to the cash-cow crowd.
Latoria is a 19-year-old who, without the internet, may have never even discovered the film. When I ask why the blushing love story at its core managed to touch her, she sums it up perfectly: "You don't have to have had similar experiences to be emotionally affected by it," Latoria says, wisely. "You just have to be human."