Courtesy of Nasir Mazhar.
nasir mazhar is back and we couldn't be happier
One of London's design, fashion and cultural dons, Nasir Mazhar, reveals his latest collection exclusively for i-D.
|
15 December 2017, 2:45pm
Courtesy of Nasir Mazhar.
This article was originally published by i-D UK.
Nasir Mazhar never went away. Not really, anyway. Although he took his brand off the London Fashion Week Men's runway in 2016, Nasir has remained, as he surely always will do, a London designer whose cultural significance is keenly loved, and missed in equal measure. Not showing during the fashion seasons, and then setting up shop in Forest Gate (open now and a must-visit), was a personal choice. Less a decision to lie low, more an opportunity to reflect, feel, and recuperate away from the grueling fashion system.
You see, Nasir's world is one of emotion and love for London and his crew. His iconic headpieces from 2006 are still one of the best things we've ever seen. His casting is still one of the sexiest and genuine we've ever seen. His music tastes… Well, Skepta and him were collaborators long before your average Joe even knew what grime was.
So, yes, Nasir Mazhar has been very much fucking missed. Now he's here, with the first of a new four-part collection that will be released throughout the year, each growing in images, looks, and splendor. Welcome back, Nasir. It's good to have you.
How did you end up creating the collection?
For while I was really pushing a scene and a look and a world that I knew and felt was never represented or experimented with much. And now I feel like I've had my say there and done what I needed to do in such a concentrated way. I feel like now I want to go back to the attitude and approach I had when I first started making, which was about the unseen and unknown. I wanted to "wow" and I wanted to make something I had a desire to make, with skill and craftsmanship. Whatever I made I wanted to be new and never seen before. I was a lot younger and naive and innocent and it was all about fantasy and film. I really had no idea about the industry or selling clothes. I just dreamed about fantastic things. That's where I've been trying to get my head back to but with an experienced mind and a body of work behind me.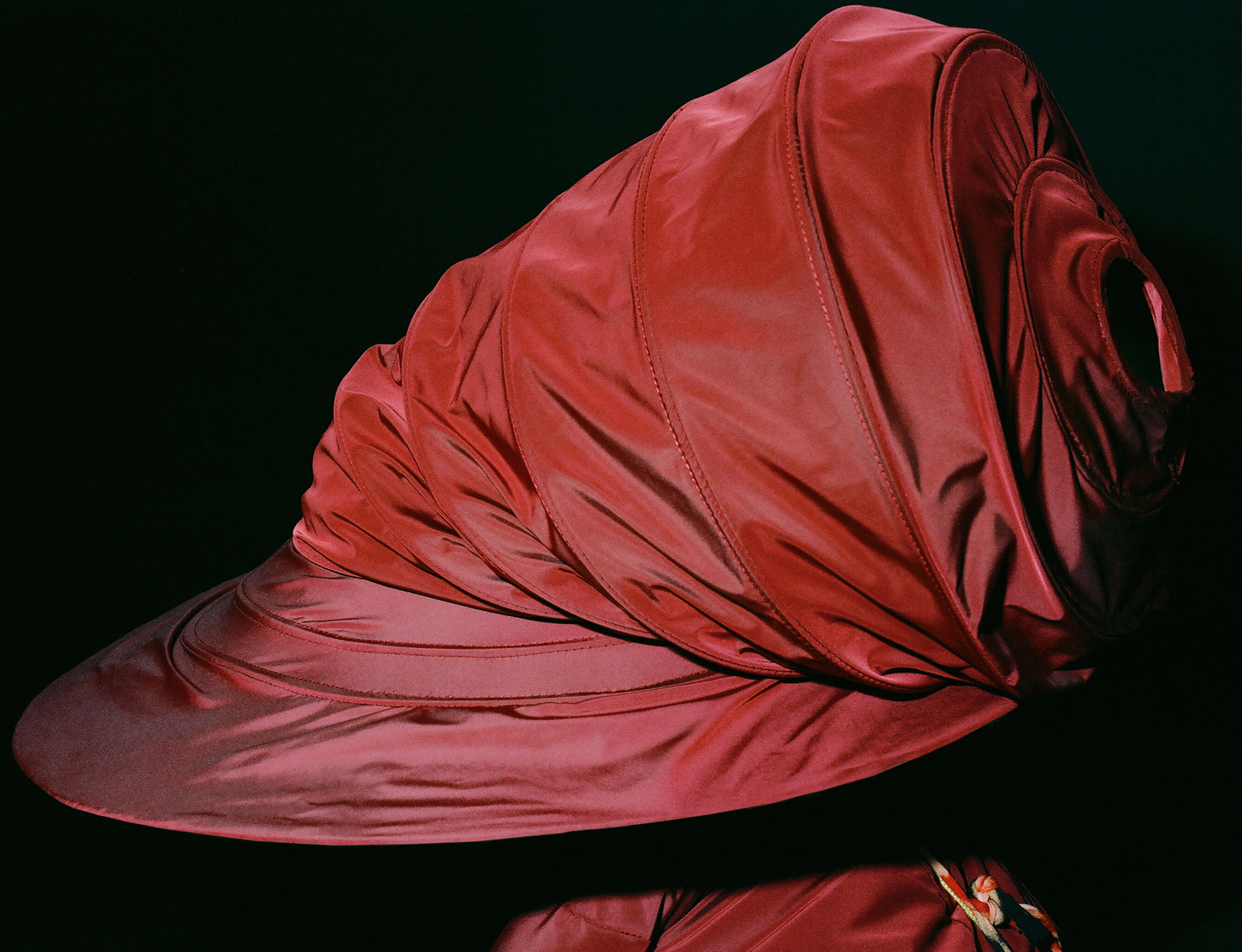 Obviously, it was a big decision to stop showing at London Fashion Week Men's. Why did you make that choice?
I stopped for so many reasons. I didn't want to keep on making big collections, didn't want to keep on dealing with sales and all that boring admin with stores and complicated production. I wanted to stop thinking and stressing about all the boring soul-sucking stuff that comes with running a wholesale fashion business and all the pressures. So much pressure, it's not healthy for me. There was so little time for exploration of ideas and techniques or to really think and take your time in creating freely, not thinking about sales, that I felt the only way to save my soul was to stop.
I'm not really sure what fashion has become or the fashion weeks themselves. When I started to focus on the world that I created from around 2010, there weren't really many designers talking about diversity, or experimenting with tracksuits or that look, or talking about the grime and garage scene and soundtracking their shows to it or any of what I did. I felt like I had my own thing going on, my own identity, and I feel like what I did was relevant and fresh and imperative in giving me and my people and our culture a voice. It's healthy to have a variety of styles at a fashion week but, at the moment, it feels like the majority of both men's and women's fashion week is one big collection.
That's something I don't want to be apart of. I felt like I was losing my identity and that's why I had to stop. I saw times were changing and I wanted to create a newer identity of my own where I could try to be more original and independent. Where I can say this is my work, my imagination, my world and feel like I'm exciting people and it's genuine. This is so important.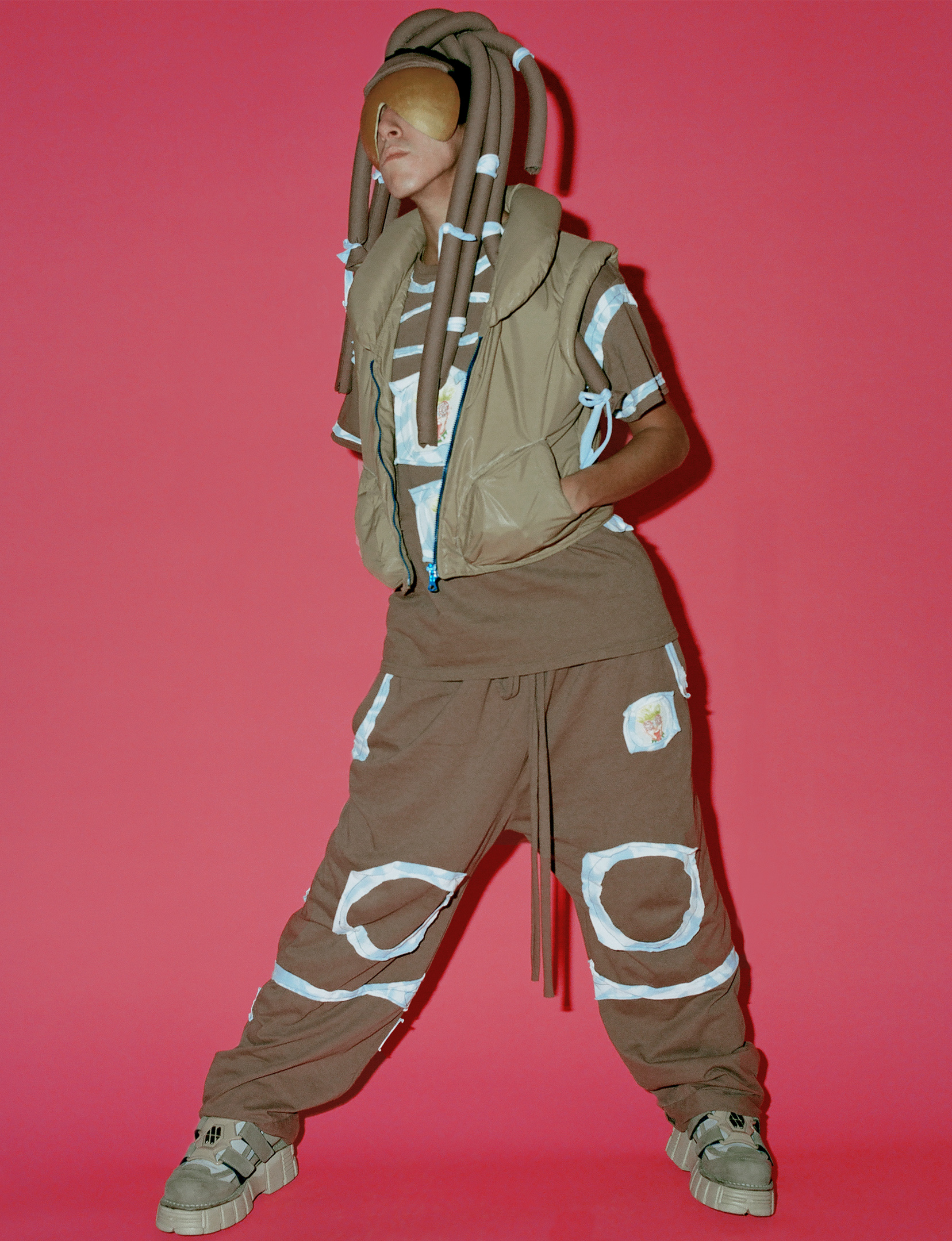 What do you want people to take away from this collection?
This collection has already grown with styles and also with the creatures we created for the SketchSesh life drawing class on Monday. This way of working means we don't have restrictions with deadlines for shows or sales and gives us more space to play with ideas and imagery and more time for the idea or concept to develop and evolve. We're aiming for the first drop to be January and then February, March. What I want people to take from it is whatever they see. There's no press release or any marketing spiel, but an encouragement to imagine. Make of it what you want, but be sure it's your own opinion.
What excites you most about London?
I'm excited to be excited. There's been so much of the same that I'm just excited for something or someone to come and really fuck shit up.
What scares you most about London?
I'm scared that so many people see no other way to succeed in life apart from being corporate and mainstream and trying to fit in and just get by. The list of what scares me about London's prospects is sadly long.
So, what's the future? For you and for fashion.
The future of fashion is what we make it. It all depends on what kind of designers we want to be and what we want to stand for, but it could be a beautiful future. For me I want to be more fantastic. I want to try and make things no one else is making. I'd like to collaborate with more designers and artist and brands that I love and respect. I want to be more environmentally conscious and make physical changes to my business and studio to help cut down on waste of paper and plastic.
The main thing is I'm starting a new label. It's all based around the clothes from the collections. Selected clothes, regardless of materials used, their quality of finish or stage of completion will be finalized into final ready-to-wear one-off pieces. Every season there are clothes made in leftover fabrics or toiling fabric. Sometimes they're patched-together ideas and are so much more interesting than the final product because they're completely unique. They are totally wearable and look so weird and interesting, but no one ever has them or sees them. That's why I've decided to start this new label. The name isn't confirmed yet but it will sit alongside the main line. Ultimately it's giving you unique product and reducing wastage. It will be available from February/March 2018.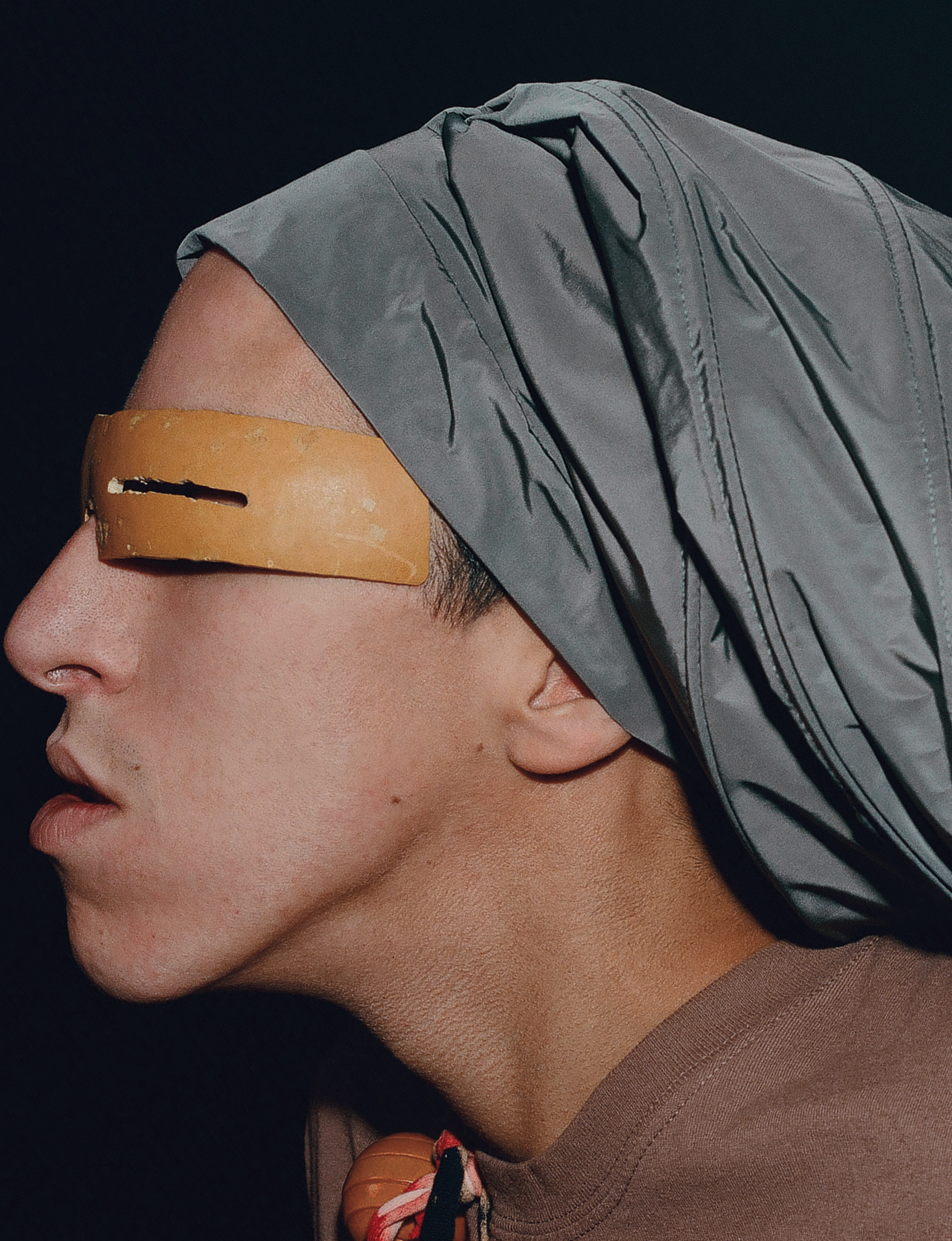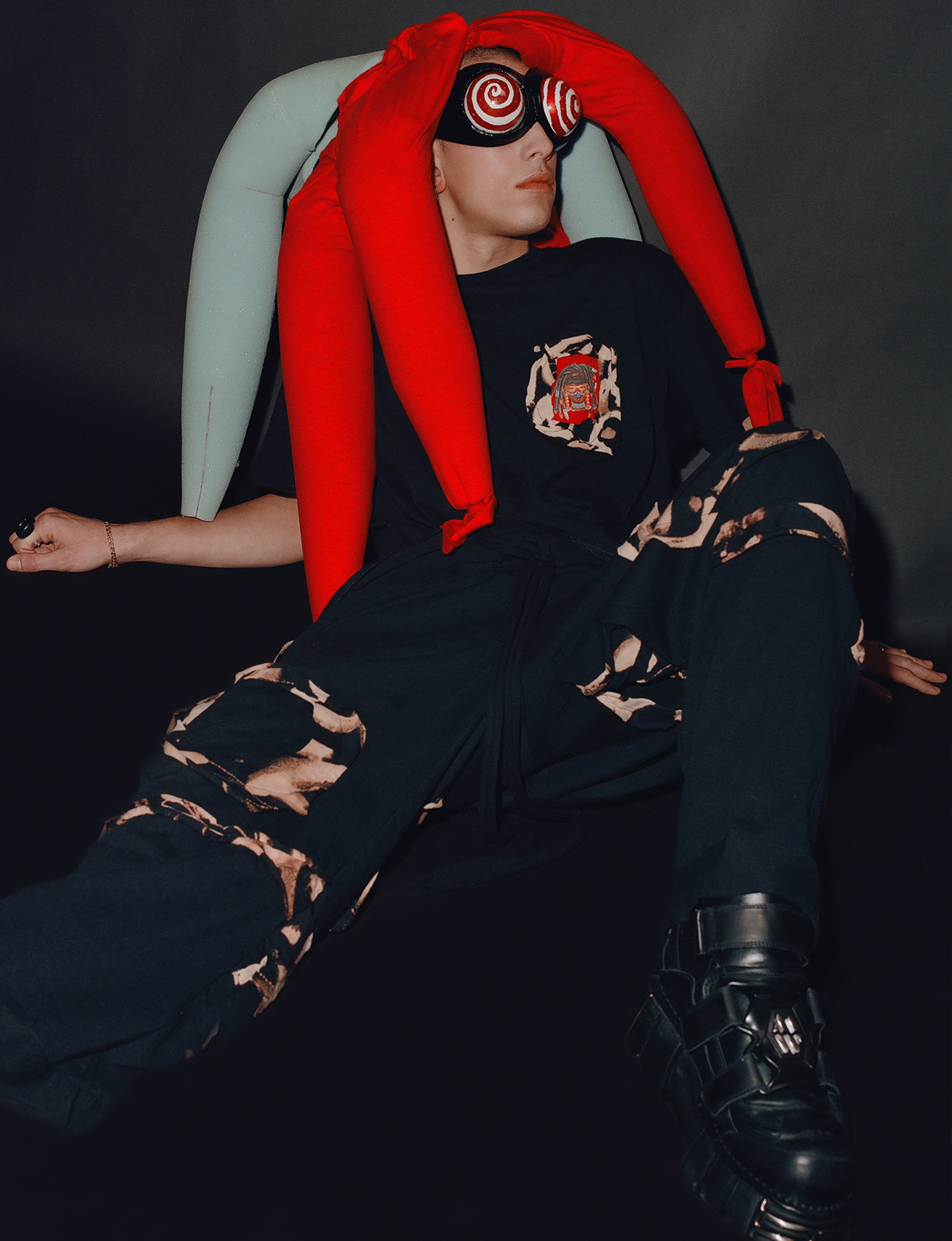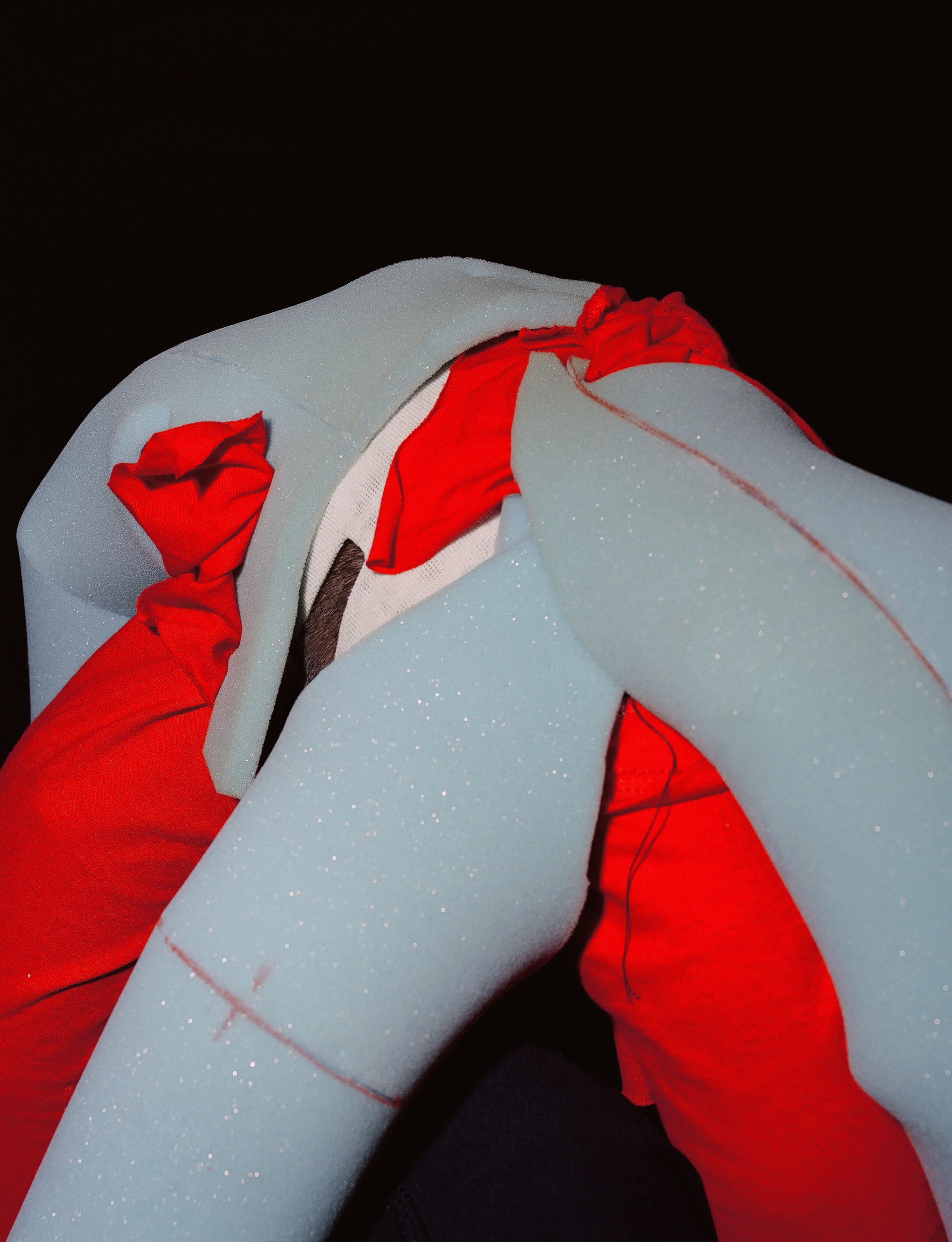 Credits
---
Photography Eloise Parry
Styling and Casting Nasir Mazhar

Hair Roxane Attard
Make-up Daniel Sallstrom at CLM Agency
Make-up assistant Kareem Jarche
Models Billy at Nii, Tommy at Anti-Agency. Mo. Shay.