watch the first trailer for studio ghibli alums' magical new movie
"Mary and the Witch's Flower" is the first project from animation house Studio Ponoc, founded by ex-Ghibli producer Yoshiaki Nishimura.
|
05 December 2017, 6:29pm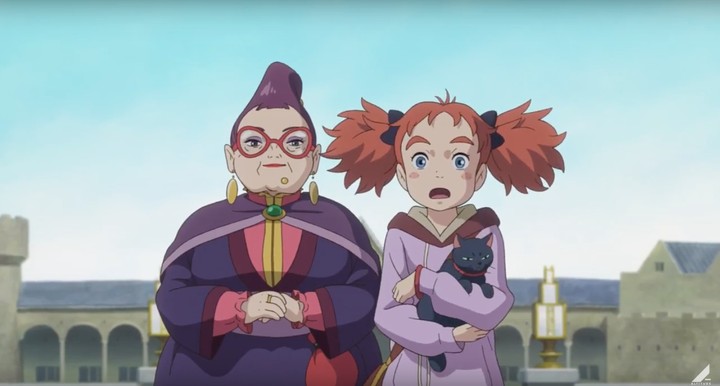 Still via YouTube.
Hayao Miyazaki apparently won't watch Mary and the Witch's Flower, despite the Studio Ghibli legend believing that the film's creators have done a "good job." But he might decide to check it out after seeing the first full-length trailer. Mary and the Witch's Flower will be the first release from Studio Ponoc, a new Japanese animation house founded by Ghibli albums Yoshiaki Nishimura and Hiromasa Yonebayashi, and it looks ultra-enchanting. The film is based on British author Mary Stewart's beloved 1971 children's book The Little Broomstick. It follows the titular inquisitive schoolgirl from her aunt's woodland-adjacent home to a secret school of magic, a journey instigated by Mary finding a strange flower that gives her broomstick special powers. After arriving at the school and being deemed a prodigy, she makes some rather unsettling discoveries about her teachers' extra-curricular activities.
Nishimura and Yonebayashi last worked together on Ghibli's latest Oscar-nominated film When Marnie Was There. Nishimura also scored an Oscar nod for producing Ghibli's 2013 fantasy drama The Tale of the Princess Kaguya. Mary and the Witch's Flower contains many Ghibli hallmarks — including gorgeous colors, anthropomorphic animals, magical beasts, and a dynamic female lead. "I wanted Mary and the Witch's Flower to be a feature with an energetic, acts-before-she-thinks kind of heroine," Yonebayashi said earlier this year. "Transformation of animals was one theme; the other one is the transformation of Mary, herself. At first, she dislikes and lacks confidence in aspects of herself, but she faces her own, internal self and transforms into a stronger girl." Self-realization has long been a theme in Ghibli films.
Mary and the Witch's Flower has a U.S. release date of January 19, 2018, with a special Fathom Events screening date on January 18. The dubbed English version will feature the voices of Kate Winslet, tween BFG star Ruby Barnhill, and the son of Gollum, Louis Ashbourne Serkis.