Photography Asger Carlsen
p.a.m. and converse mutate for a transformative collaboration
In the mutated world of P.A.M. x Converse, Chuck 70s are quilted and adaptable while neon bombers are graphic and reversible.
|
18 January 2019, 10:00pm
Photography Asger Carlsen
For genre-defying label P.A.M. (Perks and Mini), special projects and collaborations have always been an important part of their DNA. Ever since launching in 2000, husband and wife duo Misha Hollenbach and Shauna Toohey have regularly worked with a community of brands, artists and musicians that they cultivated around the label. Now, for their latest collaboration, they've teamed up with Converse on a transformative capsule collection.
Consisting of their take on the iconic Chuck 70, as well as a range of apparel, the collaboration plays with the idea of mutation, a long running theme explored by P.A.M. (Perks and Mini). This time the idea is explored through not only the duo's signature use of graphics but also through physically adaptable elements. For example, a quilted PrimaLoft outer on the Chuck 70s can be zipped off to reveal a canvas slip-on, while a similarly quilted bomber jacket with iridescent lime lining can be reversed and worn in opposite formation.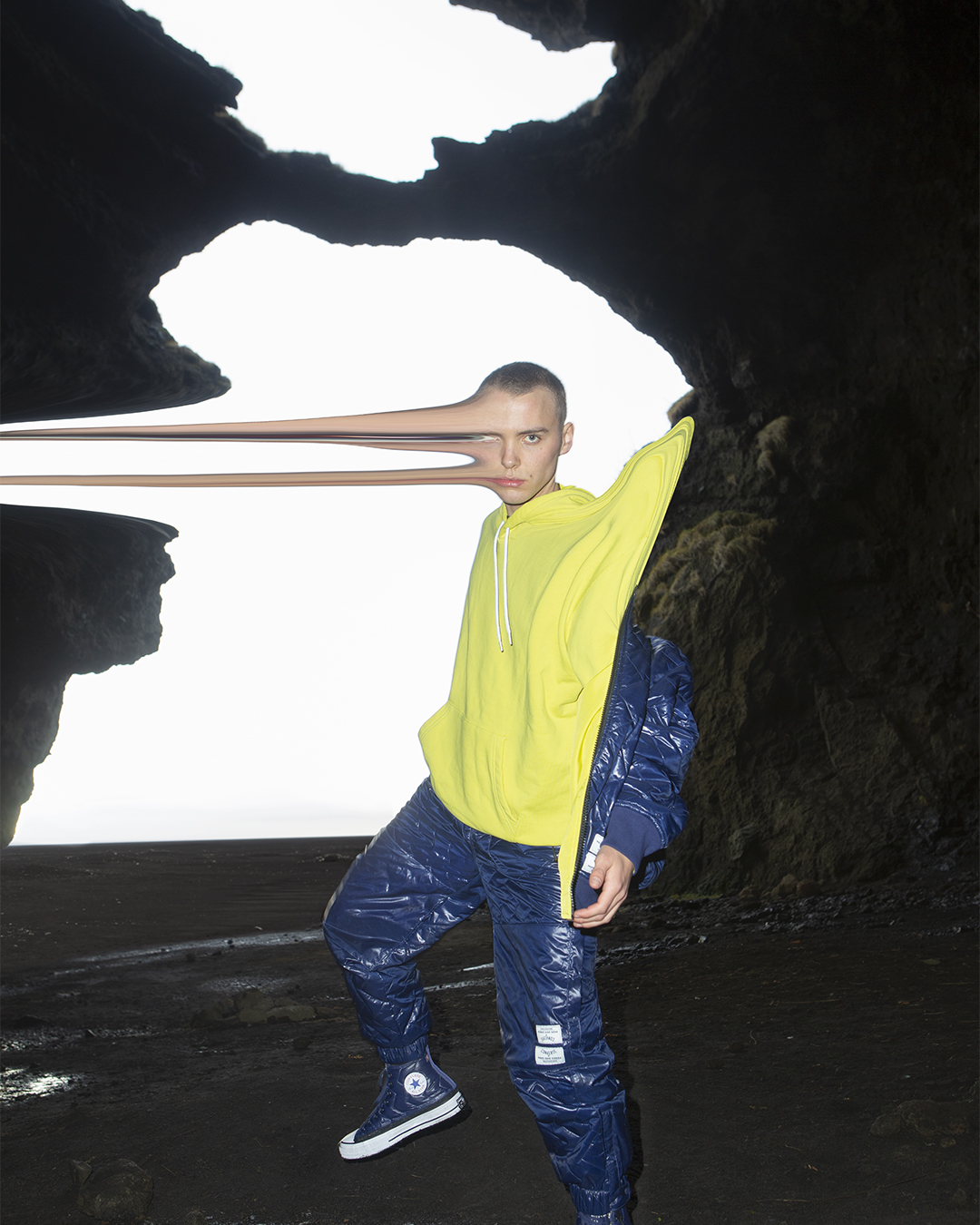 "We think the idea of constantly moving forward and progressing is wrong. We should think about how things can mutate. Not in a negative way but in a free form, exploratory, adventurous way," explained Misha and Shauna. "We always feel that things are moving and to seek stability is nonsense, we want to encourage the idea of mutation."
The familiar blank slate of the Chuck Taylor proved fertile ground for that mutation. "It's so iconic that we wanted to mess with it. We started the whole process with thinking how we can mutate P.A.M. with Converse. Not just a colourway, we want as always to push things outside of normal and regular."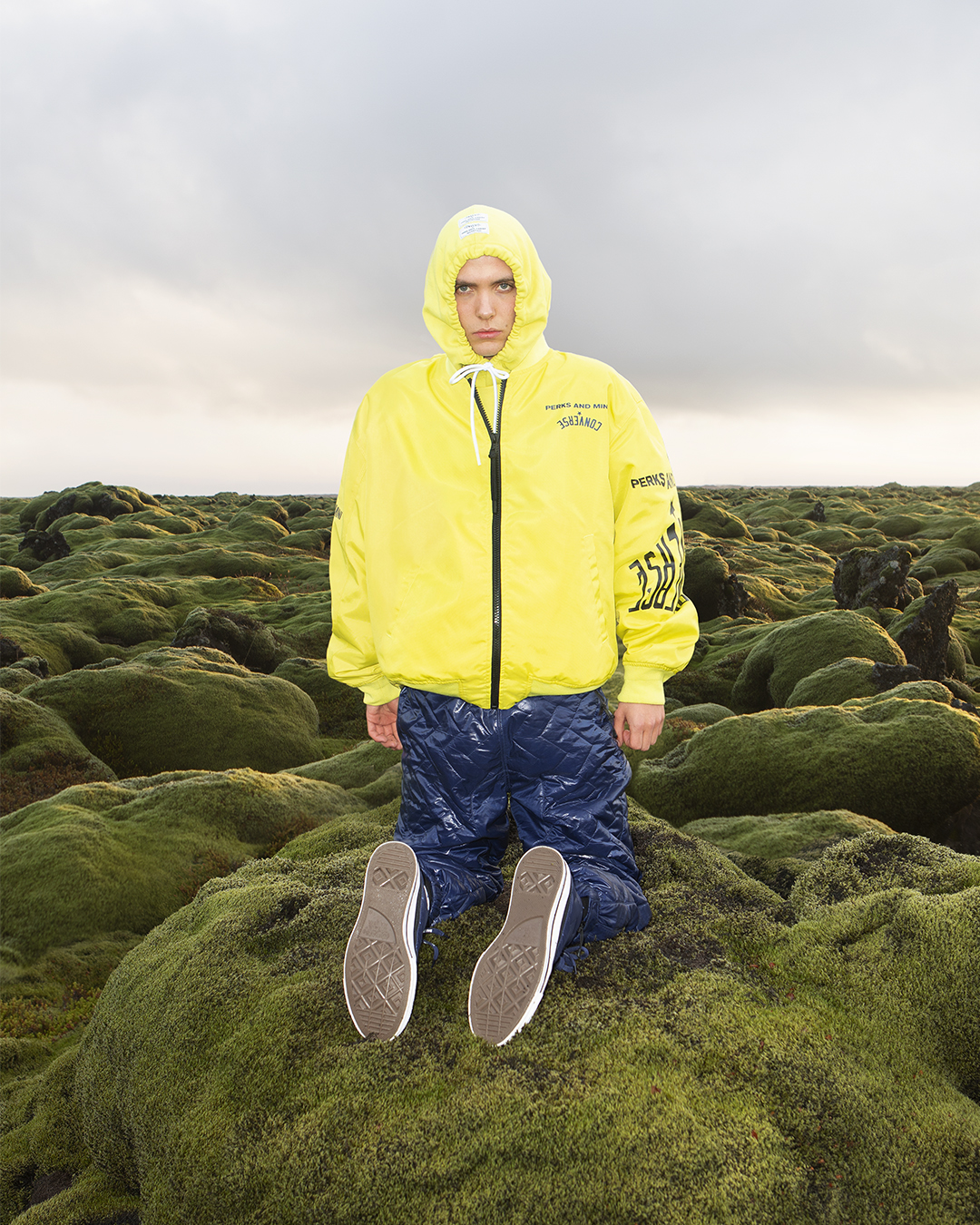 Functionality also informed their approach to the sneaker, "Thinking about how to mutate the shoe and how to make it work as an aesthetic and for the function. Chuck Taylors can be hard to wear in winter because your feet get cold. This design is like a blanket for your feet."
Once the ideas behind the footwear were locked down they then informed the approach for the capsule's apparel range. "We designed a padded suit (pants and a hooded anorak) with the same PrimaLoft insulation. We also made the reversible bomber, because bombers are very P.A.M., and some high-vis hoodies and graphic tees."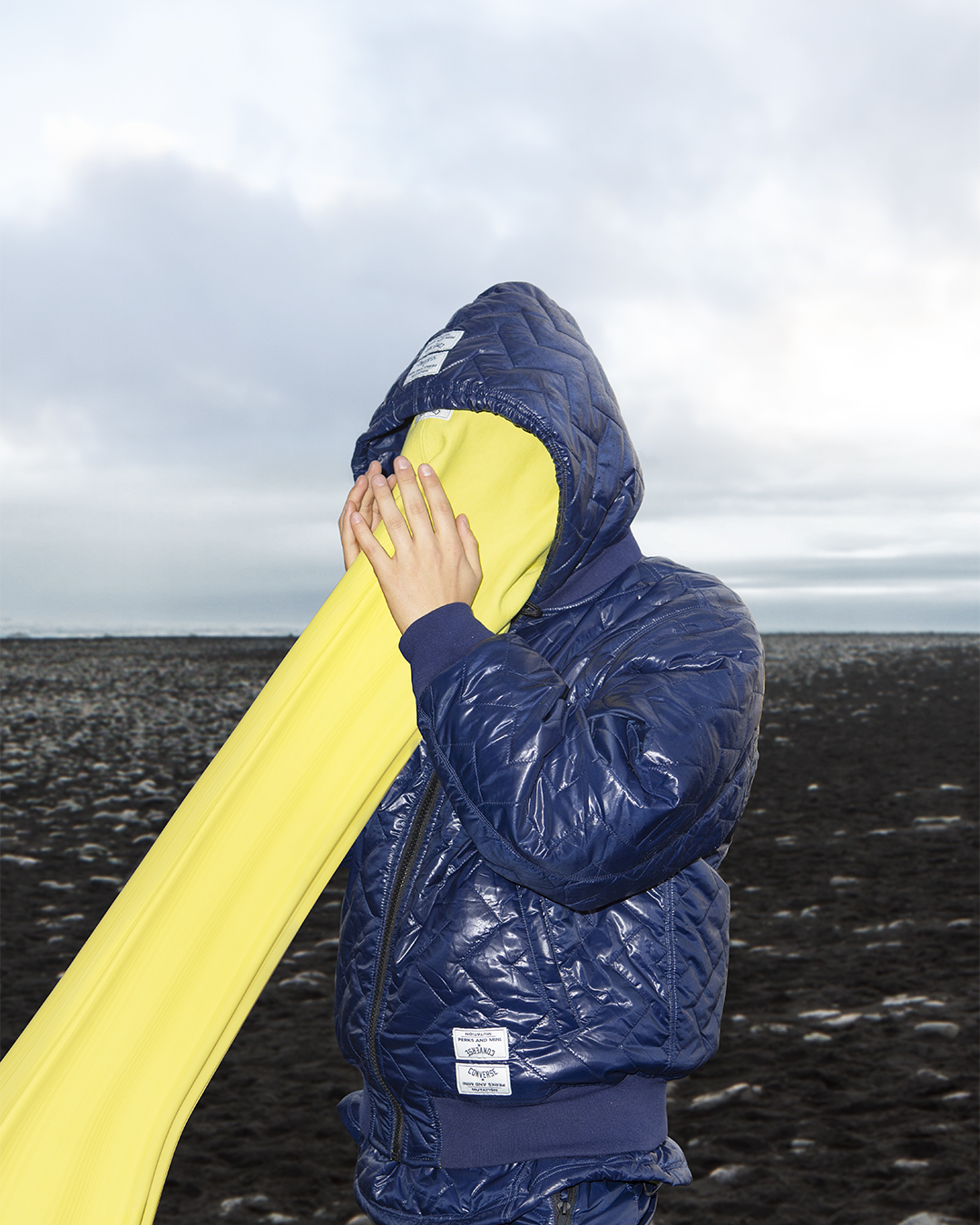 Matthew Sleep from Converse's special projects team said Misha and Shauna's approach suited them perfectly, "We're obviously born out of footwear, but we do a fantastic amount of amazing apparel as well. We were really excited to work on something that was a holistic approach, which not only showcased [P.A.M.'s] ability from a graphic standpoint, but also their amazing and intricate and weird ideas they have for both footwear and for apparel." The holistic approach to the capsule sees pieces that can be worn individually but also harmoniously head to toe, as seen in the lookbook shot by Asger Carlsen.
Asked about who they'd ideally want to see wearing the collaboration Misha and Shauna simply replied, "Anyone with whom it resonates — no age, no colour, no number of followers. Just feelings, human feelings."
Converse x P.A.M. (Perks and Mini) launches globally Saturday January 19 and is available from perksandmini.com, converse.com and P.A.M. stores in Melbourne and Sydney.