this naked paint party celebrates trans and gnc bodies
"You can't tell how healing it can be to admit you have dysphoria in a certain part of your body and have someone draw something fun on it like a flower or a wave."
|
15 November 2018, 5:02pm
Trans and gender nonconforming people are finally being represented in fashion and TV shows, but it's often a very narrow view — one that is usually white, thin, and cis-passing. Despite the increase in trans representation, Landyn Pan, a New York-based photographer, found themselves discouraged by the lack of diverse representation for trans and GNC bodies. As most narratives tend to focus on the medical transitions of binary trans folks and emphasize the before and after, Landyn decided to launch a project that would allow TGNC individuals to honor their bodies and feel seen.

TGNC Naked Paint Party is just what it sounds like: a celebratory space where trans and gender nonconforming people get naked and paint on each other. The result is then documented with a group photoshoot. Through the process, folks share vulnerable stories with each other, and discuss their complex relationships with their bodies, as well as others perceptions of their identities.
"Realizing the truth about your own gender is liberating. I just want these photos to show what's being ignored, what's not necessarily simple, respectable, beautiful or palatable," says Landyn. With three parties hosted in New York and one in Los Angeles, and with plans to take the project to other cities in the future, Landyn hopes the experiences encourage people to live more authentically.
i-D sat down with Landyn to learn about their vision for TGNC Naked Paint Party, how nude photoshoots can help someone embrace their body complexities, and why we still have ways to go in diversifying media portrayals of trans and GNC individuals.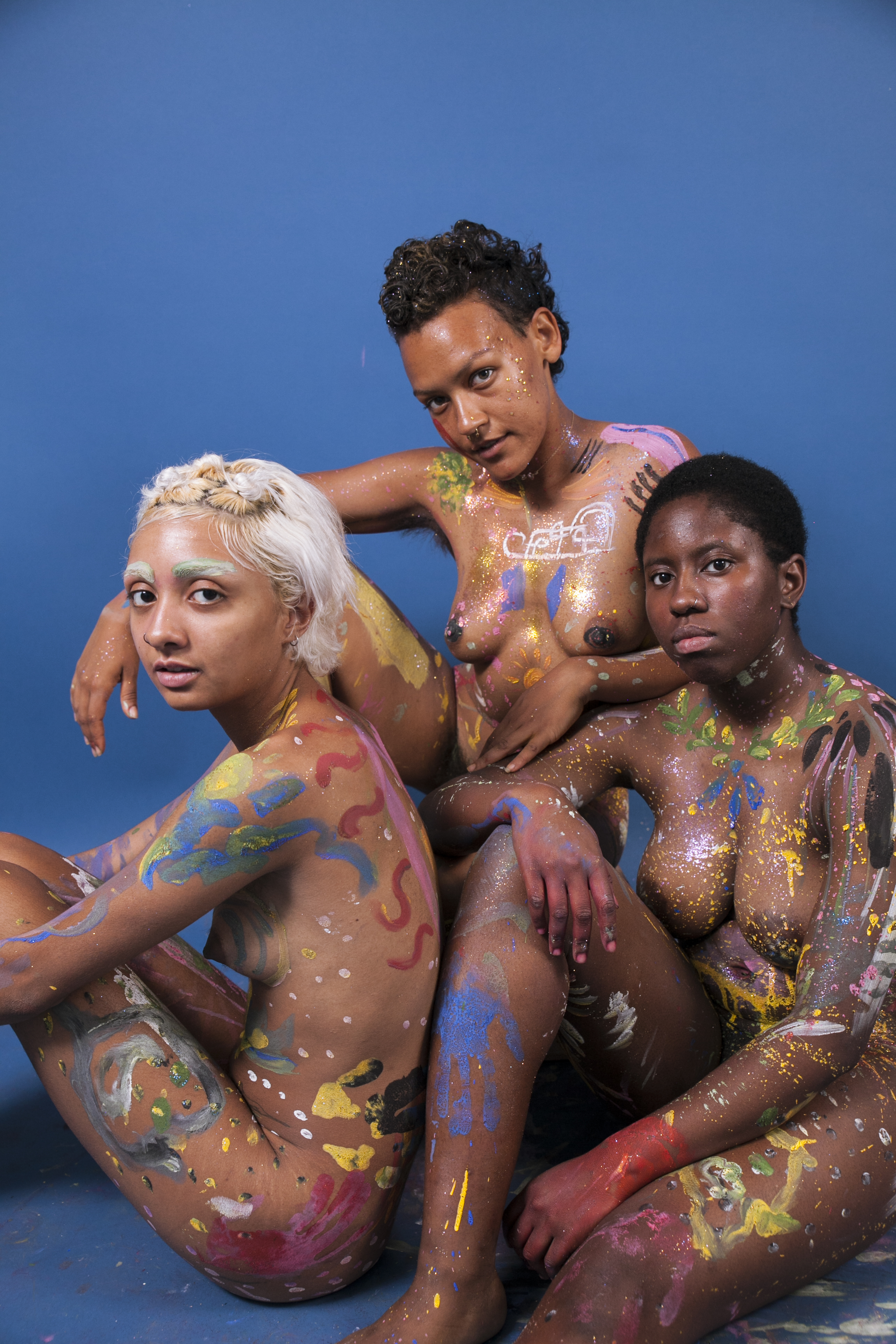 What inspired you to launch the TGNC Naked Paint Parties?
I always felt awkward in my body and uncomfortable with nudity. Back in 2015, I had just gotten top surgery and started testosterone, but there were still "undesirable" parts of my body like the loose skin on my chest that was leftover from surgery. It may not have been noticeable to some people, but to me it was all I could focus on at the time. I had issues with intimacy and my sexuality and I was over being uncomfortable in my own skin. I thought that being naked with others in a safe, non-sexual setting would challenge me and push me to think differently. I decided to organize a paint party in 2015 and I felt really liberated by it. I never published those photos but from time to time, I thought about the powerful experience I created for myself.
There are many reasons why I decided to start it again, this time with clearer intentions. Between 2015 and 2018, trans representation in media had really boomed but what I saw didn't reflect the lives of most trans people I knew in real life. It was frustrating for me and I knew I wasn't alone. I saw this project as a way for different trans people to get together and release that frustration in a healing way that centers our stories and honors our feelings. I also realized that my gender is more non-binary than binary and I wanted an authentic way to express myself. Since medically transitioning, I'm very cis-passing, so being naked meant I would unmistakably be seen as trans.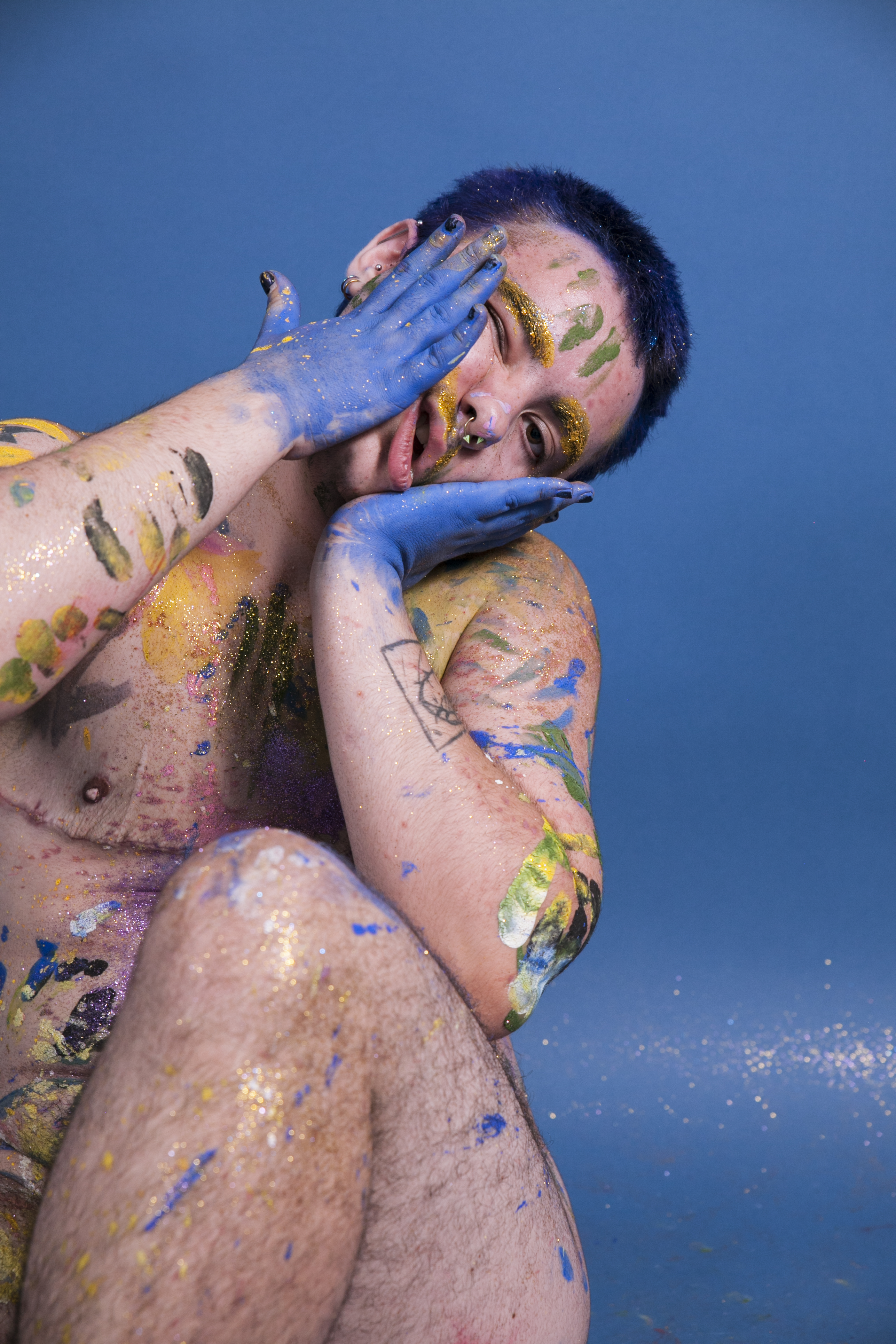 What is your mission for this project?
The purpose of this is project not #transisbeautiful or to have photos that look beautiful, but to just let trans people be however they are — proud, dysphoric, happy, sad, serious, silly, weird — in a space with other trans people who are there to support each other's spirits and affirm each other's bodies and existence.
How did your interest in making art about the body first come about?
I've always been fascinated with the human body. I have explored the bare figure and how bodies interact with each other in photography since my early high school days. My dad, who lives in China, is an artist who has created many, many nude paintings throughout my life, so a naked body was never startling to me. Nudity itself will never make me uncomfortable.
For this project, I focused on the body over things like makeup or fashion because you can't hide your body from yourself. There are so many things about it that will never change even with medical intervention. Your body is your home and you don't have to love everything about it, but you have to learn to live with it and accept it. Having nude photos of trans people also challenges what a "masculine," "male," "female," or "feminine" body looks like. You literally have no idea what someone's gender is by just looking at their body.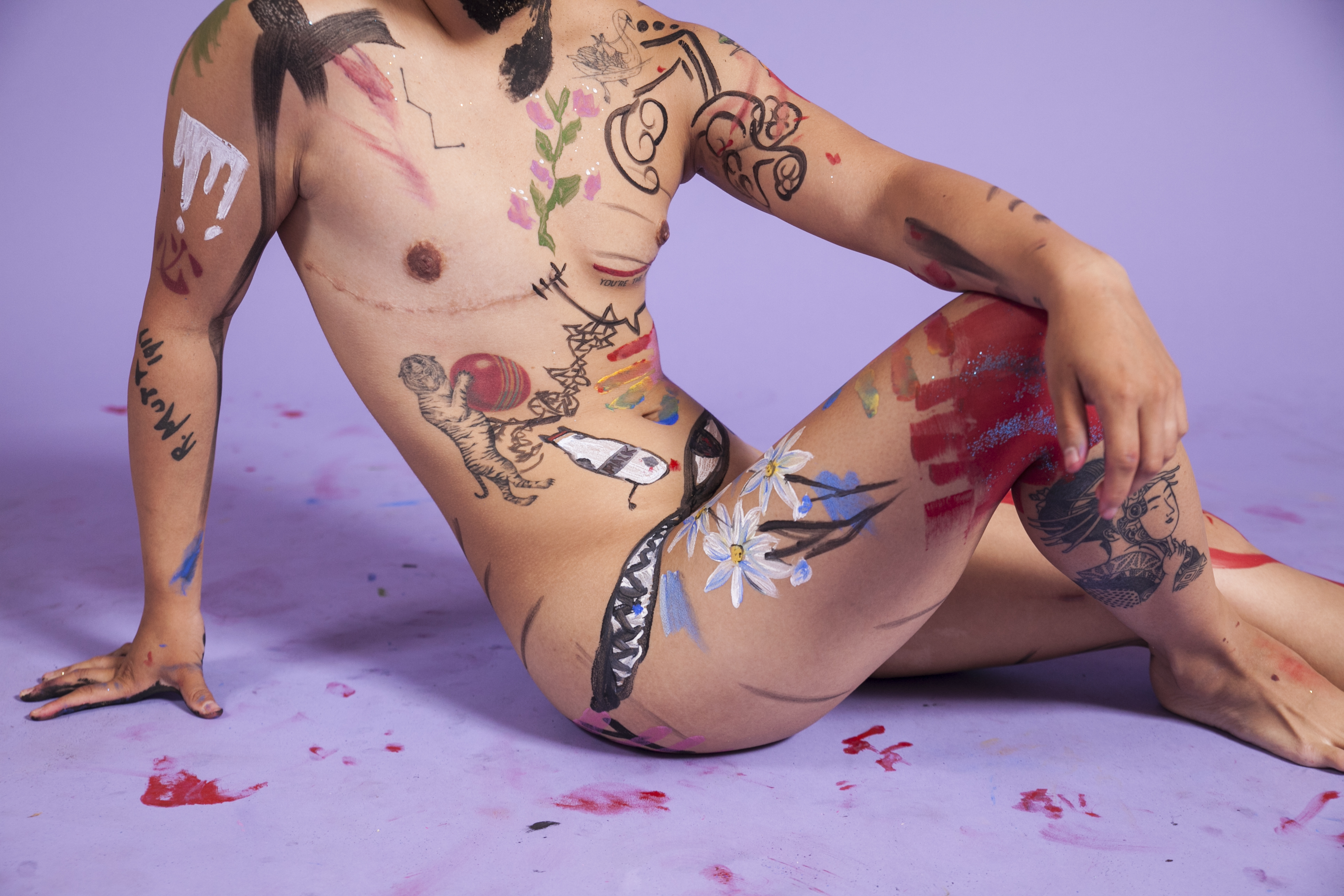 Why is vulnerability important to you? How can it help people in the queer community accept and embrace their bodies?
Participating in a nude photoshoot isn't for everyone. There are so many ways to express yourself and be vulnerable, for example through poetry and performance art. I just found that this was a way I could express myself and I want to share it with others.
When I did this the first time, I found that it was like jumping into a cold body of water. Once you're in, the water feels fine. Once I got naked, the anxiety went away and I got out of my head and back to the present moment. Being vulnerable physically allowed me to be vulnerable mentally and emotionally. For a long time I didn't want to admit I had dysphoria or even use the word. Being with other people who openly talked about their own experiences helped me accept that I am dysphoric sometimes and that doesn't mean I'm weak or that I hate myself. Being vulnerable not only opens paths to your inner thoughts, but also allows you to connect deeply with other people. Connection is the lifeblood of any community.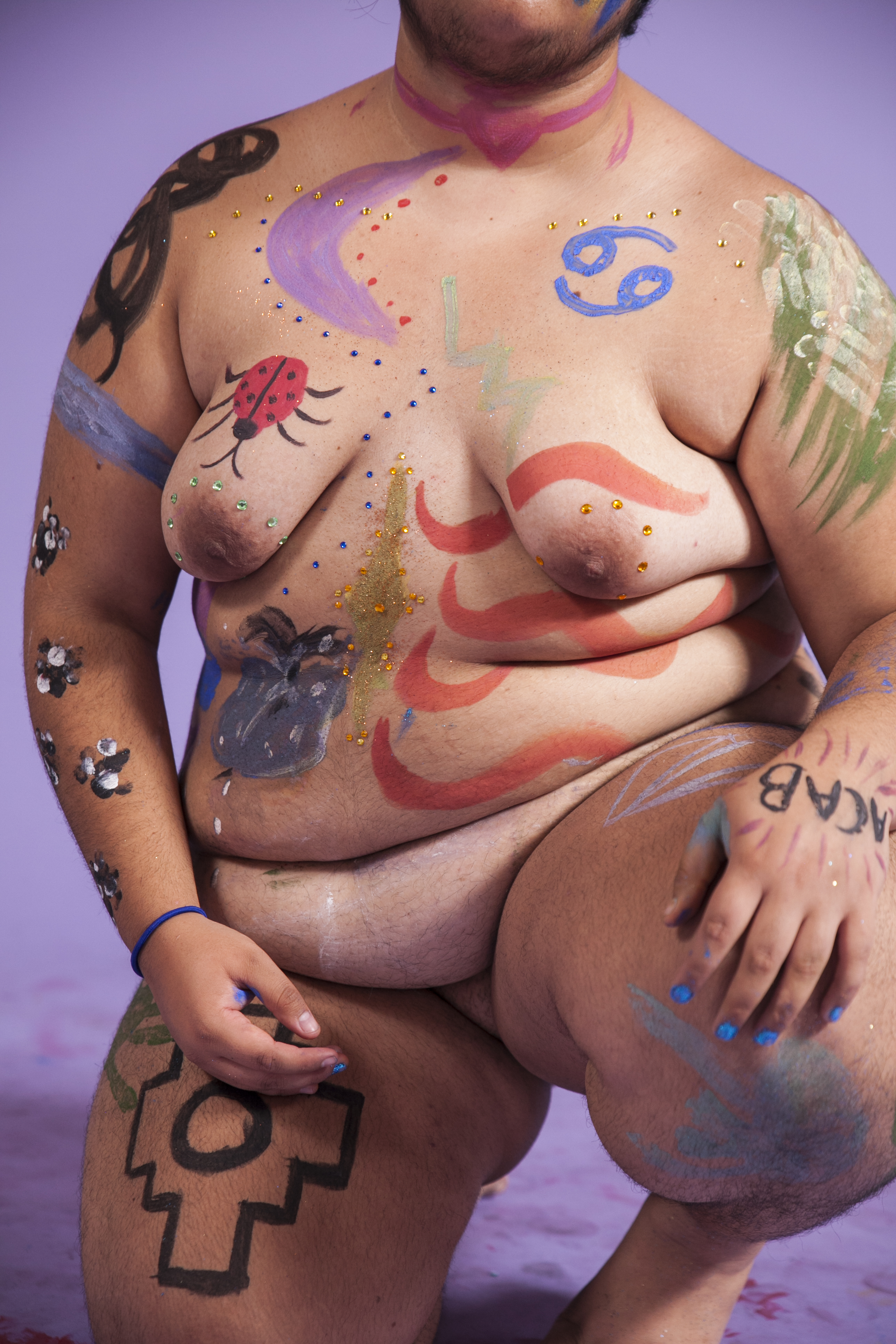 What can someone expect at a TGNC Naked Paint Party?
People can expect a totally non-judgmental and supportive space with no cis people present. The shoots last a few hours. While "party" is in the title of the project, the groups are really small, intimate, and chill, with the smallest group I've had being five people and biggest being 17.
Before we get naked, we establish trust. We spend about an hour or so introducing ourselves, setting intentions, and getting to know each other and our stories. Once we're comfortable and ready we get onto the painting, which takes up another few hours. Sometimes we'll talk casually and other times people will bring up more serious topics like physical transitions, harassment they've experienced, family acceptance, etcetera… I think it's really important to have conversations about our bodies and identities before and during the photoshoots because it's pretty rare to get that kind of space with only other trans people.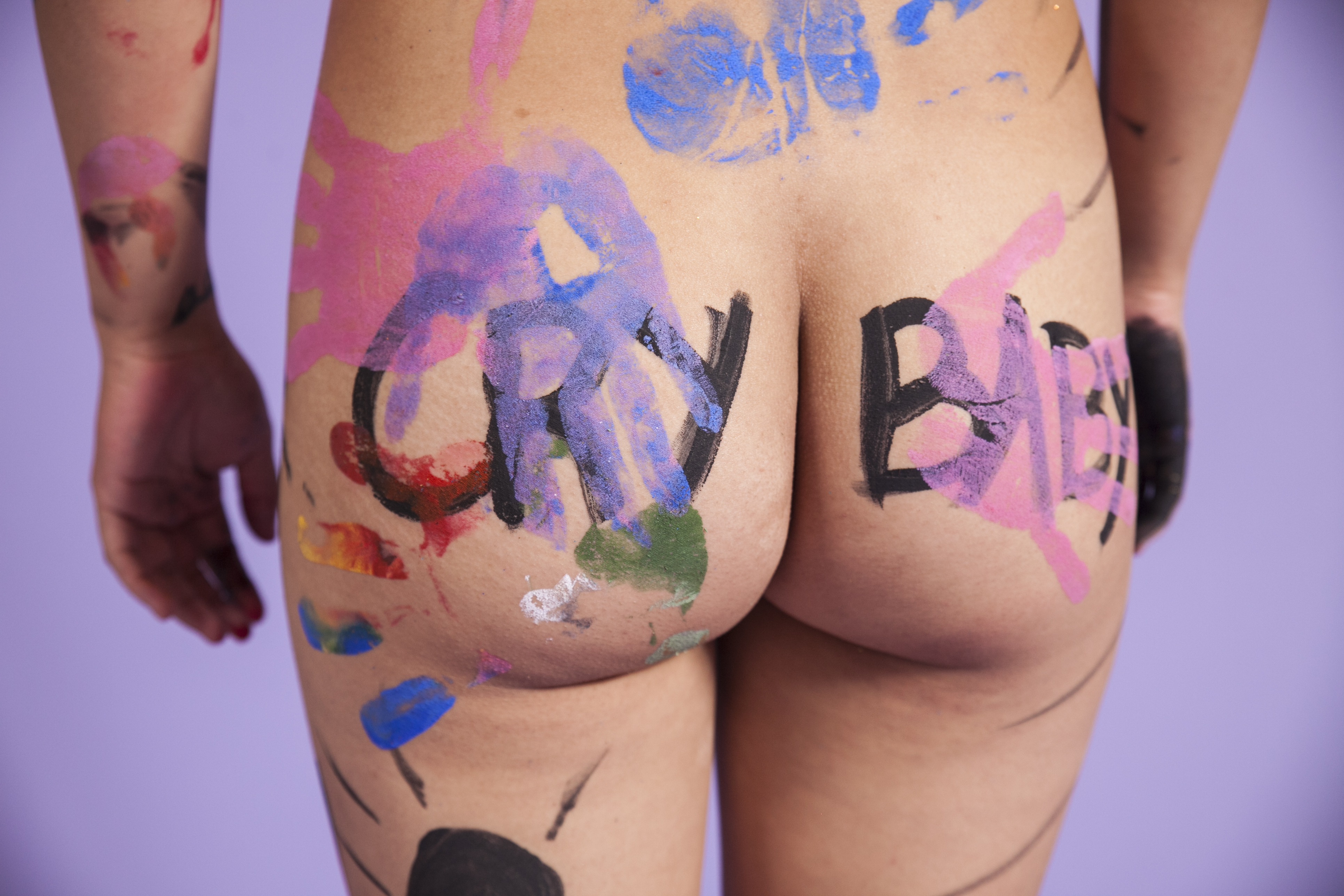 How do you ensure people feel comfortable and safe in these environments? Are there rules to ensure everything is consensual and not sexual in any way?
Safety is a top concern for me in this project. I am always clear on the non-sexual nature of the photoshoots and review rules of consent before anyone undresses. If someone ever broke the rules, I would kick them out. I keep the photoshoots small so I can monitor everything and so far there haven't been any problems.
How does the act of trans people painting on each other's bodies help affirm their existence?Being painted on makes you and your body the center of attention in a really positive way. You can't tell sometimes how healing it can be to admit you have dysphoria in a certain part of your body and have someone draw something fun on it like a flower or a wave until you try it for yourself. Painting can be really fun and therapeutic and takes a while to complete. We are naked for longer because of that, which gives people time to get out of their head about any anxieties they may have, to get to know the other people better and to ease into feeling comfortable in their own skin.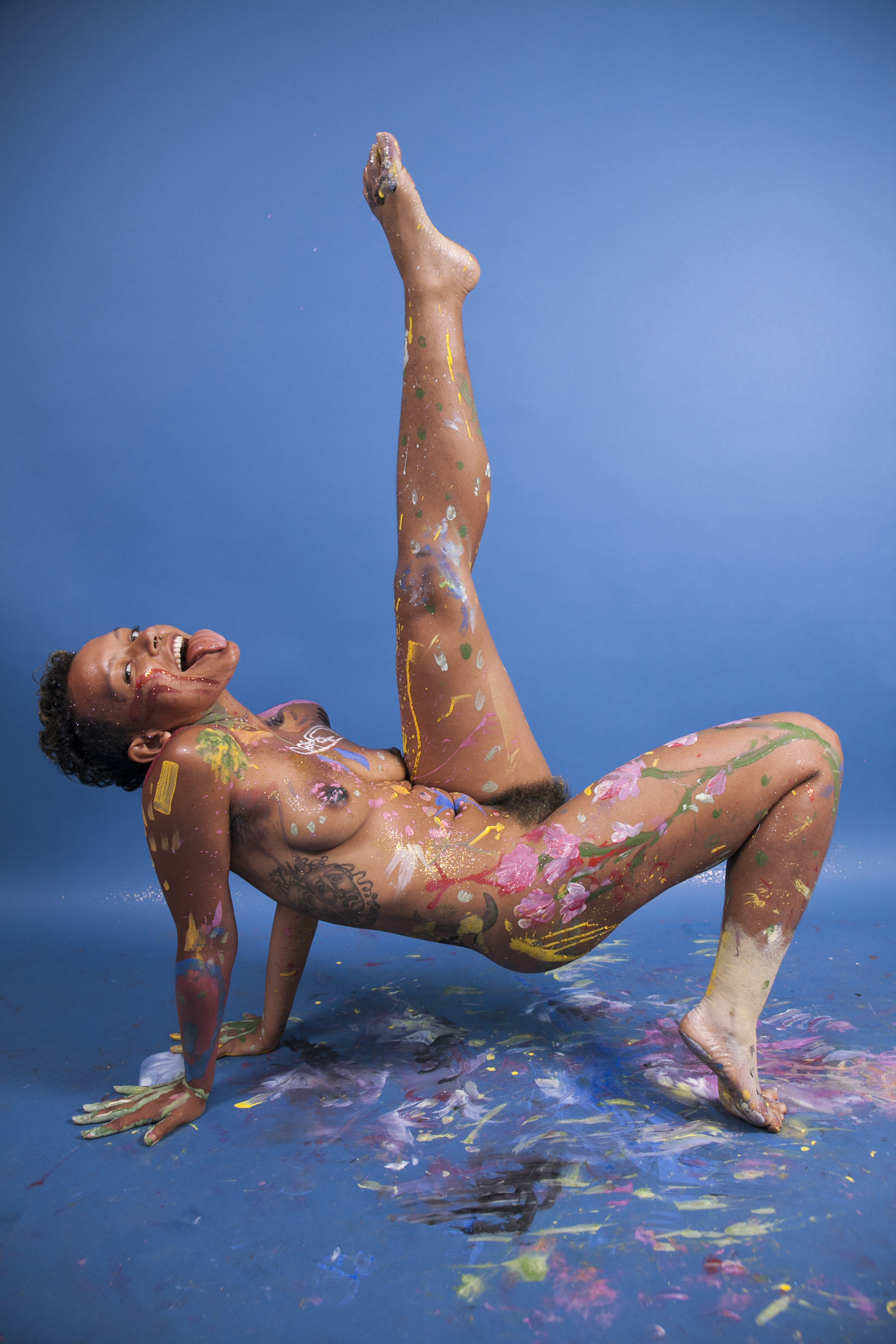 How do you find people to participate in these shoots? How do you hope to expand it in the future?
So far the participants have been friends, and friends of friends, through word of mouth and social media promotion. People have to answer a couple of deep questions in the sign up form so I know I'm finding the right kind of people that match the project. I purposely try to find people who want to be part of an affirming experience and who want a space to be comfortable in their bodies and be seen by other trans people only.
I'm really hoping, as I build an audience for this project, I will be able to reach more people and even travel to other cities. In the future, I will definitely be hosting photoshoots for people of color and I also want to get a broader age range since almost all of the people in the project so far are in their 20s. I would love for some photoshoots to be intergenerational.