watch ariana grande reunite the 'mean girls' cast in 'thank u, next' teaser
It's the noughties inspired sequel to Charli XCX's '1999', that you never knew you needed.
|
27 November 2018, 7:30pm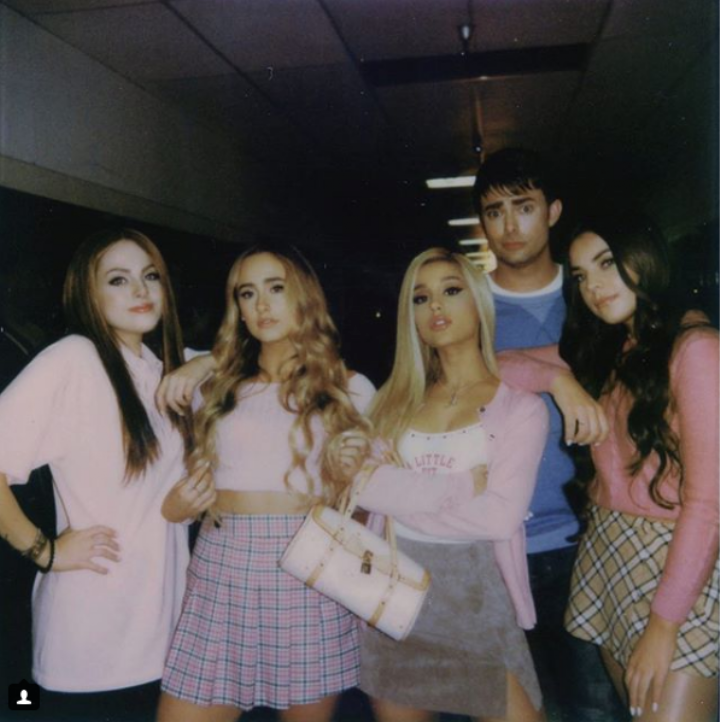 Photo via Instagram.
Okay, so, on the eve of the 20th anniversary of Britney Spears' iconic "Baby One More" Time video, reigning pop queen Ariana Grande released a teaser for her upcoming "thank u, next" video that's also fittingly steeped in 00s nostalgia. Is this a coincidence? We think not. While it's no secret that we're all eternally obsessed with the 90s (hello Marc Jacobs Redux Grunge collection and the resurgence of cult brand X-Girl), this was also recently evidenced in Charli XCX and Troye Sivan's epic video for the song"1999" — which served as visual homage to some of the decade's favorite films like American Beauty, Titanic, The Matrix, and The Blair Witch Project.
When Ariana released "Thank u, next," her first single since Sweetener and the Pete Davidson breakup, with its pink burn book inspired album art, we could tell what was coming next. It looks like Ariana's making the unofficial sequel to "1999" and reuniting the cast of Mean Girls in the process. The teaser boasts a number of original cast members, including Jonathan Bennett, more commonly known as Aaron Samuels. "Ariana Grande told me my hair looks sexy pushed back. She's not wrong," he says.

Troye Sivan is also there spreading rumors: "I heard she's a lesbian now and dating some chick called Aubrey." The video even features Bethany Byrd, aka the OG army pants and flip flops girl.
While it's easy to get caught up in the Mean Girls reunion hysteria, let's not forget that Ari also teased some Bring It On cheer fits last week (starring a pregnant Colleen Ballinger), hinted at 13 Going on 30 references, and posed with Legally Blonde's Jennifer Coolidge, each sporting their signature high ponytails. It's all leading us to believe that the forthcoming music video will be a tribute to all your favorite noughties teen movies. We think it's so fetch. Thank u, next.