ever wanted to be more audrey horne? here's how
Ahead of her appearance at Twin Peaks UK Festival this weekend, Sherilyn Fenn gives us the ultimate guide to putting a little more Audrey Horne into your life.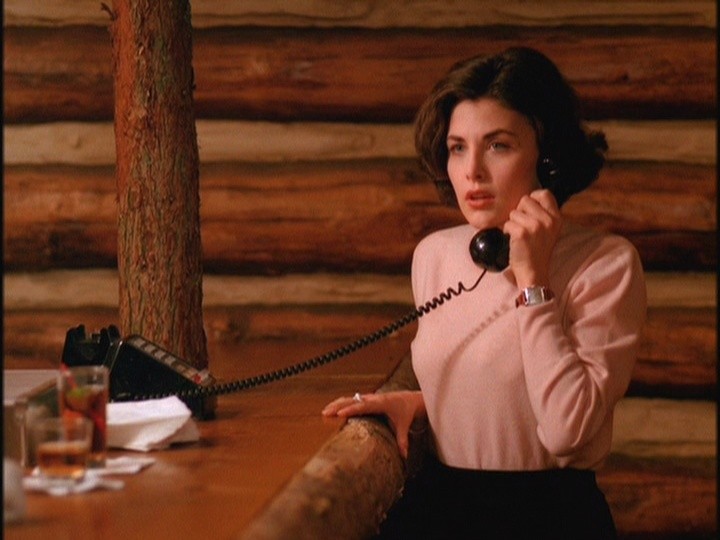 Image: Twin Peaks
Sherilyn Fenn didn't expect to be talking about Twin Peaks 27 years after it first aired. "I remember leaving a screening of the pilot and saying to my agent, 'This is never going to go! Nobody's going to like this!'," she tells i-D over the phone from a baking hot Los Angeles. Of course, she had reason to be cautious. The show, created by iconic Blue Velvet director David Lynch and Hill Street Blues screenwriter Mark Frost is, to the casual observer, a tangled web of trees, donuts, owls, logs, ducks, fire and water. And yet, like all of Lynch's work, Twin Peaks was and is (as the series recent Showtime revival demonstrated) so much more than that too -- best when dealing with the death of a Homecoming Queen, and the ripple effects it leaves on the population of a small Washington town.
At the heart of the show is Audrey Horne. The cherry-stem tying, slow-dancing daughter of a crooked hotelier, Audrey is the archetypal Lynch creation. Outwardly beautiful, inwardly haunted, her half schoolgirl/half pin-up look became as much a part of the series as coffee and cherry pie -- a complex, joyful character with the best eyebrows in the state. Ahead of her appearance at at Twin Peaks UK Festival this weekend, Sherilyn gave us her guide to putting a little more Audrey Horne into your life. As you can imagine, there's more to it than meets the eye.
Be yourself
"Audrey wasn't originally in the pilot. What David does is he looks at 8x10s and decides who he wants to meet. And so I was probably there, like a lot of women my age, being considered for Donna or Shelly or whoever. Then they called a week later and said he was writing a role for me. He never came and said 'she's like this' or 'she's like that'. She was just me in a weird way."
Be a brat
"I remember when my brothers first saw it they said, 'That's just like you, you're such a brat!'. Anything to get attention, being a brat, looking for trouble. But then I love that David made her a virgin too. He made her somebody that you got to see coming into her power and owning it. She's damaged goods from her father and she falls in love with somebody [in Agent Dale Cooper]. And she really thinks she loves him. David took her on that little journey."
Be open to change
"When we did the second episode, David came to the set and said, 'We're rewriting this scene! Get some cappuccinos. Lara, Sherilyn, come on we're rewriting it!'. I was like, no way. I had all my scene planned out! And he says, 'You're going to dance at the end'. I was so scared. I liked the music, it was like a cool song. But I felt self-conscious. I'm going to dance? By myself? He was like, 'Yeah, you're just going to glue. Close your eyes and listen to the music". And I'm just like, okay!'. He would take you to beautiful, trippy places."
Be more than just an add on
"Audrey wasn't considered an important role in the pilot, just like an add on. I don't know that anybody thought she was more than that. So where all the other girls had bigger sweaters, I brought in my cute smaller sweater. I said, 'I'll wear this because I don't want to wear this big ass sweater' and they said 'Sure!'. Half the time, I was bringing in my sweaters, my clothes. David demanded saddle shoes. He knew the shot of introducing Audrey, walking to the car, where he pans down to the shows and she swishes them in and closes the door. That's how he directs, you know what I mean? 'You know you're just going to school and you've got places to go and you're happy to get out the house, okay, action!'. It was fun. It was just really, really fun."
Be all of those things and more
"I think, ultimately, there's a haunting sadness to Audrey. A lostness, a brokenness, a longing that can't be filled. And I think maybe that's why people relate to her. We've all been hurt to our core as young people and we carry that -- whether it's literal or you had a perfect childhood and it's existential. I think the way that I work has always been to illuminate that and feel that and show that and explore that, and not show you something that I've already figured out. I would hope that's what connects people rather than that she's pretty or anything. Because that goes away after a minute. That's not what it's about. It's like everything with David. It's much deeper. There's always something going on under the surface."
The Official Twin Peaks UK Festival takes place at Hornsey Town Hall Arts Centre from 7th – 8th October.