"it's a show about hope": from rick to margiela, paris spring/summer 18 is all about positivity
With the stakes of the world being so high, designers are rejecting the angst and fear of today's global climate and crafting a future of optimism.
|
29 September 2017, 2:02pm
Rick Owens
This article was originally published by i-D UK.
As people with little interest in the show circus point, pull faces, laugh, scoff, or sigh during fashion month, ours is an industry often criticized for being frivolous and out-of-touch with reality. That accusation can not be thrown this season. The protests were led by Rick Owen's parade of fertile freaks. After his epic skeletal-scaffolding-set spring/summer 18 men's show, Rick Owens invited the fashion set back to his favorite building in Paris — the Palais de Tokyo —to experience a water-soaked rejection of the threats that we all face together. From climate change to terrorism, high stakes nuclear poker to ethnic cleansing, the global socio-political landscape is bleak for all us, fashion designers included.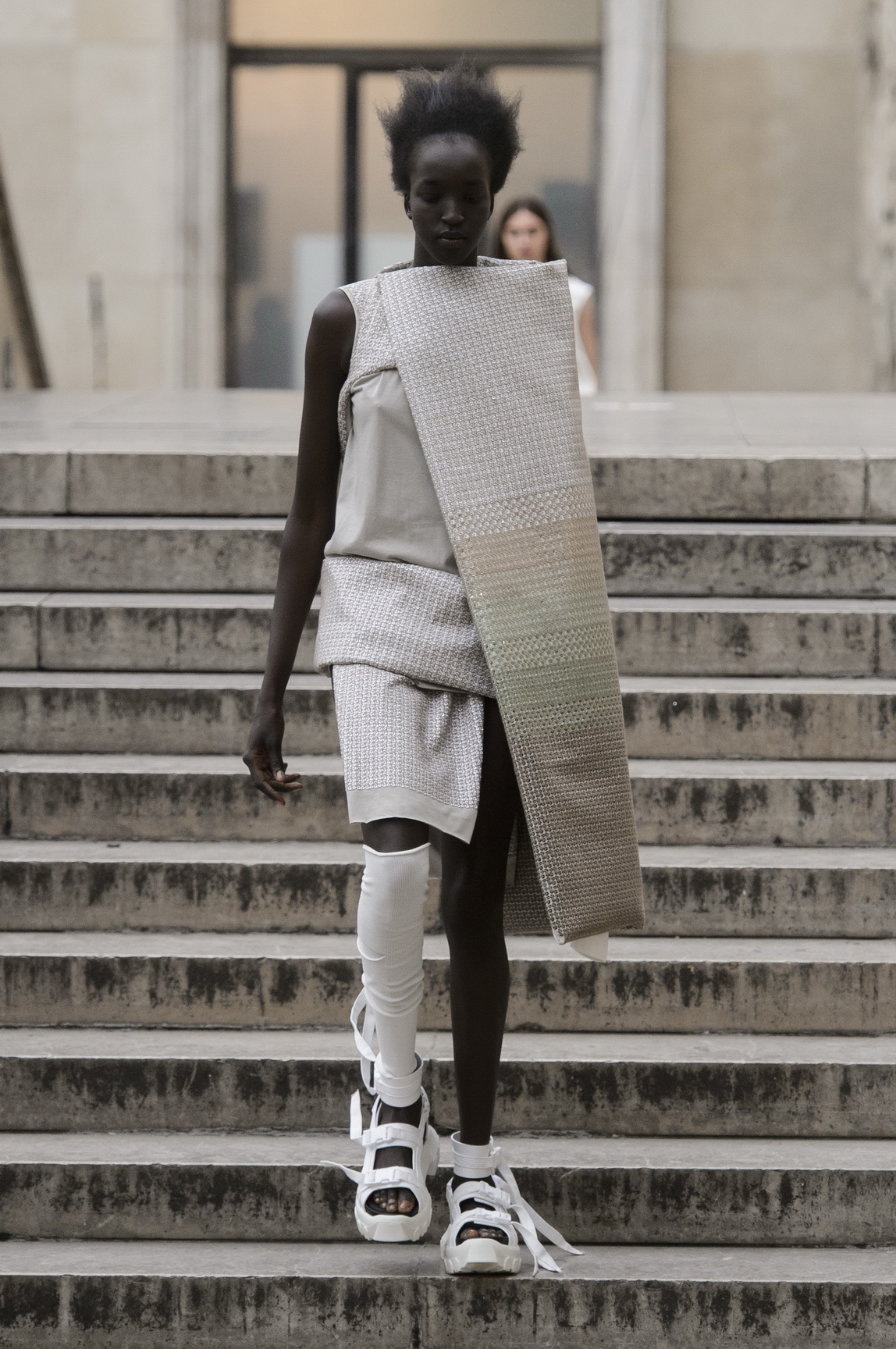 Beyond Rick Owens, John Galliano proposed a new glamour to enhance our everyday lives at Margiela, Dries Van Noten wanted to escape into a world of optimism, and Julien Dossena longed to reclaim the dancefloor as a place of fun rather than fear at Paco Rabanne. While the other collections were rich in escapism and encouraged the front row to overdose on KiraKira+ (the viral app that adds shine and sparkle to our lives), the statement of rebellion was heard clearest at Rick Owens. "I feel I need to propose experimental grace and form as a gesture of turning away from threat. Not really as escapism, but as rejection," he explained.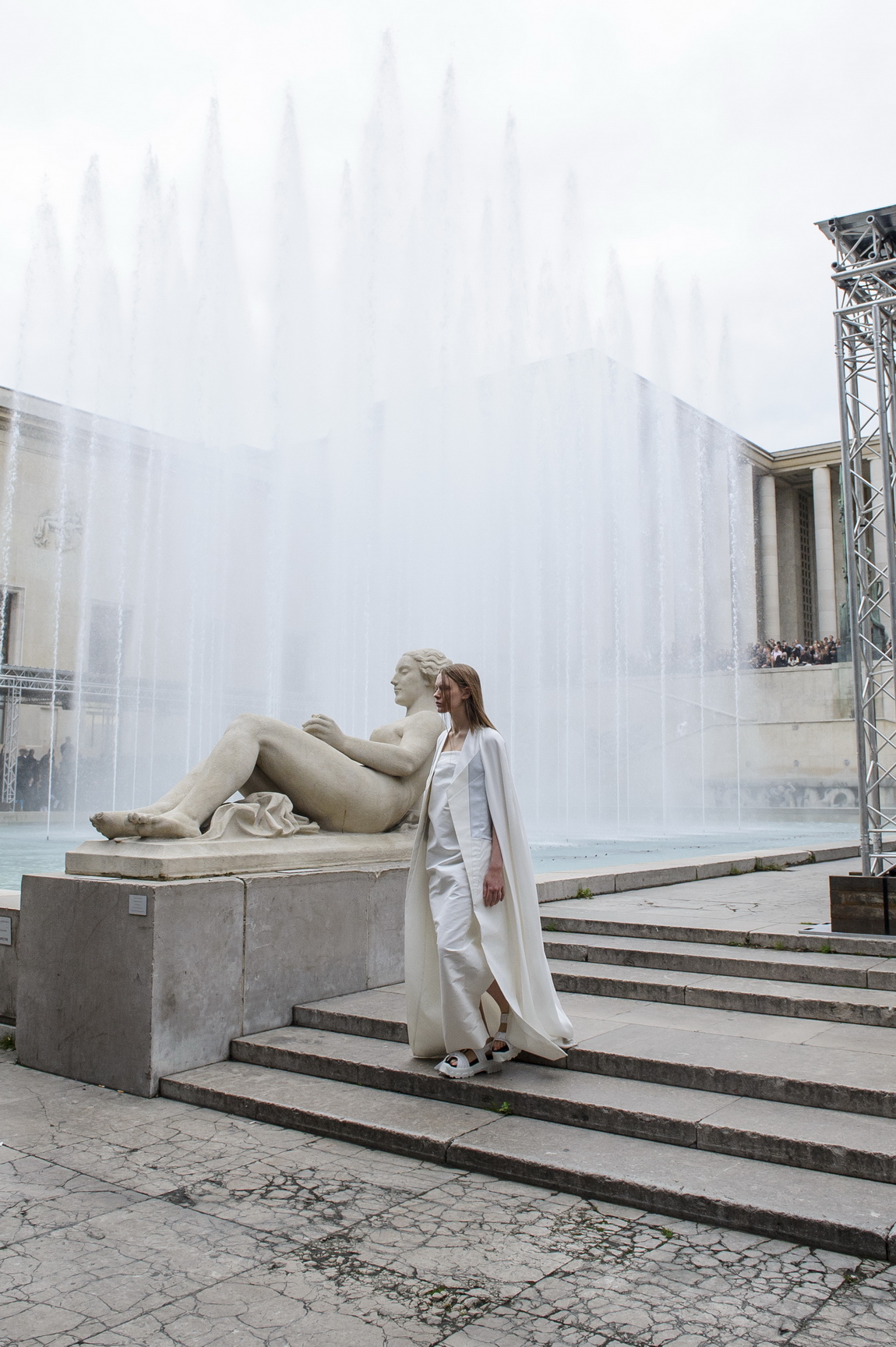 "During the rehearsal, we got wet and we were watching from inside," a PR warned as the audience weighed up wearing the Rick Owens branded poncho that was on each of our seats. Fortunately, the majority of us followed the advice and donned them. While we only had a little spray splash our section, the press on the other side were soaked throughout the show. Beginning with a gentle atmosphere setting mist, the fountains inside the Palais de Tokyo were supercharged by the perennial show-trickster to a crescendo as his shapeshifting bandaged and encased collection evolved before our expectant eyes. All the while, the soundtracked thumped and built to the point in which the collective soaking was a creepy cackling laugh belonging to Owens's wife, Michèle Lamy — who has recently formed an experimental sound group called Lavascar.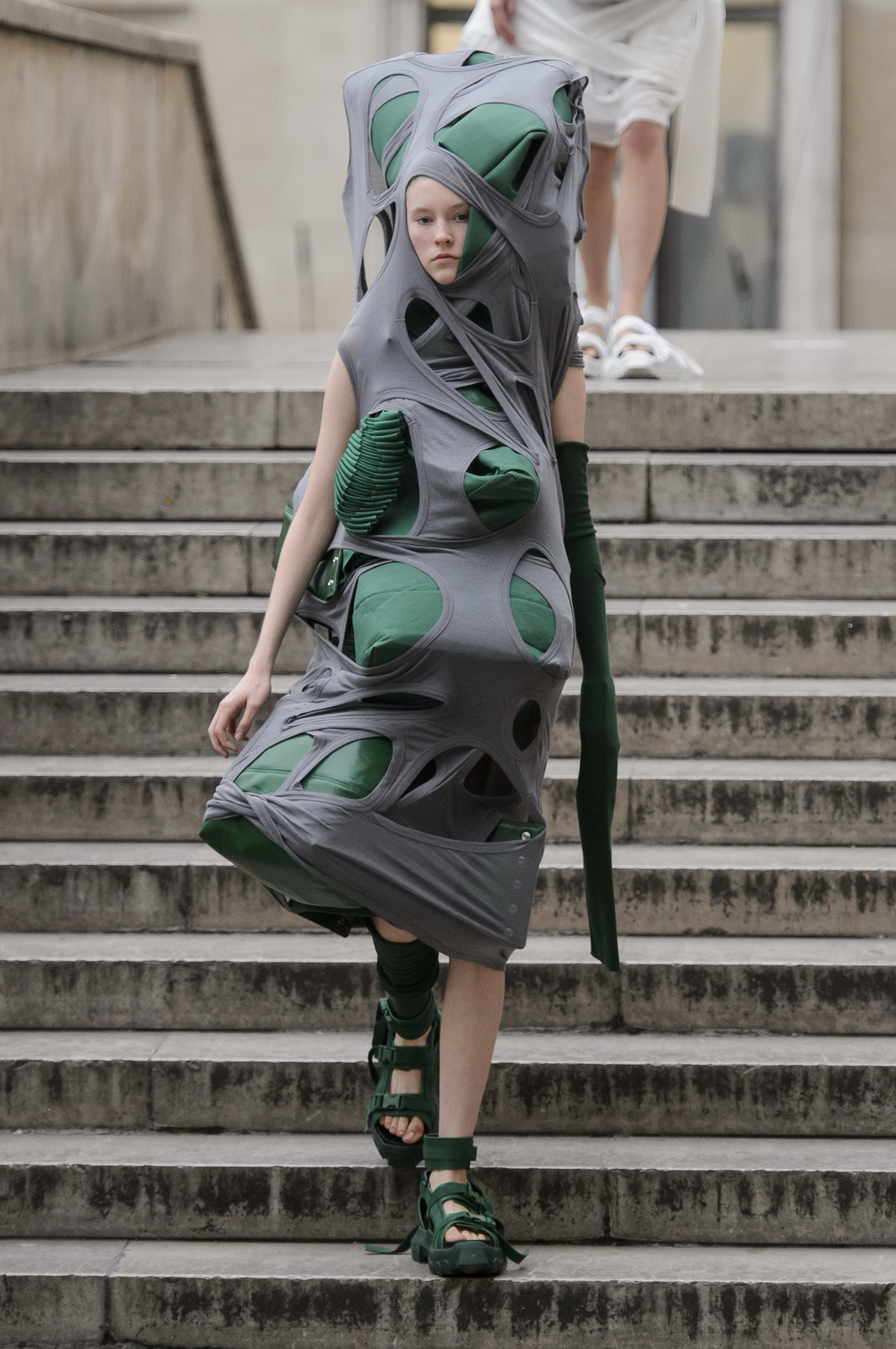 It was a show — in every sense of the the word — well worth getting wet for. "Brutalist lace, confection, and meringue," are just a few of the succinct feelings Owens himself used backstage to describe the collection. Ultimately, it was dark optimism that explored stoicism, fertility, futurism, and hope. After the unexpected wearability of his spring/summer 18 men's collection, he largely returned to the shapeshifting couture-like aliens and perspective challenging sculptural forms that shake up our imaginations. As he twisted and curved his canvas-clad forms, this collection delighted in the dualities between freedom and restraint, comfort and discomfort, life and death, familiar and otherwordly, seduction and revulsion, beauty and grotesque. It was a show that made us all feel. It was a show that would continue to challenge our senses long after we all dried out. While his most extreme creations will shock some and provoke others, his message should resonate with us all. "It's as absurd as the times we're living in," one social media commentator noted. "It's a reminder that the environment basically encapsulates our being. Bravo." Well said.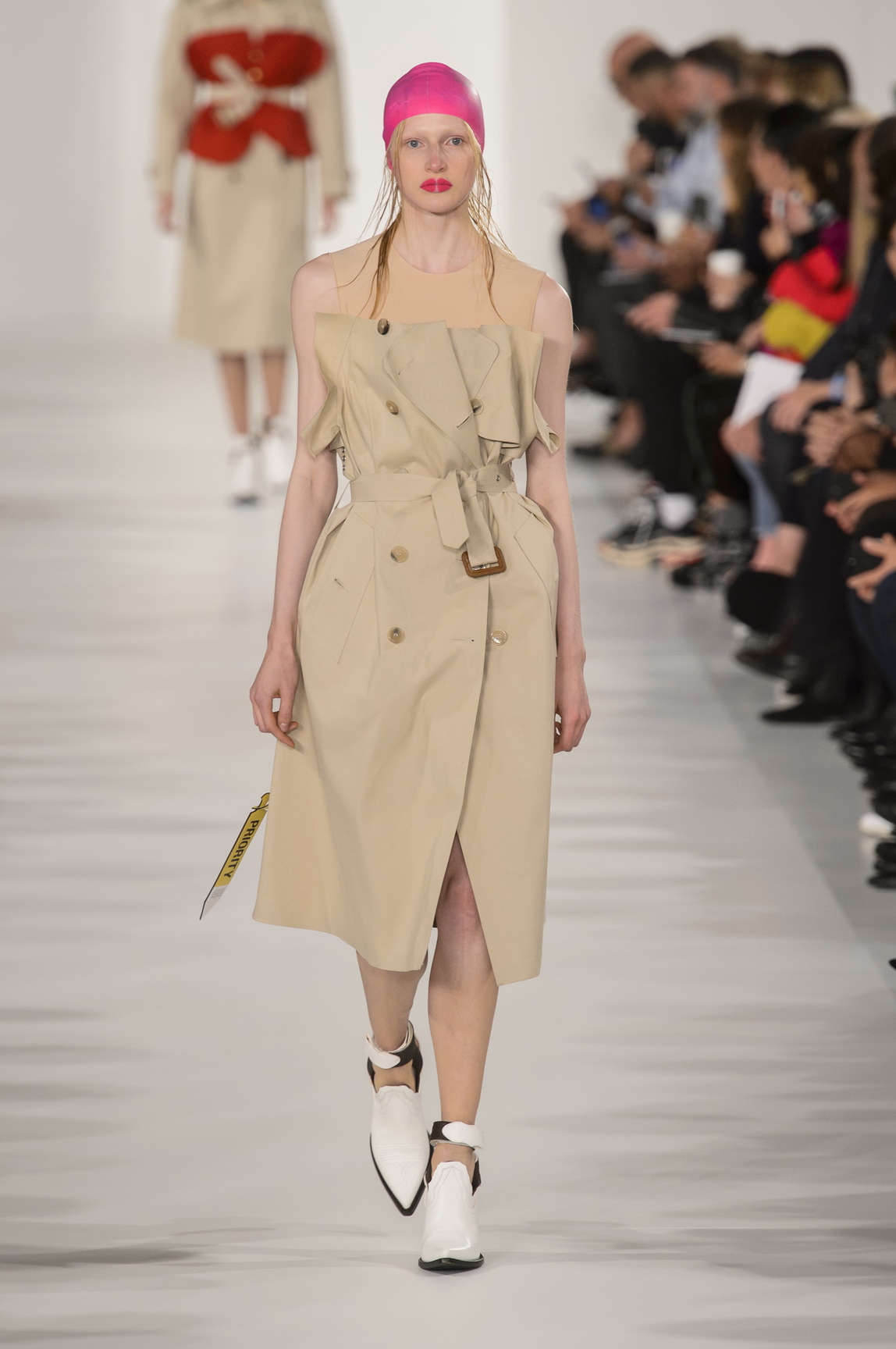 While Owens crafted an out-of-this world experience, John Galliano grounded his Maison Margiela collection in a twisted vision of everyday reality. As an airport tannoy system echoed and confused us inside the Grand Palais, Galliano continued the idea of new glamour which was hinted at in his Artisanal Collection in July. From wrapping a towel around your head for a quick visit to the local shop or clutching a travel pillow during a flight transfer, he was inspired by those rushed, forced, and unconscious moments of dress. "We set out to propose and further explore the idea of a new glamour that seduces us in our everyday lives," the Maison explained. "The idea of dressing in haste! Unconscious glamour."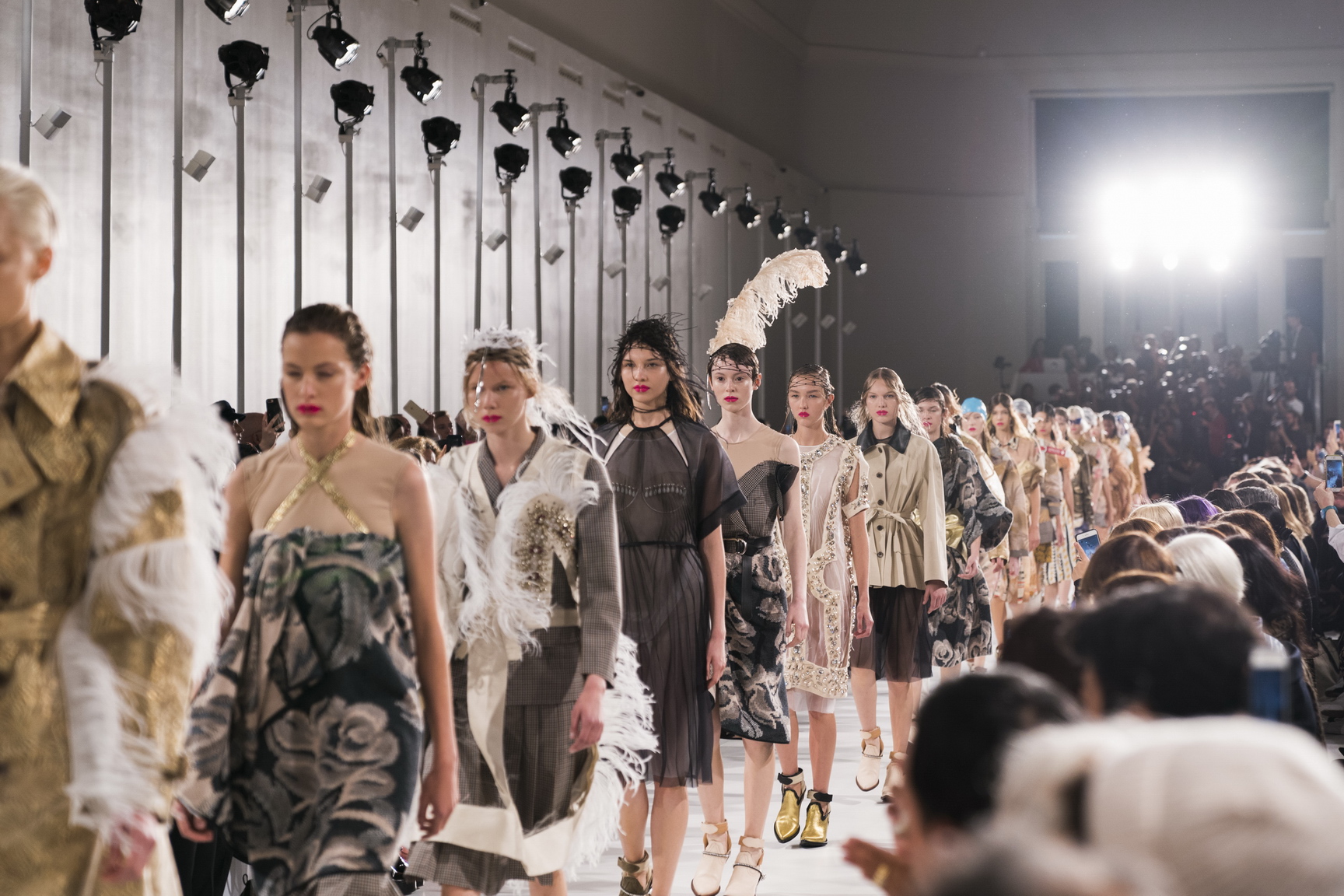 Following his experimental deconstructions of macs shown back in July, this parade of subversion and metamorphosis opened with a series of cut and pasted outerwear that traveled through a revolving kaleidoscope of everyday situations. Macs were fused with riding jackets, torn tailoring belted to toweling robes, jackets became corsets, and masks became bras as everything was turned upside down and inside out. This was Galliano at his most playful and wearable best. As trans model Terry Quinlivan walked the catwalk wearing a neck pillow accessory, who says fashion has to be uncomfortable? "When your flight is departing in only five minutes and you have to make it to Paris to walk for John Galliano," Quinlivan joked on Instagram. Maison Margiela's new glamour is about everyday reality.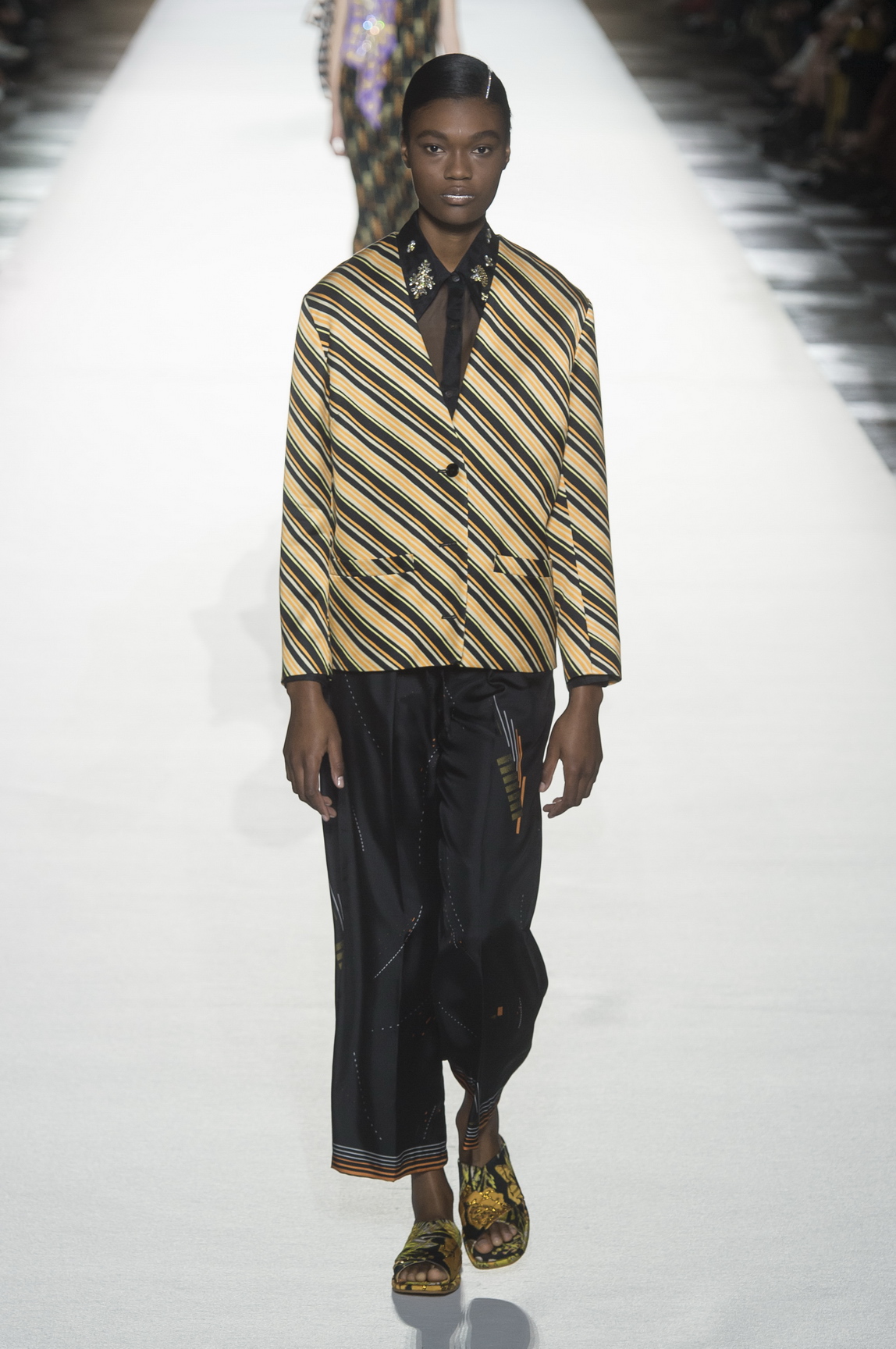 While Galliano's message was all about embracing who you are and what you're doing — Dries Van Noten was daydreaming about escape. "I wanted to make a happy, optimistic collection," Van Noten explained backstage. "Such strange things are happening in the world, that I wanted to escape with fashion, an optimistic, happy collection." Fashion has the power to transport us to far-flung imaginations. For his 101st collection, Van Noted looked to Picasso's Femmes à Leur Toilette. "The work is always on my mind," he confessed. "Picasso took scraps of wallpaper of flowers, strokes, and stripes that he had found. Instead of using paint and a brush he used all the existing elements." While Picasso raided discarded wallpaper, the Belgian designer sourced fabrics from the 20s, 40s, 60s, and 80s and fused them to the silhouettes. The mix of patterns, textures, and silhouette were playful throughout. "The women this season is a happy one. She knows the rules to break the rules. She's having fun with clothes, she has cocktails at 5, why not?" With the "End of the world is nigh" warnings echoing through our collective consciousness, most of us would happily join the Dries Van Noten for a cocktail. Make it a strong one.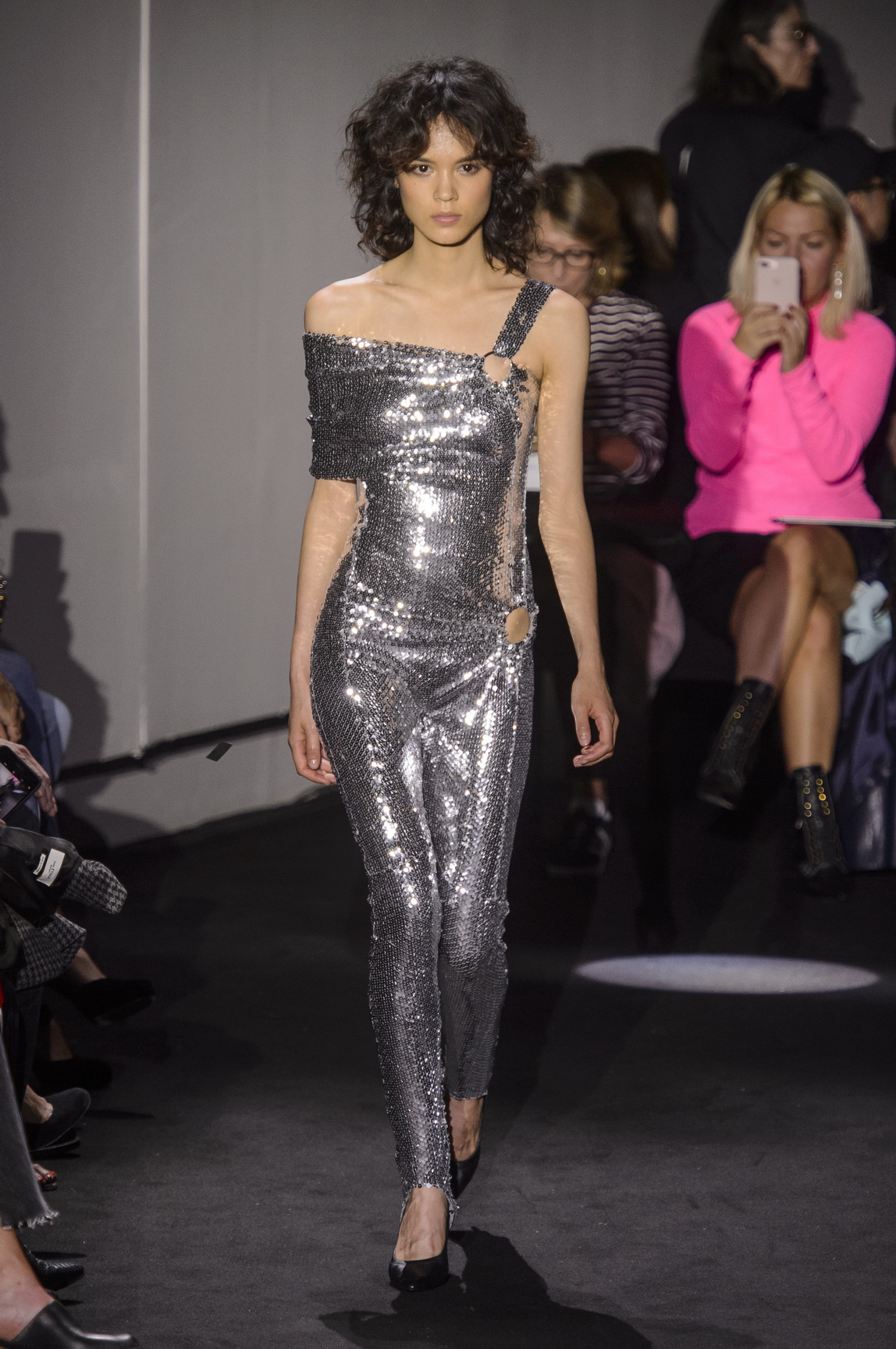 As Dries Van Noten's women was happy to find escape in art galleries and hotel bars, Paco Rabanne's girl could be found making a defiant statement on the dancefloor. Soundtracked by Whirlpool Productions's From Disco to Disco, Julien Dossena explored a joyful evening wardrobe by re-interpreting the label's disco era past for a new generation of club kids." Beyond the chainmail bodysuits and shiny asymmetrical dresses, it was a reaction to the terrorist attacks in 2015 and the countless thwarted attempts since. "They target concert halls and gay clubs, precisely where young people are," Dossena reminded us. "But we still dress up, and we still go out." This was a joyful and defiant disco call-to-action for us all to get on with our lives.
At Balmain, Olivier Rousteing's message was to continue to dream. Fresh from collaborating with the Paris Opéra Ballet, Rousteing opted to set the show inside the Palais Garnier. It was here, at just ten-years-old, where he had his creative epiphany. "We came here first for a visit, and we saw the ballet. I was impressed," he explained. "I declared, "That's what I want in my life, that's what I feel . . ." La splendeur Parisienne. And I would never have believed that 20 years later, I would have the chance to show my collection here." While an Insta-filter is placed over so much of what he does, this moment felt intimate and real. Balmain's show notes were even a letter the designer had written to himself as that impressionable boy. "Right now you might just be a 10-year-old kid from the provinces, wrapping up your first visit to the capital with a night at the Opera," he wrote, "but this is destined to become a guiding memory for you, crystalizing into another symbol of the future that you dream about." In realizing Rousteing's dreams, this Balmain show was filled with nostalgic nods to the great designers of Paris and celebrations of the house's present fabulousness but ultimately, it delivered a reminder for us all to dream. If the world hasn't been nuked, hit by a meteorite, or washed away by the rising sea levels, where would you like to be in twenty plus years? Dream big.