Photography Gwenaelle Trannoy
nicomede talavera tells us why wellness is central to his fashion comeback
After taking a four-year sabbatical at the height of his post-CSM MA success, Nicomede Talavera is returning to fashion on his own terms.
Photography Gwenaelle Trannoy
This is an industry that continually calls for more, more, more, and it's remarkably brave for a critically acclaimed young talent to ignore that noise -- especially when big stores are buying into your work -- and to take a step back after realising that the system just wasn't for you. In 2015, Nicomede Talavera did just that.
After catching the industry's eye with a CSM MA collection that found inspiration in how communities of east London Muslim youth dress -- blending traditional uniform, functional sportswear and minimalism -- Nicomede launched his eponymous label at London Fashion Week Men's with the support of Fashion East, turning creative promise into a fledgling business. However, after two seasons with Fashion East that saw his distinctive designs stocked everywhere from Dover Street Market to Selfridges, he decided to take a sabbatical in 2015. Away from the spotlight, the Hounslow-born designer took time out to explore: researching, travelling, and working on consultancy projects. Now, four years on, he's returning with a multi-faceted, more flexible label: Nicomede.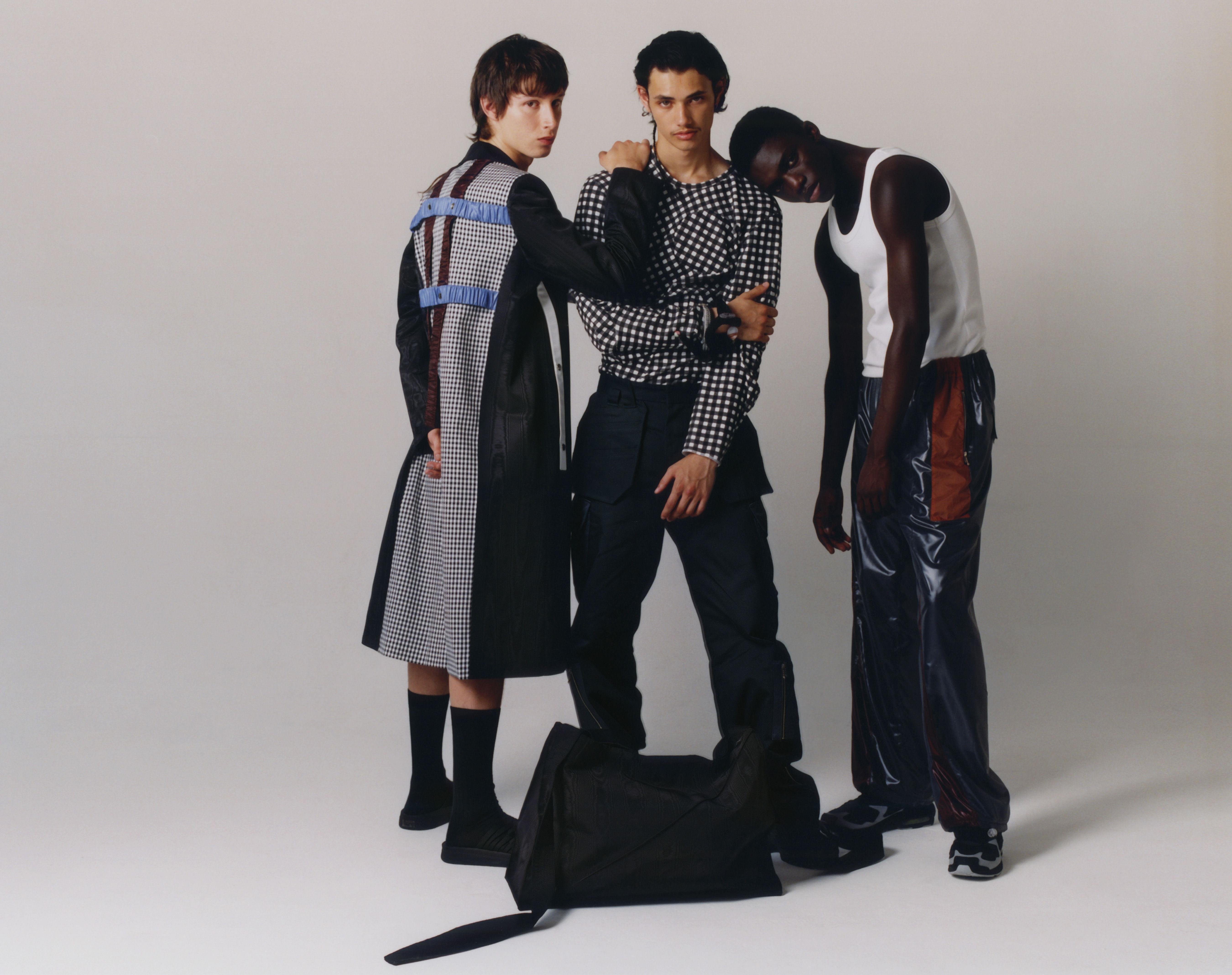 Exploring the relationship between the familiar and the fantastical, the brand promises to build an evolving man's wardrobe. Finding inspiration in Donna Karan's "seven easy pieces", Nicomede has launched with his own seven-piece capsule, Nicomede.Uniform, alongside collaborations with a diverse roster of brand partners to reimagine classic menswear staples, with the line-up to be revealed later this year. As a new generation of promising students graduate with dreams of launching their own labels, Nicomede's is an interesting case study: part cautionary tale of the dangers of losing yourself in the tides of hype and expectation, part inspiring manifesto for working in a way that best suits you. As he makes his fashion comeback on his own terms, he talks i-D through the importance of self-care, disruption, authenticity and why he's concerned with conscious evolution rather than radical revolution.
"I was a fresh CSM MA Graduate with big dreams, ambitions and lots of ideas. Now, I am aware of how to balance restraint and creativity and I have connected with what truly inspires me."
What do you know now that you wish you knew when you graduated from your Central Saint Martins MA and launched your eponymous line?
I actually wish I knew nothing from the future at that point. Everything, both small to large, that has happened has brought me to this moment and I've learned from it in so many ways. When I graduated I had an extreme fire within me to show the universe my explorative mind. I was fearless, and that's something I lost and have re-learned after stepping out of fashion. I have always been driven by my parents -- that immigrated from the Philippines in the early 70s -- to work hard, as they started life from nothing. It's kept me humble and to always remember where I come from, not just Hounslow, but within my blood too.
Looking back, how difficult a decision was it to press pause and take the sabbatical you did in 2015?
Pausing the label has been one of the best decisions I've ever made. I put myself first and stood back and watched the industry I love go by. It taught me to focus on very important aspects of my life I couldn't fully do when I was in full swing. My family and friends supported me and allowed me time to digest my decision, which wasn't an easy one. I decided I needed to fuel my inspiration and build the love for my craft again. I really immersed myself in understanding menswear through research, I was training my eye in a different way to how I worked before. A major part of this time was learning to be mindful and bring the best out of myself and others around me. I also trained physically, which helped me have a stronger mind that I can apply in all aspects of my life.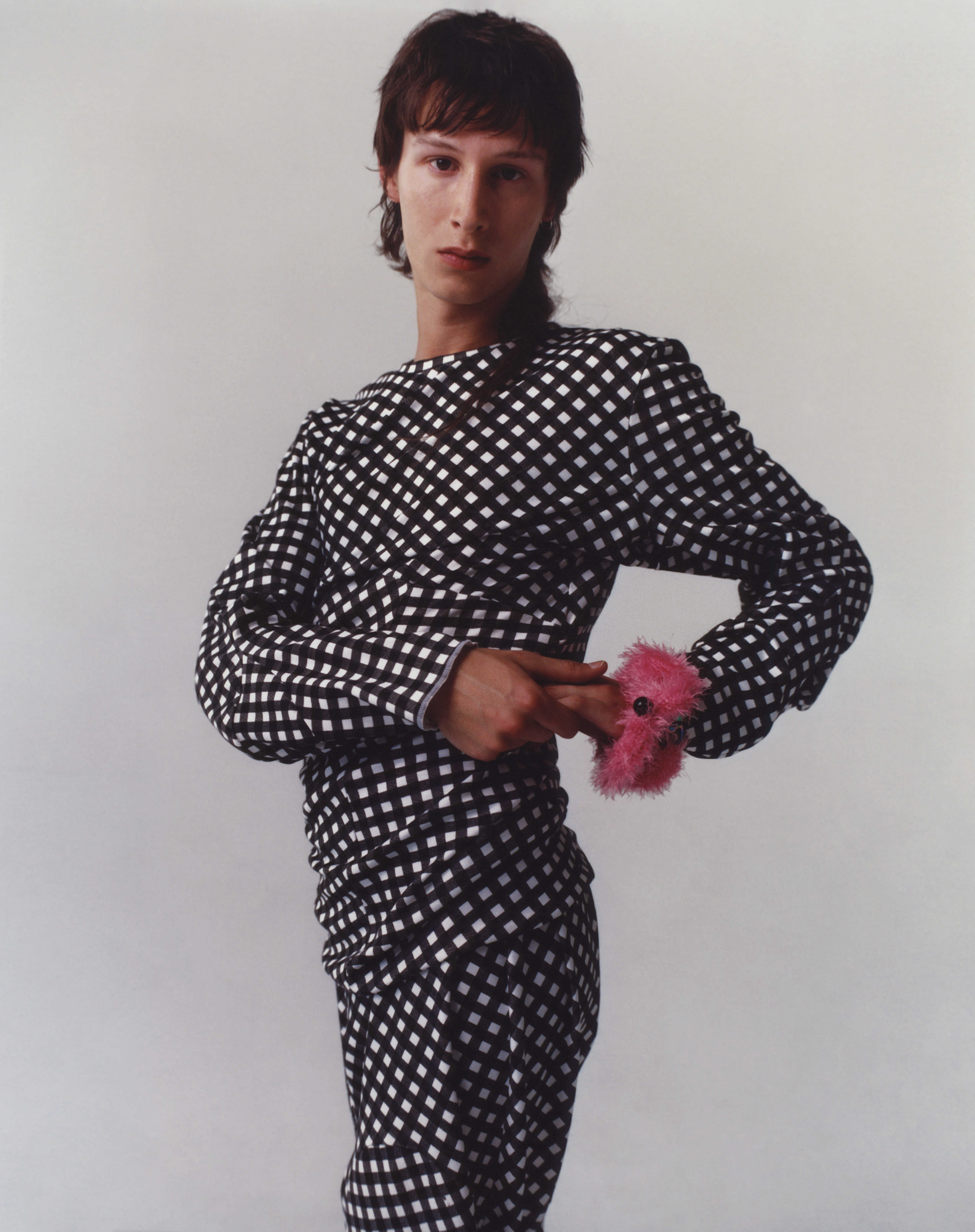 What advice would you give any young talent thinking about to graduate?
To be mindful and to be kind to yourself and others within your journey. We should support each other and that's what I stand for today. The creative industry is so inspiring and collaborating with friends and other brands is a way to share each other's strengths. I feel we live in a world of pressure which sometimes really brings magic within you, but also can act as a place for negativity to foster. There has been no right and wrong way of working in design but follow your gut, instinct and heart. A quote that I love is, "what you think is good design, is what other people have designed". Disrupt what your preconceived ideas of good design are.
How have you tweaked the system so that it works for you?
By adding this new concept alongside my capsule collections (twice yearly) of 'reimagined menswear classics' it means that I can work with brands with a rich history that are strongly associated with iconic garments. I get to challenge myself within certain parameters and to draw from archives and the future simultaneously, which I love to do. I also benefit from an established and elevated production infrastructure. I also love that I can educate the younger consumer on different classics and build a dialogue. This model also means that I deliver product in-store that is seasonally appropriate, rather than being restricted by seasons. For example, my duffle coat and puffer jacket partnerships that will launch in September and October.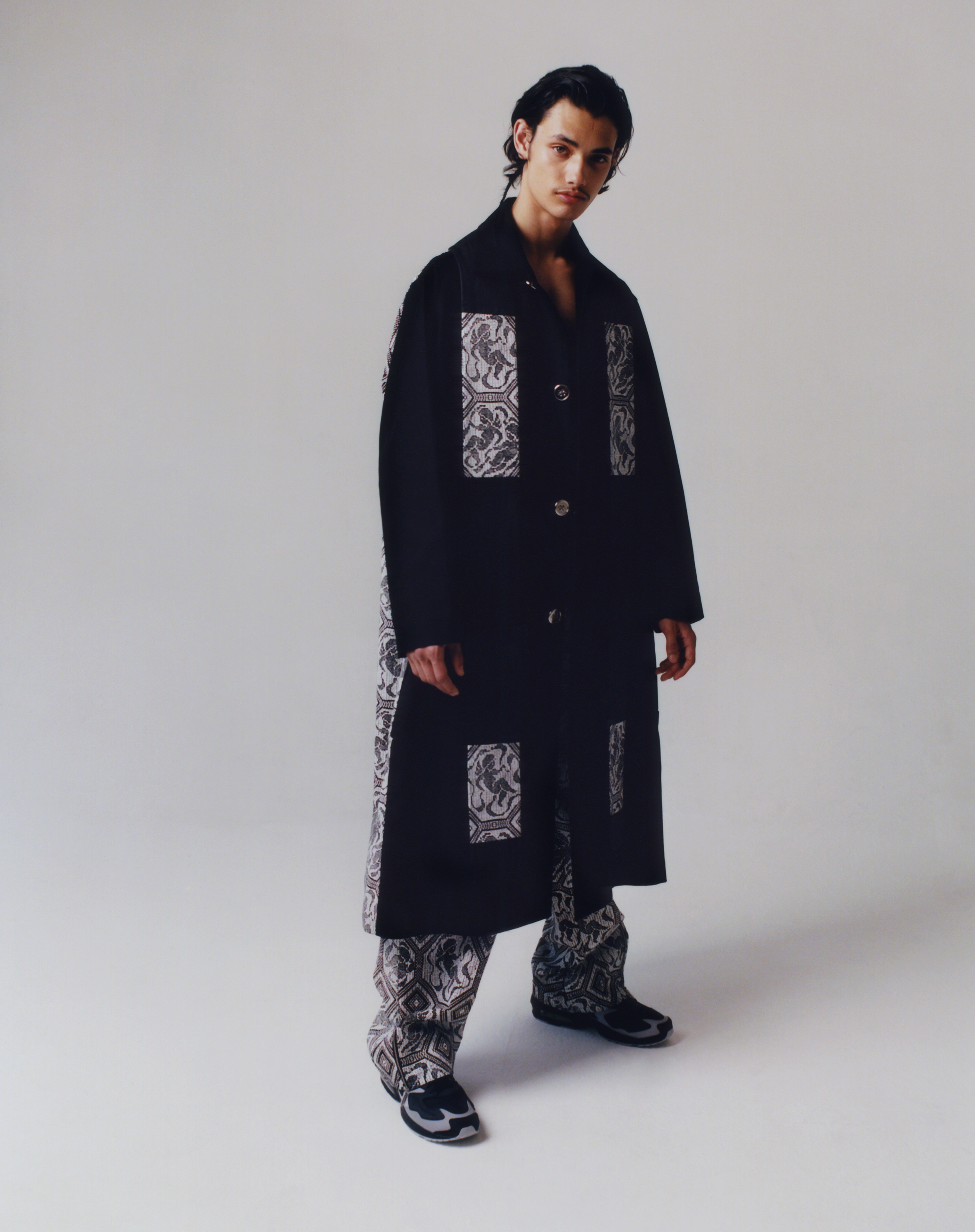 Who did you look to for inspiration, to what extent were you influenced by Donna Karen's 'seven easy pieces' with your own seven-piece capsule for Nicomede.Uniform?
Yes, I loved this model as it had a strong confident sense of self and showed focus and editing. The Nicomede.Uniform is the DNA of the brand and will continue to develop with new details and fabrications. Made from black moiré with elastic ruched nylon details it includes: an 'Origin' jacket, 'Origin' waistcoat, short-sleeve tunic, long-sleeve shirt, T-shirt, trousers and shorts. Combined, they create the Nicomede 'look'.
Who do you envision wearing your new uniform?
I imagined a new world, created from a collage of contrasts. It's a melting pot of ideas that can be distorted and re-built for a forward-facing man. The brand focusses on celebrating friendship and lifting each other up, hence the name Brotherhood. I have chosen to work with three models, Cameron, Jason and Jeremiah, who sum up the Nicomede spirit and create a tribe -- they are fun, creative, confident and outward-facing. I will continue to work with them across all of the imagery and work that we create. I think it is powerful for the customer to relate to all or one of the boys and to evolve and grow with them.
Did you start with creating your dream wardrobe of staples and then look for the perfect partner?
I started by writing a list of menswear classics, and reached 70. It was truly inspiring as there is so much history within each classic and it felt like such a refreshing way to talk about menswear. For so many years it felt like the main items mentioned where hoodies and t-shirts - not items such as the duffle coat, shell suit, Argyle knitwear, peacoat, et cetera. I questioned what my take would be on these classic items.
How important is research to Nicomede? I still think about the mobile phone snapshots on the streets of London that informed your MA collection!
Research is everything. It comes in different forms and can be endless with imagination. I keep my eyes open and visually create the Nicomede world constantly. While I took a break, I still spent multiple days each week in the library and other special locations that I found. I started to realise the themes within my research and collated these to form the backbone of Nicomede Episode 1.
Could you talk us through this first collection, and the influence of brotherhood, modern rituals and sci-fi flourishes on your work?
I wanted to tell a story that was not lateral. Modern Rituals to me is about forms of routine that build identity -- for example, the process of putting on uniforms has always been familiar and interesting to me. My sister is a nurse and my parents worked in hospitality. Sci-fi for me is about exploring the unfamiliar and elements that are unknown and do not belong in the world. They disrupt and make us ask questions.
Is it true that you returned to a well-used list of films that the late, great Louise Wilson shared with you?
It is more than true. The original list is on my wall with writing on it. The list is dark, twisted, beautiful and very close to my heart. Forever grateful for such an inspiring edit of films from so many different decades that was introduced to me by somebody whose guidance and voice is with me each day and undoubtedly influenced how I think and design today.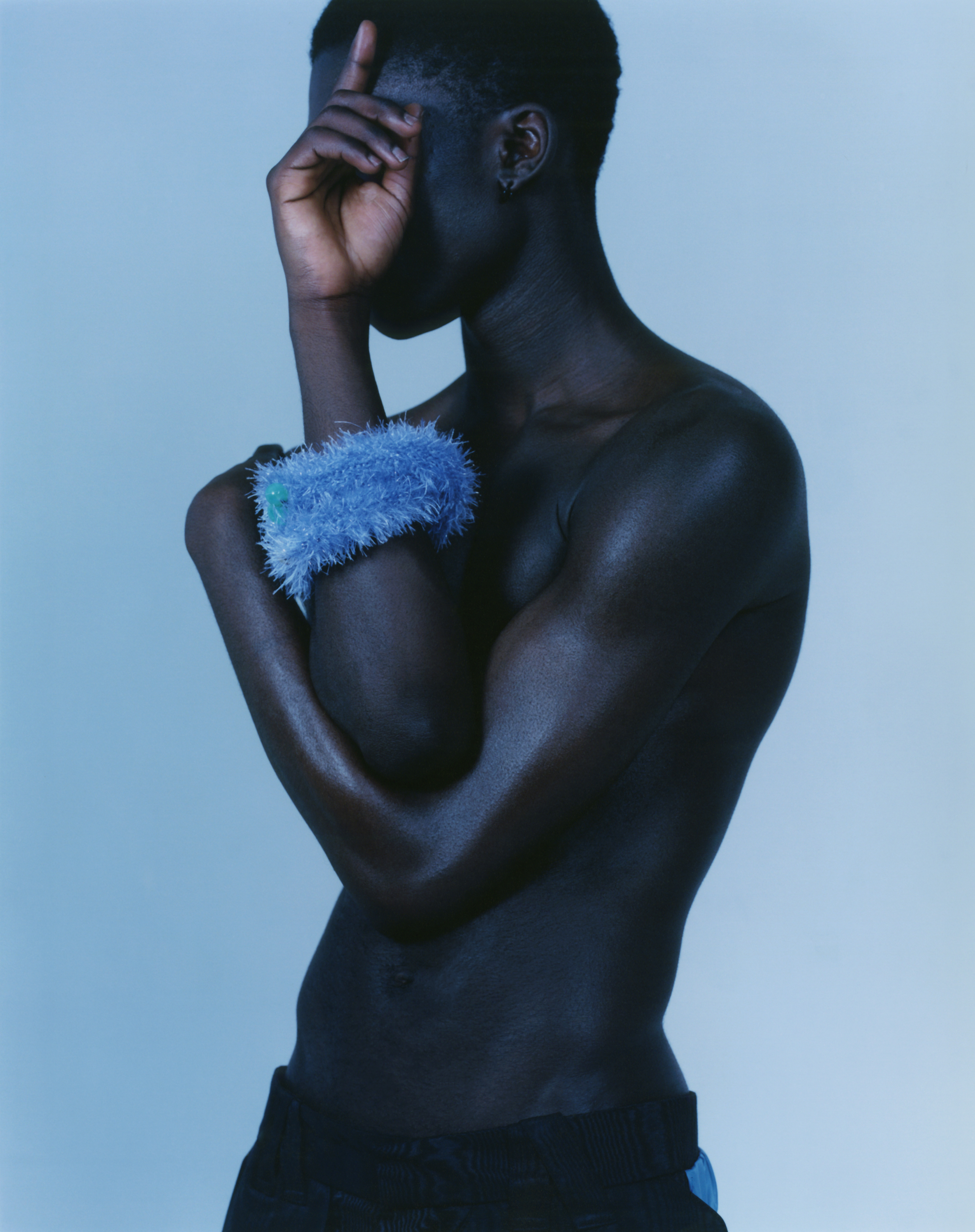 As both a designer as label, what would you say are the biggest differences to Nicomede then and Nicomede now? I've always been drawn to your attention to detail, but your eye looks even more elevated and refined here.
I was a fresh CSM MA Graduate with big dreams, ambitions and lots of ideas. Now, I am aware of how to balance restraint and creativity and I have connected with what truly inspires me. I know what I want to say, and to always be authentic. Previously I thought I needed to change rapidly and reinvent, now I am evolving with each item, collection, and partnership.
What excites you most about tomorrow?
It's a new day to create a world you want to create.