Photography Molly SJ Lowe
iris van herpen's couture show was a show-stopping tribute to technology
The Dutch designer pushed the boundaries of couture once again with a hypnotic moving dress.
Photography Molly SJ Lowe
In order for clothes to be called haute couture, they must adhere to a very strict set of rules laid out by French fashion's governing body. One of those is that couture must be made entirely by hand, meaning that even in 2019, couture is still distinctly analogue. Technology is the antithesis of couture, a threat to its heritage, despite the endlessly potential possibilities that cutting-edge technology can enable. That's not the case for Iris van Herpen. The Amsterdam-based designer is devoted to pushing the boundaries of what constitutes truly modern fashion. For her, craftsmanship and mechanics can go hand in hand, tradition and tech can be harmonious, innovation and inspiration can lead to pioneering design -- and as a result, she is one of the few couturiers artfully melding both of those worlds.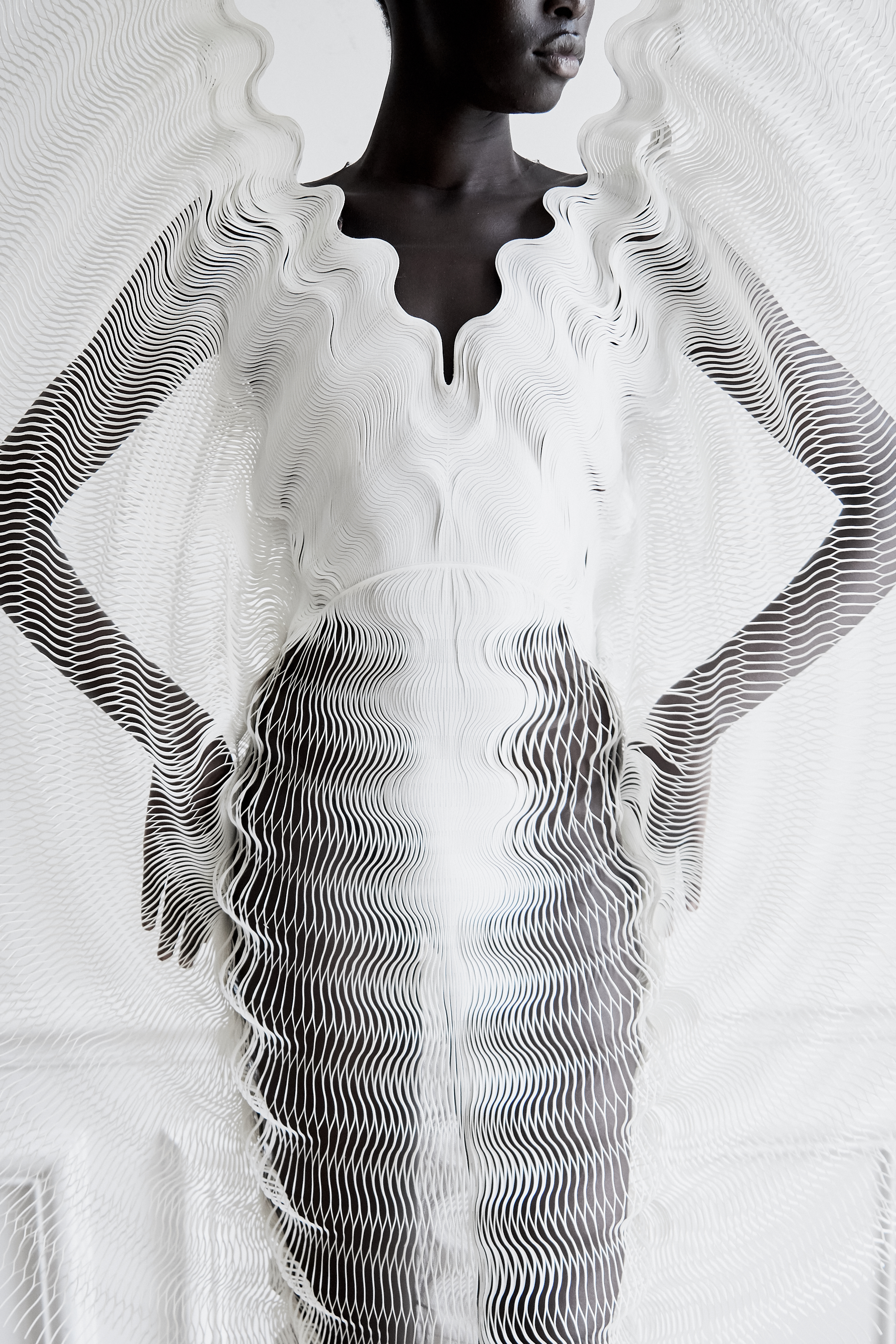 "If we think about our lives today, technology is such a big part of the way we think, the way we interact and the way we go through life," Iris explained ahead of her show. "Couture is evolving, and technology brings it into the 21st century. It offers new possibilities to create materials that are more conscious of our environmental footprint." Iris is just as likely to work with scientists, architects, sculptors and mathematicians as she is the many women in her studio who specialise in traditional savoir faire. And while other designers think about the next six months, Iris is thinking about the next century.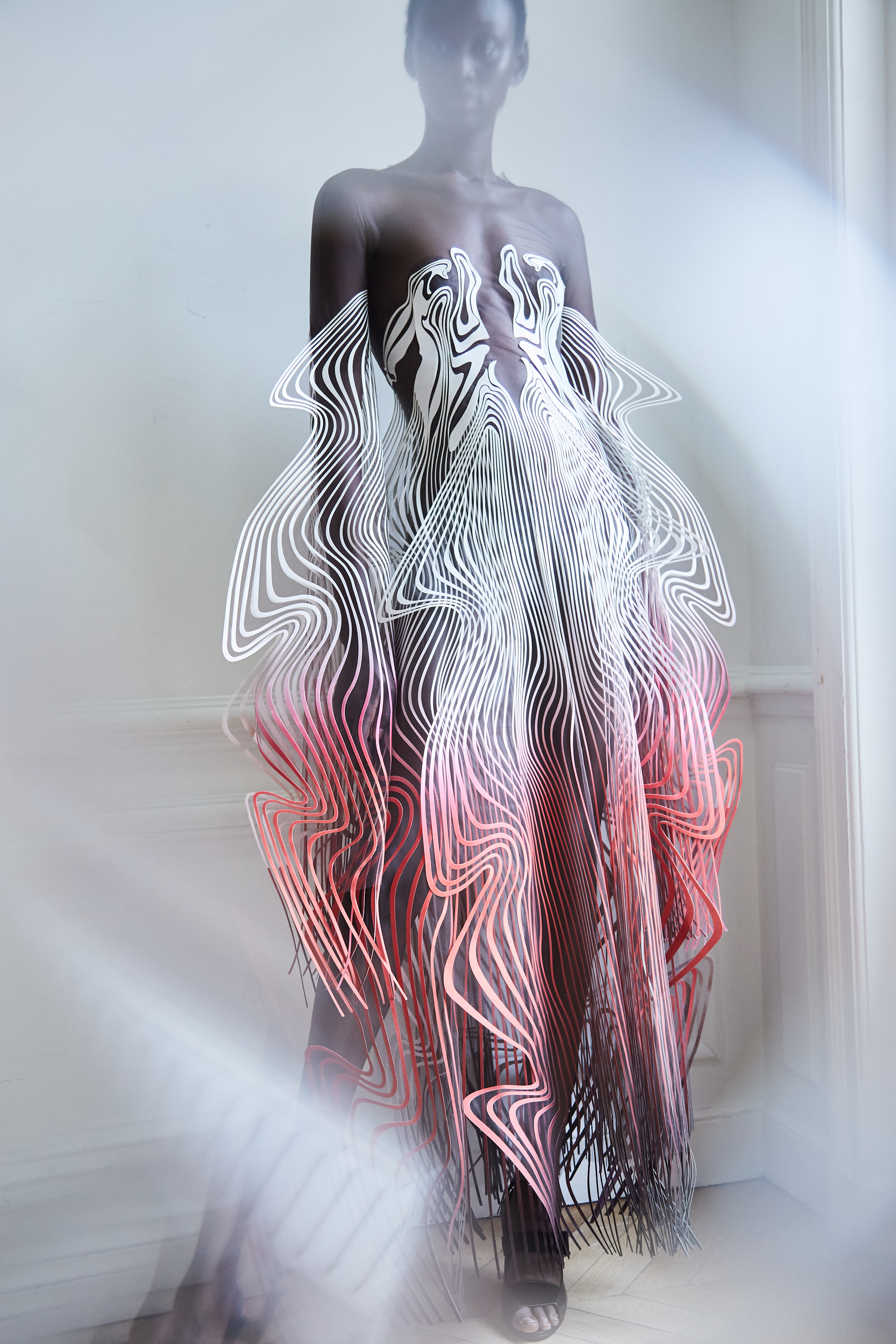 This season, she collaborated with environmental kinetic sculptor Anthony Howe, who creates wind-powered outdoor sculptures that have a trippy, hypnotic effect. The result was an installation that formed the centrepiece of her show, but also a dress so mesmeric that it elicited a symphony of sighs from the audience. The final "Infinity" dress, crafted from white feathers (it's for the couture bride, after all) had a mechanical exoskeleton of wings that spiralled as it came down the catwalk. It took four months to make using 3DS Max technology, Octane rendering and laser-cut stainless steel and aluminium connected to a fibreglass structure within the dress. Indoors it is mechanised. Outdoors, it is powered by wind and movement. "Each wing depends on the next one, so if it's not made properly the whole thing doesn't work," Iris clarified. "It's very much like nature -- every element relies on each other. There's a fragility to it, and the patterns of nature are dissolving."
Elsewhere, millefeuille layers of organza were finished with laser-cut boning (biodegradable -- not that you'd want to dispose of these). There were also nu-Delphic gowns made using her signature "glitch" technique, which involves head-bonded Mylar being cut into thousands of undulating pieces to form surreal garments that dance hypnotically around the body as it moves (Iris has a background in dance, so it's important for everything to come to life on the body). They colours took their cue from suminagachi, a Japanese water-colour technique, which added to their ethereal, sea creature-like quality.
It takes Iris months to create these garments, but as she only presents during the haute couture calendar the time allows her to create truly unique clothes that explore the esoteric themes she's interested in. "Fashion today is about quantity and speed, and couture is the opposite of both," she says. "With our clients, they're looking for a piece of art and they want the craftsmanship so they can give it to their children. It's something so important, that reinvents itself over time." Whether it's this week or next century, Iris van Herpen is forging a name for herself in fashion history.
---
Credits
Photography Molly SJ Lowe
This article originally appeared on i-D UK.