The story behind Neneh Cherry's new Buffalo Stance visual
Stephen Isaac-Wilson and Gareth Wrighton have reimagined what a Buffalo Collective video might look like in 2020, to mark 30 years of Neneh Cherry's debut album.
|
28 January 2020, 10:00am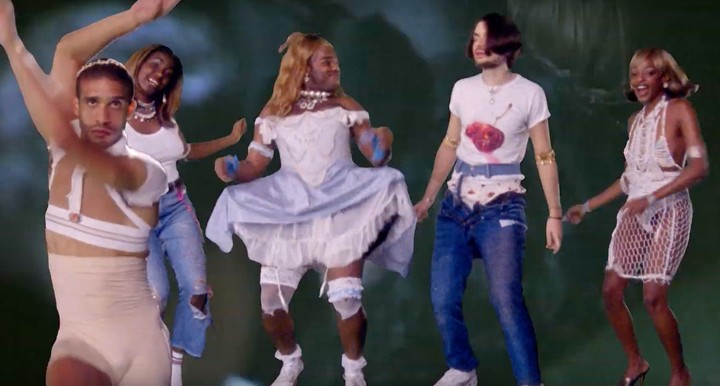 "No moneyman can win my love / It's sweetness that I'm thinking of / We always hang in a Buffalo Stance / We do the dive every time we dance."

35 years since Buffalo first surged through London -- turning upside down the dominant style of its underground clubs, scenes and zines -- the collective's legacy feels ingrained in the very seams of the city. A radical, diverse group of artists, photographers, designers, musicians, models and students helmed by Ray Petri, a pioneer of fashion casting and styling, Buffalo created imagery that subverted the iconography of masculinity in ways never seen before and inspired era-defining art, music and film.
In 2020, from the fringes of the city's queer nightclubs to the runways of its biggest fashion shows, the flame Buffalo sparked seems brighter than ever. The parallels between now, 10 years into a Conservative government, and then, under Thatcher's regime, are startling. In the current right-wing political climate, Neneh's work is more essential than ever.
30 years ago Neneh released her debut album Raw Like Sushi, preceded by the single "Buffalo Stance": a tribute to Ray, his many acolytes, and her fellow Buffalo posse members, released just a year before Ray's tragic passing. Reaching No. 3 in the UK charts and performed live by Neneh on Top of the Pops, while eight-months pregnant, the track, this then-controversial performance and its accompanying video are a perfect distillation of the energy, self-effacing humour and style of the collective. So she decided to remake it to honour Raw Like Sushi's anniversary.
"Buffalo's influence today is undeniable," says Stephen Isaac-Wilson, the video's director. "This project was a chance to be reflective and grateful for their contributions to fashion, art and culture." Featuring a cast of friends and collaborators, Stephen and Gareth Wrighton (the Fashion East designer and video's costume designer) were given free rein to create that felt authentic to them. "Neneh trusted us, which was beautiful."
"When Stephen approached me with the idea we both sort of knew what the look was," Gareth says. "What is familiar to us, what does London look like now, what are the girls wearing in the club, and how can we amp it up enough so it translated to film but still felt familiar and like it belonged to us?" The result is nostalgic trip and celebration of what's happening right now all at once. "It jumped between feeling yourself in a vest and jeans, to that one kid who turns up in a homemade Rococo get-up. If someone has come straight from work to the club, what have they added to their look or what have they taken off to feel good in that space? It was a very dressed up form of undressing."
"It's something that celebrates the marginal moments and figures of UK club culture and observes the cultural and political similarities between then and now," Stephen says, "whilst attempting to pay homage to the energy, spirit and vibrancy of the original video".
Gareth is quick to add that, despite its legacy, its not to be taken too literally, as the spirit of Buffalo exists as much in the energy and creativity as the references. "I don't sit down with a scrapbook of Buffalo imagery and get inspired about stuff I want to remake," Gareth says. "These figures opened up doors and frames of thinking that I, in turn, grew up with and absorbed and which will naturally manifest in the work I produce. The legacy is deeper than an aesthetic look you can recreate, it is a shift of thinking that happened before I was born, I simply don't know any other way."
Above all, this is a celebration. "We just thought about when our friends have looked their most banging and ran with it," Gareth says. "If they made that video today, what would it look like?"