Opening Ceremony are closing all their stores
After 18 years running some of fashion's most forward-thinking retail locations, Carol Lim and Humberto Leon will now focus on Opening Ceremony's in-house brand.
|
15 January 2020, 11:43am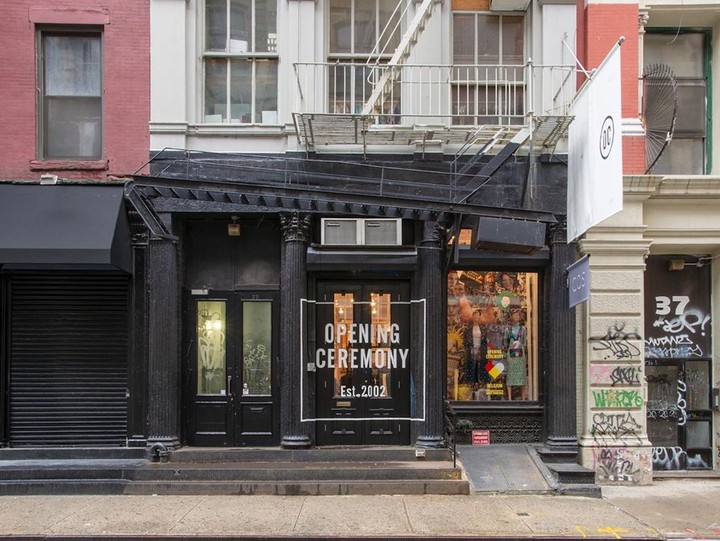 via Instagram
Recent years have been tough for fashion retail. With the closing of Colette just over two years ago, and the imminent shuttering of Barney's New York, one iconic store after the other has fallen prey to changes in consumption patterns -- the most notable being the boom in online shopping. Yesterday evening, the bell tolled for Opening Ceremony, Downtown Manhattan's original pioneer of innovative multi-brand retail.
"It's incredibly emotional for us to announce today that we will be closing our Opening Ceremony retail locations sometime in 2020," wrote its co-founders Carol Lim and Humberto Leon in an emotional statement posted to Instagram.

In the wake of the closing of the brand's physical locations, attention will be shifted to growing their in-house collections: "We've made a decision to focus on growing Opening Ceremony collection and brand […] and expand[ing] the designs of Opening Ceremony."
The post followed the previous day's announcement that the brand's trademark and intellectual property had been acquired by New Guards Group, the Milan-based backers of Heron Preston and Off-White. Carol and Humberto are to stay on as co-creative directors.

Despite the pair's promise to take "the beautiful spirit of experimentation, fun and collaboration embodied in our stores and imbue this energy into the clothing we make," the news will no doubt come as a crushing blow to fans and designers alike, particularly the emerging talent for whom the store has served as a crucial launchpad.
First opening the doors to its Howard Street location in September 2002, Opening Ceremony quickly established itself among the most forward-thinking forces in fashion retail. The hottest emerging New York brands of the moment, like Bernadette Corporation spin-off United Bamboo, Proenza Schouler, Alexander Wang and Rodarte, were placed alongside brands never before sold in the US market.
Its reputation as an enthusiastic promoter of young talent, along with its decidedly fresh take on high-end fashion retail in a market dominated by fusty heritage department stores, attracted a global following. Global expansion followed suit, with locations opened in Tokyo and LA, as well as a short-lived outpost in London's Covent Garden.
"We know our decision may surprise you and it may be interpreted in many different ways," wrote Carole and Humberto yesterday. "Ultimately, in this time of immense change in the way that people shop, we still believe in the power of passionate and unique retail. But we also believe in the necessity for change, reflection and an opportunity to refresh."
But prayers that Opening Ceremony's brick-and-mortar retail channels will eventually aren't entirely in vain: the pair hope to "come back with an experience that is just as inspiring, filled with love and relevant for the years ahead as Opening Ceremony has been".