Lana Del Rey is releasing a spoken word album in January
Honestly, can't wait to spend 2020 listening to Lana get down to some beat poetry
|
20 December 2019, 12:31pm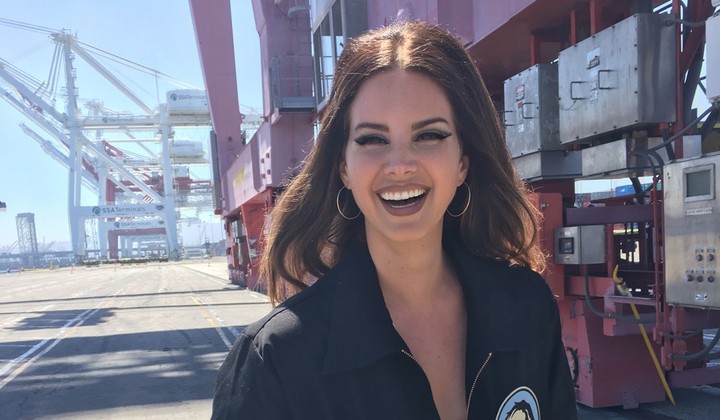 Lana Del Rey has announced that she plans to release a spoken word album on 4 January.
The singer, who dropped her most recent LP Norman F*****g Rockwell in August this year, had previously said that she planned to release a book of poetry – to be titled Violet Bent Backwards Over the Grass and costing just $1 as her "thoughts are priceless".
Releasing a poetry collection, however, seems to be causing quite a bit of bother for Ms Del Rey. In an Instagram video, the "Video Games" chanteuse said that given her book of verse was being hand bound, it was taking a hot minute. So, in the meantime, she had decided to record and release a spoken word album instead.
"I knew I wanted the album to be around a dollar because I just love the idea that thoughts are meant to be shared and that they were priceless in some way," she said in a message to fans. "And there was a second part that I had been thinking of before releasing it, which was that I wanted half of what the spoken word album was going for to benefit Native American organizations around the country, whether it was for preserving their rights or trying to help keep their land intact." Lana added that she had been working on connecting her own family lineage and in doing so had been encouraged to connect with the lineage of America itself.
"This was a while ago, and it kind of informed the next album that I'd been working on. And I just really wanted to sort of pay homage to the country that I love so much by doing my own reparation, I guess I would say, my own reparative act," she added. "I know it's a bit of an unusual choice and I have no reasoning for it other than it just feels right to me. And so for as long as my album, my spoken word album is distributed, half of [the profits] will be going to Native American organizations across America."
Speaking about what the album would sound like, Lana admits that it's not "particularly polished". It's "a bit more gritty, she says, describing it as a "freestyle poetry". The singer also shared that the record would be released on 4 January.
By the sounds of it, this album isn't replacing the poetry collection (that's still coming). It also isn't the new album of music that she is working on, either. Speaking to The Times in August, Lana said that she was working on a follow up to Norman F*****g Rockwell called White Hot Forever, which she planned to release "sometime within the next 12 or 13 months".
By the sounds of it, then, 2020 is just going to continue Lana's current streak of greatness. Keep it coming.
Tagged: