Beyoncé's new single drops tonight
Our first taste of 'Renaissance' is about to arrive.
After a number of days of mysterious happenings on the artist's official website, we finally have an answer: Bey will be blessing us with her first full-length album in over half a decade, titled Renaissance. What's more, we'll get the first single from it tonight, titled "BREAK MY SOUL", at midnight ET. She covertly announced the release in her Instagram bio.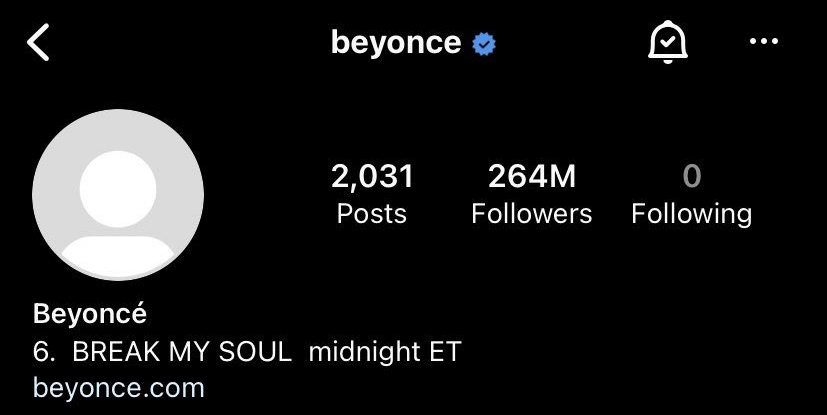 'The last time we were given a straight-to-the-point Beyoncé album was six years ago, when she dropped the visual masterpiece Lemonade back in 2016. Since then, she's returned for standalone singles ("Be Alive" from King Richard), compilation albums (The Lion King: The Gift) and collaborations with her husband Jay-Z (Everything is Love). But a considered, full length record with one voice at the helm? We've been gasping for that for what feels like forever. Thankfully, that's what Renaissance promises.
Bey recently performed the ultimate 'pop star is coming' flex: by deleting her profile pictures from of every social media account, making her verified profiles temporarily resemble bot accounts. For an artist as image-focused as Beyoncé (she is pretty much everything-focused at this point), it's a statement in itself: a clean slate, making way for something new.
What is the new album called?
According to the Jay-Z-owned streaming service TIDAL, the record will be titled 'RENAISSANCE - act i'. This also suggests it will be the first of a potential staggered several-part release. Maybe God is real.
What will Renaissance sound like?
In a new British Vogue cover story, Edward Enninful describes having the album played to him. "Instantly, a wall of sound hits me. Soaring vocals and fierce beats combine and in a split second I'm transported back to the clubs of my youth. I want to get up and start throwing moves. It's music I love to my core."
He continues, describing "music that makes you rise, that turns your mind to cultures and subcultures, to our people past and present, music that will unite so many on the dance floor, music that touches your soul." Edward adds, "As ever with Beyoncé, it is all about the intent." Never mind that, are you ready to have Beyoncé touch your soul?
So how many tracks are we going to get?
There are 16 songs on the new album, as revealed by a tracklist on its Apple Music page, which has also categorised the record as 'pop'.
And what's the first single from 'Renaissance'?
We'll get our first listen to B7 on 21 June at midnight ET, with the track "Break My Soul".
When is the release date for 'Renaissance'?
The record is slated for release on 29 July this year.