Nicole McLaughlin brings her viral upcycled gorpcore to Arc'teryx
The designer, whose innovative garments made of everyday objects have taken over Instagram, discusses her new high fashion ambassadorship.
This story originally appeared in i-D's The Earthrise Issue, no. 368, Summer 2022. Order your copy here.
Founded in 1989 in British Columbia, the Canadian outdoor brand Arc'teryx takes its name from a 140 million-year-old late-Jurassic creature, the 'Archaeopteryx'. Considered by many to be the first bird in existence, the Archaeopteryx signifies the evolutionary leap between dinosaurs and flying animals. This idea of an unprecedented evolution – by way of pushing the design envelope and making the best products known to man – is the driving force behind Arc'teryx. They have not only received global renown for their utilitarian excellence but, in recent years, earned cultish fashion credentials and even runway recognition (remember Bella Hadid in a hybrid Arc'teryx gown on the Off-White runway?).
The rise and rise of gorpcore – an aesthetic characterised by "outdoor inspired" hiking gear, environmentalism and tech-wear – has seen the popularity of the brand skyrocket: without trying to be "fashionable", it found itself front and centre in one of fashion's most visible style movements. The Alpha and Beta jackets, longtime stalwarts in the wardrobes of rock climbing aficionados, have crossed over into the realm of streetwear and high fashion; the embroidered fossil logo is a newfound status symbol within hypebeast culture.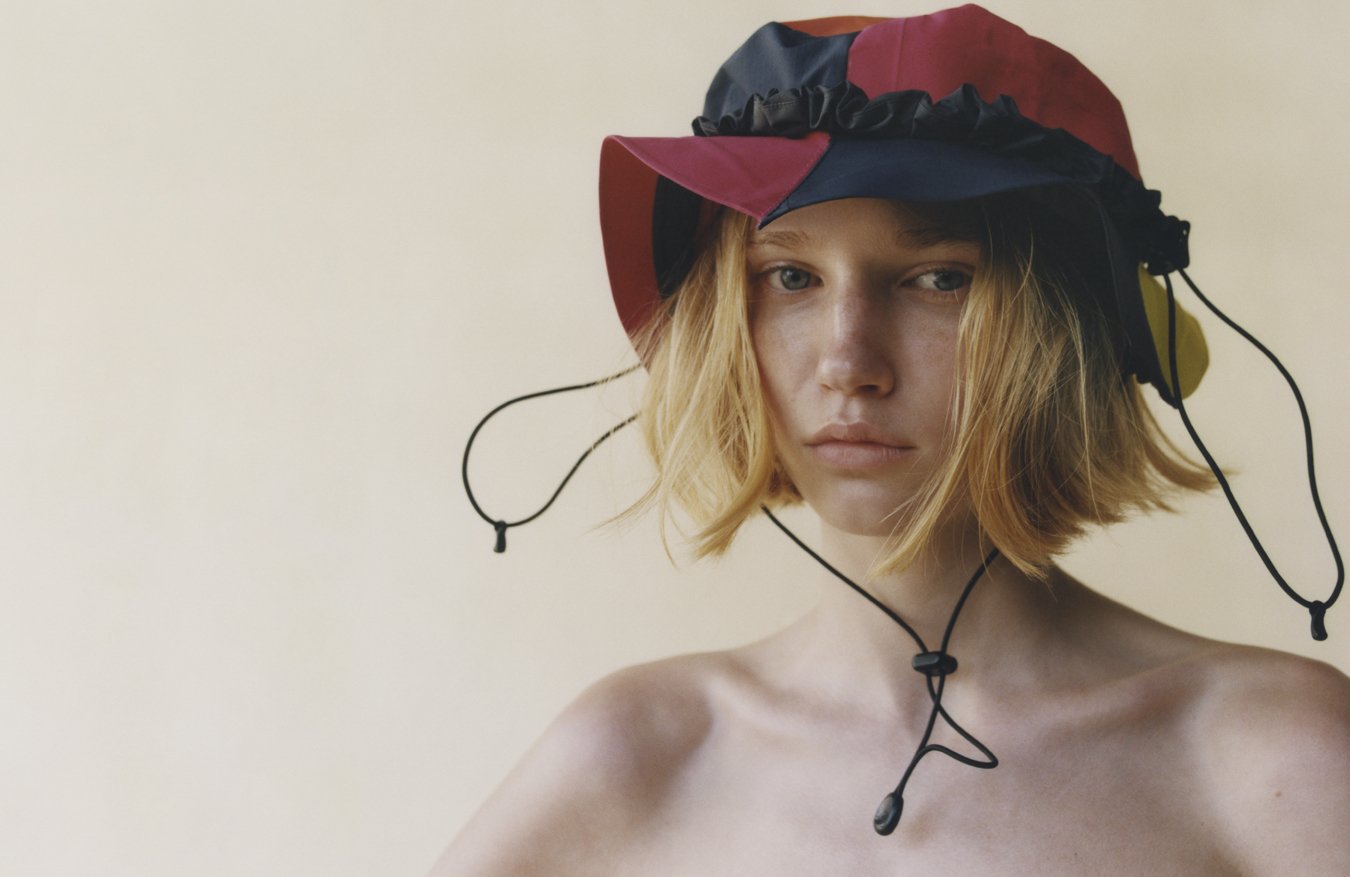 Some attribute the hype of 'dead bird' gear to buzzy collaborations with Palace and Jil Sander; some to the slightly-out-of-reach price point (pieces range from £200 to £800); some to the pandemic-induced vibe shift of prioritising time in nature. Then there are the viral TikToks of people showering in their Gore-Tex jackets, and memes suggesting that, for the traditionally unstylish, sporting one gives you a personality. There is another theory, though – that the appointment of conceptual artist, DIY designer and Insta-famous upcycler Nicole McLaughlin as Arc's first-ever design ambassador catapulted the in-the-know brand straight into the fashion stratosphere.
By now, Nicole's innovative designs have certainly crossed into your consciousness, whether it be her take on lounge shorts, comprised of rainbow Carhartt beanies, two croissants strung together to make the "bra-ssant" or a Jansport cargo thong, fitted with pockets to carry all the necessary tools – tape, scissors and miniature pencils – wherever, whenever. Her designs have found the utmost virality, liked by Travis Scott, Pharrell Williams, and fellow fashion innovator, Gab Bois. Still, Nicole stumbled into her role as one of the industry's foremost upcycling designers by accident. It all started in 2016 when she was working as a graphic designer at Reebok, and an interest in how things were made turned into experimenting with the company's leftover scraps and teaching herself how to sew.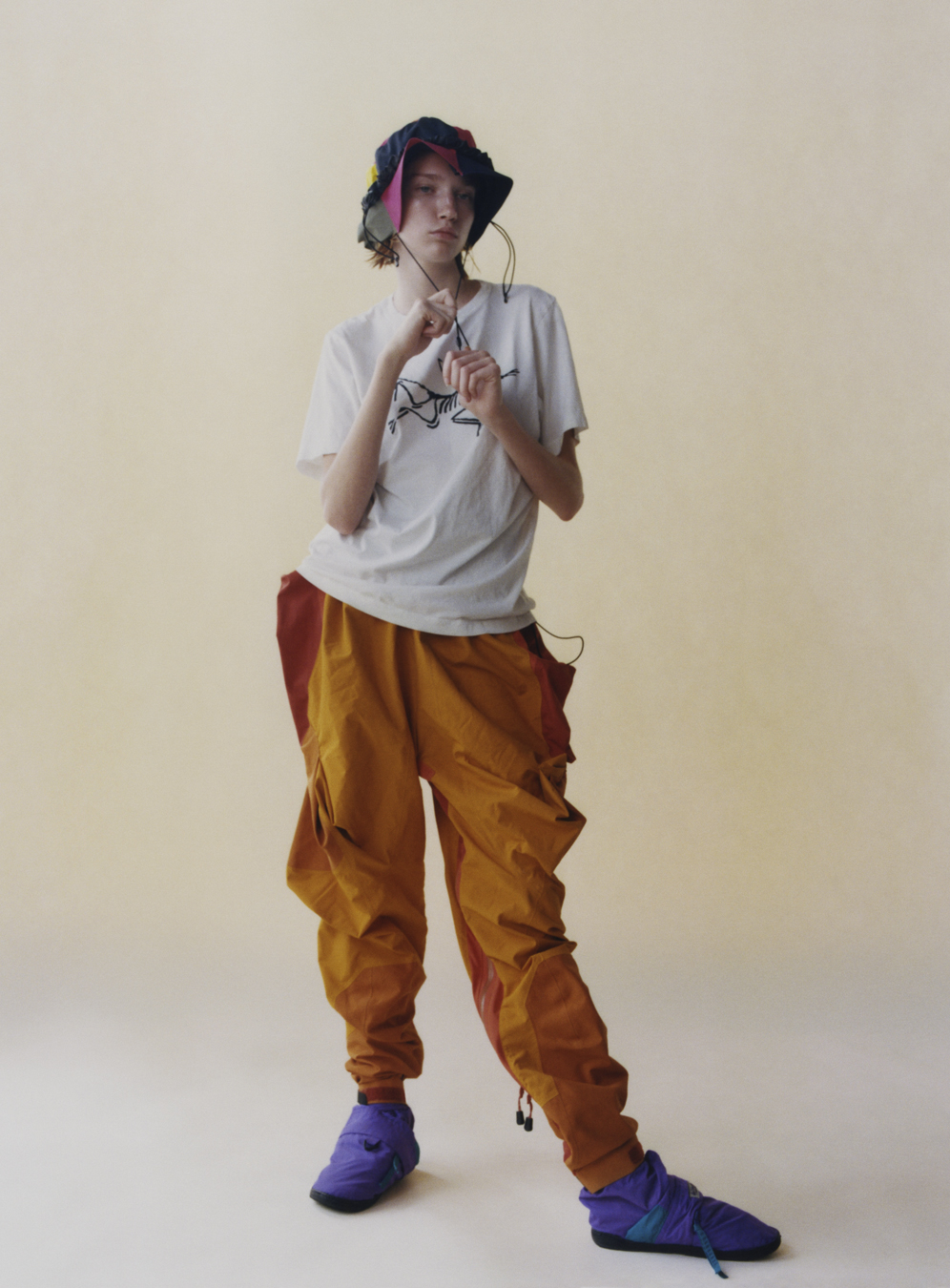 "It was all done out of curiosity. I wanted to see if I could learn how to make things. Then it got me thinking about upcycling and how much excess there was within that office, and in the fashion industry in general," she says of her approach, which was first characterised by a lot of failed projects, and has since changed the course of her life. "I was just stapling and glueing things together when I first started. Once I learned how to sew that opened up a lot of doors for me." It might have started with a bubble wrap vest or a button-up shirt made out of Dover Street Market tissue paper, but suddenly anything that Nicole found thrifting – she's drawn to zippers, reflective surfaces and nostalgic logos – or in her closet, was fair game for her alterations.
This curiosity led her to non-traditional materials, even foods, forcing sports equipment under her sewing machine's needle – and then the pivotal moment of making her iconic volleyball shoe in 2018. Nicole took out a number of stitches, but wanted the object to keep its spherical shape. The result is a tri-colored, wearable slip-on that sits somewhere between a Croc, a brand she's collaborated with in the past, a Dansko clog, and the vintage Birkenstock Super Birkis she likes to wear day-to-day. Like almost anything she touches, the volleyball shoe went viral – but it also revealed to Nicole that she could make just about anything, out of any material she could find.
"Something about having a tactical jacket makes you want to use it. And the more you're in nature, the more you realise we have to protect and preserve it." Nicole McLaughlin
On an unusually warm spring afternoon, Nicole's in her light-filled Brooklyn studio pulling out scrap materials and custom Arc'teryx grails – various Bora backpacks and Beta hoods she's made into a vest, a black logo bikini and scraps of jackets that could go for thousands on resale. Above her desk is an expansive pegboard with hanging baskets and bins full of tools, mirroring the staggered climbing holds on her floor-to-ceiling, custom rock wall across the room. It's not uncommon for her to put her projects down mid-construction and hop on the wall. "It just pushes me physically and mentally. It's been the best thing to find that."
Both Nicole's work and the sport are rooted in creative experimentation and problem-solving, which is how Nicole describes her creative process – always subject to change. Sometimes she starts with an idea, other times she's just messing around with found objects. Inspiration is everywhere, especially in New York: from bins of trash tossed out on the street to her kitchen drawers, where the idea might strike to turn a carrot peeler into a perfectly dangerous stiletto heel. No matter how absurd or fantastical Nicole's designs may seem, they're all functional, wearable. This, and her search for high quality, durable climbing gear is what drew her to Arc'teryx. But long before she joined the team she was sourcing secondhand gear for her own outdoor adventures, and later, personal projects, once she mustered up the courage to finally cut into a jacket.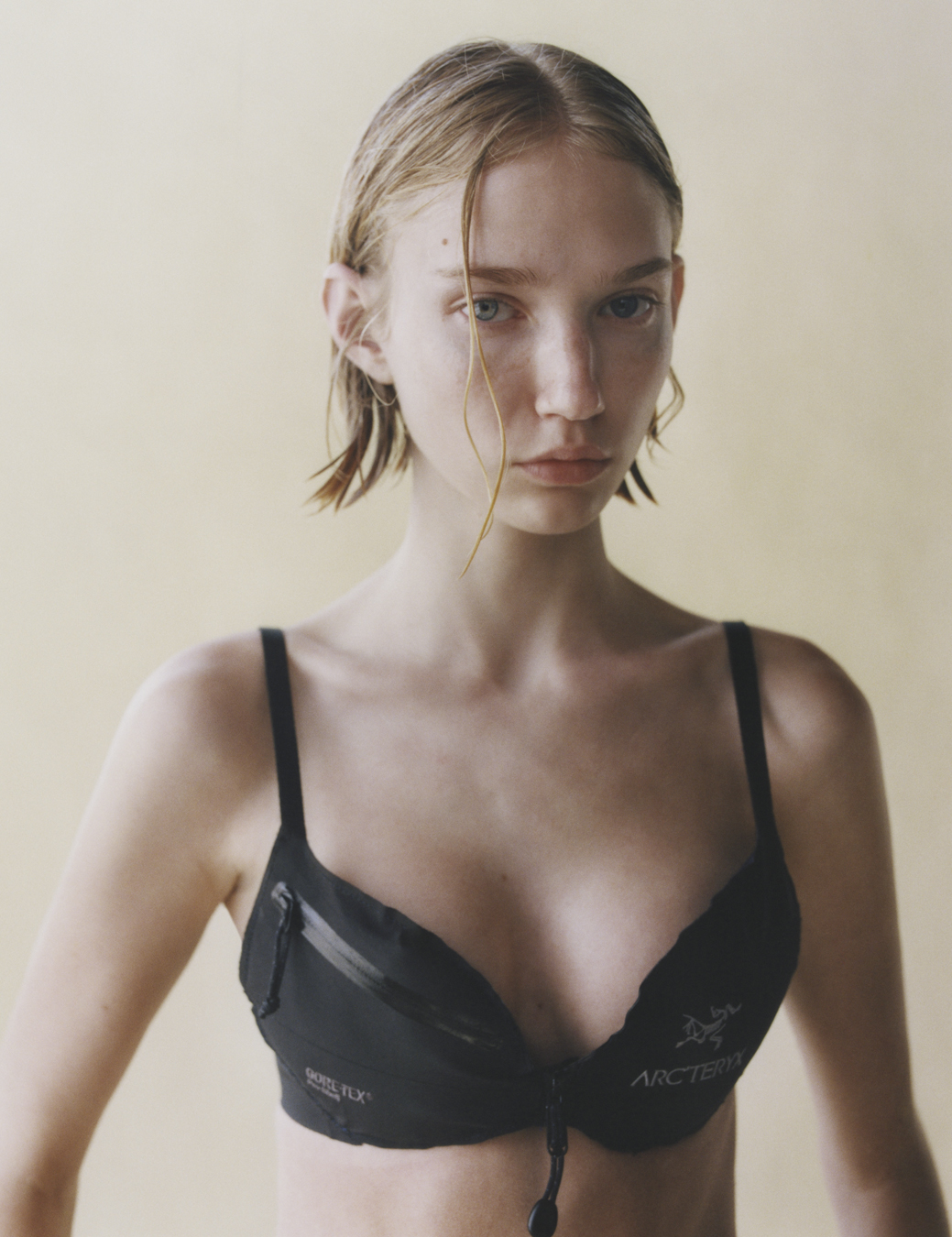 To this day Nicole recalls wandering into the brand's retail store on Newbury Street in Boston for the first time, and being struck by Arc's silhouettes. "They had all these jackets up in the window. I remember looking at them and being enamoured by the shape," she explains. "Even when it was off the body, it had so much movement. There were these amazing cut lines and articulated sleeves."
Nicole grew up in an outdoorsy family constantly playing sports, so she also grew up around Arc'teryx, but their pieces were too expensive to purchase. Her exposure to gorp – though it wouldn't have been called that then – was by way of brands like The North Face and Patagonia. "People in Columbia jackets and stuff, that's what I wore to middle school," she says, noting that the streetwear cred was something both she and Arc'teryx fell into later by default. "It's such a funny moment in fashion that people are styling Arc and finding ways to work that in with a Bottega bag… As a climber, some of the things that I see are cringy, but it's timely. Something about having a tactical jacket makes you want to use it. There's this feeling of being prepared: the pockets, the colours, the materials. And the more you go outside, the more you're in nature, the more you realise we have to protect and preserve it. That's my hope for the trend."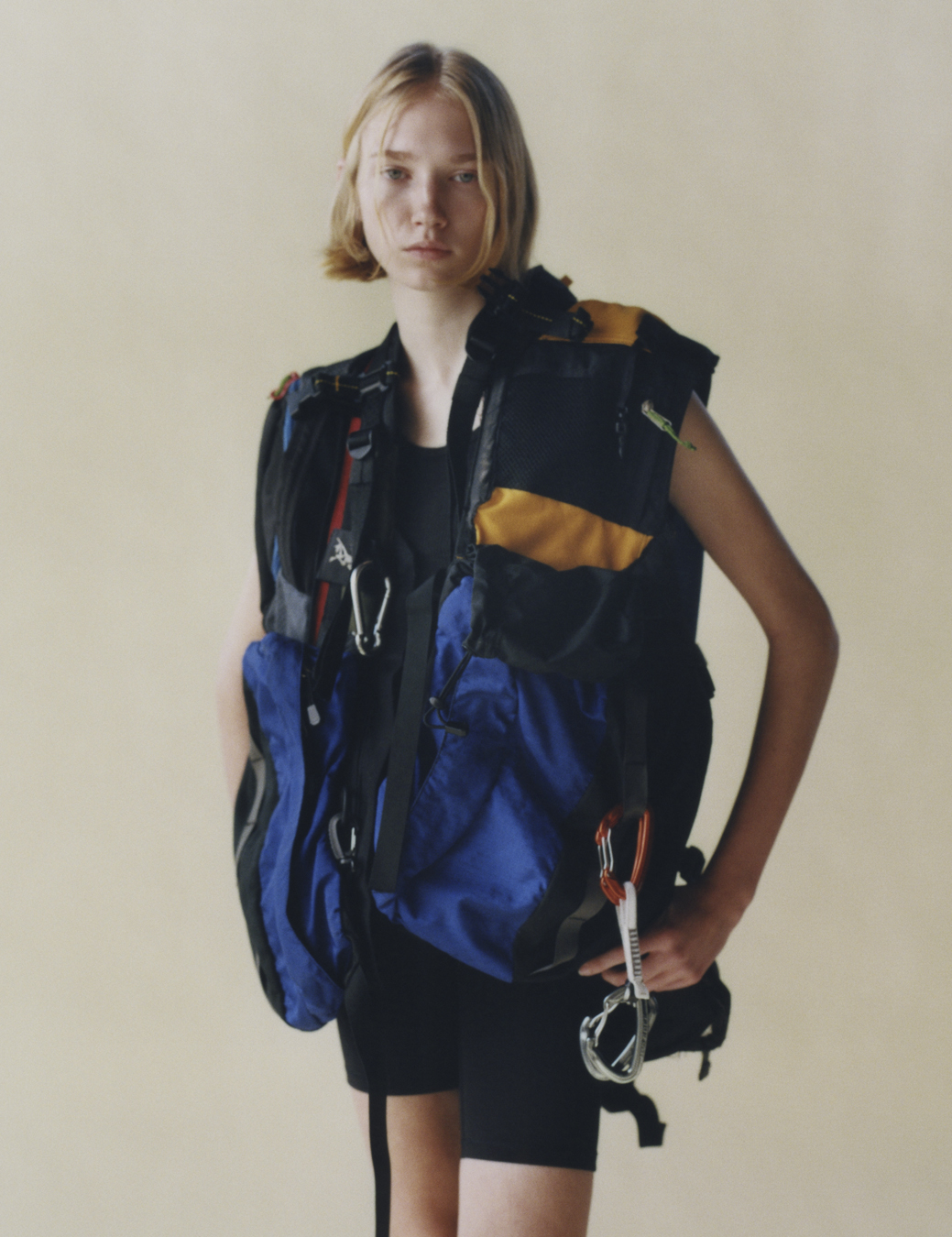 Naturally, Arc'teryx, Nicole, and this issue of this very magazine, have a shared goal: making sustainability more accessible to the average person. This has been a part of Arc's practice for a while now, offering repair services on their pieces and educational programs that teach customers how to extend the life of their gear. As design ambassador, Nicole hosts workshops on sustainability and upcycling, teaching people how to sew and mend their beloved jackets and, by extension, how to recycle and reinvent any piece of clothing in their closet. Of course, she's also raided Arc's warehouses for materials to transform, adding value – and additional clout – to the already in-demand products. The pieces are never sold, unless for charity (benefitting organisations like Black Lives Matter, Innocence Project, Emergency Release Fund and Know Your Rights Camp); instead, Nicole hopes they provoke thought.
High-end fashion houses like Gucci and Hermès – who asked the designer to rework two suitcases of old Birkins, which arrived at the Brooklyn studio with their own security guards – seek out Nicole for this very reason. They come to "the duchess of deconstruction, the superintendent of scraps, the governess of gorp", as she was introduced on the Throwing Fits podcast, with access to invaluable luxury waste products and a desire to join the discourse. Would it be better if those excess materials didn't exist at all? Of course, but if you can inspire any level of eco-consciousness with expensive fabrics that would otherwise be sitting in a warehouse, why not do it?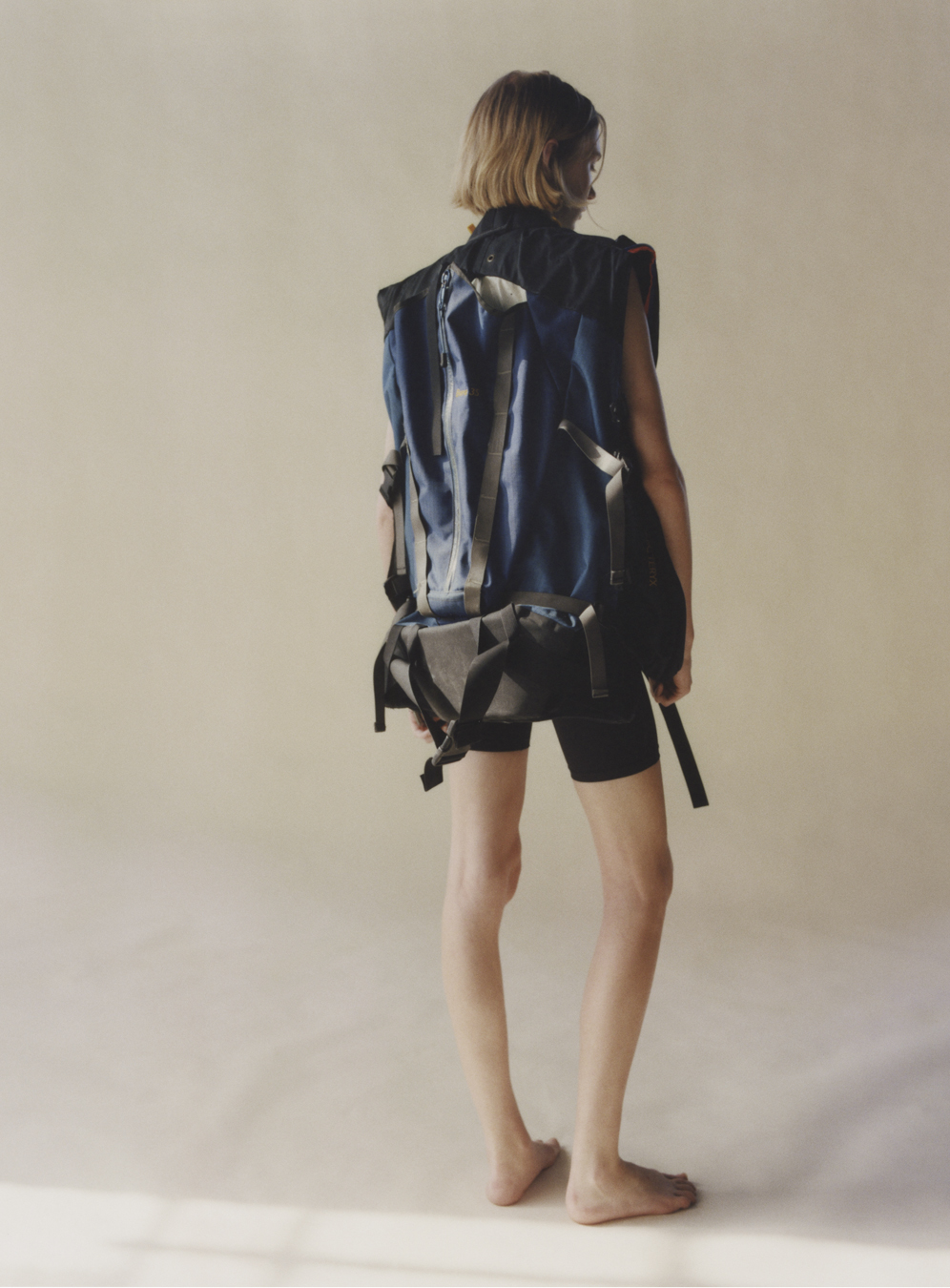 "The future seems really scary. I definitely feel the pressure of that. I think we all do at points, and it becomes so overwhelming. What if we make (the environmental crisis) more of an approachable subject, make it more fun and lighthearted to talk about in certain aspects?" Nicole proposes. "We need that sense of urgency, but I like to balance it out. My designs are conversation starters, hopefully. I hope that people can get more involved in this work."
Nicole is quick to tell us that sustainability was not her jumping-off point when it comes to all things DIY, but it's what's made her stick around. Her process is cyclical – the garments are all deconstructed and re-upcycled two, three, even four more times. She considers each of her pieces a work of art, but her gallery is Instagram; it's a portfolio, an unofficial archive of hype. "I am creating art and my media happens to be fashion," Nicole says "The photo is the final piece, not even the actual physical item. That's what really pushes it to the art side, because the piece will then be taken apart and turned into something else."
Nicole grew up in New Jersey, and though she never studied fashion she has always loved working with her hands. Her mum was an interior designer and her dad a carpenter, so she was constantly making things for fun. "My grandfather had a woodworking shop in his basement, and we'd go see my grandparents a lot," she recalls. "Normal young kids, you'd give them fake tools, plastic ones. My grandpa gave me a hammer and nails, like go to town."
This physicality was something Nicole missed in her previous design job, a sentiment echoed by many contemporary designers who spend more hours behind the computer screen than at the drawing table. A steady stream of collaborations since she left in 2019 has allowed her to pursue her craft full time, and with an immeasurable level of success. Though she sews tags into the few one-off pieces that end up for auction, Nicole doesn't aspire to become a brand. Much like Arc'teryx, it's about evolution. Plus, she already has her sights on loftier, large scale projects that might see her reaching for that hammer and nails sooner than we think. If her impact on fashion is any indication, the world of art and design isn't ready for Nicole McLaughlin.
Follow i-D on Instagram and TikTok for more from the new issue.
Credits
---
Photography Vava Ribeiro
Fashion Alastair McKimm
Hair Bob Recine
Make-up Frank B at The Wall Group
Photography assistance Zach Helper, Nick Whiteford
Fashion assistance Madison Matusich and Emily Jackson
Hair assistance Kazu Katahira
Make up assistance Natsuka Hirabayashi
Casting director Samuel Ellis Scheinman for DMCASTING
Casting assistance Alexandra Antonova
Model Tess Breeden at DNA
All clothing upcycled ARC'TERYX pieces by Nicole McLaughlin