Photography Jesse Gouveia, courtesy of Homer / Luca Khouri, courtesy of Opening Ceremony
Frank Ocean's Homer jewellery & Luar x Opening Ceremony: What's in Fashion?
Your one-stop-shop for this week's fashion news to know.
Photography Jesse Gouveia, courtesy of Homer / Luca Khouri, courtesy of Opening Ceremony
Well, my loves, it looks like the pop stars are taking over fashion this week. If it's not Frank Ocean's Homer with diamond-encrusted dog-inspired jewellery, it's Dua Lipa with a new retro-inspired Puma drop or Ariana's beauty brand coming to the UK. There's also Gigi Hadid – who's not technically a singer but she lipsynced flawlessly in that Calvin Harris music video – in a new campaign for self-portrait's fall collection. Finally, in some non-pop related news we give you all the best goss from Haute Couture AW22, a new LUAR x Opening Ceremony collab and some thoughts on whether fashion should be political in our current politically-chaotic times. Here's what's in fashion.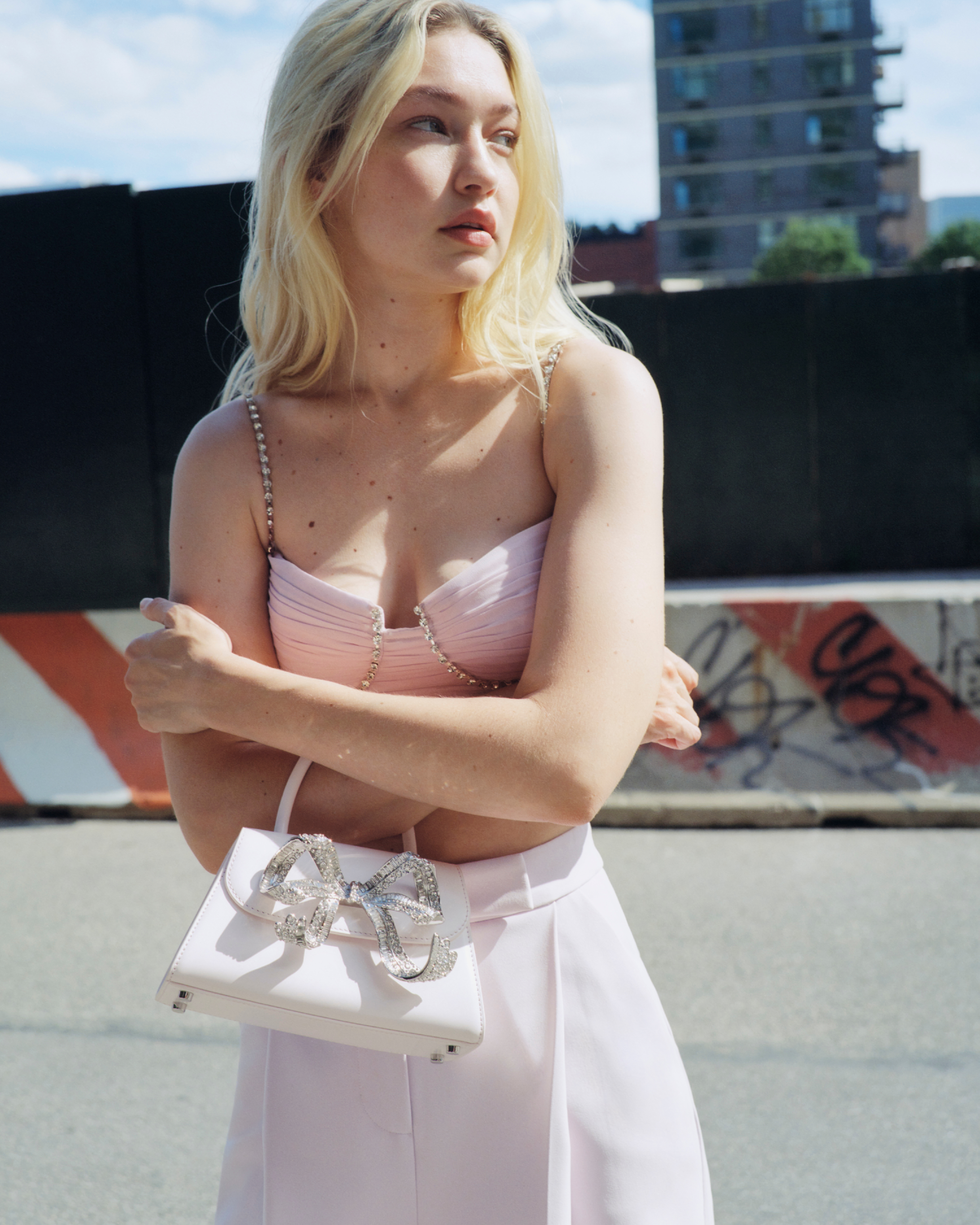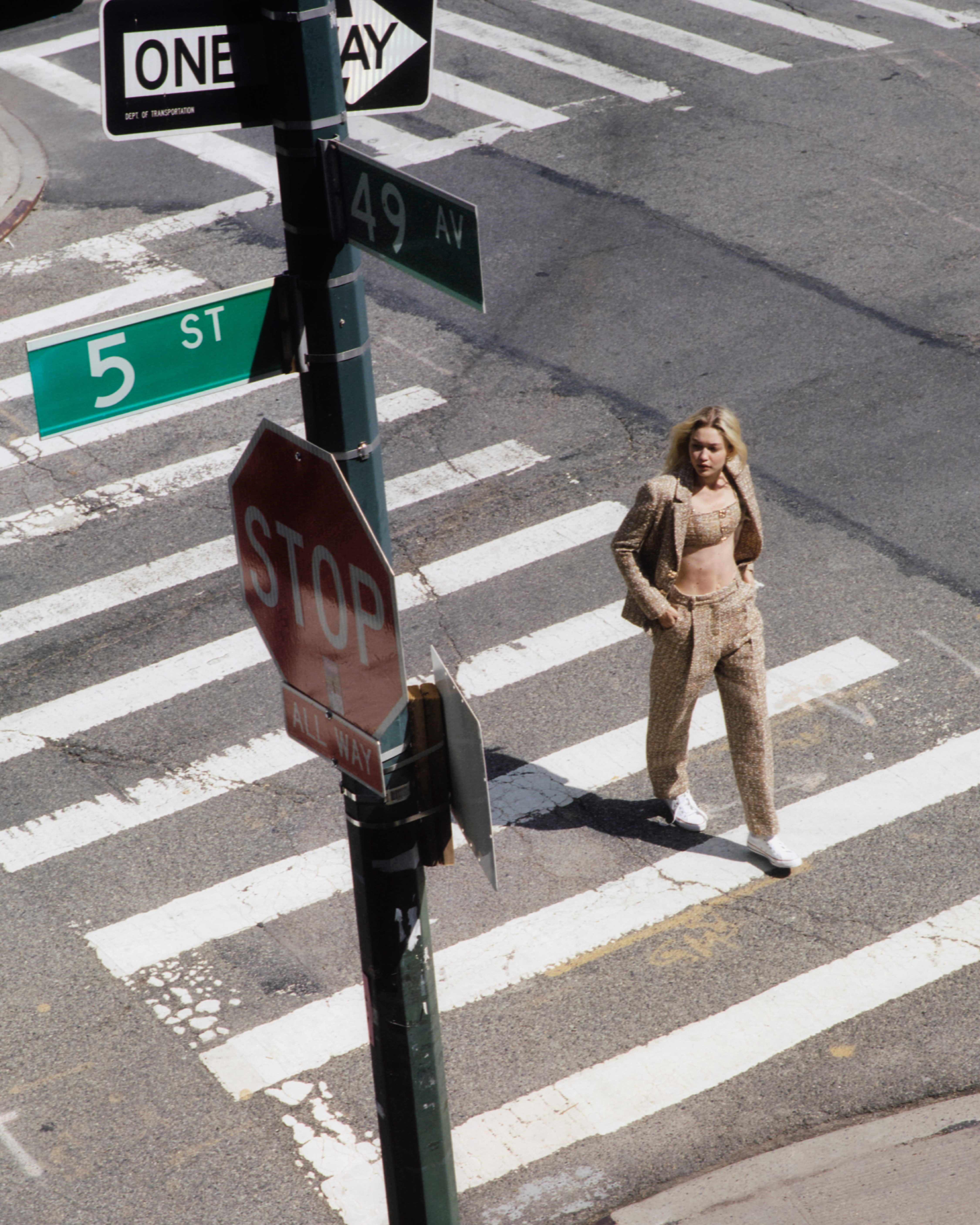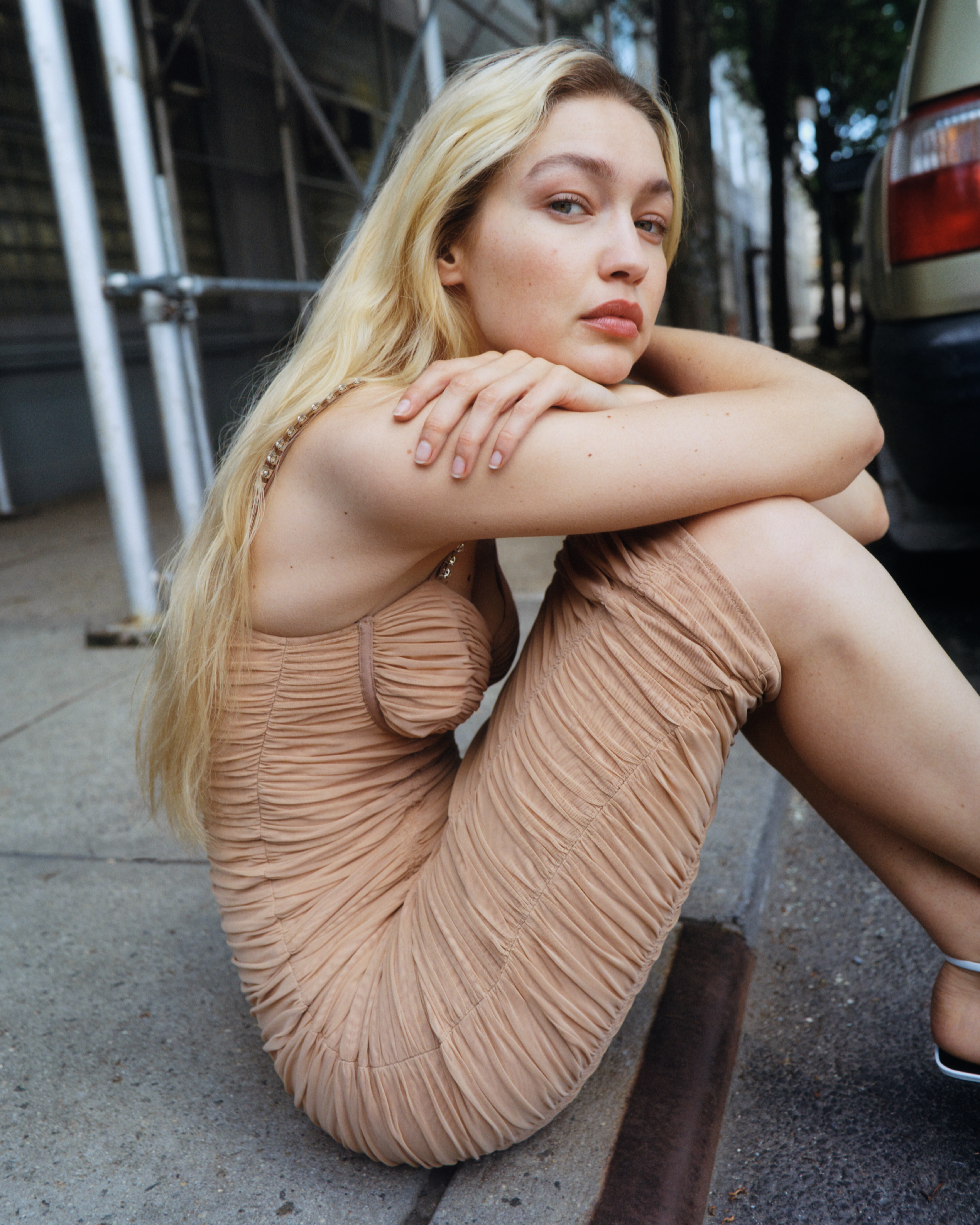 Gigi Hadid is the new face of self-portrait AW22
If you could spend the day with one iconic supermodel du jour, we know your answer would be Gigi Hadid. Her free-spirited nature and bright energy makes for the perfect, fun bestie. Now, you can sort of vicariously spend 24 hours with the icon through the lens of Zoe Ghertner; a new photoshoot has dropped for self-portrait's AW22 collection featuring Gigi in a variety of looks as she spends the day and night in her hometown of NYC. POV: You're sitting next to Gigi in a blush-ruched dress on the sidewalk, a bottle of wine in a paper bag between you while you have a DMC. Or, you're in your apartment when you hear your name being called out the window and look out to see Gigi, in an all-beige ensemble, crossing the street waving at you and completely oblivious to the oncoming traffic. Or, she's showing you the new self-portrait Bow Bag she posted in your group chat being like "should I get this?" and you were like "OMG yes! Big slay!!" We can dream this is our life anyway. Across the season, self-portrait plans to release more of this stunning series so keep an eye out on their Instagram and cop the new collection (so you and Gigi can be twinning) from the self-portrait's website. TG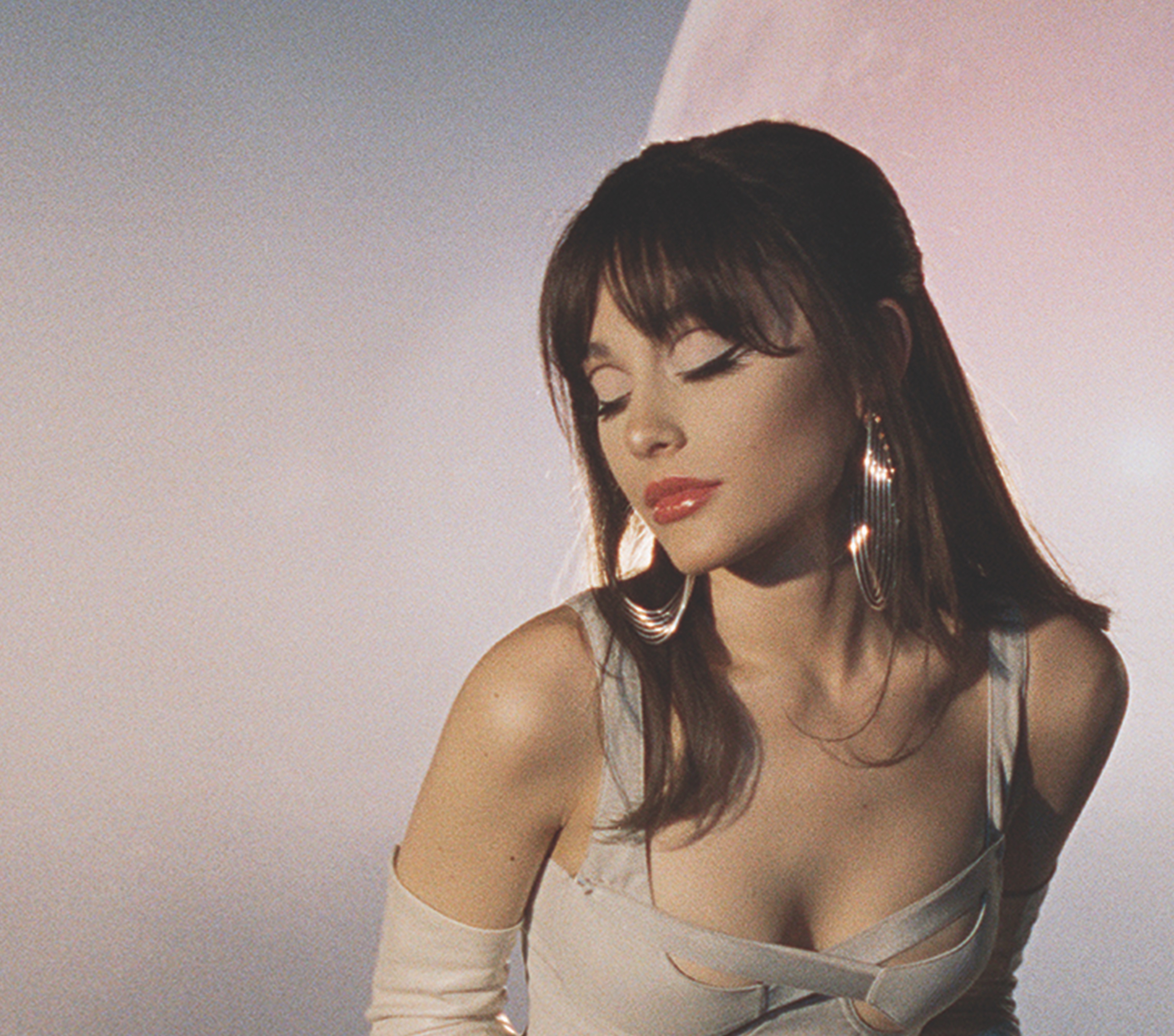 r.e.m beauty is coming to the UK!
Remember when Ariana Grande first announced she was stepping into the world of beauty and all the Rihanna stans were like "girlies be careful or you'll never hear another song from her again". Well, the ethereal palettes of r.e.m beauty were just too irresistible and now half a year later Ari is on drop 3 of her makeup collection while a follow up to her 2020 album is nowhere to be seen. Sigh. Nonetheless, we're happy our pop princess is thriving (even if it's in the beauty sphere), and this August, r.e.m beauty is set to make another big move: It's coming to the UK! Announcing they are setting up shop at Selfridges stores in London, Manchester, Birmingham and online, the full award-winning collection will be available to buy, along with a service menu designed by Ari's own makeup artist Ash K Holm to give you that luminescent skin and 60s nostalgia look that is the brand's signature and the singer's own current go-to. There will also be a creative pop up space touring the Selfridges bringing the products to life and offering the chance to potentially win some goodies! With the products known to fly off the shelves in the US – the brand states they sell one cooling blurring under eye balm every 12 seconds! – make sure you're first in line when the Selfridges doors open on 11 August 2022. TG
Haute couture is still hot!
Haute couture: fashion's factory of dreams. While it's commonly considered fashion's creative – the parfum to ready-to-wear' eau de toilette, as John Galliano once put it – the lofty métier has, in recent years, faced rumours regarding its waning relevance. After all, gowns that cost five-to-six figures aren't necessarily in keeping with the trying times we're living through. And yet, looking at the parade of couture shows that took place last week in Paris (and Rome, where Valentino chose to show), the clothes on show felt perhaps more relevant and timely than couture has in quite some time. From Balenciaga's razor-sharp vision of the future of fashion's highest form of craft to Valentino's ode to timeless, fawning elegance, read our round-up of the most defining moments of Paris Couture Week AW22 here.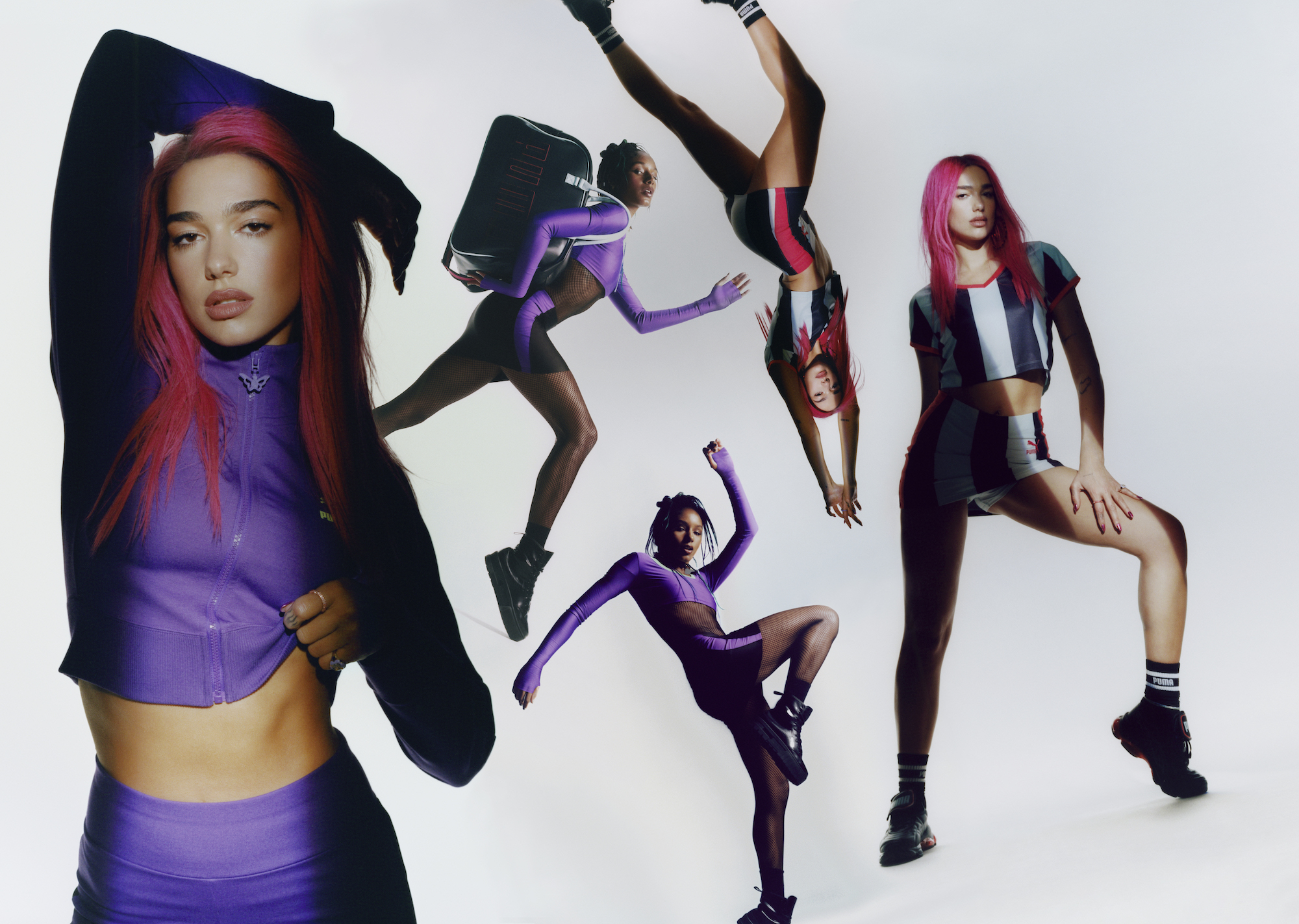 Dua Lipa is back for more Puma fashions
There are few pop stars as effortlessly chic as Dua Lipa. The singer, with her casual y2k fashions, is very much a style icon and the release of her collab Puma 'Flutur' collection – filled with baby tees and butterfly motifs – confirmed it. Now, the second drop of their union is out and it's serving strong "let's get physical" energy. Referee style stripes in orange and baby pink adorn bralettes, cropped polos and maxi dresses while track jackets and trousers look like something out of Paris Hilton's wardrobe. There's also tight fitted mini skirts, basketball shorts with a giant butterfly tramp stamp on the back and a selection of trainers from the futuristic cell domes, to the chunky mayze sneaker, the latter also coming in a leather boot variation. Always a nostalgia queen, Dua's second drop is inspired by the 90s rave scene and the people who adorned their flyers. Check out the full collection at Puma.com or select retailers. TG
In heavily politicised times, does fashion need to be political?
At a time when politics permeates every moment of our lives, it's only natural that we should infer politicised meanings from fashion. Are we right to do so, though? In a powerful op-ed lifted from out Summer Issue, writer Dal Chodha argues that our predisposition for looking every handbag "as if it were an academic manifesto, every picture […] as a diktat about how we ought to be living and shopping" is impoverishing our relationship with fashion. As a creative medium that has long given us the opportunity to look beyond ourselves and dream of the possibilities of lives lived beyond our grim reality, he argues that fashion is at heart a forum for distraction that reminds us of humanities best, rather than a reflection of what it looks like at its worst. Juicy stuff, non? Read the full piece here!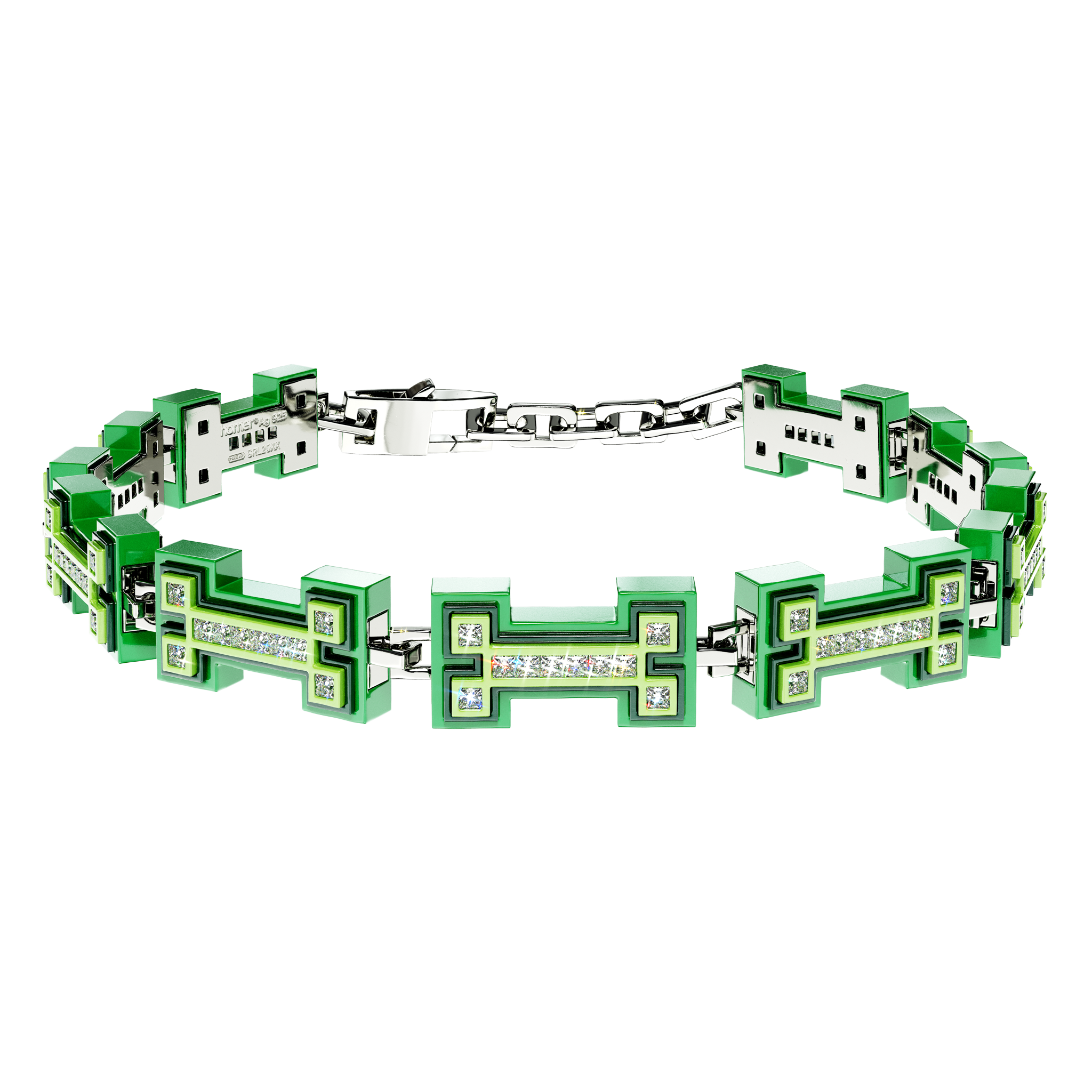 Frank Ocean has made diamante jewellery for dog lovers
We may not have FO3 yet – but it's coming!! (we hope) – but Frank has graced us with a drop in a different form: a very cute collection called 'When A Dog Comes To Stay' from his brand Homer. The idea behind it is based on a sheepdog, an akita and a bull terrier who each are pixelated like a 00s video game and adorn pendants ready to swing around your neck when Frank headlines Coachella next year. Necklaces, bracelets and rings come in that same slime green shade as that creepy alien baby doll he once brought to the Met Gala with some even being lab-grown diamond encrusted. A stand-out necklace with the collection's H-bone insignia is formed of stunning 18k white gold and with lavish princess-cut diamonds enveloped inside while some silk scarves and keychains finish off the new drop. Apparently, five more colours and an 18k yellow gold variation of the collection will be dropping soon too! Frank, bring this energy to the recording studio too please we beg you. In the meantime check out the full collection from www.homer.com. TG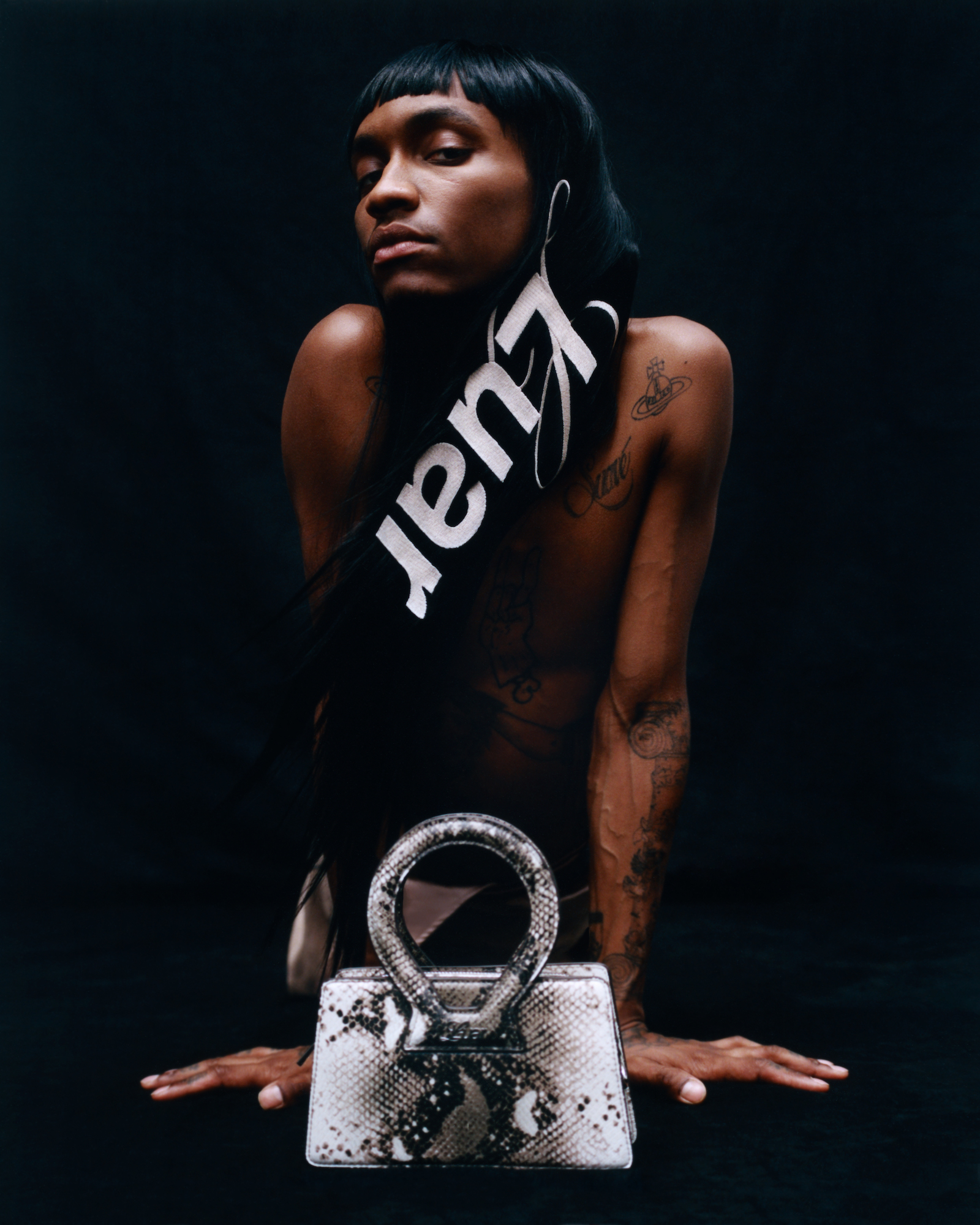 Luar x Opening Ceremony have a new bag (and maybe a g-string??)
In continuation with its 20th-anniversary festivities, Opening Ceremony has teamed up with Raul Lopez and his brand LUAR on a new collaboration. The drop features two new iterations of LUAR's Ana Mini bag — one in tobacco ponyhair-effect leather and another in black and snakeskin-embossed leather — alongside a sweatshirt co-designed with Dominican-American artist Bony Ramirez, whose work focuses on exploring Caribbean heritage. This project is also a continuation of sorts: Raul and OC's founders Humberto Leon and Carol Lim have built a friendship that goes back fifteen years, since OC became one of the first shops to stock Hood By Air, the label Raul co-founded back in 2005. We spoke to Raul and Humberto about the power of community, the inspiration behind the campaign, and the thrilling possibility of a new LUAR g-string.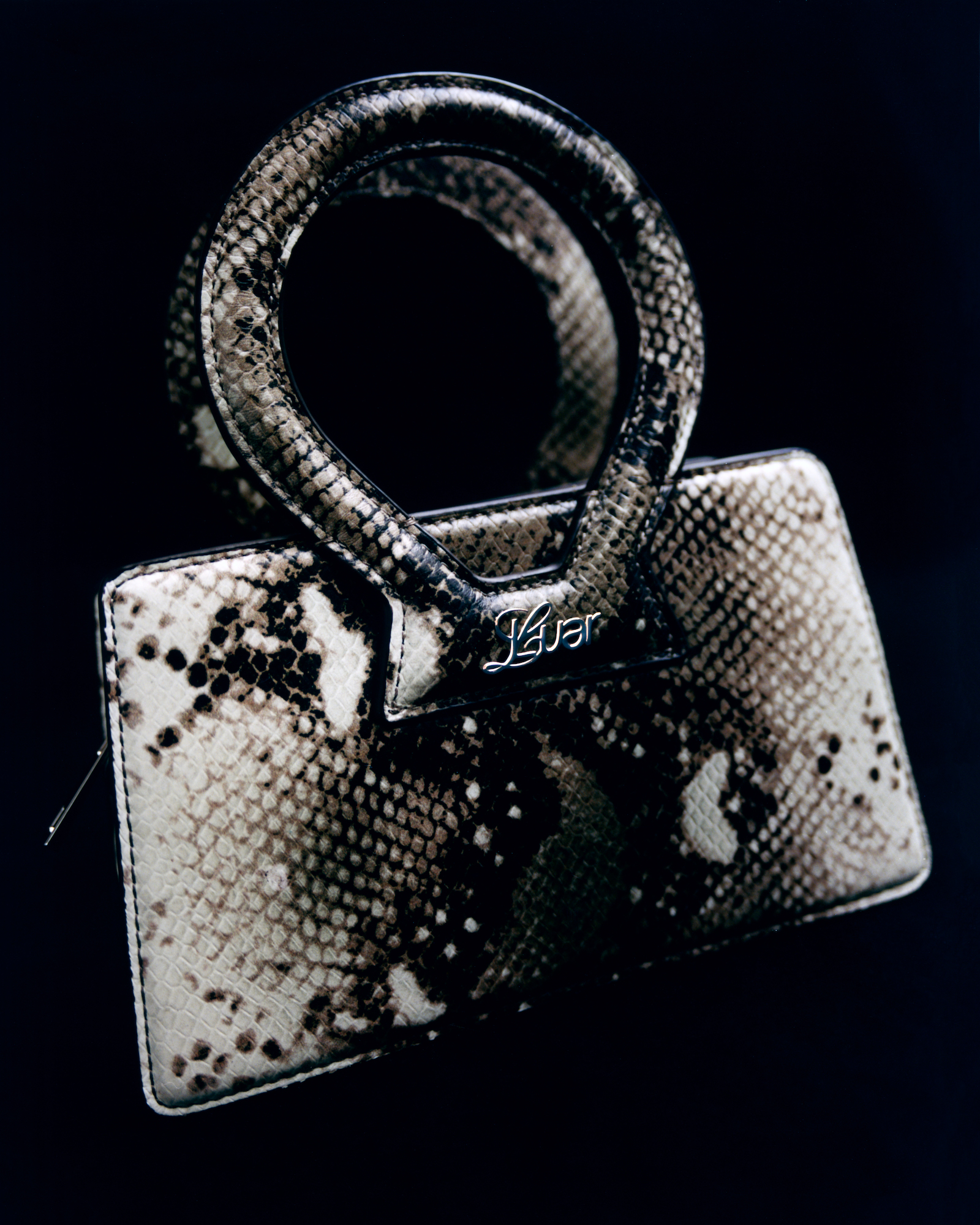 After working together for fifteen years, do you have any reflections or wisdom to share on the importance of support and community in the fashion world?
Humberto: The foundation of Opening Ceremony has always been supporting people that we love and providing a platform to nurture talent. From the first day I met Raul, I believed in his vision. I always think about our community and people, and I think both our brands share similar ideas about how we support the people within our communities.
Raul: For me, it's always been about support from my communities. I wouldn't be where I am today without it. I love building family. It's super important to me and the brand. LUAR is worldwide and has communities in every country - Whether it's NYC, LA, London, Dominican Republic, or Paris, I have families waiting for me who truly support my work, the brand, and me. It goes to show that when you are true to your craft and treat people as you would like to be treated while being your authentic self, people value that and can see themselves in it. We all want to be part of something, and LUAR is for everyone and for the culture. I think Opening Ceremony did the same thing when they opened the doors to me and so many emerging artists that were part of the OC community.
The campaign imagery is so major! What were some of the moods, vibes, or ideas you wanted to communicate?
Raul: I love a good meme, and everyone that follows me on social media knows my raw sense of humour. We wanted a campaign that was chic and elevated, without taking itself too seriously.
Humberto: The thing I love about Luar is the strong sense of imagery they have for the brand, but it all has a fun take. We really let Raul and team do their thing. They have an incredible team that really has a strong balance of being chic and fun.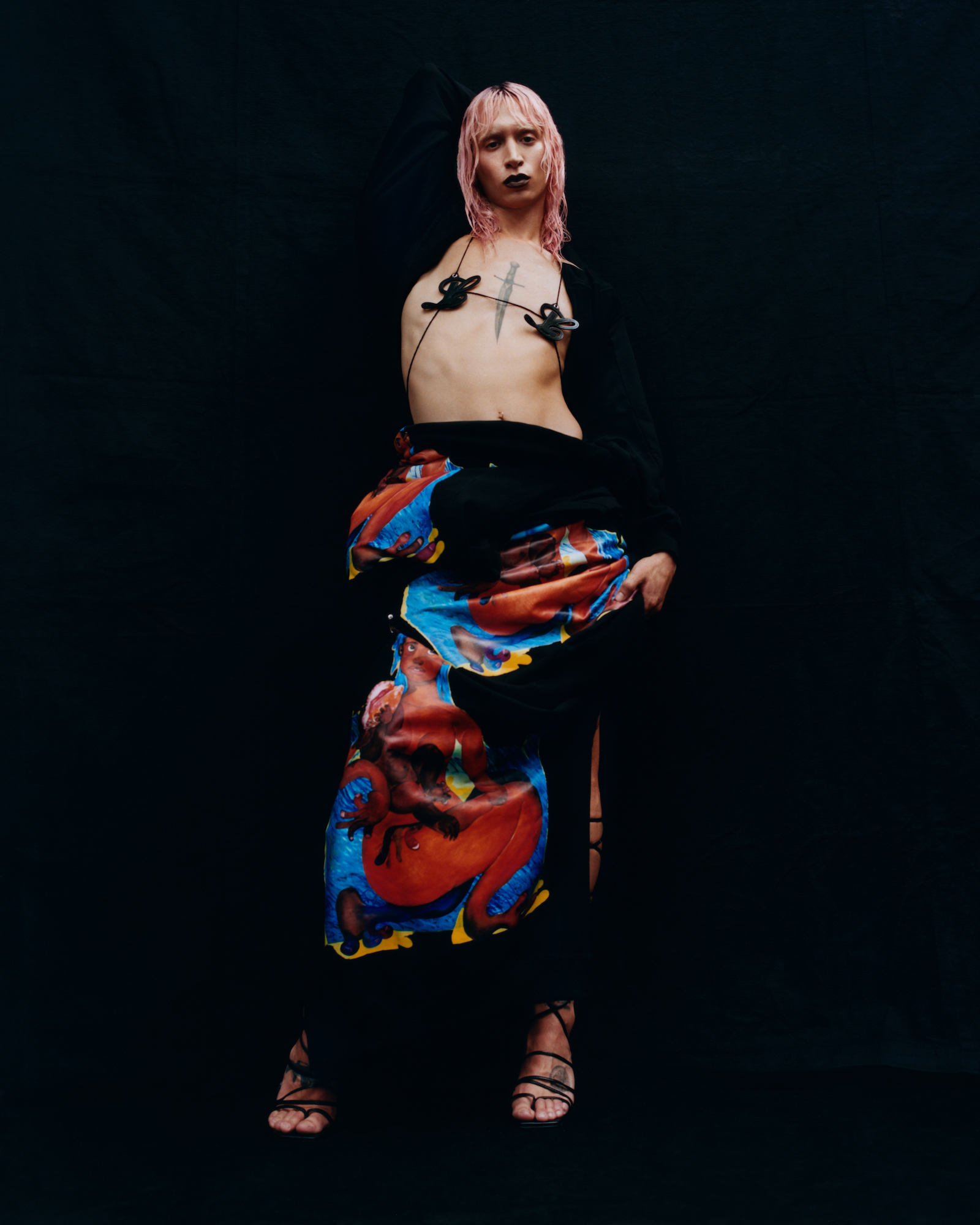 Can you share the inspiration behind the two new colorways?
Raul: I looked at textures before arriving at the colours. As many in the industry know, it's very expensive for small emerging brands to be sustainable in a way that is meaningful - I wanted to tackle this challenge with at least one of the bags. I wanted at least one of the bags to cater to our vegan community without compromising my design language. For the Black and Cream bag, we worked our way back from sustainable materials, and landed at a fab python embossed bag that feels light and easy, yet fashion forward. I also have been playing with pony hair textures – the second bag needed to be more of a classic that could be worn with denim and look chic, or with a fab boot, but also carry well into the evening. Tobacco is a strong alternative to black, and so we ended with the tobacco pony.
Humberto: The Ana was an instant classic when Luar debuted it. When Raul and I spoke, we both felt like playing with the "pony" texture was a fun way to introduce this texture to the bag. And the printed python on vegan leather just felt like a simple no-brainer. I want both versions, so it's a good sign.
How and why did you choose to collaborate with Bony Ramirez? His work is such an aligned fit of course, but tell us about how you entered into conversations about working together on a sweatshirt. Is this his first fashion project?
Raul: Bony and I have been friends for quite a bit. As descendants of the Dominican diaspora we have a lot of the same visual references and deep connection to our culture. I've been a fan of his work for some years now. We've been trying to work on something but never had put a finger on it. Then the OC collaboration came to me and of course the first person I thought of was Bony. His work has so many layers to it just like LUAR deeply rooted in our heritage and upbringing in America and traveling to the Dominican Republic. His art has always spoken to me, and I often see myself in it.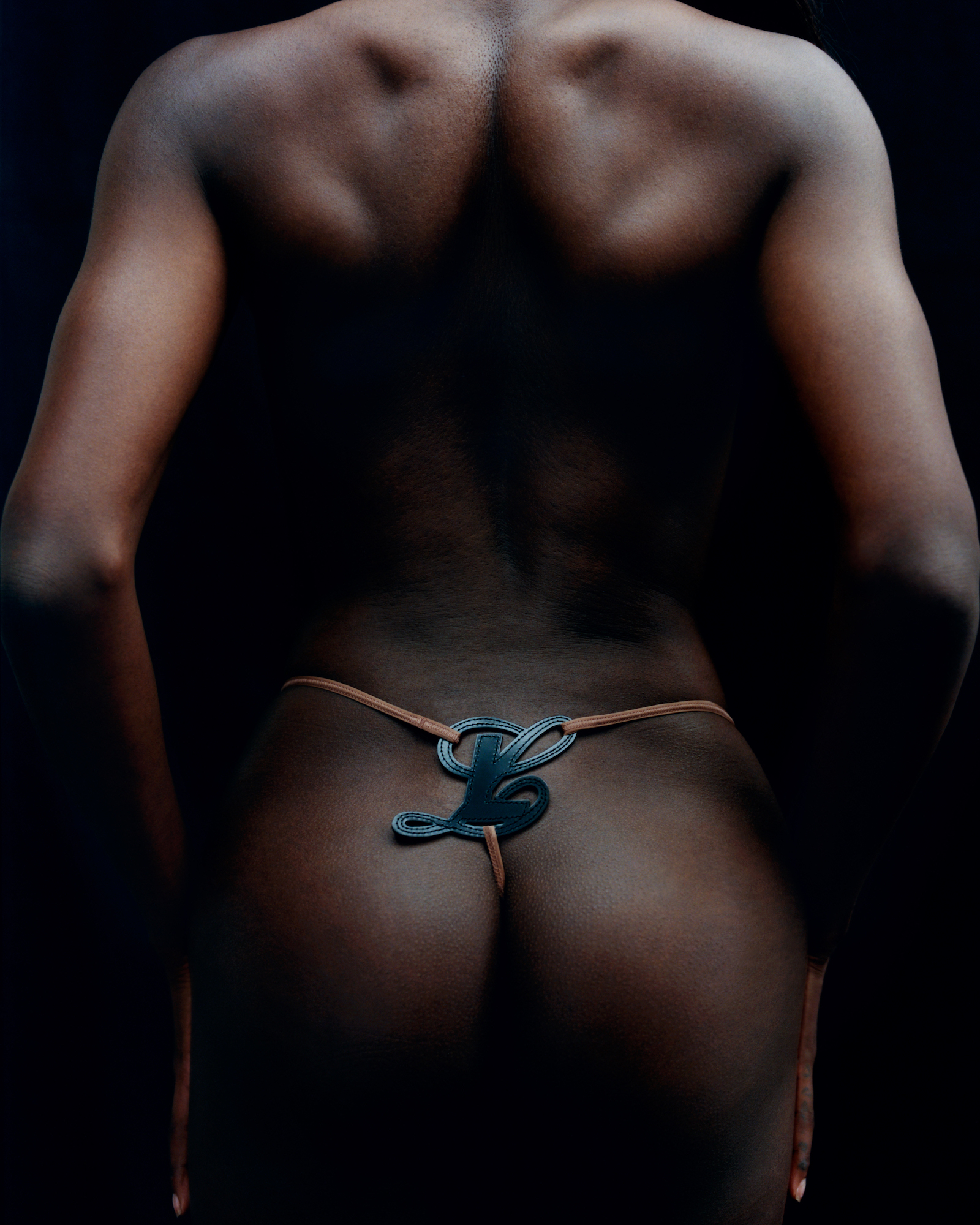 Can you talk to us about the "L"-string and bikini top? Will these be available as well soon?!
Raul: Hahahaha I hope so. When I was working with Kyle Luu on styling ideas she wanted it to be super chic and sleek while also taking us back to an era where wearing pasties to dinner was ok and peek-a-boo thing made sense. We've gotten a huge amount of DMs on the LUAR page and my own personal DMs about them, so yes let's see! I mean, I'm definitely into it.
Tagged: