Joel Meyerowitz's life in photos
The legendary street photographer breaks down six of his most crucial images.
"It's clear as day to me," says Joel Meyerowitz, recalling how Between The Dog and the Wolf — a series of photographs featuring swimming pools beside the sea at dusk — first took shape. "In 1976, I was having issues with 35mm colour prints. I wanted to make six, eight-foot prints, but a 35mm slide, good as it was, couldn't go to that scale." He switched to a large-format camera and soon after visited Cape Cod with his family. "Cape Cod is not Manhattan, and I began to make these other kinds of pictures," he remembers, alluding to the night he became transfixed by the glow of a telephone box at twilight. "It was like a magical incandescence. I made a photograph, and it was as if some fountain of new energy just flooded through me. I was transformed in that moment into a new vocabulary for photography."
Perhaps most commonly perceived as a street photographer, Joel's career spans six decades, multiple genres and upward of 20 acclaimed monographs. Beginning in New York as an early adopter of colour photography in the realm of Fine Art, at 84, he remains fascinated by the richness of the medium and its potential as a tool for engaging with the world. "What's kept me alive and interested in photography are these ongoing questions that rise up from the medium itself," he says, speaking over Zoom. "And part of what underlies my work is this trust that the world is so much more inventive and creative than I am. That, if I pay real attention, I'm going to see things that I've never seen before."
In 2020 Joel released How I Make Photographs, warmly delving into his practice with advice for would-be image-makers, while last year he shot Jil Sander's AW21 campaign in Tuscany, where he now mostly lives. Earlier this year he put out a revised edition of 1990's Redheads, comprised of portraits shot in Provincetown in the 1980s, and next week Between The Dog and the Wolf, a new exhibition at London's Huxley-Parlour gallery will open (through 12 August).
Expanding on the original series with works from Cape Light (1979) and Wild Flowers (1983), the show both foregrounds that specific aesthetic attached to a certain light and examines its influence on our imaginations. "The French expression is entre chien et loup, which means the dusk hour, when things go from the known to the unknown, or from the dog to the wolf, from the tame to the savage," Joel says of the show's title. "So the pool is the dog, and the sea is the wolf. Over the years, I've made a lot of pictures that deal with that subject, about how much we see into that oncoming darkness, and how beautiful it can be."
Here, Joel shares six of the show's most crucial images.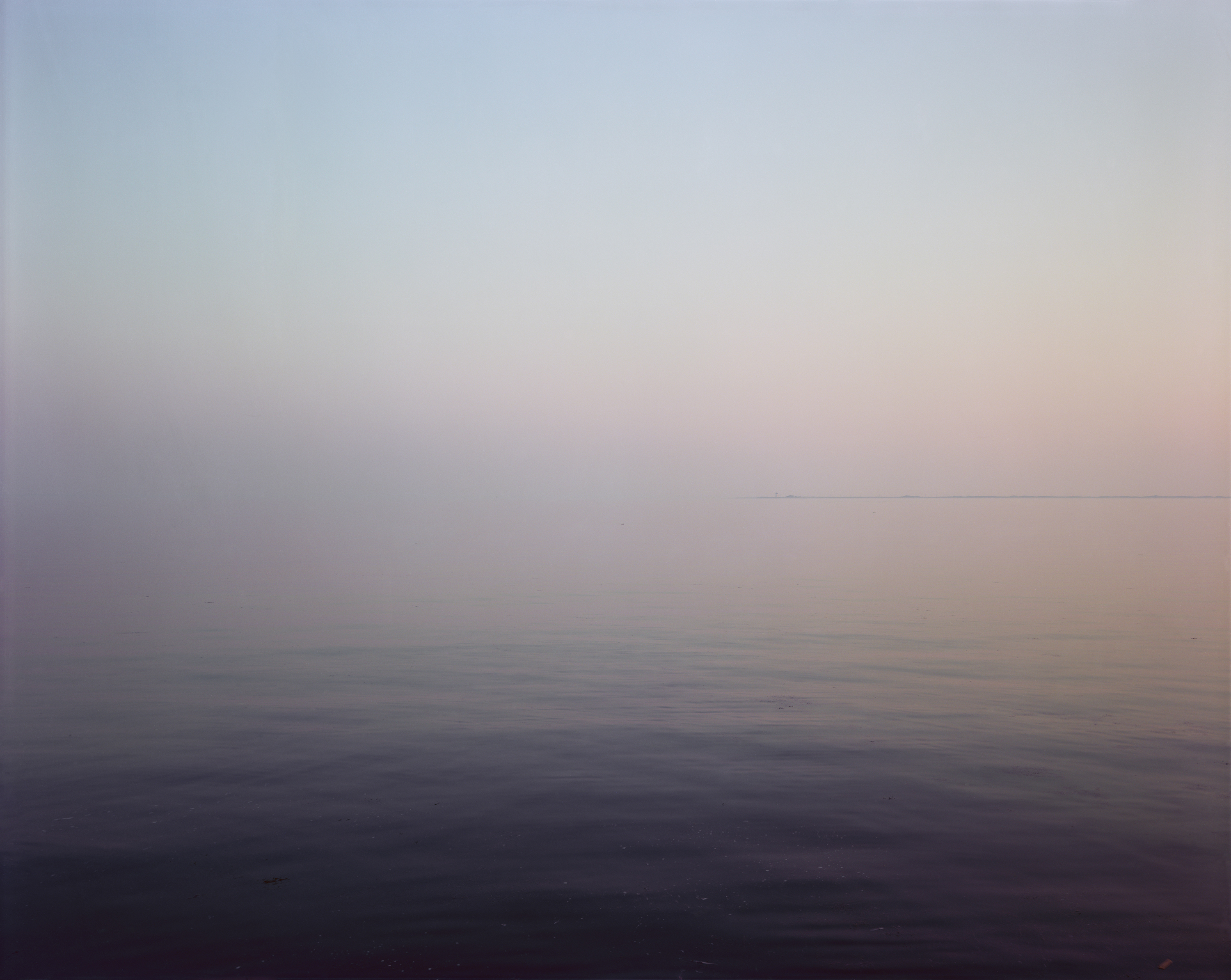 Bay/Sky, Provincetown, Massachusetts, 1985
It was dusk, it had been a hot day, and I was on my deck. I looked at the water to see if I wanted to go for a swim, and the change in temperature caused a little bloom of haze to rise up from the water, and the horizon line was blotted out. I had never seen a phenomenon like that so close to shore. I quickly grabbed the view camera, made this picture, and within 30 seconds, that bloom just disappeared. It was like a street photograph, it came and went in the briefest amount of time, but it was magical. I had been doing a series of horizon line photographs where I divided the picture in half between sky and sea, through all the seasons. This one was just magic. It's a moment, but it also has this stillness and static quality of a big place that I'm familiar with.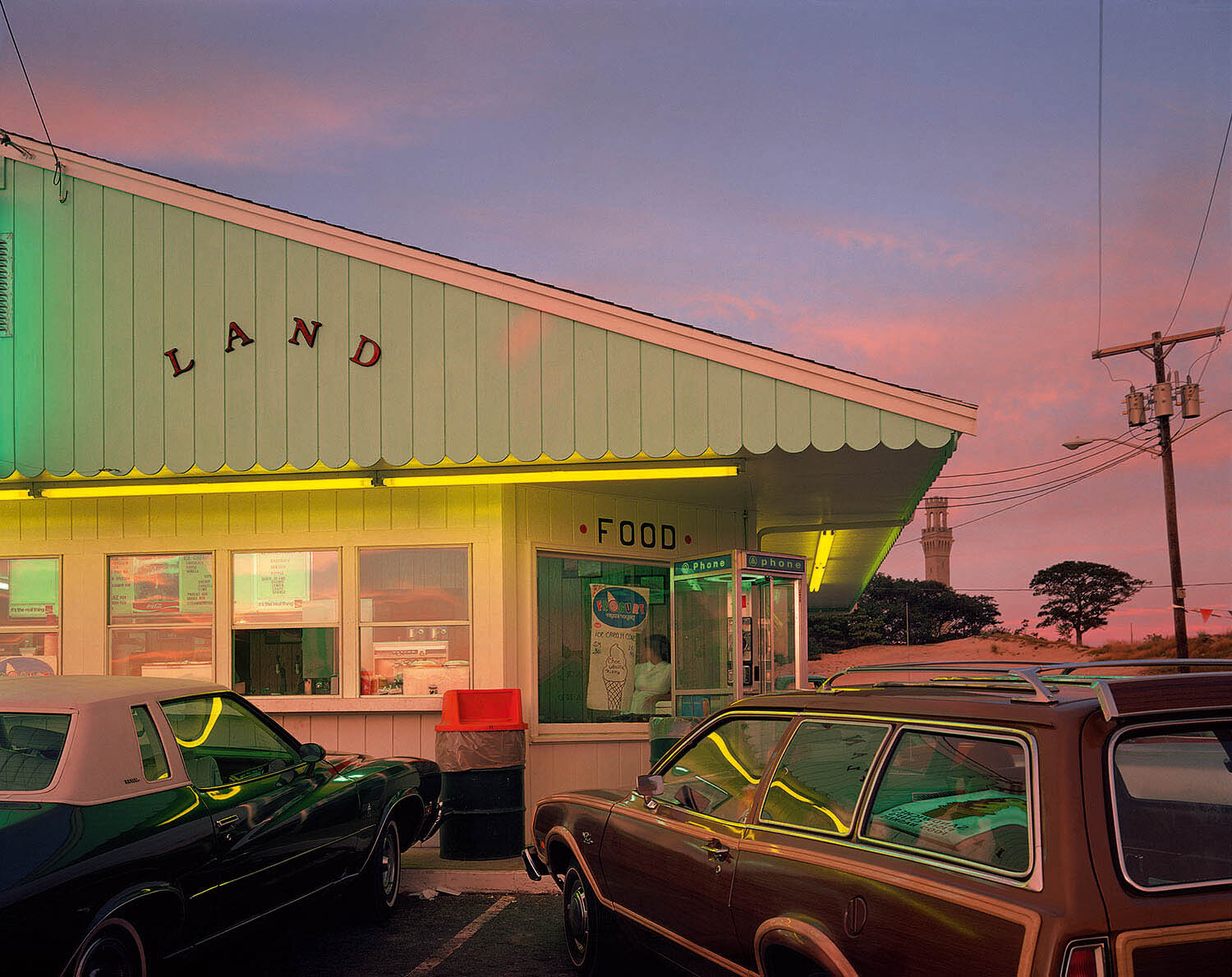 Provincetown, Massachusetts, 1976
It's like a Disney World kind of fantasy. An ordinary drive-in restaurant where you go for milkshakes, lobster rolls, clam chowder, roadside stuff. Most of the time, I'm not interested in that, but pulling in with my kids and seeing that pink and blue sky — perfect Disney World colours — and the signage with the yellow bands of light, that acid green on the left… Suddenly this ordinary scene became transformed into something magical and beautiful and worth making a photograph of. What happens in a picture like this is that reality we often overlook transforms itself into something powerful and meaningful, even poetic. By stopping at that moment, taking it in, I have a new understanding of what the potential is for making photographs out of ordinary life. It doesn't have to be a transformative moment or a big gesture, but I'm transformed by witnessing it.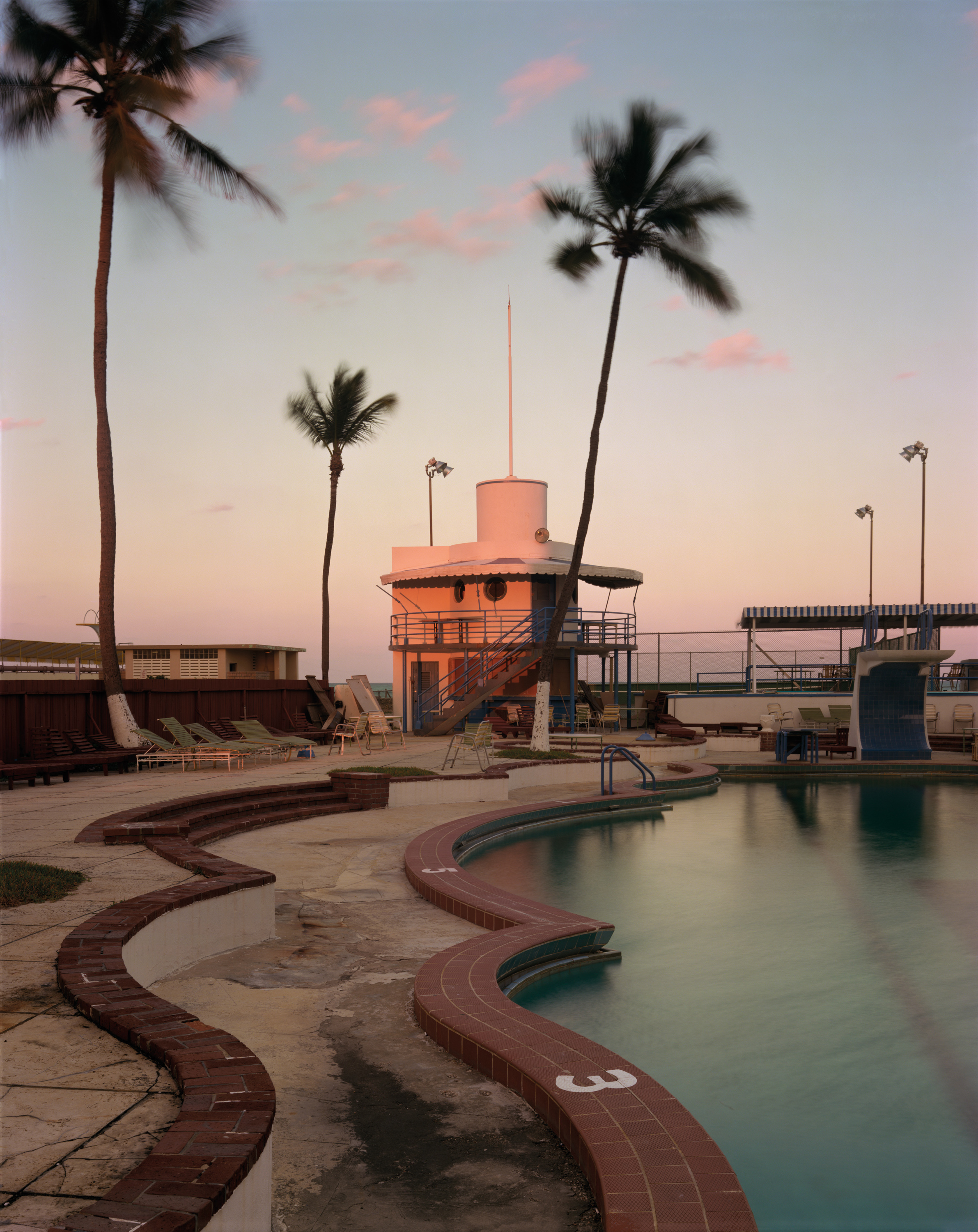 Miami Beach, Florida, 1978
I was working on this body of work in Florida, going from pool to pool along the ocean's edge, and I got there just as the sun clipped the top of that pool house in the distance and made it orange. I saw the sensual curves of the edge of the pool, and something about the combination of these things -- the curves, the stillness of the water, the fading light, that little bump of gold and orange -- it spoke to me. And I only make photographs when something speaks to me, otherwise it's like doing accounting. My feeling is, if I'm stopped in my tracks by some non-event, that means something has just touched me and I have to pay attention. As light as it is, it is louder than any other touch. I used to call it the zen bell; you can hardly hear it, but it's the one sound that calls you to attention -- a moment of clarity. That's photography, as far as I'm concerned.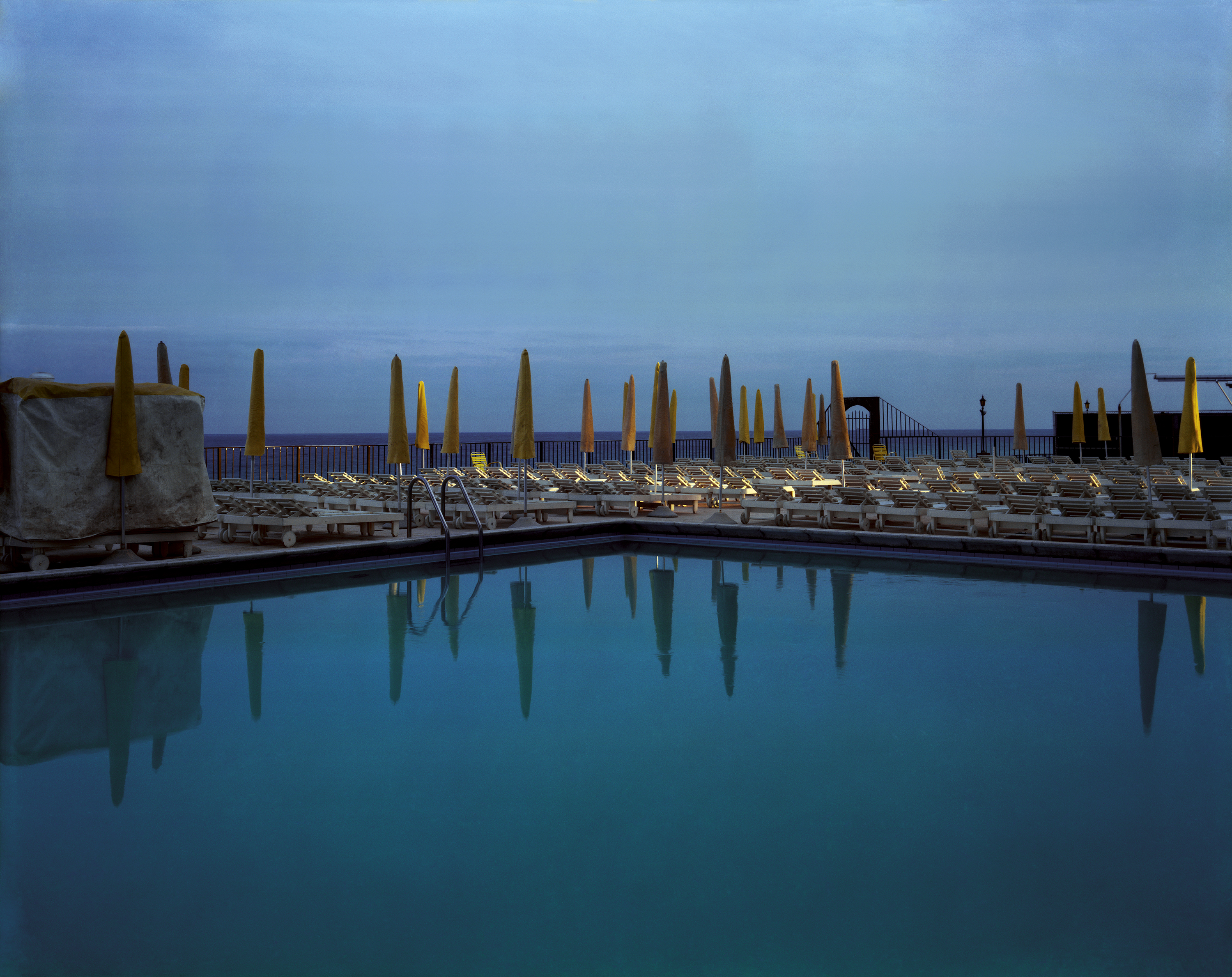 Fort Lauderdale, Florida, 1977
For a moment, nothing was happening, then suddenly, the sun inched around the edge of the building and flickered across some of those umbrellas and chairs. It was like music -- you have stillness, then suddenly you hear a piano. It went from a little potential to suddenly being something, and I love the nothing-to-being relationship. There's a lot of spirit in making photographs, people don't talk about it, but there is a spiritual side in terms of how it moves the artist. I'm not conceptual, but something has to touch me. It has to say this is remarkable right now, and if I stay another few minutes, it will be gone. Only photography, and my moment of consciousness, is going to be what makes the picture.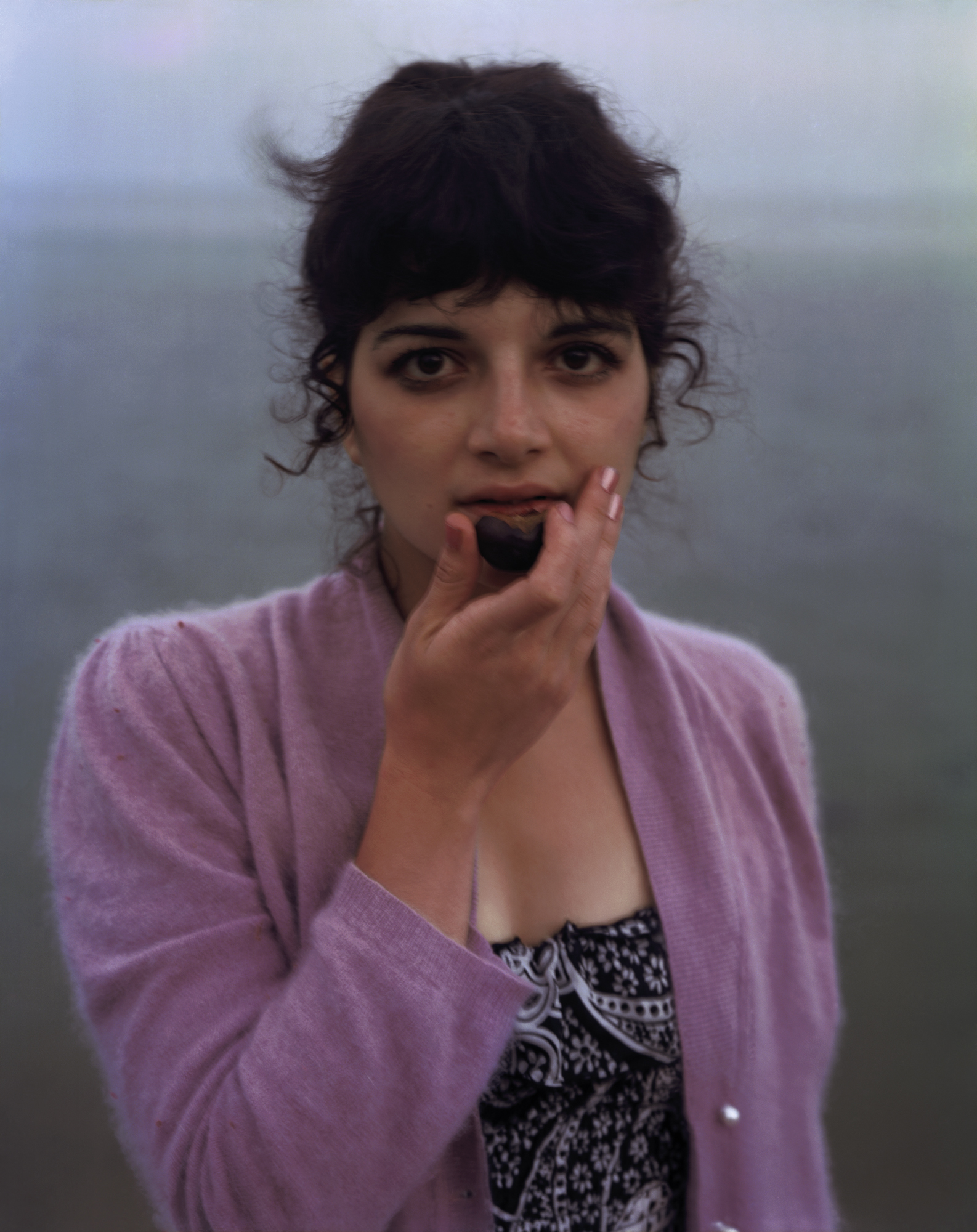 Lynette Eating a Plum, 1981
I had been making portraits most of that summer, and this girl came with two friends. One was Jack Pierson, a well-known photographer today, but they were just out of school; friends of Nan Goldin's, who told them if "you're going to Provincetown stop by and see Joel". When she came through the house, she took a plum out of the fruit bowl, bit into it and said, "I stole a plum from the house". I said "stop, stay like that", and I moved the camera and made a picture. When you make an 8x10 camera picture, it's all upside down. There's a magic to it when people are hanging from the ceiling. Anyway, I loved how she looked directly into the camera, strands of plum on her mouth. Those little things have an erotic quality, without trying to be erotic – it's in the moment. And I loved that incredible lavender against that pale blue-green of dusk's sea. It was spectacular.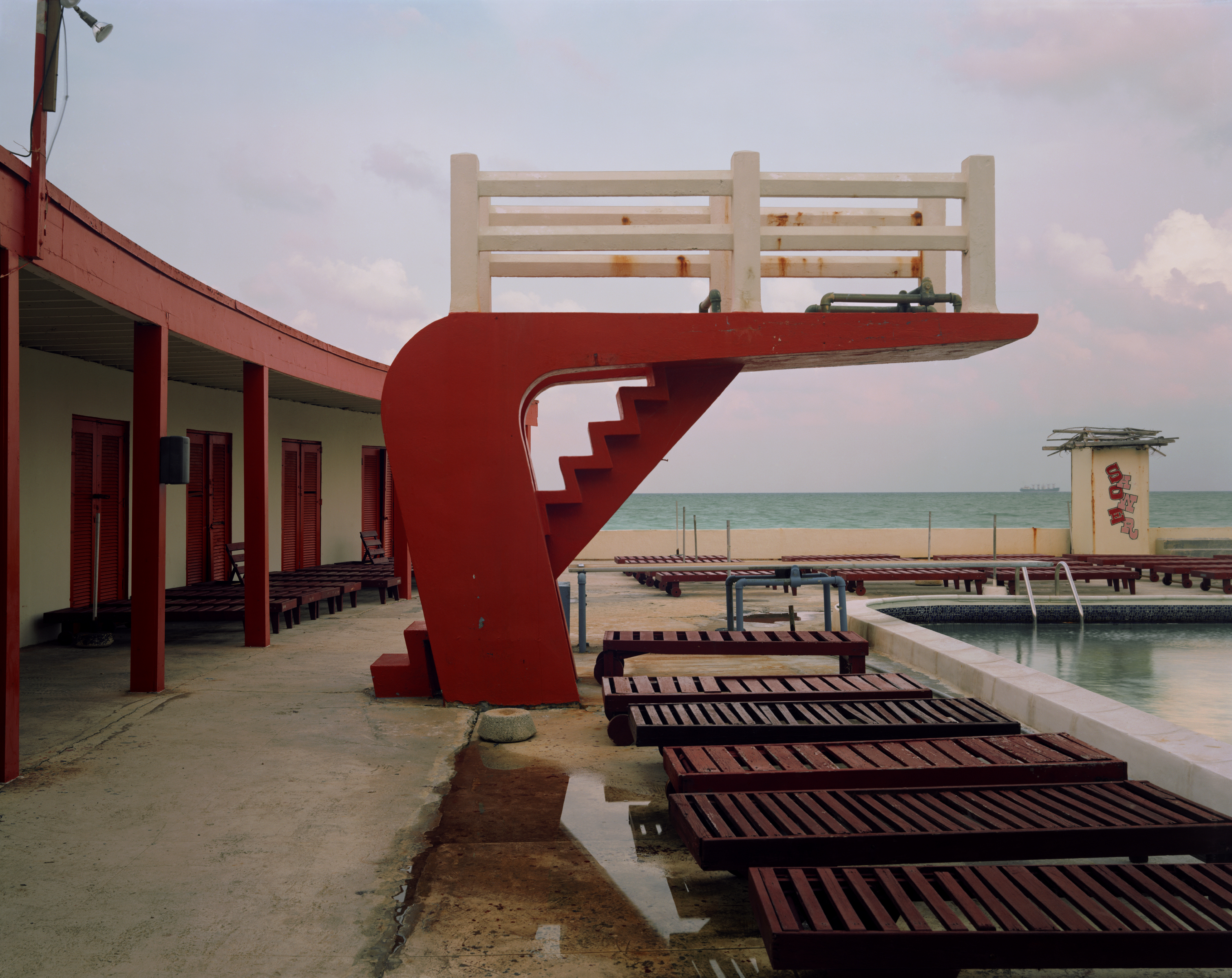 Florida, 1978
I was walking by and saw this incredible 1920s Art Deco diving board with that beautiful frame, and everyone gone. It just had an iconic quality. It said something about the past, when Deco was all in vogue, and people went to Miami Beach to wear their flapper dresses and were dancing the Charleston and had all kinds of attitude. It was after World War One, and life was coming back into the country. It had some kind of optimism and playfulness. But I thought of it as a really beautiful object, and that it was red against this last bit of pink in the sky was really beautiful to me.
Credits
---
All images courtesy Huxley-Parlour, and Howard Greenberg
Tagged: