Images courtesy of Bottega Veneta
Bottega Veneta takes Detroit: What's in Fashion?
Your one-stop-shop for this week's fashion news to know.
Images courtesy of Bottega Veneta
It may be all quiet on the fashion month front, but does that mean it's all quiet in fashion? Hell no! Just as we do every week, here's a bumper crop of the biggest, chicest stories to land over the past seven days. Today, we're bringing you a transatlantic bounty of Bottega Veneta news, as well as Juergen Teller's new Saint Laurent campaign, the inside scoop on Valentino's latest exhibition in Beijing, and a brief introduction to an exciting crop of young Portuguese talents courtesy of Marques' Almeida. Beyond your typical fashion tidbits, though, we've also got interviews with the curator behind the debut London exhibition of one of Russia's most exciting Gen Z artists, as well as with Georgina Johnson, the inspiring figure behind the must-read anthology, The Slow Grind. Here's what's in fashion.
Saint Laurent presents Hot Girl Winter
The nighttime mercury's down into the single digits and we're a week away from the clocks going back. Make no mistake, darlings – winter is coming! While that typically may make for a good excuse to haul out your cosiest socks and chunkiest knits, Saint Laurent are here to convince you to take things in a slinkier direction this time around. Shot by Juergen Teller in a harsh Icelandic landscape of icebergs and black volcanic sands, consider the house's Winter 21 campaign a clear statement that the brutality of the elements should never hold you back from being your sexiest self. Want to wear a sequinned tuxedo jacket and stilettoes to a wintry beach? Just do it? A gold lamé leotard in the snow? Who the hell is Mother Nature to tell you otherwise? After all, we've all spent far more time than is appropriate in shapeless, 'comfy' clothes. We may have to kiss Hot Girl Summer goodbye, but as that door closed, Saint Laurent just threw another wide open to Hot Girl Winter – get into it! MS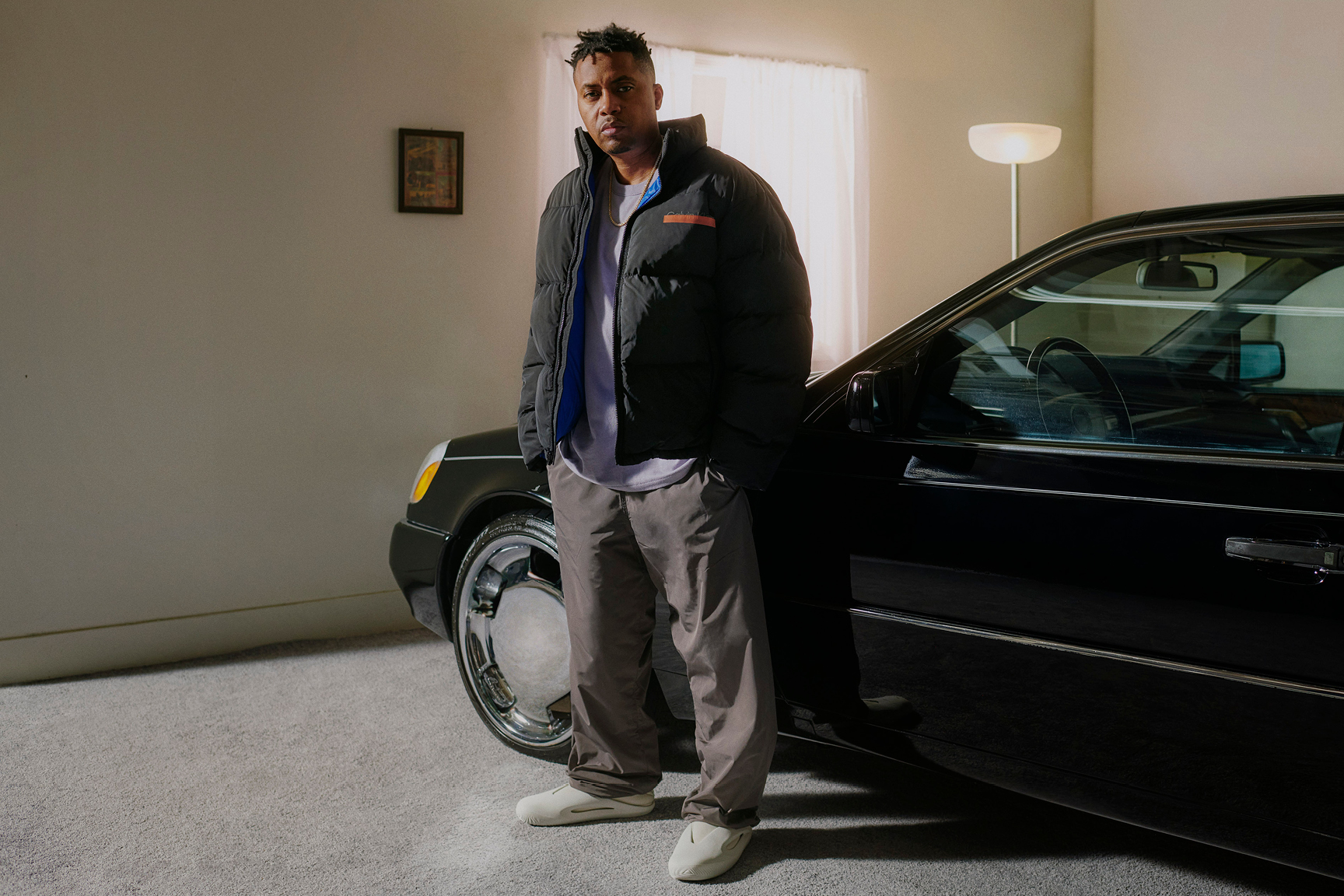 More of Heron Preston's less-is-more Calvin Klein
"No more, no less than what we truly need as wearers of clothes," was how Heron Preston described his second collection for Calvin Klein, where he is currently installed as a creative consultant. The NYC-based designer has spent the last year delving into the archives of the temple of minimalism, drawing on past styles for his modern interpretations of sportswear and denim with a "stripped-back, clean, minimal New York attitude." Launching with a film directed by Ricky Saiz (the man behind The Carters' "Apeshit"), the collection of earthy recycled-plastic denim jackets, clean-lined puffers, unelasticated joggers and thermal-knit layering staples is brought to life by the high-energy moved of dancer and artist Savion Glover. "We conceived this collection from head to toe – and we even updated the socks into a chunky wool – that you can wear indoors," added the 38-year-old Preston. Sure, Calvin Klein may be a brand known for its erotic advertisements and sex is back with a vengeance elsewhere on the catwalks — but what could be more enticing than a cosy night in, in your Calvins? And by that, we mean chunky Calvin socks. OA
Valentino celebrates its arty roots in Beijing
We all know by now that good clothes aren't quite enough to win in today's fashion game. More than that, you need to be able to create genuine cultural moments. One house that doesn't need to worry on either front, however, is Valentino. Under the creative direction of Pierpaolo Piccioli, the Roman Maison has forged a reputation for breathtakingly romantic fashion – in the realms of both ready-to-wear and haute-couture – and its steadfast commitment to nourishing art and creativity beyond its fashion remit. The latest example of just that is Re-Signify Valentino Part II, an exhibition that's just arrived in the exhibition space of the SKP luxury shopping mall in Beijing. Bringing together looks from recent Valentino haute couture collections and works from artists are wide-ranging as Nick Knight, designer Caroline Hu and digital artist Cao Fei, it explores the shared poetic intertext between creative disciplines that informs the creative ethos of the house. A must-see if you're in town! MS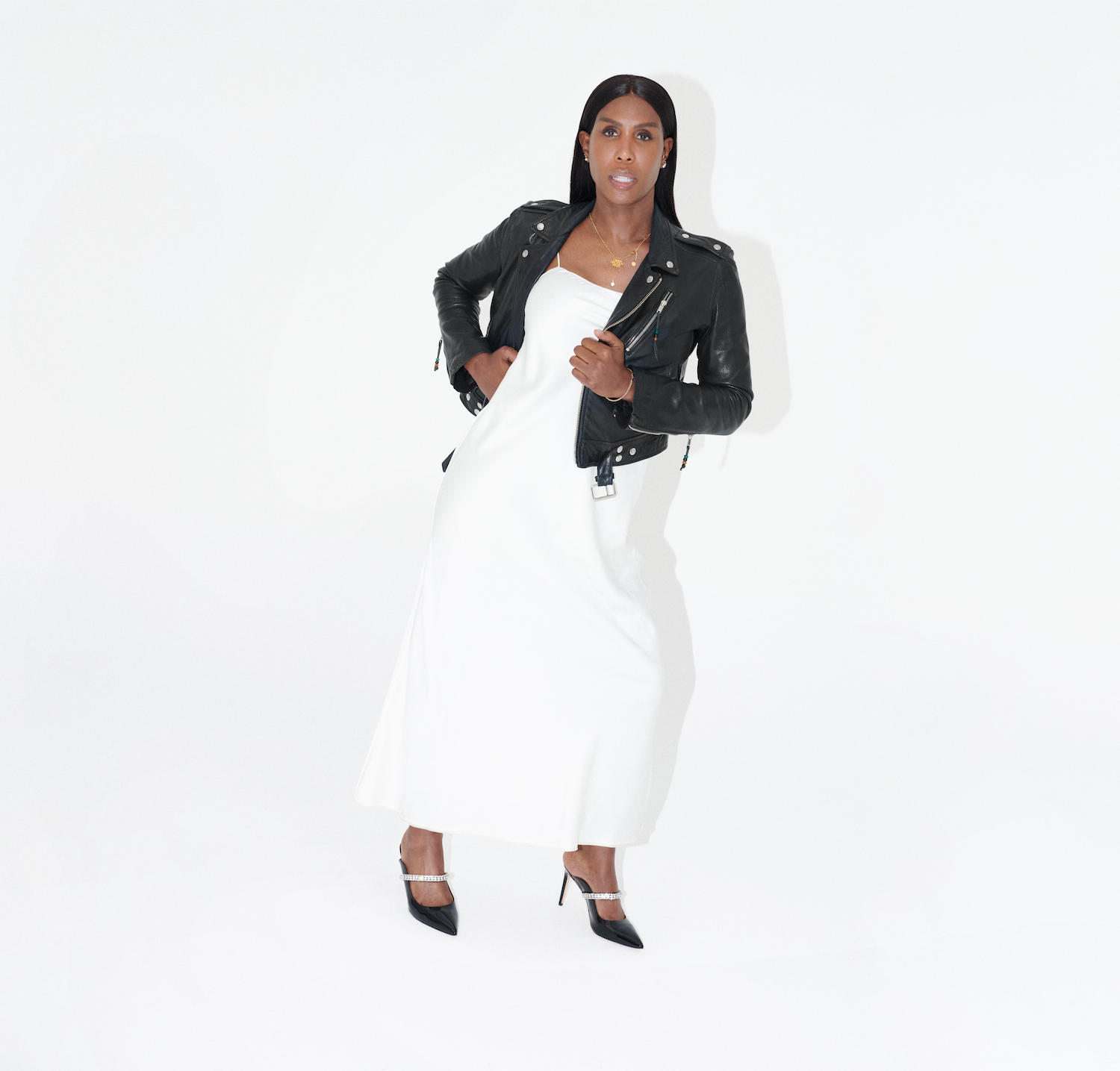 Your next best wardrobe staples come courtesy of Farfetch
Farfetch, our favourite destination for doom scrolling the luxury wares of boutiques in over 50 different countries, has just launched its own line, There Was One. Yes, the e-tailer has started offering its own designs, cleverly pooled from data indicating what its shoppers are actively searching for on the site. The idea, it seems, is to offer wardrobe classics that never go out of style, and are surprisingly hard to find (take it from someone who once spent a day trawling through shops in search of the perfect white vest). Think midnight-blue silk slip dresses, oversized silk shirts, denim and leather biker jackets, flattering zipper leggings and the perfect black ribbed-jersey LBD. In other words, failsafe clothes to grab on those days you just don't know what to wear. What's more, the line is a partnership with New Guards Group, the Italian conglomerate of streetwear labels that it acquired in 2019 for $675 million, and now includes Off-White, Heron Preston, Opening Ceremony, and Palm Angels. And even better, it puts Farfetch's sustainability chat to practice, using materials such as viscose crafted from wood and pulp derived from responsibly managed forests, as well as recycled nylon and treated with a PFC-free water repellent coating. Your next late-night purchase just got a whole lot more guilt-free. OA
Bottega Veneta takes over Shoreditch…
Move over Mayfair, there's a new luxe shopping destination in town – that's right, Shoreditch! If the presence of Browns, a Soho House and Gucci's temporary location weren't enough to convince you, then the latest arrival to the neighborhood will. This week, Bottega Veneta landed with a bang, taking up residence in a cavernous industrial space at 6 Redchurch Street. Offering a full range of accessories, shoes, eyewear and ready-to-wear, its arrival means that East London dwelling fans of the house – of which, as a quick lap around London Fields will confirm, there are many – will no longer have to schlep into central to pick up a new pair of Puddle boots or splash some cash on a Cassette bag. As things stand, the new location will be open until Christmas, though who knows – if it proves enough of a hit, then it just might stick around. So you know what to do — get out there and shop, my dears! It's for the greater good! MS
…and Detroit!
But wait! More Bottega? Gosh, we do spoil you, don't we! Well, I guess they're the ones spoiling you, but here you go anyway! Last night, the Milanese house staged the latest of their itinerant Salon shows in one of America's most significant cultural capitals. New York? No way! We're talking about Detroit, the spiritual home of motor vehicles, Motown, and techno, where Daniel Lee and the team headed for the latest in a series of similarly off-the-radar presentations that have taken place in London and Berlin. Attended by an expectedly ritzy cast of celebs – including Mary J. Blige in a crimson faux foxtail stole and Lil' Kim in a royal purple coque feather-embroidered lewk – the clothes presented in the historic Michigan Theatre amounted to an ode to a progressive, joyful future – and aren't we all in need of one of those!
There was a playfulness at hand here – roomy parkas were wired with metallic thread, allowing the wearer to crush and warp the fabric into unexpected, static shapes. Dresses woven from beads, shells and rubber yarns imparted a sense of almost toy-like tactility, while carwash-hemmed slips suggested a sporty sensuality, counterposed by the louche scalloped knit twinsets that were part of the menswear offering. There was, of course, a suite of the glitzy looks one expects of a brand with Bottega's star power – think shimmering paillette dresses, and hulking faux fur coats. On the whole, though, this felt like a progressive treatise on luxurious, functional dressing accented with the glamour and technical sophistication we love to see.
Still, all of this wasn't just for a fly-by visit to Motor City – no, no! In fact, Bottega will be staying put in Michigan's largest city until January 22nd 2022. How? By way of Bottega Firehouse, a creative retail space in the city's Corktown district. More than a spot to empty your wallets and leave toting those big green shopping bags, it'll also serve as a hub for the city's storied creative community, hosting a record store by Underground Music Academy, a reading room by Asmaa Walton, design works by Chris Schanck and Aratani Fay, textiles by Substudio, furnishings by Donut Shop, ceramics by Hamtramck Ceramck, relief sculptures by Sophie Eisner and a selection of printed matter curated by Ruben Cardenas among other bits and bobs. Put your hands up for Detroit indeed! MS
Marques' Almeida celebrates Portugal's young designers
M'A Girls, rejoice! Ah, it's been a while since your favourite Portuguese duo has been seen on the catwalk, but after a long wait, Marques' Almeida is back just in time to celebrate their 10th anniversary. Staging a show in Porto instead of their usual London, Marta Marques and Paolo Almeida returned with their signature M'A styles: feather-trimmed slip dresses, the frayed denim, the saturated dyes and clouds of shearling and metallic leather. But there was a definitive shift that went beyond a change of location — this was a show that was inclusive to the core. Fans of the label will know that Marques Almeida shows have always been street-cast, but the line-up of their homecoming show starred a broad range of sizes, shapes, genders, physical abilities and ages. More than that, it was inclusive in the collection's very seams. Marta and Paolo invited several young designers to contribute to the collection, drawing on their craft and ideas — and paying and crediting them for it.
Nani Campos' knitted, cobweb knits made from strips of deadstock materials became colourful, sexy gowns that skimmed the floor. Marcelo Almiscarado, who Marta and Paolo discovered when they sat on the panel for a Portuguese fashion prize, created hand-crocheted flowers that appeared on a pillowy white tunic dress. Some looks featured ceramic chains by queer nonbinary artist Rebeca Letras, who fuses pottery with performance art, making sculptures from trash that satirise the fashion industry. Elsewhere, Susana Santos' collaged bags added to the kaleidoscopic feel of the vibrant colours and textures, while José Viera's floating capes added to the drama and Patricia Tila's deadstock embroideries hinted at the DIY practice of repairing and remaking old garments with joyous details. It goes without saying that each of these young creatives intrinsically work with upcycling and innovation — and it couldn't be a better reflection of a label that has always had youth culture at its heart. That's how you round off a decade in style, M'A girlies! OA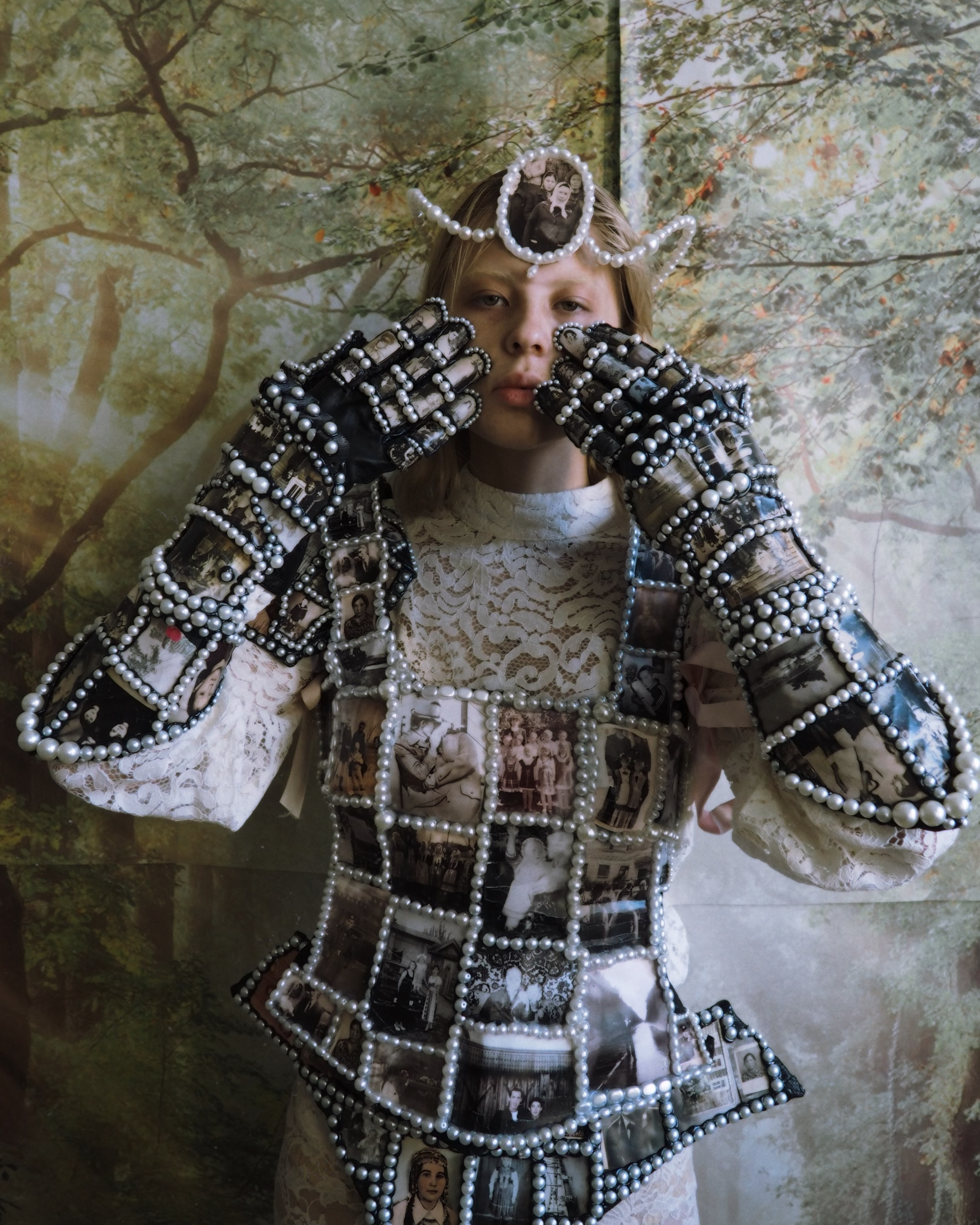 The artist putting a Gen-Z spin on traditional Russian crafts
Embroidery isn't necessarily a craft that you instinctively associate with cutting-edge contemporary art, but one artist working to change that is Saint Petersburg-based Polina Osipova. Drawing upon the craft and dress customs of the people of her native Chuvashia, an ethnic republic in the west of Russia, the work of the self-taught artist reframes the traditional visual narratives around her heritage through striking self-portraits, featuring riffs on folk dress and jewellery created using materials including pearls and silver coins. Intricate and craft-based as her work is, it's found particular traction on Instagram, which is where it first caught the eye of London-based creative hyphenate Anastasiia Fedorova, who's curated an exhibition of Polina's work at East London's Hoxton Gallery, to mark the artist's recent winning of the Cothinkers Annual Prize "She is a digital native herself, so for her, there aren't really strict boundaries between digital and analogue," Anastasiia says of Polina's work. "It's always a combination, a hybrid." Running October 27th-30th, Cothinkers Annual Prize: Spotlight Polina Osipova isn't one to miss. Ahead of its opening, Anastasiia gave us the lowdown on why Polina's an artist you need to get to know. MS
What was it about Polina's work that first caught your eye?
I came across Polina's work, like most people, on Instagram – I love how she incorporates so many elements into her universe: photography, family archives, selfies, sculptures, folk tales, traditional costumes from her native Chuvashia, digital animation. It feels like she has this magic touch that turns objects and craft skills into very contemporary stories.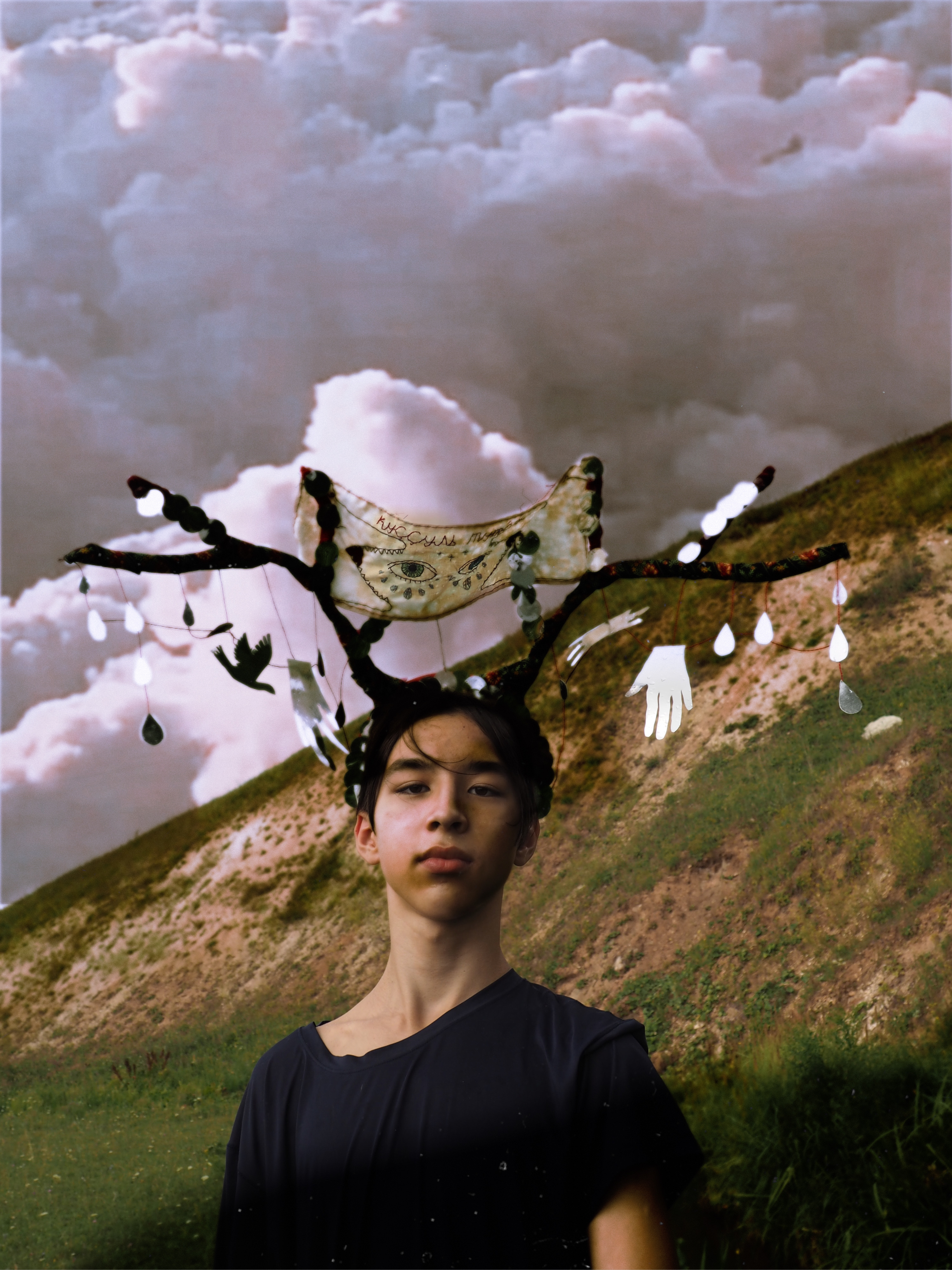 What makes the crafts heritage of the Chuvash people so distinct?
Traditional Chuvash attire for women often incorporates large amounts of silver coins. Resembling silver scales or armour, the coins can result in costumes that weigh up to 30 kilograms. In Polina's work, they stand for beauty, history, loss, the legends of ancient warrior women who once resided close to the Volga river, and connection with powerful female ancestry.
Also, the tradition of embroidery is very important for Chuvash culture. According to Polina, all Chuvash women can embroider – "it's like breathing", she says. She learnt the skill as a child from women in her family, and it's a source of strong collection with her past – she even reworked some original embroideries made by her grandmother into new works, which creates a kind of cross-generational collaboration.
What would you say makes Polina's engagement with dress and adornment so particular in her work?
I think it's a combination of something playful and performative, but also something authentic which comes from Polina's history and experience. For her, skills and crafts are something she is very emotionally connected to and a very natural means of self-expression, which is a rarity in our very digitalised world.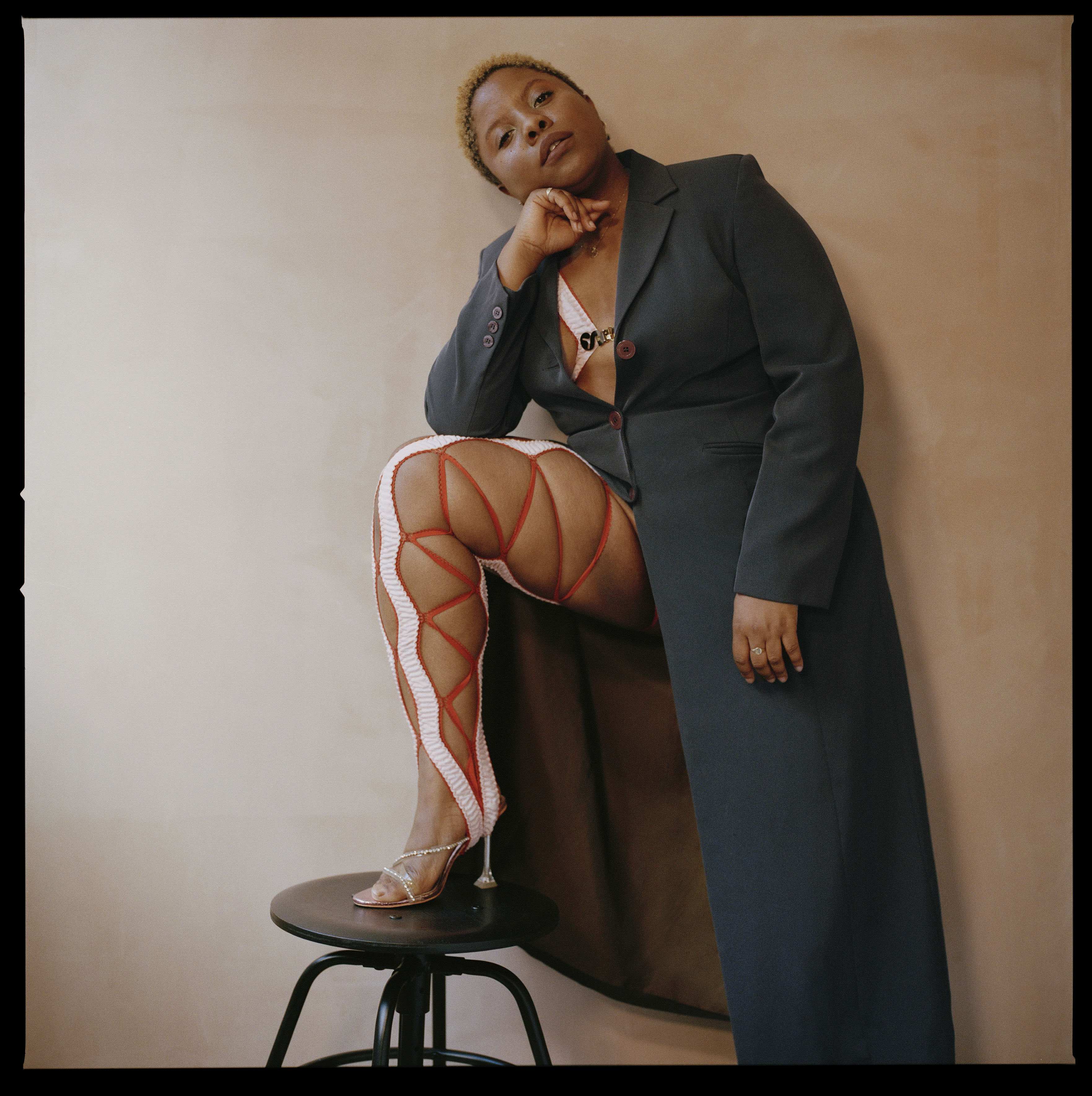 Georgina Johnson returns with a second run of The Slow Grind
When Georgina Johnson released The Slow Grind: Finding Our Way Back To Creative Balance last June, it resonated far and wide. A call to rethink the paradigms within which we interact, work and create, it compiled interviews, essays, and meditations around the theme of intersectional environmentalism from a pool of contributors from across the creative and scientific communities – designer Bethany Williams, image-maker Campbell Addy, and Fashion Revolution founder Orsola de Castro among them. Exploring the rhizomatic nature of systemic inequity, it brought to light the interconnected nature of many of the key existential issues we currently face – the toxic commingling of capital-driven acceleration, racism, class oppression, and environmental destruction. Just over a year on from then, the creative polymath – who counts fashion design, publishing and podcast hosting among the strings on her bow – is now putting out a second print run of the book, supported by British heritage fashion house Mulberry. Here, she tells us about The Slow Grind's core principles, her newfound appreciation for her own work, and plans for the project's future. MS
What brought about the second print run of the book?
Well, thanks to the publishing grant we received from Mulberry, we've been able to offset all of the carbon emissions from the project through an afforestation project in Nicaragua, which empowers communities to re-embed their imagination and education around things like safeguarding the rainforest. That was really exciting, as it gave us an opportunity to live out the values of the project, and ensure that there was longevity to it beyond the physical architecture of the book. The idea of longevity is also key to the project, and when we embarked upon this conversation with Mulberry, I was very explicit that this couldn't be a one-time thing. Fashion has a habit of just involving Black people around periods like Black History Month, and it's something I've noticed with the Black Futures Pledge -- this year, when I've been reaching out to brands about it, there's been a lot more reservation and hesitation in comparison than there was last year. For it not to be tokenistic, there needs to be a long-term engagement. I want to have at least three books in the series, the second of which I'm going to start researching for next year. Well, I've kind of been doing that this year in the background, as I've been recording a podcast with an incredible group of women working at the intersection of art and science, including Mariana Pestana, Gabriella De Cruz, Sumayya Vally and Alexandra Daisy Ginsberg.
How has the project been received since first launching a year ago? Have there been any standout responses?
I was really bowled over by a woman from Australia who emailed me. She has Asperger's, and she said that it was the first book in three years she'd been able to read front to back. In terms of accessible design, we don't really think about publishing very much. I'm dyslexic myself, and I find it so much easier to read on coloured paper, which is why there's no black-on-white text in the book. I also wanted people to feel relaxed while reading, which is why the pages are lilac, and the inside cover pages are a bright yellow, which encourages you to pay attention from the moment you open it. Her response showed that investing in making sure that it's an accessible text really paid off. I also received a quote from the artist Pari Ehsan, which I thought was so incredible. She said, "The Slow Grind is an offering to step inside the minds and intentions of a brilliant curation of contributors. Through them, you'll find an interpretive map to fertile fields. The book is a valuable living vessel that honours process and notes context. It asks us to broaden our visions, and always seek the complete picture." To hear that is incredibly special, and really makes me want to continue with the project.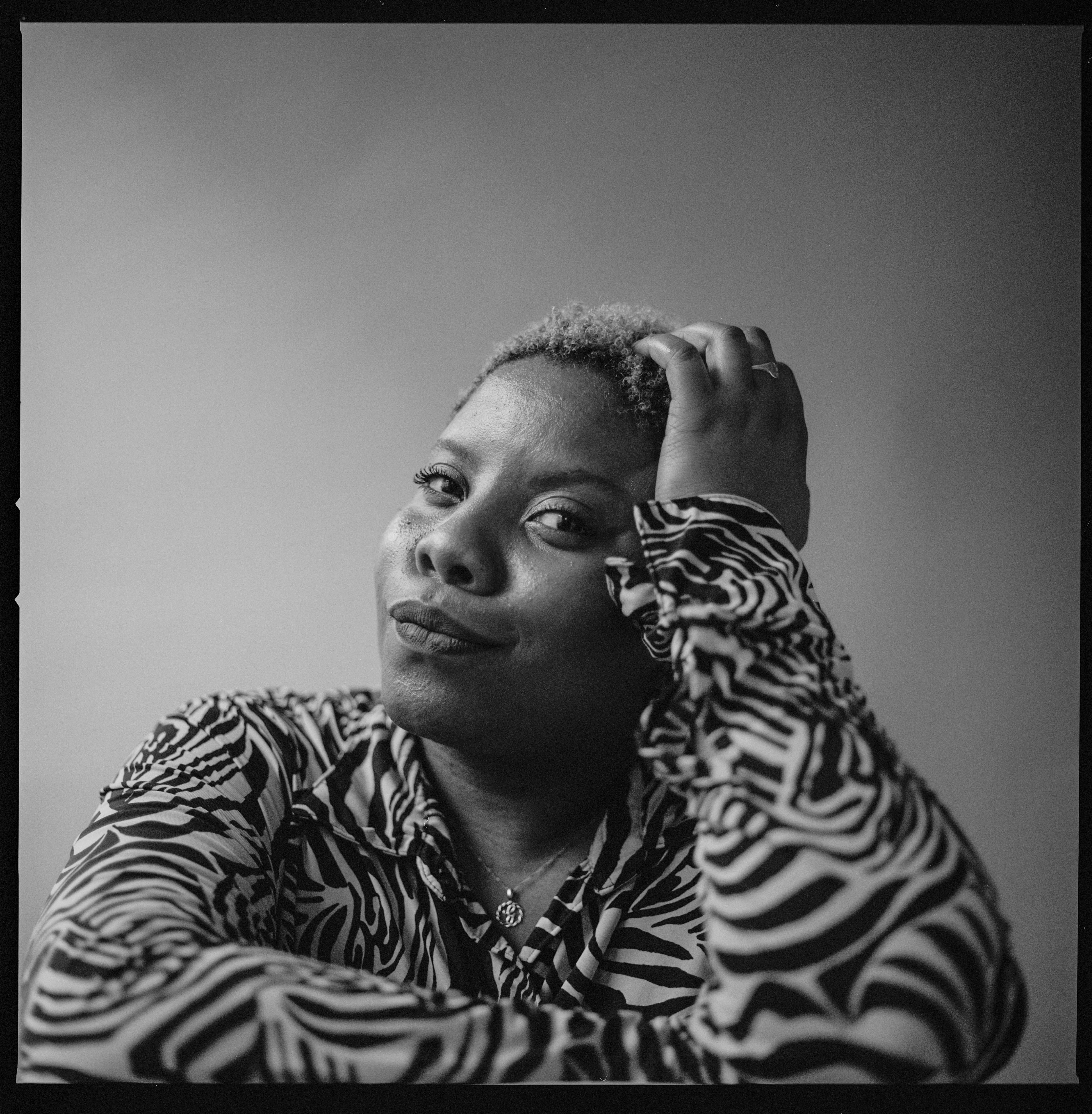 Has your personal relationship to the project changed over the course of the year at all?
I definitely relate to it in a different way. In my essay at the end of the book, I talk about my experiences studying and working in the industry, and how all of those things contributed to having bad mental health. Following a particularly bad period at the end of last year after the first print run, which I initially thought was a depressive episode, I've now come to understand that it was a manic episode, and I received a diagnosis for bipolar disorder. I don't want to send the message that you have to have a diagnosis to qualify not feeling right, but in my case, I now see that my body was reacting to a system and a practice of acceleration that some people can manage, but that just doesn't work for me. And that's fine! In the same essay, I also talk a lot about feelings of failure and shame -- being Caribbean, I've always felt a lot of shame about having mental health issues, as it's not something that's really spoken about in our community. And that's even more so the case when you're in an industry that's supposed to be all butterflies and glitter and unicorns. People ask: Why would you be upset when you have all of this? Now, though, I feel very fondly about the project. And seeing the reception that it's received, I feel a lot more proud that I'm able to bring it out again.
Could you tell us a bit about the Slow Grind principles that you've added in this second run?
Sure, they are:
Addressing a history and legacy of destruction and oppression.
Developing responses and ideas that are reparative, regenerative, and imaginative.
Viewing the interconnected issues of climate and social justice through the lens of creativity.
Placing the safeguarding of ourselves and the natural world above all.
Exploring ideas that posit alternatives to our present condition.
They're something that I really came to in definite terms after my experience at the end of last year, actually. Even though I understood issues around intersectional environmentalism and how all these things interlinked, I think that, in order to continue to make it accessible, it needed to be grounded in these tangible principles, so that people could understand what these intersections are. It was really about taking things a step forward and continuing to make it an accessible topic, and driving home the 'why?' behind it. I think in order to have integrity in the work that you do, it's incredibly important to consistently be reminded why you're doing it.