Global skate collective Violet just dropped decks and clothing
The Bill Strobeck-led group, who graced the pages of i-D, have launched a new webstore and movie. Check it out here.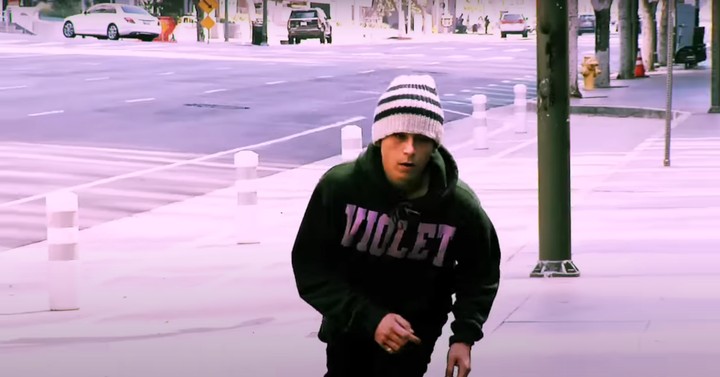 The brainchild of legendary skate videographer Bill Strobeck, known best for his work with Supreme on films like cherry and Mind Goblin, Violet is a skate collective with roots that stretch from Los Angeles to Paris. Currently comprised of seven young skaters from across the US and Europe – Efron Danzig, Auguste Bouznad, Troy Gipson, Seven Strong, Kris Brown, Patrick O'Mara, and Kyle Teh – the group are following in the footsteps of those who have graced Bill's lens in the past. Over a period of almost 30 years, unknowns have evolved into industry icons on stepping in front of his camera. Now, Violet are ready to make that move.

Founded in 2021, the group recently appeared in the Out of Body issue of i-D, shot by Mario Sorrenti. Back when Bill and the Violet collective spoke to us, they alluded to the idea of working on clothes and decks. "Being in New York, Bill is surrounded by people who are doing different things in art, in fashion, in music," Kyle Teh told us. "So he's been super accepting of me not only being into skating, but also wanting to move in other directions with art or fashion. Everyone else on Violet is doing something that's not just skateboarding, too. To me, it's a progressive skate company."
So it seems: they've recently launched their new website, giving us a look at their Bill-shot promo (age-permitting, you can watch it in full here) and the chance to cop some limited edition merchandise. Everything from tees in several different styles to decks and accessories are up for grabs.
At the top of our want-list, though, is the rundown of custom-spray painted hoodies; 25 of which were dreamed up by New York designer Atticus Torre, while another 25 were designed by Philadelphia-based Keith DeBottis. Each is individually numbered, so if you want to be a part of skate history, cop yours now by clicking here.
Tagged: