Heaven comes to London and Brown boys take over Trussardi: What's in Fashion?
Your one-stop-show for this week's fashion news to know.
Instagram @palomija @trussardi
Girlies, it's officially the end of winter! That means it's time to shed those puffer jackets and chunky knits, we're manifesting long sunny days and sexy poolside dressing. But there's no florals this spring — and no, this is not an April Fools joke. Instead, we have the pop-punk, emo-revival fashions of Heaven by Marc Jacobs and the trippy 70s style of Bianca Saunders new collection with Farah taking over the streets of London. There's also the inclusive new Trussardi collection helmed by GmbH designers Benjamin Alexander Huseby and Serhat Işık and a new skate shoe from Nike and Polaroid celebrating individuality and self-expression Pride style! Here's what's in fashion this week.
Bianca Saunders and Farah have a new 70s-inspired pop up shop in Selfridges
Wasn't the 70s a great time? Idk, I'm genuinely asking, I wasn't there. But from movies and retro pics it looks like it was a cute moment for men's fashion, with trippy shirts, skin-tight tanks, groovy pastel flares and fringe everywhere. Eliciting the spirit of that moment, and specifically the Caribbean communities at the time, is the new menswear collab from ANDAM prize winner Bianca Saunders and Farah, the iconic brand that has played a key role in British subculture styles. From ruched sweaters and safari jackets, to knitwear sets and a tee with the sweet slogan "love is all I bring" adorning it, the collection represents the designer's own ideals of masculinity as a sort of love letter to the confident men in her life. Launching yesterday, you can check out a visually stunning pop-up for the collection in the Menswear Atrium of London's Selfridges now! TG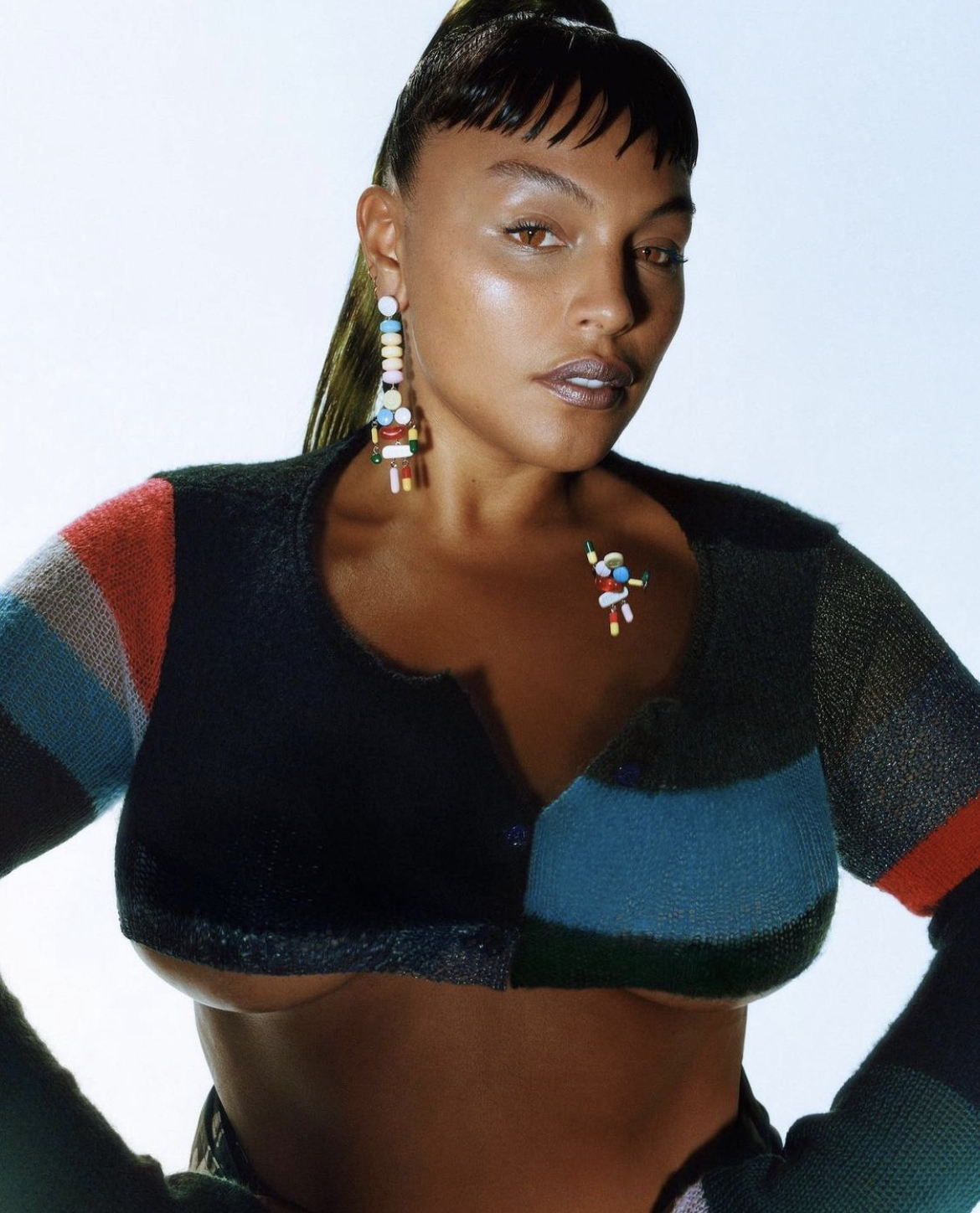 Heaven is a place on earth: Dover Street Market London
Gen Z girlies get in formation. Your new UK base has arrived and it's within the basement floor of Dover Street Market London. Yep, Olivia Rodrigo-favourite, Heaven by Marc Jacobs, is establishing it's new home at the renowned high fashion retailer in Mayfair. The SS22 collection – with the sexy woven knits (as seen above on i-D cover star Paloma Elsesser), Bratz doll miniskirts and graphic baby tees we adore – will be in a space that mirrors the original Heaven store in LA. A wall of stuffed animals has been designed by artist John Scharbach, and a giant neon sign of the brand's iconic double-headed teddy bear logo looks over the entire section. The space will also include a few pieces dedicated to the Sofia Coppola-starring 90s cult TV show Hi Octane, and some cool rare print items curated by Climax Books. We'll have to wait until the space launches on Sunday 3 April, though, to catch a glimpse of the new Heaven home and finally peruse the pop punk fashions IRL. TG
Inside the Brown boy takeover of Milan's oldest fashion house
Back in February, plenty of debuts were made in London, Milan and Paris — but perhaps none more significant than that of Benjamin Alexander Huseby and Serhat Işık, the designers best known for their Berlin-based label GmbH. They staged their first collection for Trussardi, the oldest fashion house on the Milan Fashion Week schedule, and brought with them their inclusive community with them to shake up the Italian fashion system. "It's about changing the whole idea of what an Italian company can be now," Serhat explained. "I mean, I think we all know, all of us that work in fashion, whether it's in Paris or Milan, we know that even with Black and Brown people in a key position of power, they still struggle to create a structural system where there is a true diversity that represents what those cities actually look like." To find out more about their debut collection, and their vision for a truly inclusive Italian fashion house, head here to read our full profile.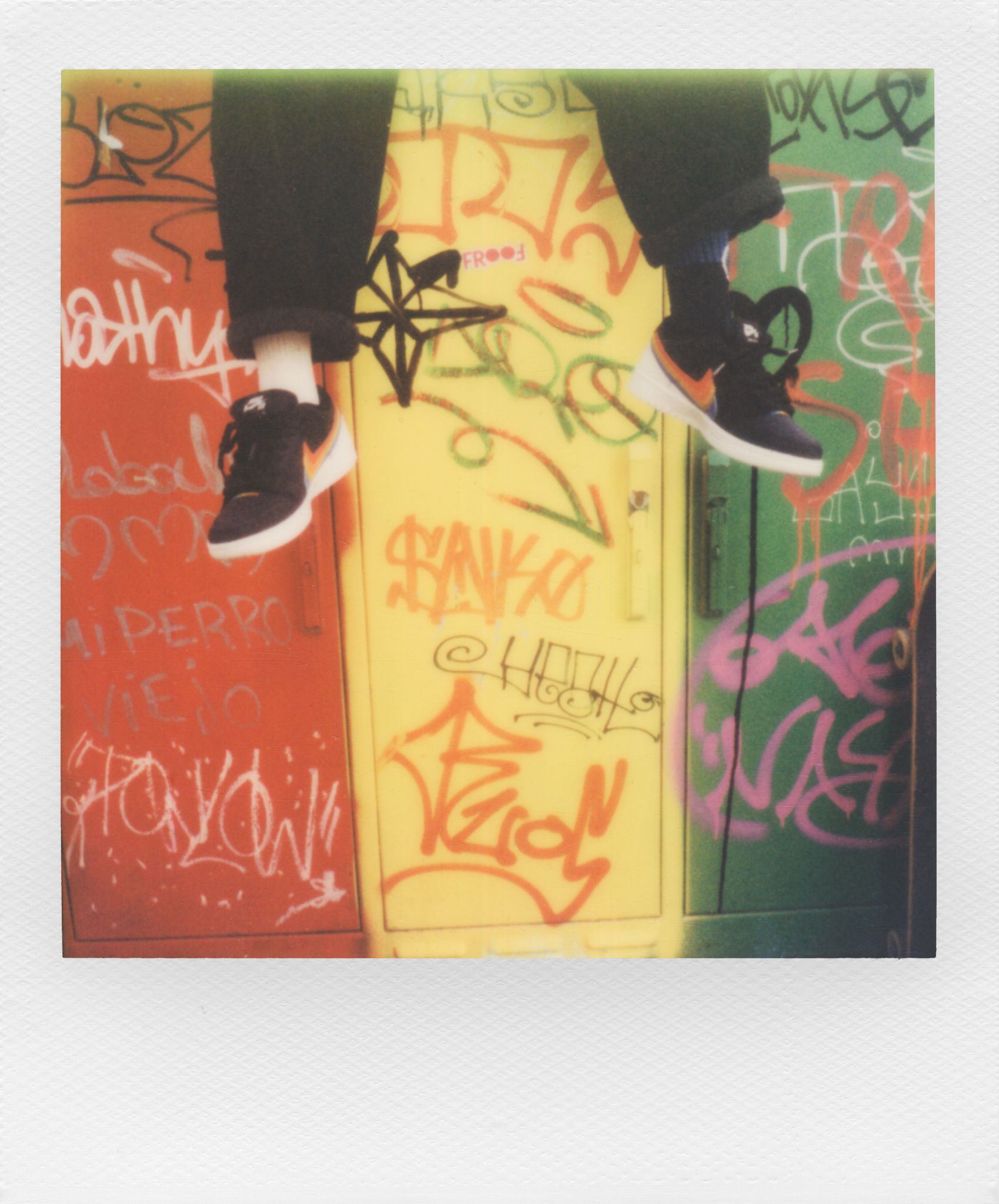 Polaroid and Nike's new collab shoe celebrates self-expression
Don't let those fleeting moments of sunglasses and iced latte weather in between the rain and snow fool you, we're not in June yet. Although, over at Nike and Polaroid, it's already pride season. The two brands have united on a skate shoe perfect for the girls, gays and theys (although straight men, there's nothing stopping you picking up a pair too!) that celebrates what's at the heart of both the street sport and photography: creativity, inclusivity and self-expression. The new and improved Nike SB Dunk Low Pro Polaroid takes the iconic Nike swoosh and gives it a rainbow makeover in the style of the Polaroid spectrum logo. To celebrate the collab a video launching today shows the first ever openly gay skateboarder, Brian Anderson, take to the streets of Barcelona in the shoes alongside polaroid photographer Sarah Muerle as they discuss the ways skating has championed historically underrepresented and forgotten communities. Pretty cool! The trainer itself will be available to buy from 5 April exclusively from the Nike SNKRS app or at selected skate stores worldwide. TG
Tagged: