Loewe's new Pride campaign honours Divine's legacy
The limited edition collection is a celebration of "the filthiest woman alive".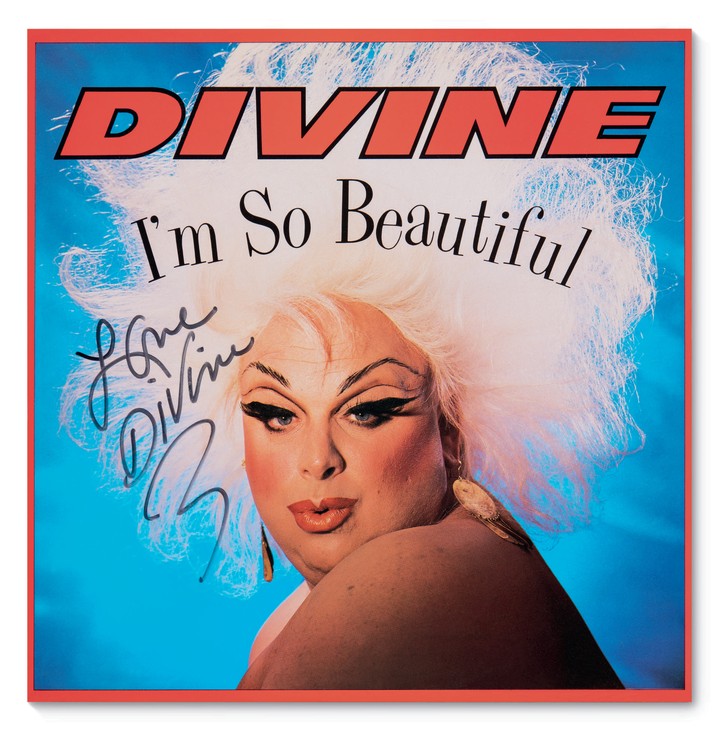 Before RuPaul became the embodiment of drag as a career that could make you globally famous, there was Divine. And the filthiest woman alive, as he was known, did it all first. Now a new limited edition capsule collection and museum exhibition from Loewe is celebrating the larger than life actor and performer and their enduring, massive impact on popular culture.
Born Harris Glenn Milstead, Divine rose to fame through frequent collaborations with John Waters, starring in films like Pink Flamingos, Hairspray and Lust. He also appeared on stage, acting in theatre productions like The Neon Woman. "He preempted the glorification of trash, the mix of high and low," Jonathan Anderson said in a statement on the release of the collection today. "I thought it was time to celebrate him."
And that celebration is taking place in a decidedly 2020 way. Along with the release of today's (very) limited edition collection inspired by some of Divine's most iconic looks, Loewe are also launching a museum exhibition (online, don't worry) to honour his artistry. Initially planned as part of Loewe's exhibition for PhotoEspaña Madrid, the virtual exhibition now comprises a showcase of Divine memorabilia shot by the legendary Greg Gorman, portraitist extraordinaire to pop royalty and Divine himself, with pieces donated from Divine's own estate. Memorabilia ranging from the infamous white dress to a World Tour jacket, along with posters, magazine covers and Divine's own vanity case, it's a fascinating look at the late icon's life and work.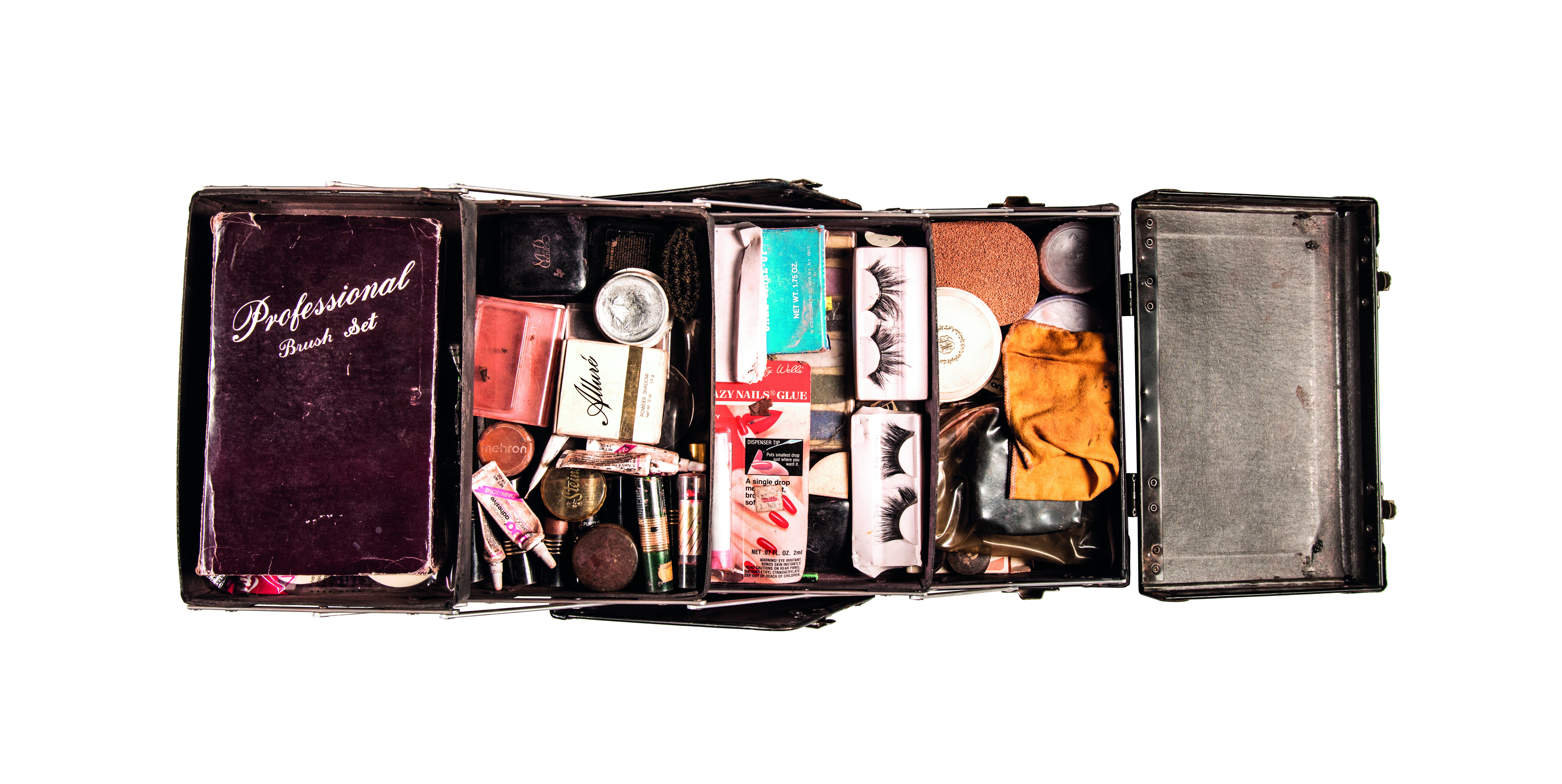 And there's also a first look at some pieces from the full Divine Loewe collection, left unshot and unproduced in the wake of the coronavirus pandemic, modelled instead by mannequins wearing the performer's signature makeup look. "It bursts with color, trash, fantasy, outrage, glamour, and freedom," says Jonathan of the exhibition. "That's what we tried to capture in the collection that never was, which is so different from what we usually do at LOEWE: a merging of our sense of ease and Divine's proclivity for camp. There are patent platform pumps and a bevy of feathers splashed onto a miniskirt, or edging the sleeves or hem of a maxi t-shirt. We printed Divine's provocative face on tops, dresses and even on an apron, and we used the posters of his performances as allover prints on t-shirts and dresses."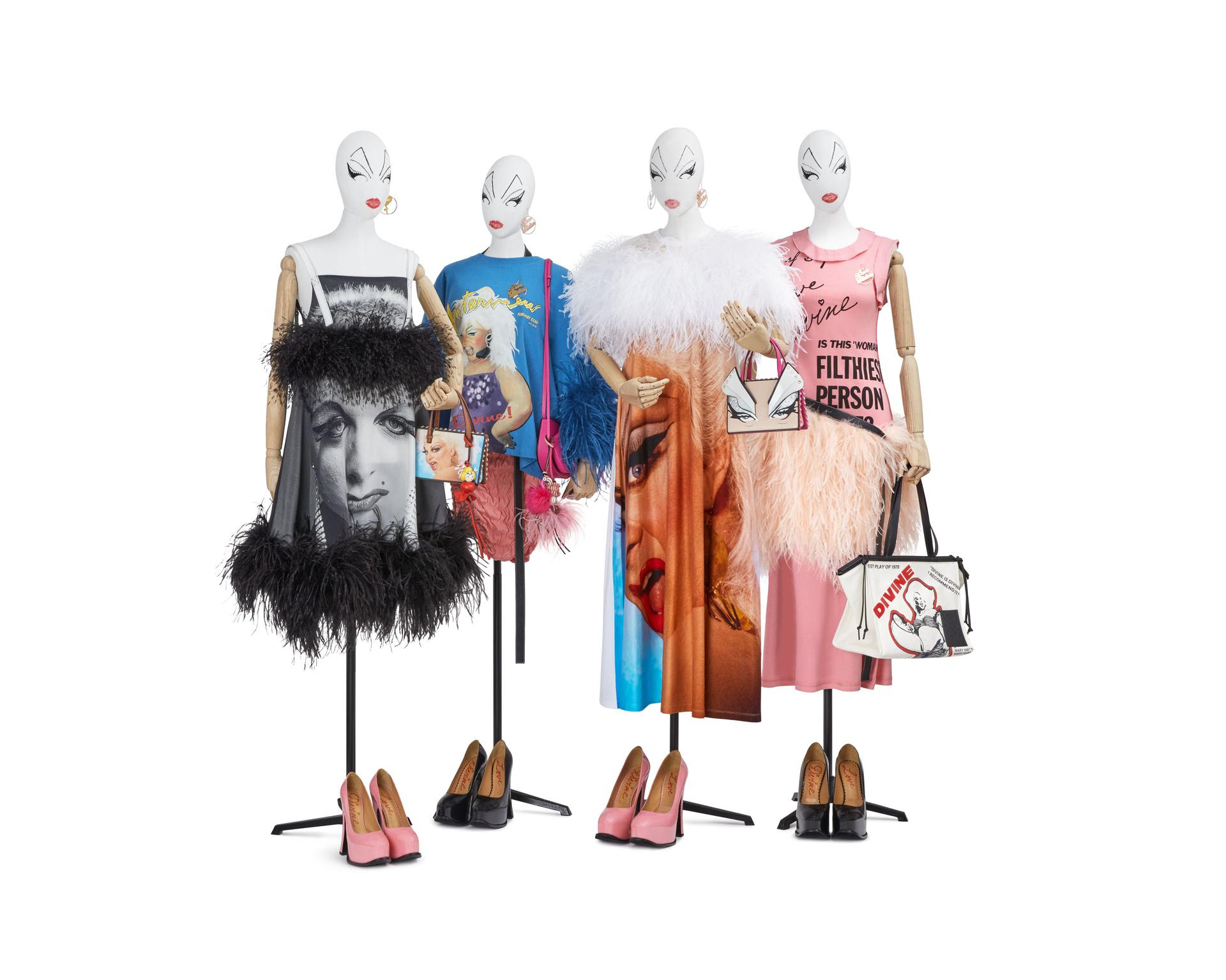 But while Miss Rona put a stop to the production of Loewe's full Divine line, there is a limited edition capsule collection -- three T-shirts and cushion tote -- which are available to purchase online. Released to coincide with Pride month, a percentage of proceeds from the collection will be donated to Visual AIDS, an organization which utilises art to fight HIV/AIDS by provoking dialogue, supporting artists living with HIV, and preserving a legacy. The luxury house also announced a donation to Baltimore Pride, a Black-led LGBTQ+ organisation located in Divine's hometown and the setting for the film Hairspray.
"I think it is a timely initiative, in that it is a celebration of creative freedom and challenging the world order," says Jonathan. "That's what Divine was all about: creating his own incredible world, no matter what. Now more than ever, that's what we all should do."
Limited edition collection available from Thursday 25 June on loewe.com. The online exhibition will run from 25 June until the end of September at loewe.com.