Cardi B is the face of the new Balenciaga campaign
We love to see it.
|
01 September 2020, 4:55pm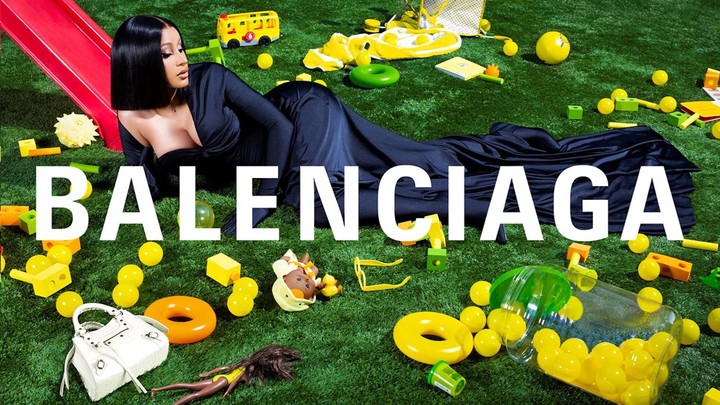 Fresh from dropping "WAP" (and clapping back at Carole Baskin in an iconic interview with us last month), Miss Bardi is taking the internet by storm once again. Earlier today, the rapper unveiled her campaign image for the AW20 Balenciaga collection on Instagram – as well as a shot of the IRL billboard in Paris.
Creative Director Demna Gvasalia put the i-D cover star in a dark evening gown he personally selected, while Cardi's team handled the styling and production. Lying across a verdant lawn, the artist lies amongst brightly-coloured toys (presumably belonging to Kulture), and one of the label's new Neo Classic handbags.
Yes, the image was styled and photographed in LA by none other than Cardi herself, a move that honestly puts everyone else's creative efforts over lockdown to shame. I'm sorry pals, your sourdough starter just cannot match up to Bardi.
As reported by WWD, Balenciaga noted that the campaign was somewhat atypical for their brand: "By removing some steps in a typical campaign production, a contemporary way of creating fashion imagery is brought to life, bridging the gap between fantasy and experience," read a statement.
"From the comfort and confinement of a familiar place, with near-limitless creative control, the stars of the Winter '20 campaign share an emotional side of dressing alone — for one's self, or for today's multiple modes of staying in touch from afar."