Photos courtesy of Michaela Stark.
Michaela Stark designs lingerie that celebrates the body in all its forms
The Australian artist's handmade pieces and intimate self-portraits subvert traditional ideas of what's considered flattering.
Photos courtesy of Michaela Stark.
Australian designer Michaela Stark spent her childhood feeling like "the plus size girl who had body hair and didn't fit in." But after graduating from fashion school in 2017, moving to London and gaining some momentum in the industry, Stark decided to confront those feelings straight on with her designs. She launched her namesake lingerie project, which celebrates all her insecurities through delicate, hand-crafted pieces that subvert traditional ideas of what's considered flattering.
"I was bullied for my looks since primary school, yet I was in the fashion industry making lingerie for sample size girls in very feminine cuts and delicate silks," the 25-year-old designer tells i-D. "I was never able to find lingerie that I actually wanted to wear, so it was very natural that I started designing pieces for myself and then it developed into what it is now." The pieces Stark creates for her personal project are designed and modelled on her own body, documented in intimate self-portraits.
As eye-catching as the unconventional undergarments are, lingerie is just one aspect of Stark's work as a designer. She started out as a seamstress for a number of young British brands and eventually became a designer. Now based in Paris, she's spent time working for Marine Serre and her client list includes Beyoncé, who wore one of her custom designs in Black is King. "I started working with her team as a personal tailor and then just worked my way into becoming a designer," she says. "When they requested garments, I would just be the first to be like, 'I can do this' and then pushed it and did it. One thing led to another."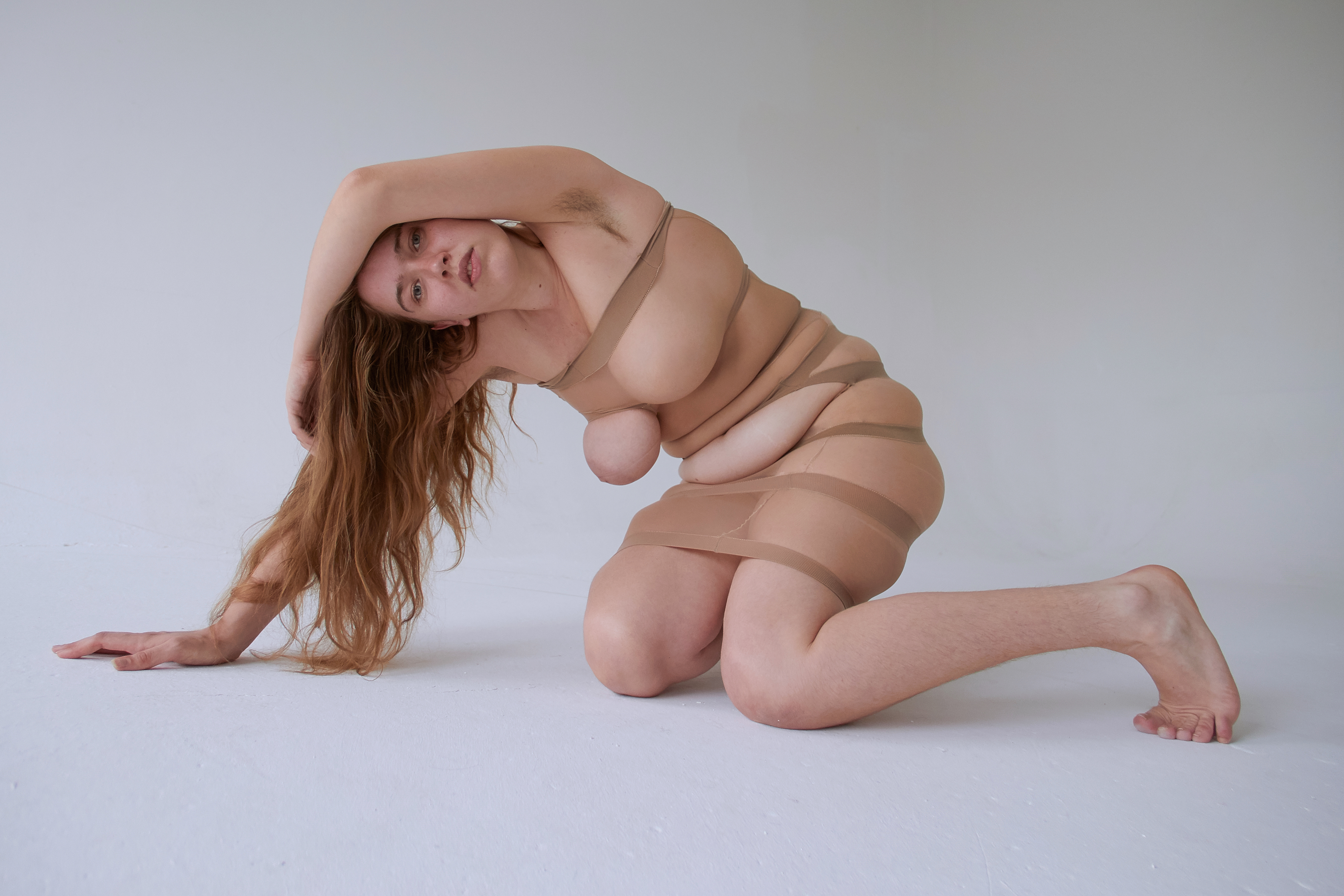 While Stark clearly has a natural talent for intricate garment-making, she says her dream growing up was to be a child star. "I would get really stressed out every time I got older because it was a year less that I could become a famous child actress and loved everything theatrical," she laughed. "Then my school offered a fashion design course for seniors and I took that on, not knowing where it would take me. After 16 years of wanting to be an actress, I forgot about it."
When starting a new lingerie piece, Stark drapes the fabric on herself in the mirror, continuing to do so until she gets the right distorted shape. The beautifully tailored pieces and the way she documents them, contorting her body for self-portrait, highlight the many interesting forms that our bodies can create -- away from the ultra-thin, idealized hourglass shape. She says it takes a number of prototypes to create something that's going to highlight her insecurities "in a beautiful delicate way." The garments often go from herself, to her bed and the mannequin, in a design process that she says can take up to a month from start to finish.
The project has been a journey of self-acceptance for Stark, who admits she still has moments where she's really insecure. Taking videos of her body throughout the process, though, there's "nothing of her body" that she hasn't seen. "I think the most powerful thing about my work is that it's really changed my mindset," she elaborates. "At the start I was really insecure, but I do feel like my work has really allowed me to celebrate my body and not be ashamed of it."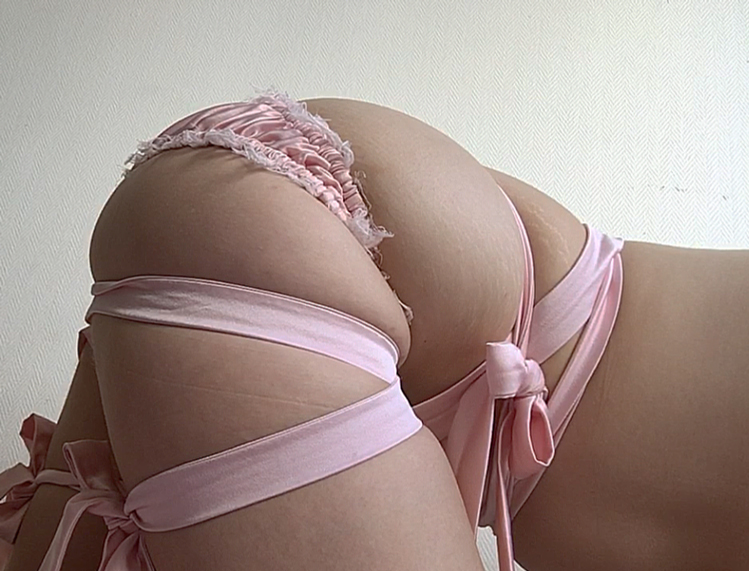 Wanting to design garments that are personal to the individual, Stark works like a couturier, creating tailored and bespoke garments that celebrate each of her client's bodies -- and all their forms -- specifically. This, she says, comes from lack of interest to "fit in" to the system of the fashion industry. "I think the system isn't really working right now and that's become obvious to a lot of people especially in the last year," she says. "As a designer, I want to create clothing that is not limited to the schedule of the fashion industry and is actually made to measure for specific clients upon their request."
As for Stark's personal lingerie pieces, she has plans to exhibit them as an art project. In partnership with Ukrainian artist Alina Zamanova, her work will be shown at Gillian Jason Gallery in an exhibition called "Inside Me." Taking inspiration from one another, the exhibition will include couture garments from Michaela (hung as sculptures) and a series of self-portraits, as well as paintings and sculptures by Zamanova.
Still in the beginning stages of her career as a designer, Stark also aims to show her skill sets outside of fashion design and establish herself as an artist more generally. "I do a lot of editorial work and am working towards creative direction, so I want to also push that forward and be able to take on other projects in the future like costume designing for films," she says. "I want to have this more rounded vision as a designer, not just specifically a fashion designer who has to be a slave to the industry they work in."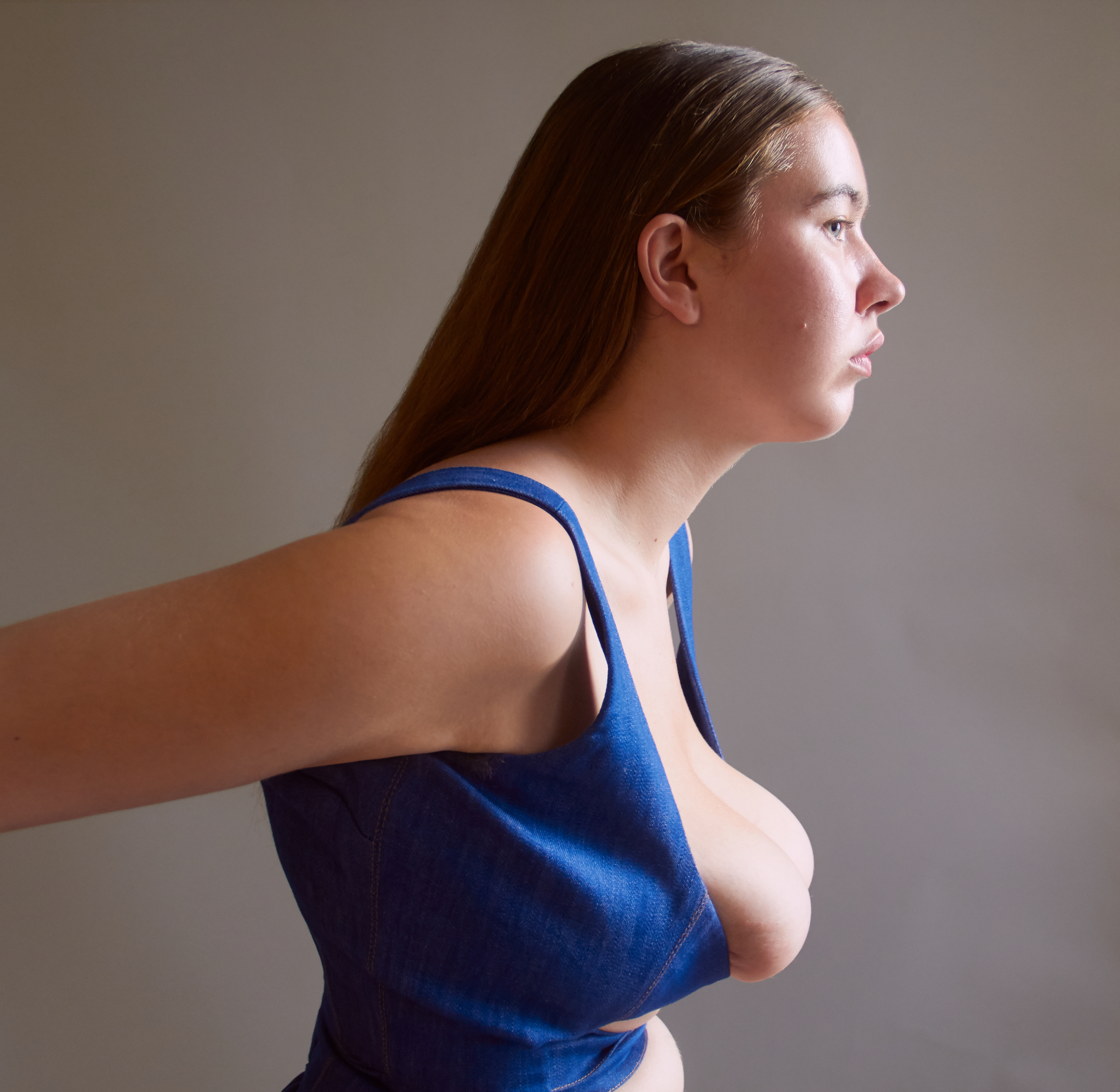 While lockdown in Paris was a difficult time for Stark financially, being a young, freelance creative living in a foreign country, she says her physical experience was enlightening because it allowed her to slow down. "I think being forced to stop really made me consider who I was as an artist," she says. "I really spent that time working on my exhibition and taking photos of myself every day."
This creative process, she says, is something that's been constantly hindered by Instagram's nudity regulations. "They love to censor me. They've been known to police plus size bodies quite drastically and I have a feeling it's because they're a lot more sexualized," she says. Stark also navigates sexual harassment on the platform daily, and is frustrated that she can't report it in the same way her work can be. Her solution was to launch her own website and encourage others to support artists away from Instagram.
Stark's setbacks as a young artist in the digital age, however, prove that her work celebrating individual bodies and subverting outdated beauty standards is necessary. "My work is really trying to liberate the female body, and to just have this constant setback of Instagram policing me proves my point as an artist -- that the female body is something that needs to be liberated, clearly."