Wes Anderson fans can now ride a train inspired by his movies
Okay, but will Timothée Chalamet be on board?
|
12 October 2021, 12:20pm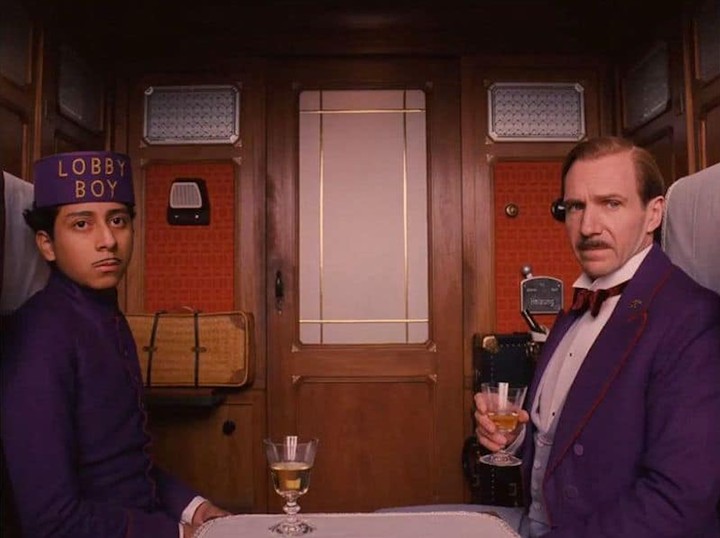 Still from The Grand Budapest Hotel
The return to commuting and attempting to hold your PSL still on a shaky train, with your face just inches away from someone else's armpit, has not been fun. However, here to make your train journeys just a little more chic is Wes Anderson, who has pimped out a carriage on a London train in the art deco, symmetry-obsessed cinematic style of movies like The French Dispatch and The Grand Budapest Hotel.
The bespoke Belmond British Pullman Train — which leaves London Victoria to take travellers on luxurious day-trips to destinations across the UK, from Cardiff to Canterbury — was once exclusively for the use of visiting heads of state, but will now likely be packed with cinephiles and Tilda Swinton stans. Wes' makeover of the Cygnus carriage, which is Latin for "swan", includes emerald green 50s-style print upholstery, matching crockery, swan-shaped champagne coolers, pops of contrasting pinks and reds, with clouds and waves engraved on the wood-panelled walls.
"I love trains!" Wes gleefully told Architectural Digest. As any self-respecting fan will know, trains are common in his movies, most notably in 2007's Adrien Brody-starring The Darjeeling Limited. "I have often had the chance to invent train compartments and carriages in my movies — so I was immediately pleased to say 'yes' to this real life opportunity, and very eager to make something new while also participating in the process of preservation… igniting this endangered species of travel into a new golden era."
If you, too, want to ignite this endangered species of travel and get a seat in the Wes Anderson-designed train carriage, with its artisanal 5-course dining options, it will set you back a hefty minimum £400 per person. But it does sound like a dreamy space to watch The French Dispatch on your phone.
Follow i-D on Instagram and TikTok for more on TV and movies.
Tagged: