Watch the full trailer for jeen-yuhs, Kanye West's Netflix epic
The new docuseries features unseen footage taken over the last 21 years of Ye's life.
|
08 February 2022, 11:45am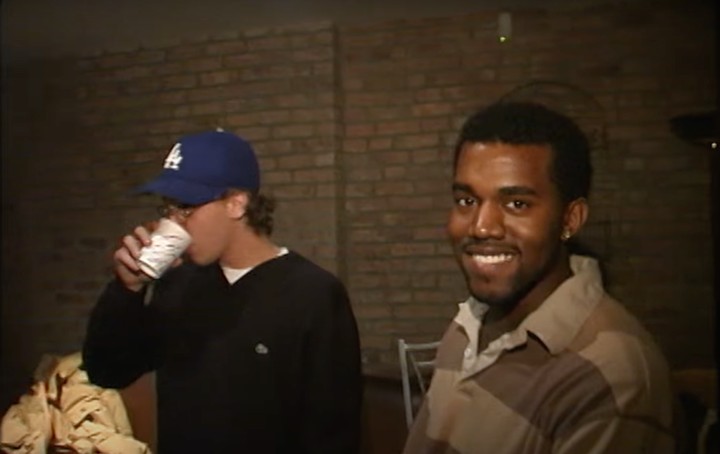 Still from jeen-yuhs
Netflix has finally released the official trailer for jeen-yuhs, a three-part Kanye West documentary series that charts the last two decades of the rapper, designer and one-time presidential candidate's life and career. With the first part hitting the streaming platform on 16 February 2022, the upcoming series will hopefully give us more than the awkward, fleeting glimpses of Kanye's life as a husband and dad that we were granted via Keeping Up with the Kardashians.
The new, full-length trailer begins with a vintage clip of Kanye being asked to describe his then-unreleased record, The College Dropout ("I feel like it's a breath of fresh air," he replies, correctly), followed by unseen behind-the-scenes footage of his most iconic albums being produced, home movies and interviews with loved ones. A previous first-look clip at the film, shared in August, saw a young Kanye and Mos Def rapping "Two Words", a stand-out track from the debut studio album.
Created by directors Clarence Simmons and Chike Ozah, the series first began its life as a kind of behind-the-scenes look at the filming of Kanye's "Through The Wire" video, which the pair directed back in 2003. Over the next 19 years, Clarence and Chike stayed in touch with Kanye, filming him around life-changing moments like the death of his mother Donda, his controversial appearance on SNL, and his doomed 2020 presidential bid. It's unclear, given the scope of the documentary, whether it will touch on Kanye's divorce from Kim Kardashian. Unfortunately, it won't include any more footage from that chaotic date with Julia Fox either.
And it could go back even further, charting Kanye's rise to fame as a rapper and producer in the 90s. A source told Billboard that one half of the directorial duo, Clarence Simmons, has been pals with Kanye since way back, and reported that the series "will tell the story of the rapper and producer's rise to success and fame's impact on him as well as hip-hop's impact on popular culture and the world's evolving relationship with celebrity".
Referred to -- in typical Kanye grandeur — as a "three week global event" beginning from 16 February 2022, the rights to Kanye's life story was a hefty spend for Netflix. In its initial report, Billboard set the figure paid by Netflix at a cool $30 million. While this figure was later disputed by Variety, it seems obvious that the series is a big win for the platform.