Catherine Opie picks eight of her most career-defining images
Starting with her first self-portrait in 1970, the contemporary American photographer talks us through half a century of subversive imagery.
Catherine Opie first turned the lens on herself at the age of nine, bespectacled and biceps bulged as she stood before her house in Ohio. Since her first encounter with self-portraiture, she has gone on to photograph herself with "PERVERT" carved into her chest, stick-women holding hands etched into her back, and her baby boy being breastfed in her arms. And she has turned the lens on the world outside too: freeways, mini-malls, marches, high-school footballers, S&M parties, Elizabeth Taylor's possessions, fisher-people's icehouses, surfers, and swamps have all populated Catherine's epic oeuvre. But what underpins them? "My work is always close to home," she says. "It's about how communities form and how people transform themselves."
In the early 90s, Catherine's identity-equals-community mantra gave rise to to her breakthrough portraits of her leather dyke "family" in Los Angeles. Posed before brilliant, monochromatic backdrops, their emphatic frontality and searing stares screamed: "We're here, we're queer", at a time of darkness. "My friends were dying of AIDS. I felt I needed to make work that reflected a nobility in relation to the queer body. I had never seen that before. It was always the piercing, the butt plug… I wanted to bring it back down to a human level."
Fast forward 30 years, Catherine remains steadfast in her faith in the power of community and the camera. "I believe in bearing witness in the simplest way photography does," she says. "The only way we can often know ourselves is by seeing ourselves. I've been an activist within my community ever since I moved to San Francisco in 1982, and I'm still moved by the movement of people in protest." Amid the social upheaval of 2020, Catherine bought an RV and hit the road, tracing her route with photos of hijacked monuments and abstract landscapes to reckon with the horrors of American history. "Politics has always run throughout my work," she says. "It's a political act to be out there, being me in my body, in this society we live in. It's hard for women to take up space. And I'm a big woman who's decided to take up space."
On the occasion of her long-awaited monograph, the renowned chronicler of contemporary America looks back and picks eight of her most influential photos.
Self Portrait, 1970
As a kid, I had written a book report about an American photographer by the name Lewis Hine, whose photos of the children in the factories helped change child labour laws. I told my parents I wanted to become a documentary photographer and asked them for a camera for my ninth birthday. What's interesting about this photo is that I don't remember setting it up. It only came to be beloved by me when I went into my archives years later and discovered the negatives from my very first rolls of film. It has continued to be a very important image to me, mostly because of its humour. It's obviously a baby dyke portrait: flower pants; zipper half-done; making muscles to show my strength. It still speaks to who I am today.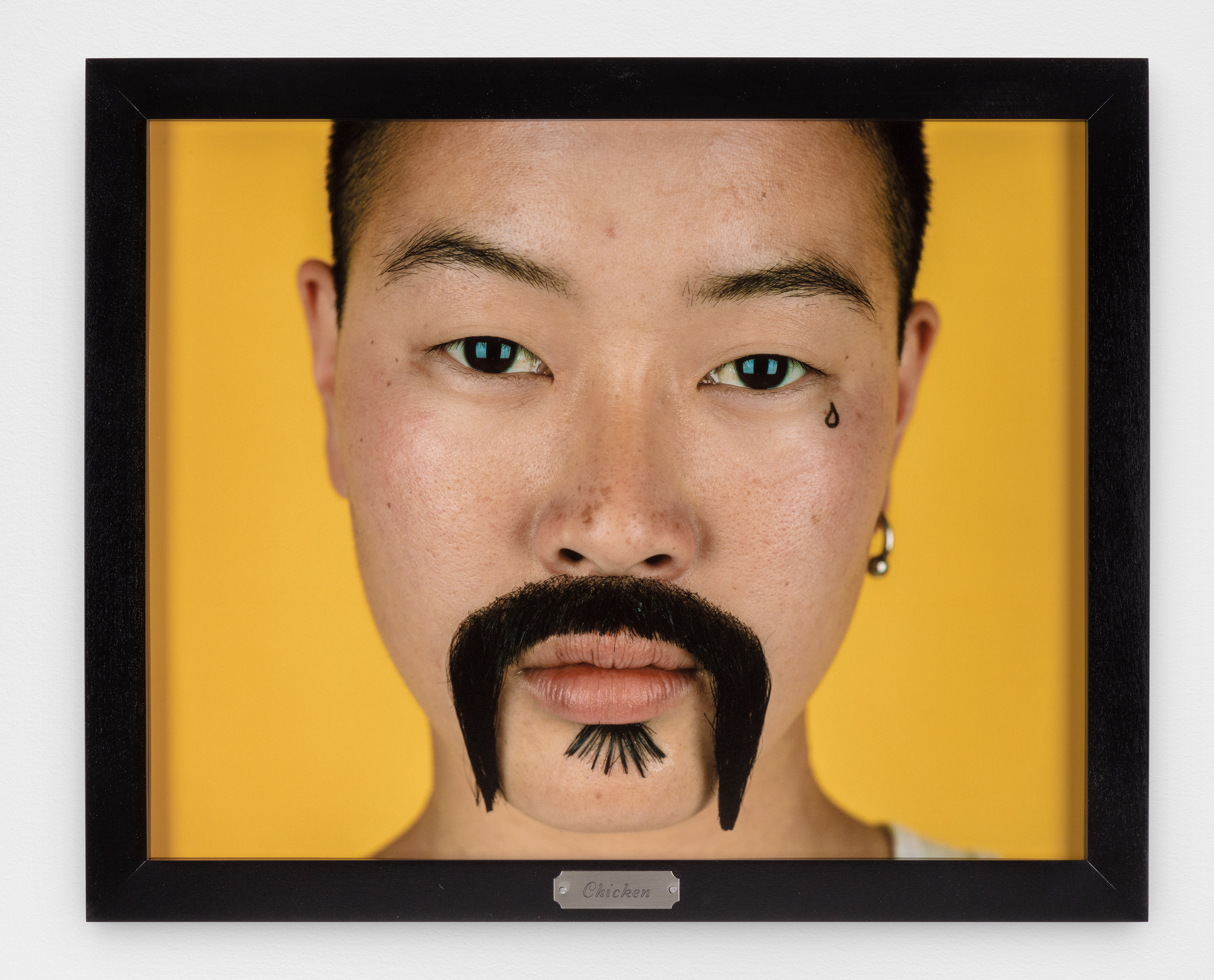 Chicken, 1991
In Los Angeles in the late 80s, there wasn't really a "butch culture". So, my friends and I would don fake moustaches, ride our motorcycles, and sit outside the city's only seven-day-a-week lesbian bar, The Palms, in chaps. We'd ask women if they'd like to be driven home by us, but of course they refused. Being and Having (1991) was the first time I ever entered the studio. I wanted to get away from the documentary model that I had held onto during my studies, so I used the yellow background as a way to address ideas surrounding performance and gender. We were so used to women in photos staring out vacantly. Even then, it was very unusual to encounter this kind of "masculine" approach in which women stare back towards the camera and take ownership.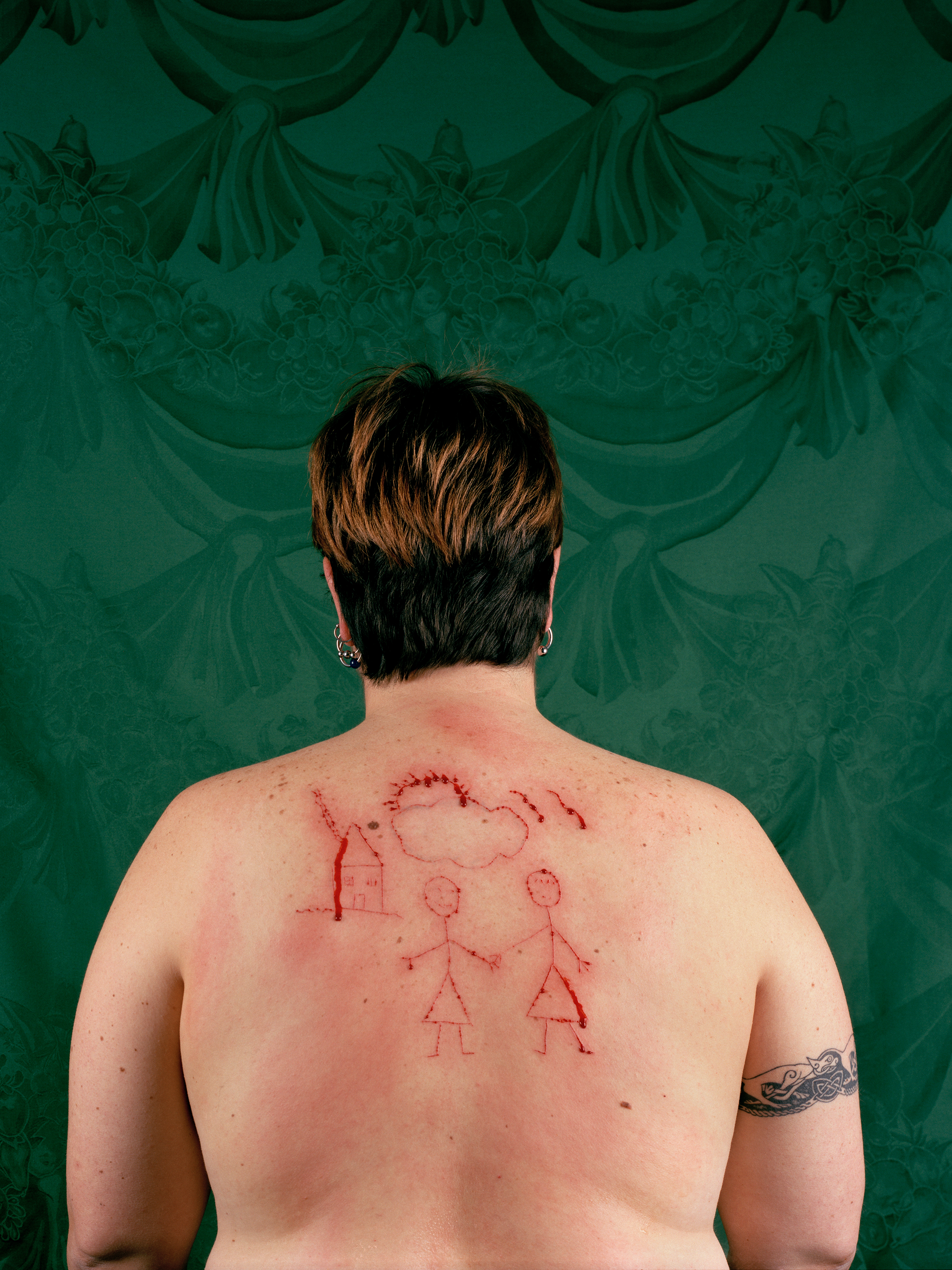 Self-Portrait/Cutting, 1993
This was a very loaded photo for me. I was trying to make something that encapsulated a moment in time as well as something deeply personal. My first domestic relationship had broken down, and, for a whole year, I kept doodling this stick-figure image on the notepad by my telephone. It's like something you'd often see from the kindergarten class when kids would bring home drawings of their mothers and fathers. So, I decided to do a cutting of it on my back. I was thinking about blood in relation to the HIV/AIDS epidemic, but there's a hopefulness too with the sun emerging from the cloud. I believe these kinds of images create a story of not only one's own desire for domesticity but what it means when you actually embody it.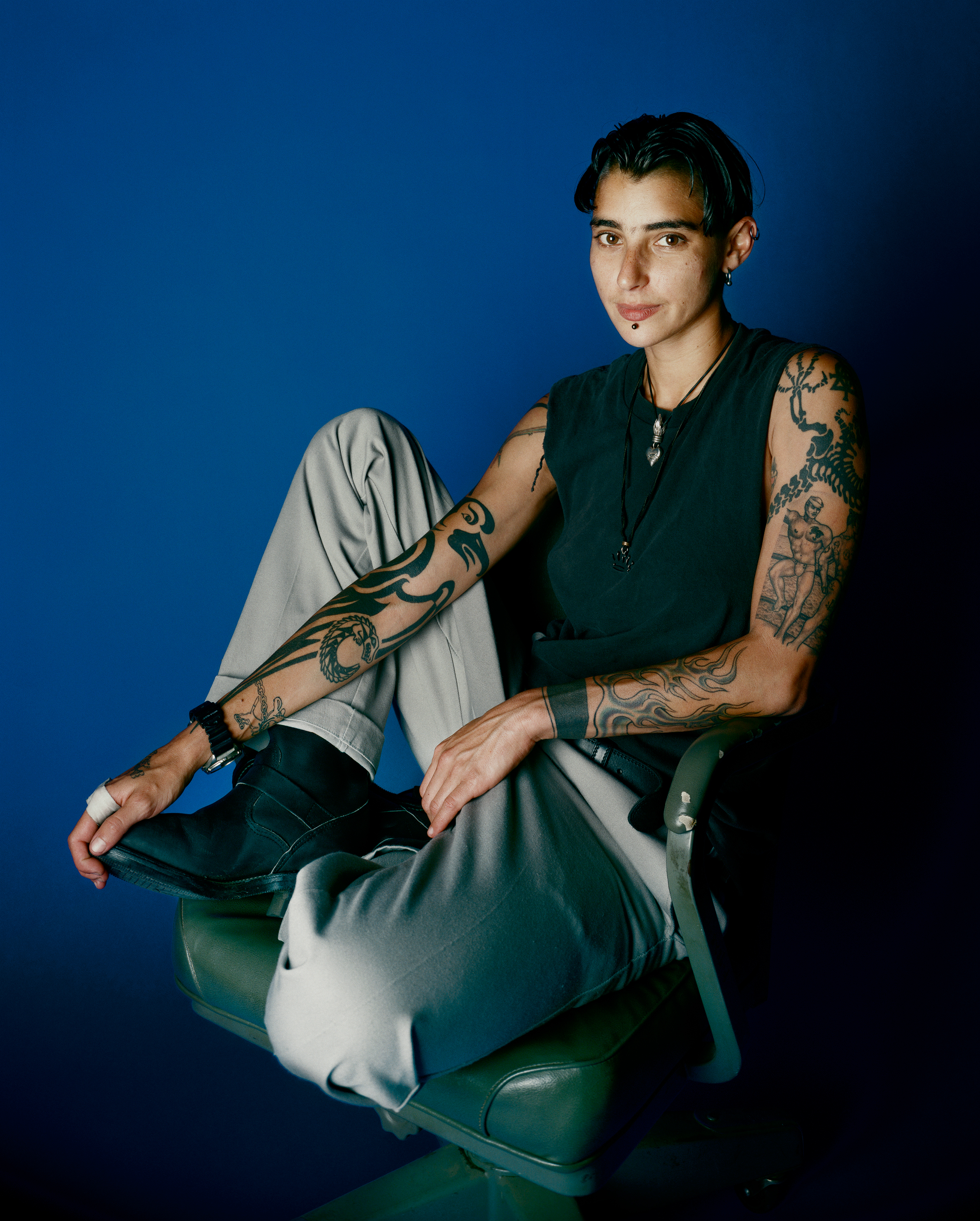 Alistair Fate, 1994
Alistair Fate was somebody who was already known in images. She and the performance artist Julie Tolentino had actually appeared in Madonna's Sex (1992), a book which I always felt was slightly exploitative and never had anything to do with community. When I photographed Alistair, she had just graduated from San Francisco Art Institute and was working as a tattoo artist. Although I never crossed paths with her during my time at art school, we had this shared history. I loved how her body folded up in this chair and the bandage around her hand too. For me, it's a very soulful portrait of someone who I really, really liked.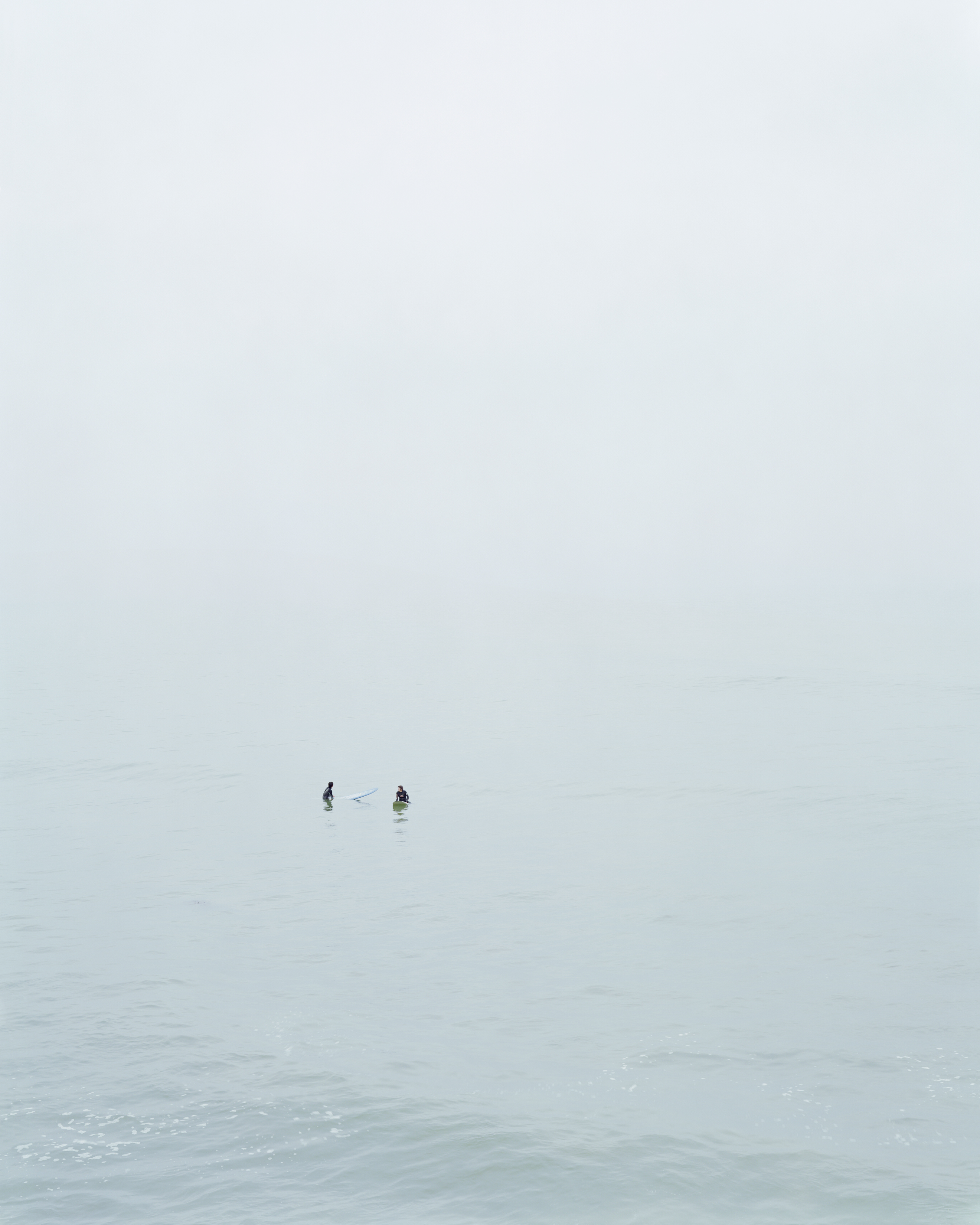 Untitled #8 (Surfers), 2003
The surfer series came after I made Icehouses (2001). I loved the idea of these fishing communities in Minnesota pulling up icehouses on the frozen lake for just a few months of the year before the ice melted. When I moved back to California, I began thinking about temporary communities again, but also about the notion of the "iconic" in landscape photography. In Surfers, I was debunking the cliché of the blonde guy ripping a huge wave. It was all about watching and waiting. When you have these bodies hovering on the ocean, when it's flat in-between the set of waves, there is this quietude… It's a kind of shared place of contemplation to which I keep going back.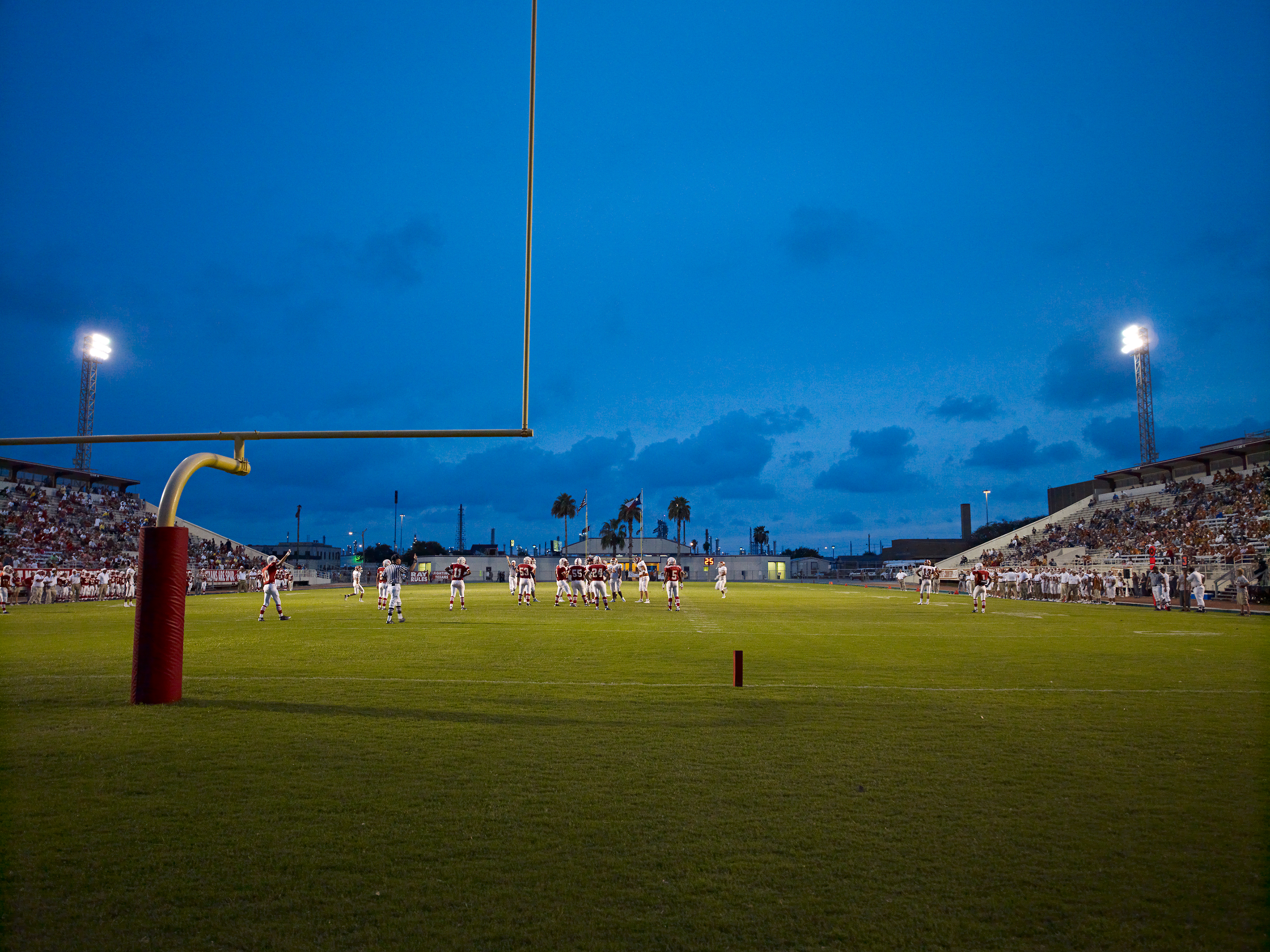 Football Landscape #12 (Alice vs. W.B. Ray, Corpus Christi, TX), 2008
The football landscapes came about when I was in Louisiana, where my wife is from, on family holiday and looking for something to do. So, I asked my nephews, all of whom play football, whether I could watch them practice. I wasn't necessarily interested in the idea of masculinity when taking these photos, but I was profoundly moved by the boys' vulnerability. It was a time when we were at war and had lost an enormous number of young men. This photo was taken in Texas, basically known for God, guns, and football. I'm always poking through ideas of identity, particularly American identity. For me, these football landscapes are the ultimate American landscapes.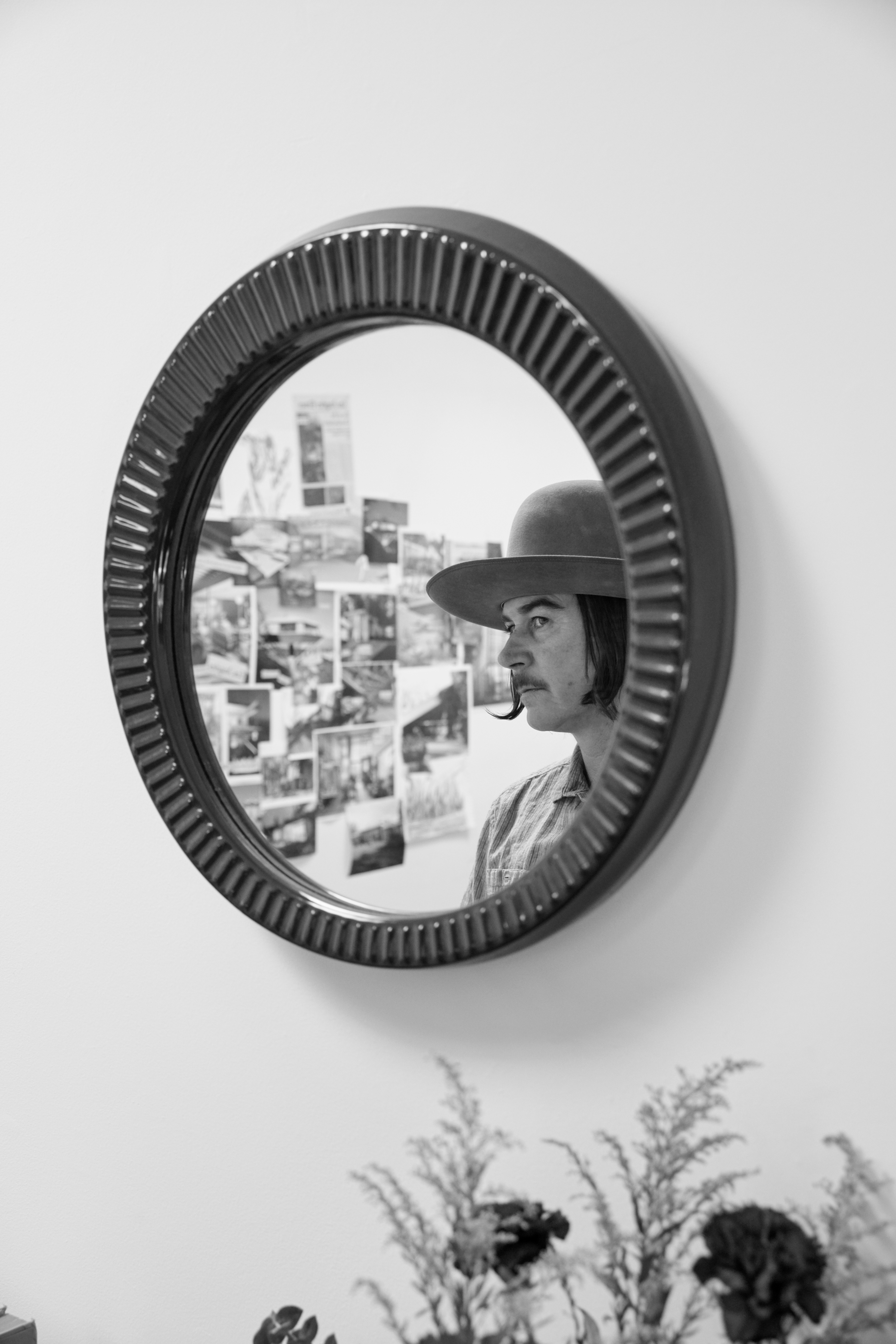 Mirror #4 (The Modernist), 2016
The Modernist was my first film and featured my good friend Pig Pen who has been in my work since the early 90s. Here, they play a fictive artist obsessed with Julius Shulman's photos of iconic modernist houses. So, they begin pinning them up on the wall, collaging them, as you can see in the mirror's reflection, and finally torching them (no modernist houses were harmed in the making of this film). My inspiration came from Chris Marker's sci-fi film La Jetée (1962), which is also told in a series of stills. While Marker was playing with ideas of nuclear war and memory, I was playing with ideas of the utopic dream of modernism and the dystopic world in which we seem to live now.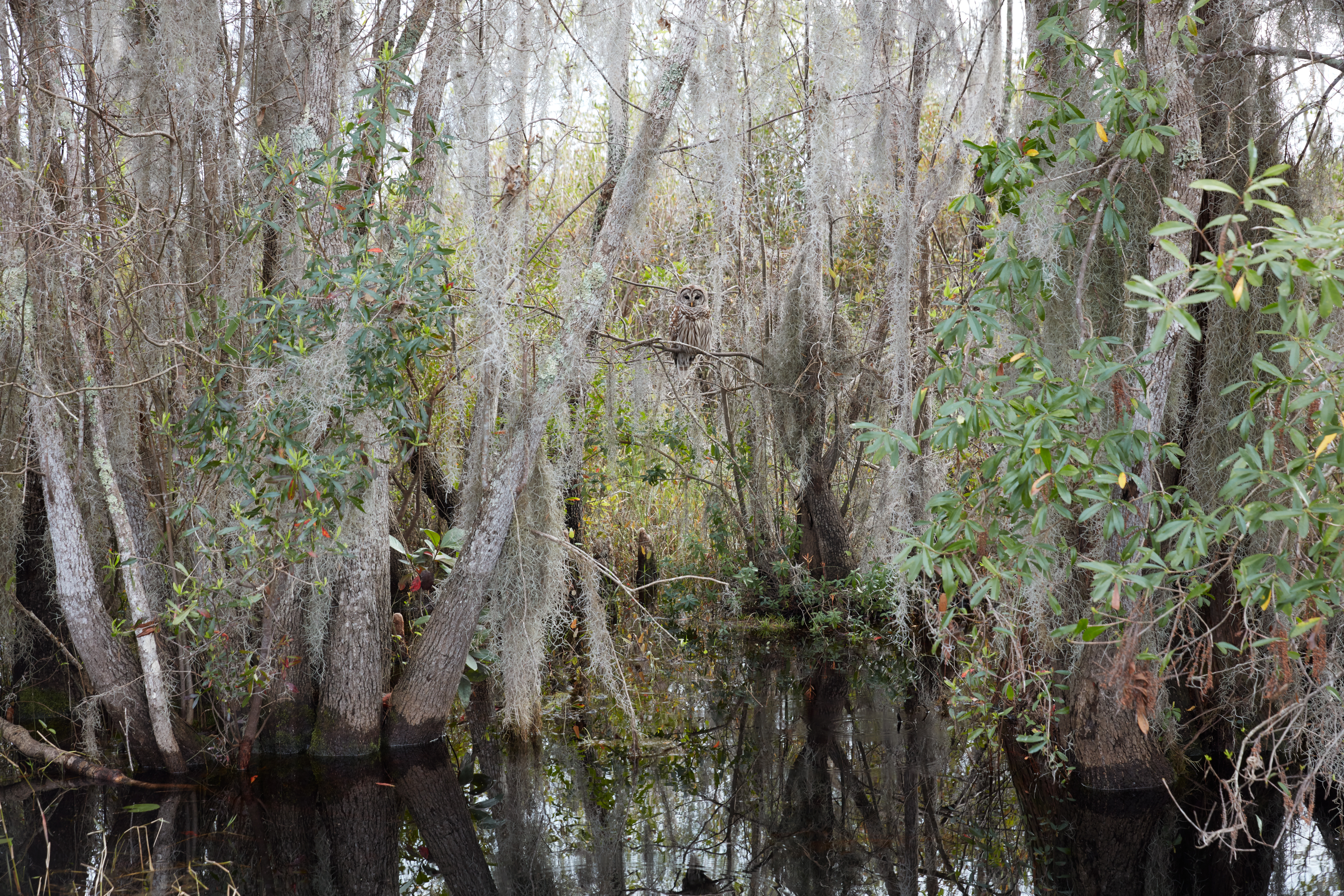 Untitled #1 (Swamps), 2019
The South represents so much of the psyche of our country. While I was teaching in Florida, I began thinking about swamps in relation to the Trumpian "drain the swamp" rhetoric and the language we use to occupy our current political climate. Swamps won't be drained, but in five years they'll be flooded. I was in a tourist boat on the Okefenokee, famous for a bunch of B movies being filmed there, making what I consider my amateur National Geographic photos. This owl was presenting itself on a branch, looking straight at me. It was one of those moments in which everything just came together.
'Catherine Opie', with essays by Hilton Als, Douglas Fogle, Helen Molesworth and Elizabeth A. T. Smith and an interview by Charlotte Cotton, is published by Phaidon
Credits
---
All images courtesy Catherine Opie and Regen Projects, Los Angeles; Lehmann Maupin, New York/HongKong/Seoul/London; Thomas Dane Gallery, London and Naples; and Peder Lund, Oslo