Photo by Dave J Hogan/WireImage, by Andrew Toth/Getty Images, by Jamie McCarthy/FilmMagic and by Scott Kowalchyk/CBS via Getty Images
A guide to Lorde's style evolution
From gothic to sun-kissed 'Solar Power', Lorde's style is as multifaceted as her musical oeuvre.
Photo by Dave J Hogan/WireImage, by Andrew Toth/Getty Images, by Jamie McCarthy/FilmMagic and by Scott Kowalchyk/CBS via Getty Images
Since her meteoric debut with 2013's "Royals", Lorde has evolved from teen prodigy to pop auteur. And just as the New Zealand artist's songwriting has come of age over the years (from Pure Heroine's brood to the expansive Melodrama and now, Solar Power), so has her style. Fully embracing the transformative nature of the pop star wardrobe — all while making it entirely her own — Lorde has subtly tweaked and, sometimes, totally transmuted her look across albums and eras. Think Pure Heroine's Tumblr-era goth in collared shirts and platform boots. Melodrama's "going-out" mood in sequins and party dresses. And Solar Power's estival jubilance in every shade of yellow under the sun. Here, to celebrate the release of her latest album — and a new chapter in Lorde's already illustrious career — we look back at how her style has evolved over the last decade. This is Lorde's style evolution.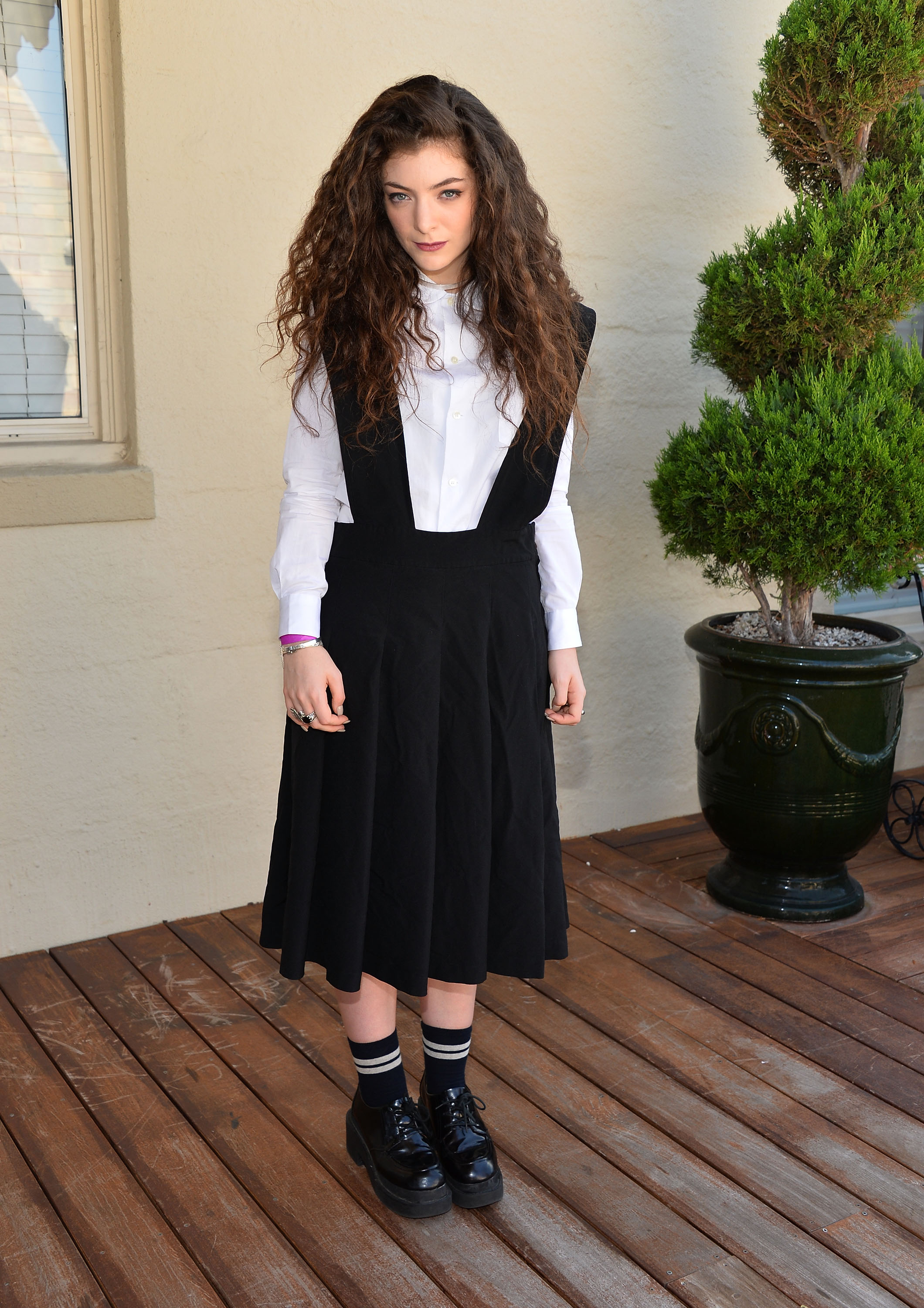 Backstage at a concert, 2013
In 2013 — and at the age of 16 — singer-songwriter Lorde shot from relative obscurity to the top of international music charts with the single "Royals." Written and recorded while Lorde was still in high school, "Royals'' and its album, Pure Heroine, captures the hopefulness, angst and boredom of suburban teenage life. Lorde's Pure Heroine-era garb embodied both the album's themes and its moody, minimalist sound. Think girlish goth in collared dresses and pleats, tube socks and chokers and, here, in pinafore dress, button-down and platform oxfords.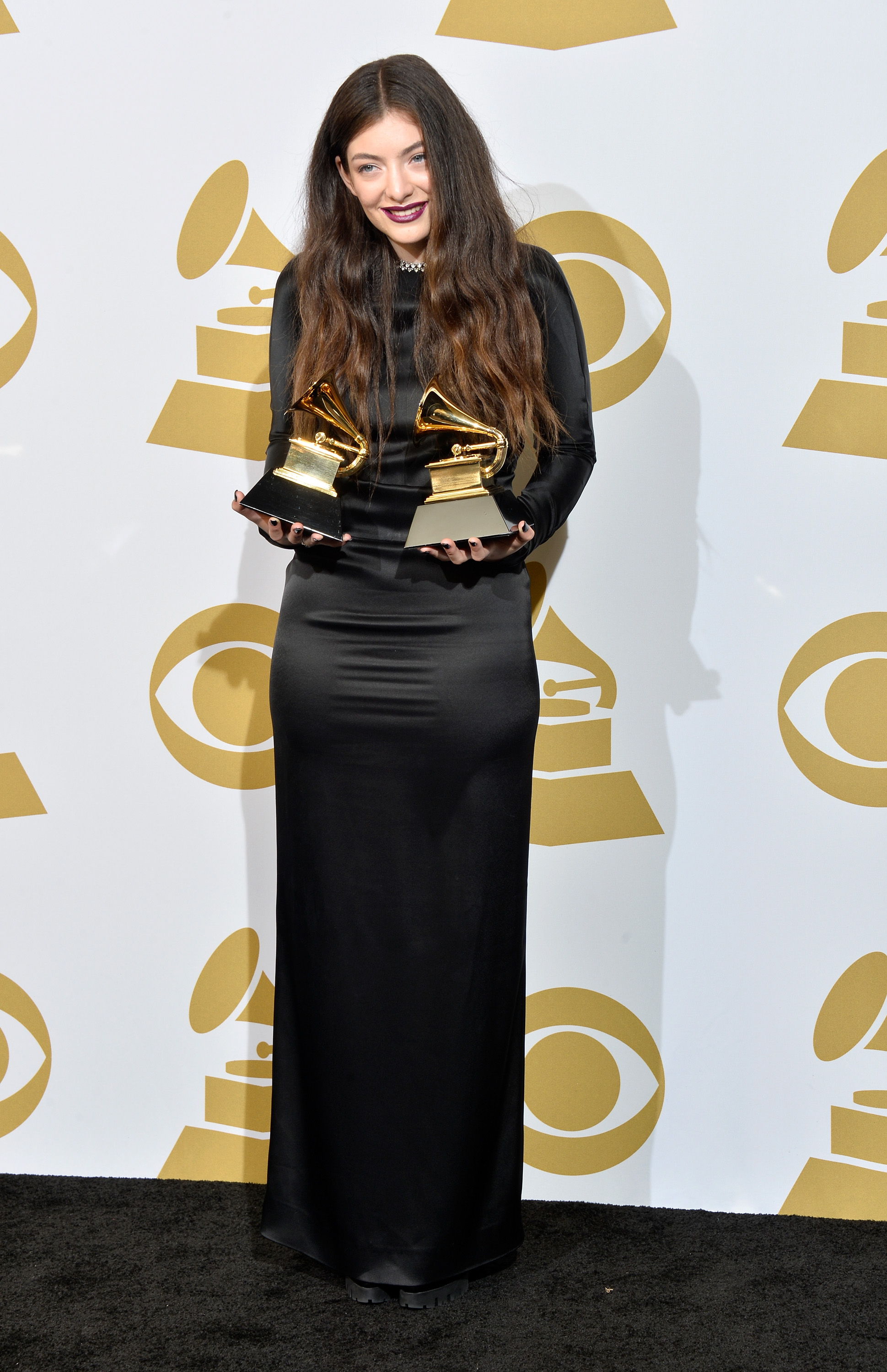 At the Grammys, 2014
In addition to topping the Billboard Hot 100 and charts around the globe, "Royals" was also a massive critical success. At the time of its release, the track was praised for its minimalist instrumentation and introspective vocals, and landed on a myriad of 2013's year-end lists. Into the 2010s, "Royals" was also lauded as one of the decade's most influential songs, responsible for shifting the sound of mainstream pop and paving the way for today's alt-pop artists like Billie Eilish and Olivia Rodrigo. Here, Lorde's pictured at the 2014 Grammys, holding the awards for Song of the Year and Best Pop Solo Performance — only two of her many "Royals" accolades. She's wearing a black column gown: an elevated iteration of her goth-y stage uniform and a Pure Heroine-era red carpet staple.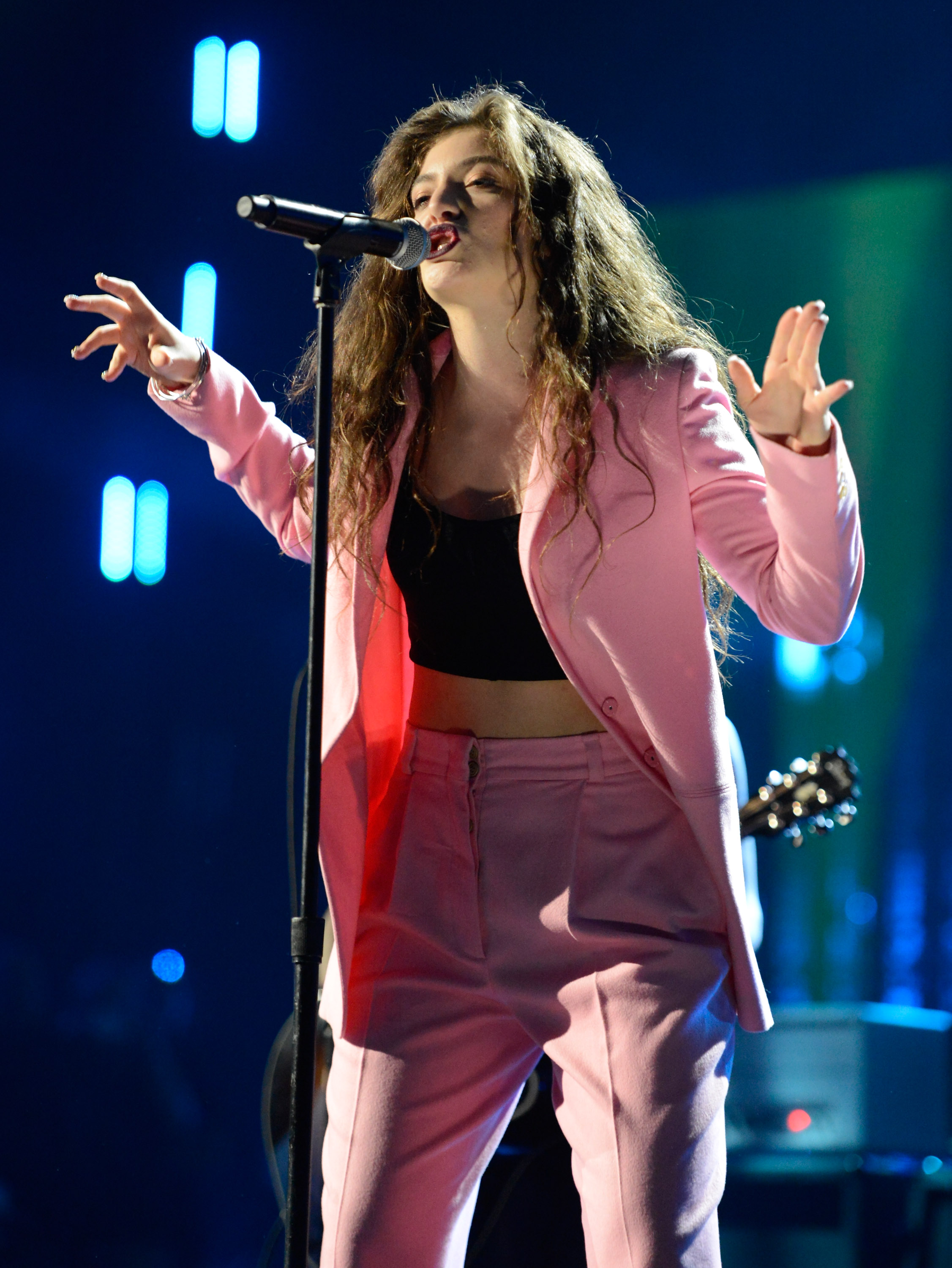 At the Rock and Roll Hall of Fame induction ceremony, 2014
In 2014, Lorde's style graduated from schoolgirl gothic to Working Girl chic, in an ensemble of colourful suit-and-crop-top looks. On stage in LA she wore cobalt blue. Here, singing "All Apologies" at the Rock and Roll Hall of Fame, bubblegum pink. And in the music video for "Yellow Flicker Beat" — The Hunger Games soundtrack single that defined this era​​ — firetruck red.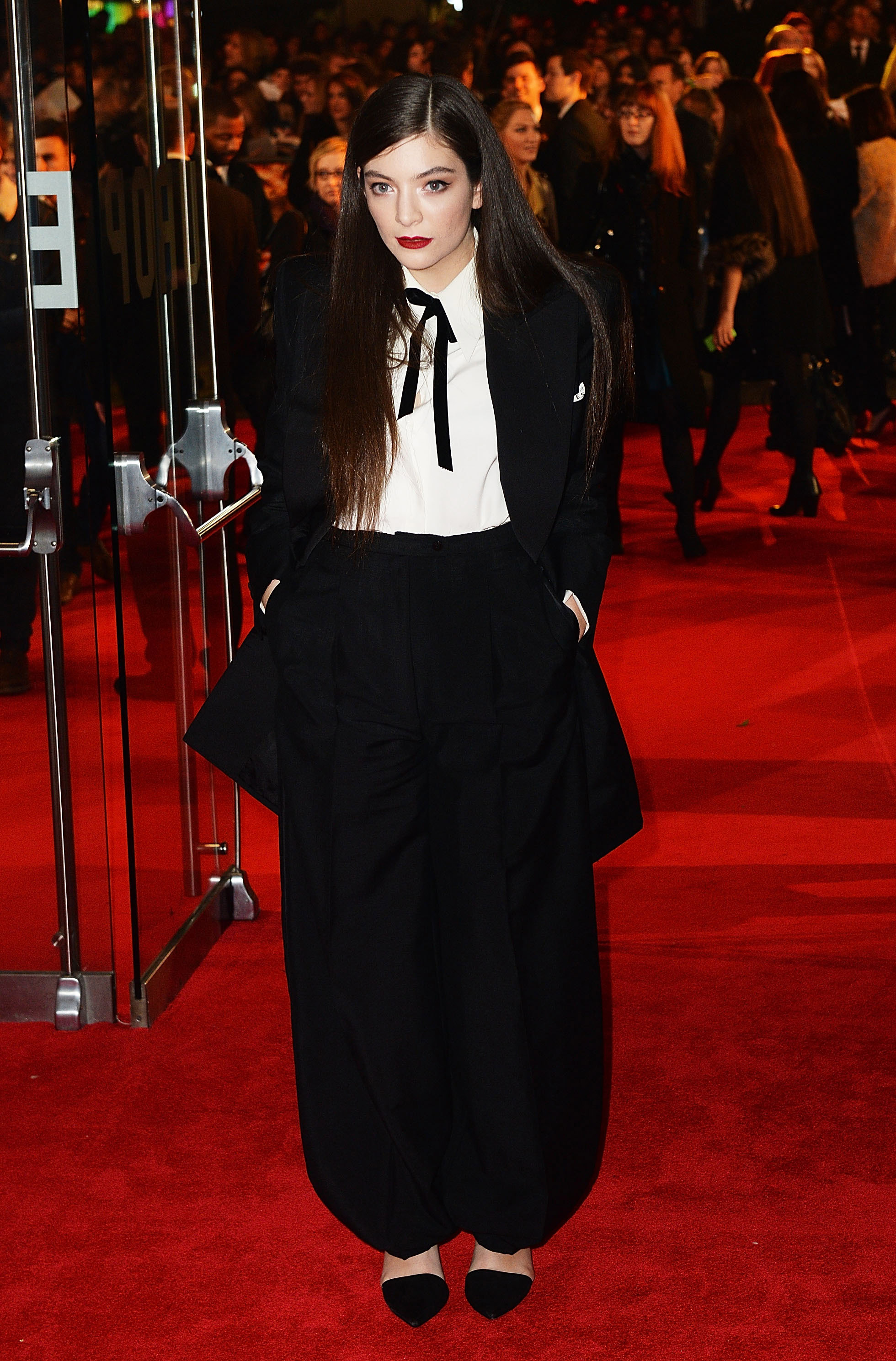 At The Hunger Games premiere, 2014
In 2014, Lorde translated her "Yellow Flicker Beat" suiting to the red carpet with a series of avant-garde two-piece ensembles. With their all-black palette, these outfits harkened back to the goth-y mood of the singer's Pure Heroine looks, albeit, this time, with a decidedly maximalist bent. This new red carpet look took in experimental silhouettes (balloon pants, worn here), unexpected flourishes (feathered trim) and loads of hats.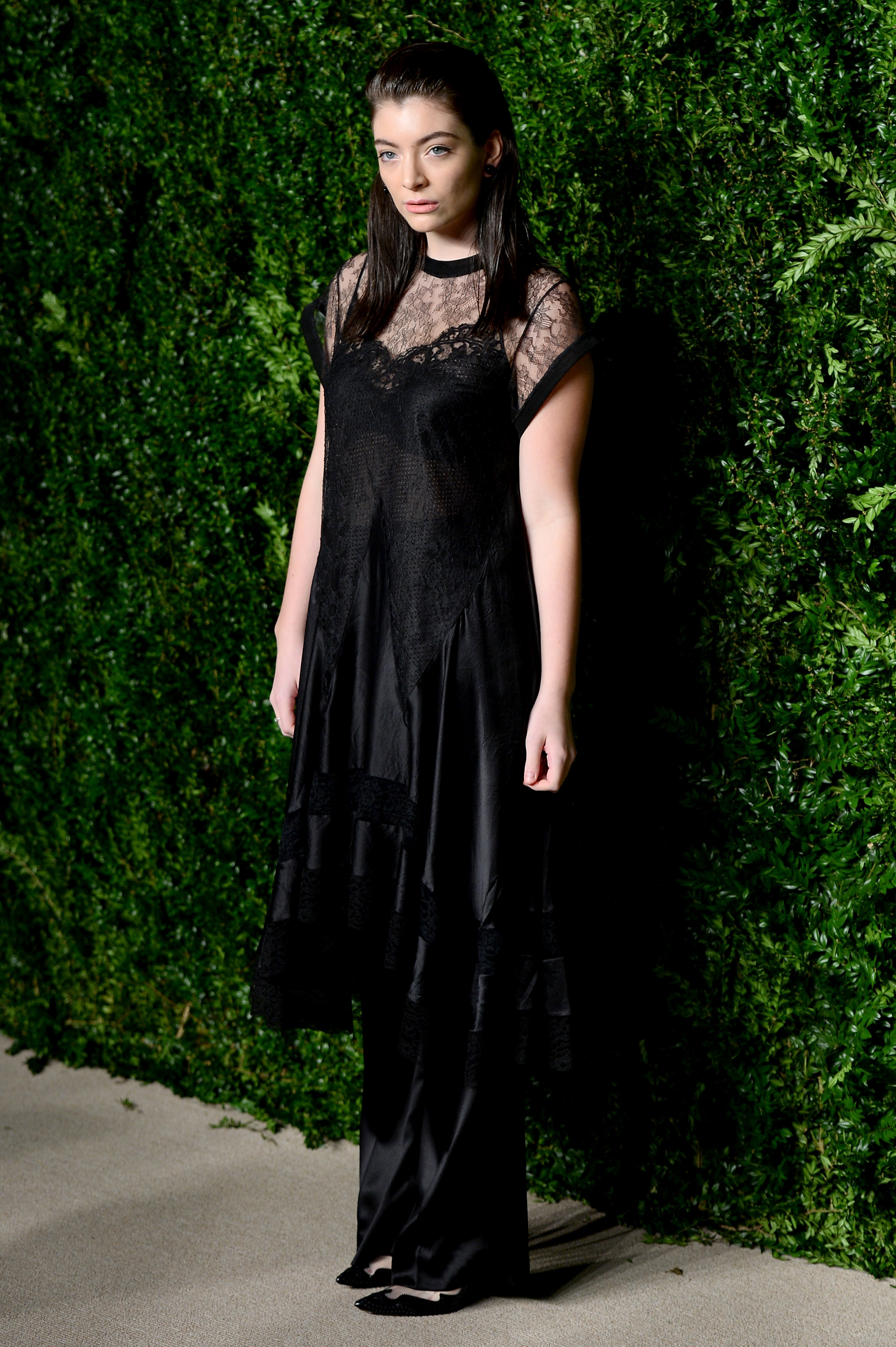 At the CFDA Awards, 2015
Into 2015, Lorde's red carpet style evolved from avant-gothic to witchy chic, with the singer opting for sleeker, more streamlined red carpet attire. This sartorial shift was likely inspired by Lorde's newfound fashion plate status. Throughout the year, Lorde walked the red carpet and sat front-row at industry events like the CFDA Awards (where she wore this lacy Givenchy set) and Dior's AW15 show (where she donned a goth-y gown in an instantly meme-able photo op with Kanye West).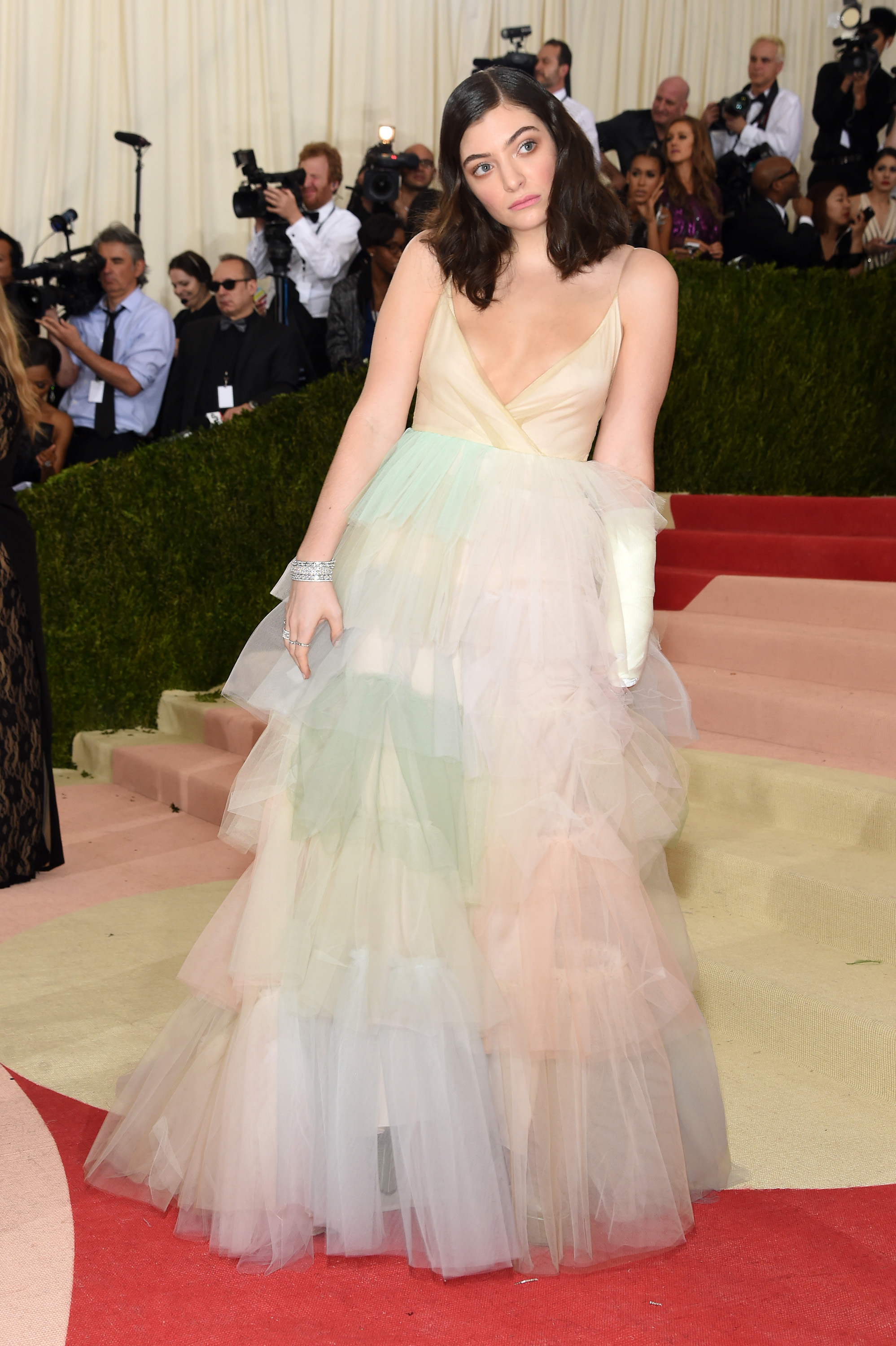 At the Met Gala, 2016
At the 2016 Met Gala, Lorde broke from the goth-leaning fare that had defined her style since her debut, opting, instead for an ethereal look from Valentino. While this wasn't the first time the singer donned a tulle-skirted number, it was the first time she sported pastels on the red carpet. The look marked a shift towards airier, more colourful ensembles for Lorde, including her feathered 2017 VMAs gown.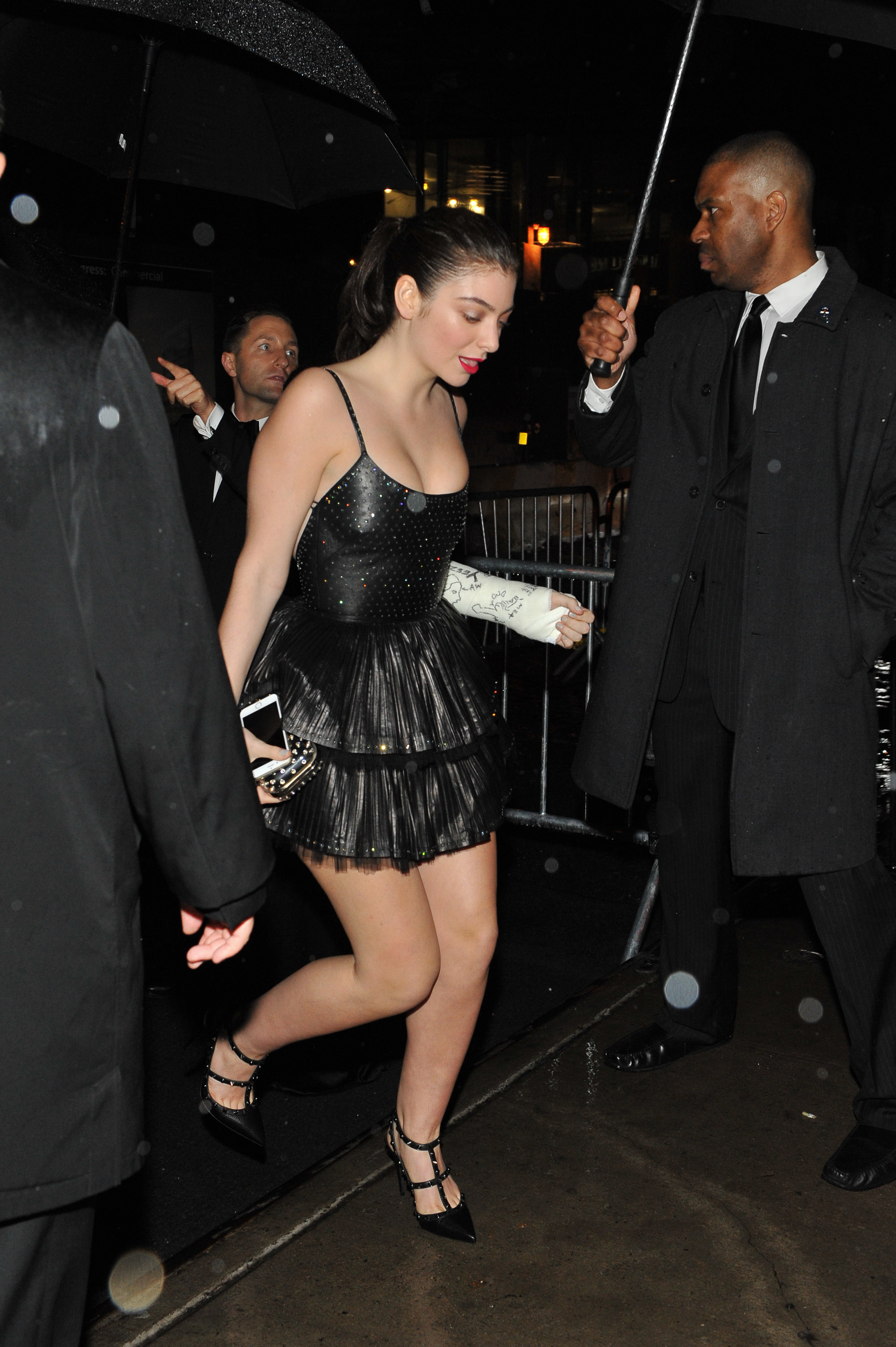 At the Met Gala afterparty, 2016
For Lorde, summer 2016 was the summer of the 'going out' dress. And it tracks: this is the season she finished recording Melodrama, which captures the highs and lows of, well, going out. During this era, the singer was papped hopping to and from NYC hotspots wearing mini dresses of all varieties, from Réalisation Par's ubiquitous wrapped number to this studded post-Met Gala look. A year later, Lorde dropped the music video for "Green Light," which centers around a night out and one fuschia pink minidress.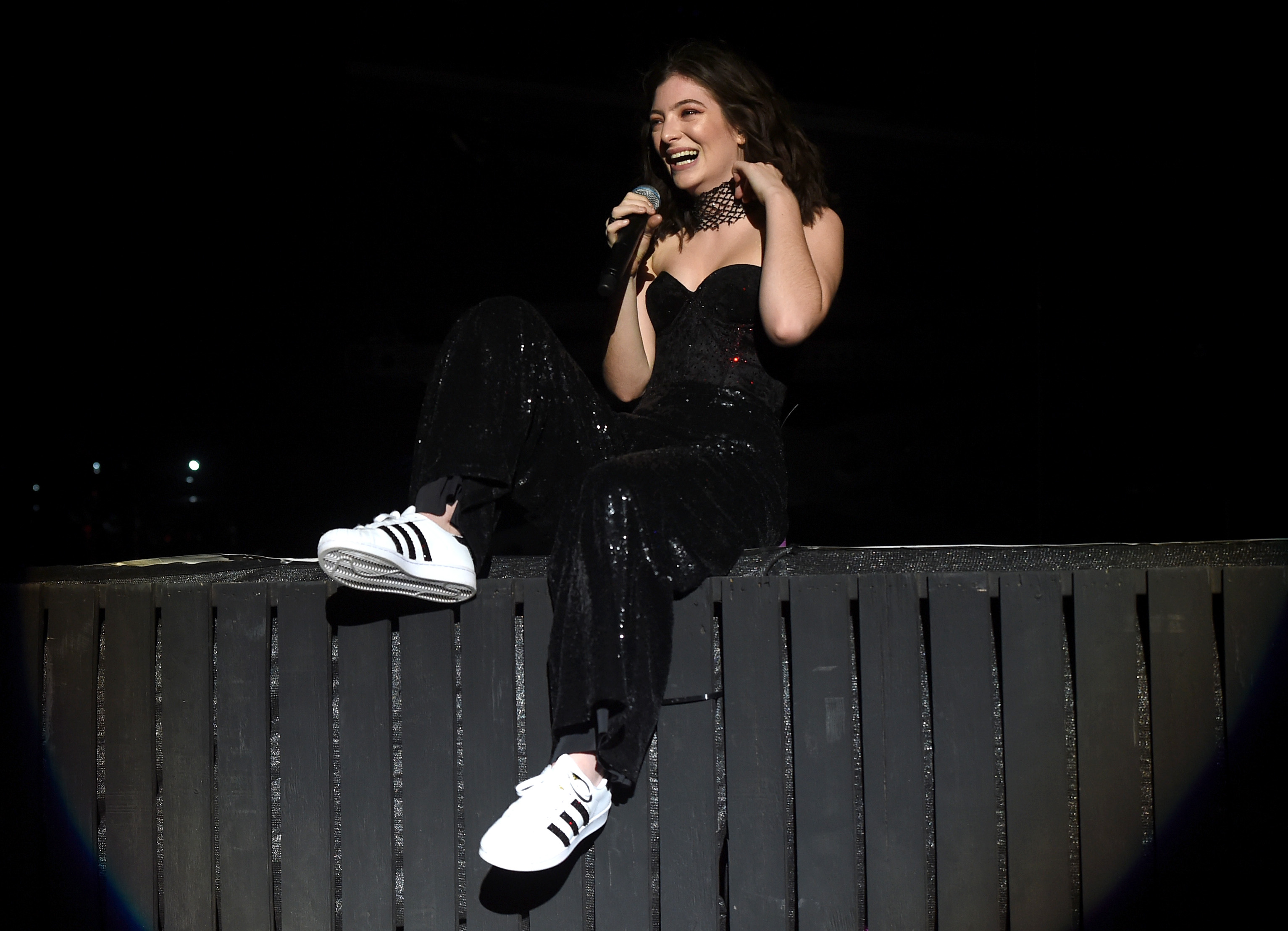 Performing at Coachella, 2017
Through 2017, Lorde translated the sexy, effervescent energy of the 'going out' dress into her Melodrama festival wardrobe. At Coachella, the 'night out' vibe manifested in two sequinned bustier jumpsuits (one photographed, here). At BBC Radio 1's Big Weekend, it arrived in day-glo. At Glastonbury, in a mesh catsuit. And, elsewhere, in crushed velvet crop tops and Lurex knits — all paired with the singer's hallmark, dance-able adidas Superstars. This era's glittering, club-ready garb culminated at the 2017 VMAs, where Lorde performed a choreographed version of "Green Light" in a metallic cocktail dress and her trusty trainers.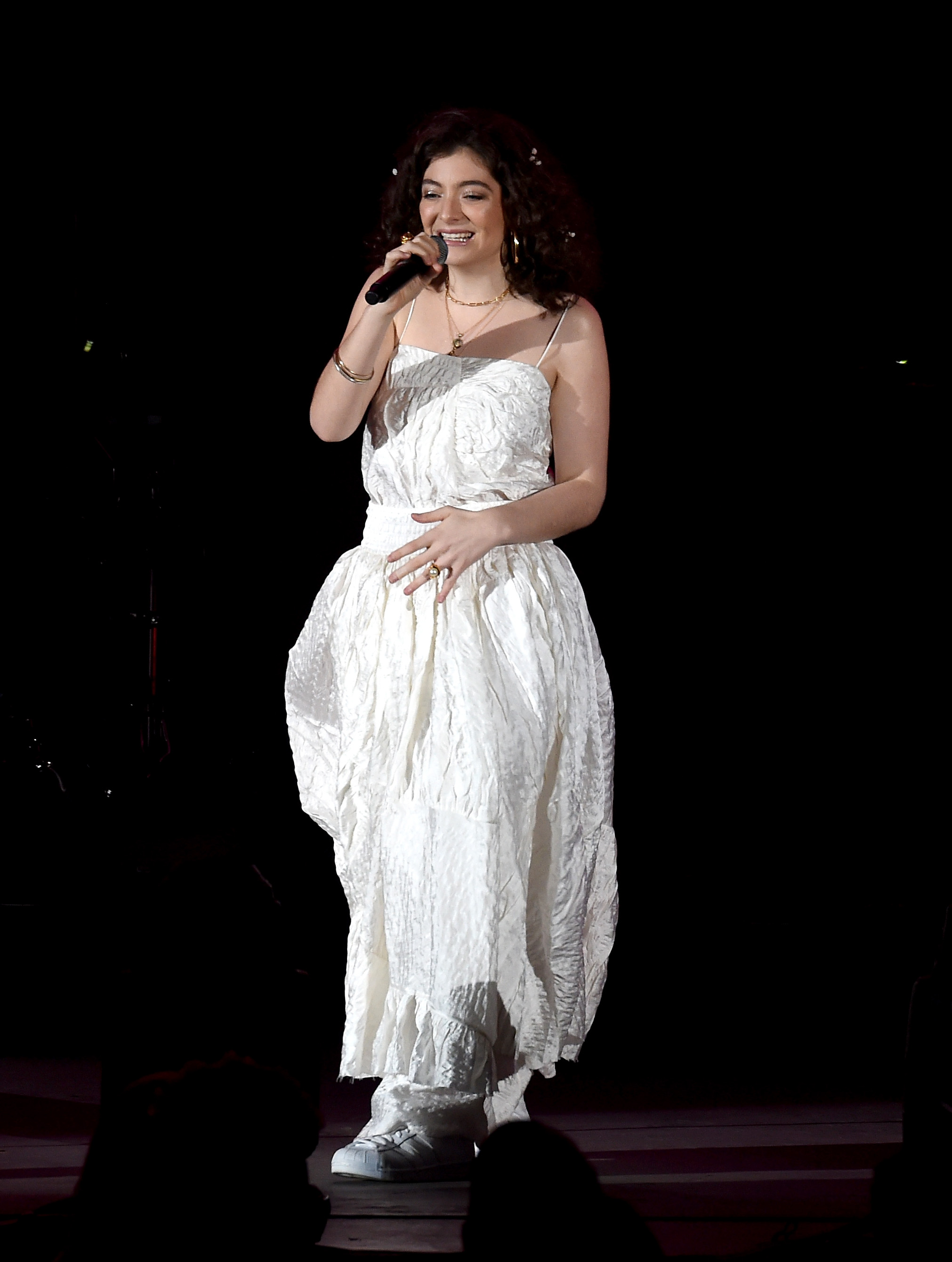 Performing in LA, 2017
Lorde's 2017 Melodrama circuit wardrobe was as multifaceted as the album itself. Sequins, mesh and minidresses spoke to soaring, danceable tracks like "Green Light" and "Homemade Dynamite". However, a series of more ethereal looks embodied the album's more dramatic, introspective moments. On SNL, the singer performed album ballad "Liability" wearing a white lace headdress. From shows in Montreal to Paris, Lorde also sported princess sleeves, laceballgowns, Cecilie Bahnsen, Simone Rocha and peasant blouses, always paired, of course, with her trainers.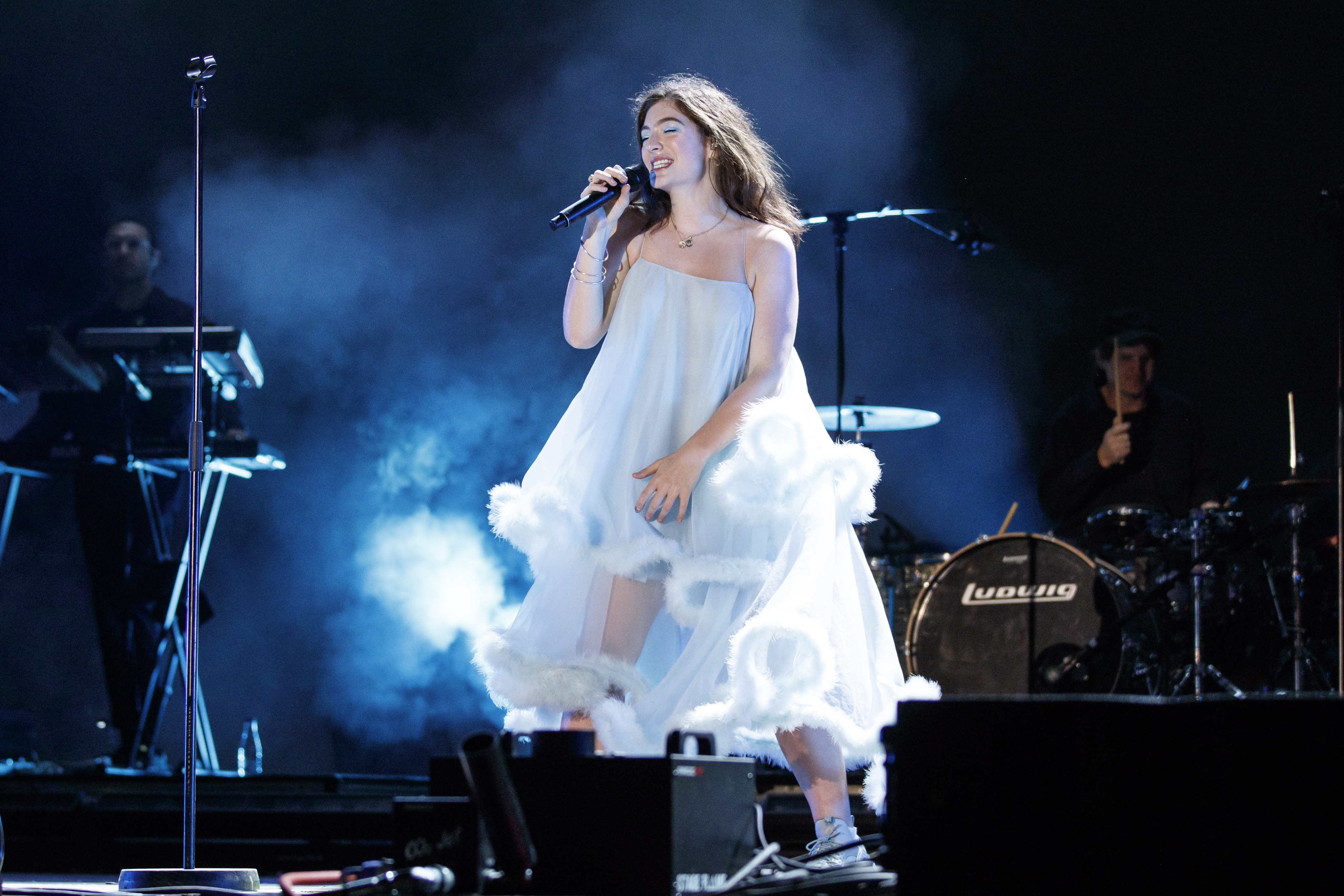 At Primavera Sound Festival, 2018
In 2018, Lorde returned to the stage and embarked on the second half of the Melodrama world tour. This time around, the singer performed in a series of fantastical, larger-than-life costumes that fully embodied the jubillance and grandeur of her sophomore album. Of this series of avant-ethereal looks, stand-outs included a holographic gown by Kelsey Randall, an organza-wrapped Marine Serre catsuit and this jellyfish dress by George Keburia.
In the "Solar Power" music video, 2021
After the year-long Melodrama world tour, Lorde took nearly three years out of the limelight to "hibernate" (her words). In June 2021, Lorde returned to the airwaves with estival anthem "Solar Power" — and a new look, as sunny as the track's namesake. On the single's album cover, performing on rooftops with Jack Antonoff, and taking the stage on Stephen Colbert, Lorde wore a series of airy sundresses and summer-y sets in tones of lemon-drop, marigold and butter. In the single's music video, she floats and dances across a secret beach wearing a liquid yellow two-piece by designer Collina Strada.
In "Mood Ring", 2021
Over eight years, from "Royals" to "Solar Power", Lorde's style has transitioned from gothic to sun-kissed. The music video for her latest single "Mood Ring", however, showcases the singer's most transformative look to date. In the track — a playful send-off of wellness culture — Lorde sings about sun salutations, healing crystals and meditating; in the accompanying music video, she burns sage and dances ritualistically while sporting a long, Goop-blonde wig and smoothie green silk set. The new look not only heralds an intriguing next chapter for the singer, it speaks to Lorde's legacy as one of modern pop's most multi-faceted auteurs.
Tagged: