9 new musicians to soundtrack fall 2021
From South Asian underground revivalist Yung Singh to funky Kansas teen Evann McIntosh and Phoebe Bridgers' new signing Scruffpuppie.
|
07 September 2021, 1:49pm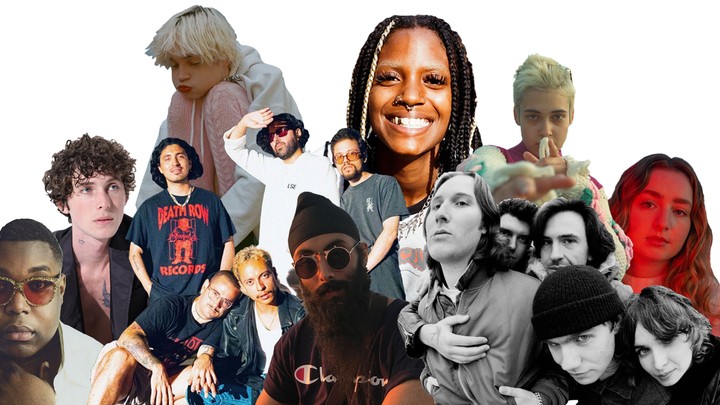 L-R: Gabriels via Instagram; August Royals via RCA; Scruffpuppie by Mowgly Lee; Divino Niño by Alec Basse; Yung Singh via Instagram; Mercury by Lauren Davis; Chubby and the Gang by Sirus f Gahan; Evann McIntosh by Khufu Najee; Emma Bradley by Jordan Hardy.
Hello. We're here to interrupt your current pop-punk obsession (us too) with a selection of new artists making incredible soul, nostalgic Punjabi and Fleetwood Mac-meets-South America sounds. Refreshing, huh? The world is certainly not starved of good music right now (Sometimes I Might Be Introvert by Little Simz is truly special), but it's never a bad idea to mix things up with some new sounds.
What we're trying to say is this: stop listening to that tired old playlist, start up your speakers and get to know some of the best new artists for fall 2021.
Gabriels
This talented LA trio, fronted by gospel prince Jacob Lusk, were bound to arrive on your radar sooner or later. Despite having already led significant California church choirs, appeared on American Idol circa 2011, and provided backing vocals for the likes of Diana Ross and St. Vincent, Jacob's Gabriels era is without a doubt the most exciting of them all. The group's self-released Love And Hate In A Different Time EP bagged them a slot on Later with Jools Holland and even earnt high accolades from Elton John, who called their debut "probably one of the most seminal I've heard in the last 10 years". Their self-directed music video for the project's title track depicts the history of the dancefloor. Unbelievably, they've only had one live show so far, but trust us when we tell you you'll want to be at one of their next. They've got dates coming up in London and Berlin this year, plus they'll be joining Celeste on her UK tour in 2022.

Yung Singh
"How the fuck do I intro this guy?" asked the host of Yung Singh's Boiler Room session in London last month. He tried his best despite the mammoth task before him, throwing the term "South Asian underground revivalist" out there. The ensuing one hour and six minutes proved that this was indeed pretty accurate, as the Midlands-born Londoner delivered an aggressively joyful and super eclectic set of bhangra throwbacks, grime, dubstep, drill, jersey club and jungle to one of the most engaged BR crowds we've ever seen. As the 24-year-old points out in his Instagram bio, he is "more than a DJ", producing and supporting his community as part of the Daytimers collective, whose 24-hour livestream fundraiser for India's farmers we told you about back in March. Yung Singh is not just great for a night out, but for an education in an often-overlooked realm of dance music.
Evann McIntosh
"This record is all about growth and change," explains 17-year-old Evann McIntosh of their new project, CHARACTER DEVELOPMENT, which came out on Mom+Pop Music last month. "I'm always evolving, and this album is the sound of that transformation, of one version of myself giving way to the next." In that vein, the project -- written and recorded mostly in their Kansas bedroom -- is an eclectic meld of R&B, jazz and pop. We're particularly into "COCO PEBBLES", an adventure of a record that you can watch live on Evann's US tour this fall, which includes dates at NY's Baby's All Right and LA's Moroccan Lounge. Nature is healing.

Mercury
You might have seen rising Atlanta rapper and skater Mercury's face somewhere before. You see, Rico Nasty called on the 20-year-old with Memphis roots to star in the music video for her explosive single "STFU" just last year. Since then, she's sold out her first headline show and just dropped her debut project MERCTAPE on Honeymoon, with lead single "CACTI" (inspired by the Travis Scott seltzer drink) produced by Frank Ocean fave 454. Wait for the track's switch up… the versatility!

Scruffpuppie
If our lord and saviour Phoebe Bridgers backs an artist, you can rest assured that said artist will be something special. Case in point? Scruffpuppie aka JJ Shurbet, the latest signing to her Saddest Factory Records label. "JJ's writing is both referential of all the emo music I love, and yet, entirely new," Phoebe says. "It's like she's filtering everything through raw emotion, throwing some distortion on it all, and handing it back to us so we can feel something for a second". At just 20, JJ has already built up an impressive following on YouTube for her skate vids, covers and lowkey live sessions. Her new single "Assignment Song" (written as an assignment during a spell in rehab for drug addiction) was produced by Phoebe's bandmate and longtime collaborator Marshall Vore. It is awesome.

Chubby and the Gang
Looking for a new band to go jump around in a sweaty basement to now your second vaccine is in the bag? Look no further. London punk five-piece Chubby and the Gang's summer single "Coming Up Tough" is ideal for just that, while a quick watch of the video for poppier new song "I Hate the Radio" will imbue you with a sudden urge to grab your mates, get pissed up and play tourists in your own city. Their second album The Mutt's Nuts is out now on Partisan and is well worth a listen. To celebrate, they're currently traversing the UK on a 40-date tour which even boasts a dog show. As in, they literally asked fans to bring their dogs along to compete in a charity dog show… because… Mutt's Nuts… geddit?

Emma Bradley
22-year-old Londoner Emma Bradley released her debut EP, Perfumed By You, last month and we were seriously won over. The self-described "queer heartbreak record" showcases the range of a young artist with connections to the jazz scene, an appreciation for composers like John Williams, and a deep desire to process her emotions through music. While the title track is a moving ballad, it's EP closer "Over and Out" -- a climactic Phoebe Bridgers-esque strings fest -- that really seals the deal.

Divino Niño
Get this: Divino Nino's new bilingual single "Drive" started out as a demo inspired by Fleetwood Mac's "Gypsy". And now you can't unhear it! Except (and here's the fun part), as the song evolved, the Chicago via Bogotá psych band blended it with throwback rock and rap from their native South America. "During lockdown, we spent some time trying to find ourselves by making music that captures our friendship and all the things that crack us up," singer Camilo Medina explains. "We got really interested in how other countries interpret American music, which in our minds is the process of imitating and ultimately stumbling into something completely new." Watch the video above ("we wanted it to represent driving as a psycho magical act to confront demons and disappointment head-on," explain the band) and keep your fingers crossed for a album.

August Royals
Georgia-born, LA-based August Royals looks like someone spliced Timotheé Chalamet and Shawn Mendes and covered the resulting heartthrob in tattoos. Better still, whoever did it also blessed him with the voice and songwriting capabilities of a star. What's kind of a funny coincidence, then, is that the 22-year-old was actually discovered at a Shawn Mendes concert by Brockhampton's Kevin Abstract, who welcomed him into the extended BH family and began exec producing his music. The resulting work -- pop single "Blue Football Music" and the more R&B "Crash" -- piece together to form part of a cinematic world that August is calling the Inhaler series. It tracks a spiralling codependent relationship, exploring subjects like mental health and substance abuse, through a series of high-concept music videos. And there's more to come!
Tagged: