Photography Gaston McGary
How popstar LoveLeo became the internet's new BOYFREN
With an acclaimed debut EP, two TikTok famous singles and a Rico Nasty co-sign, Leo Reilly is ready to soundtrack your summer.
Photography Gaston McGary
In seventh grade, Leo Reilly arrived on the first day of school with a new look. It was the height of Bieber fever — Justin had just released My World — and Leo debuted a swoop cut in homage to the budding popstar. "It certainly caused a scene," he remembers. Yet nearly 10 years later, Leo is still causing a scene. The hair has changed (in fact, it was shaved into a choppy mohawk last night), as has his name. Now, Leo Reilly signs off his creative output, which encompasses an acclaimed debut EP and two recent singles co-signed by heavy hitters like Rico Nasty, as LoveLeo.
While LoveLeo was born on a USB mic (Leo recorded close to 400 songs during high school), the project evolved as the then teenager juggled fashion school in San Francisco, intermittent SoundCloud releases and an expansive Instagram audience who eagerly swallowed his surreal, digitally-altered selfies "with an eye missing or an extra arm". To those disciples, LoveLeo was another LA-raised enigma — embraced by its 'scene' but never beholden to it — so enviably and effortlessly 'cool' he might as well serve as the word's definition.
Then someone made a connection. Leo's father was identified as John C. Reilly, and the pair's physical dissimilarity — notably, Leo's hot e-boy look — became an internet in-joke. For those unfamiliar with LoveLeo, the comparison served as an introduction and helped amass his major following. But the warm welcome did little to thaw LoveLeo's approach to advertising his family. Sceptics readily argue nepotism when discrediting a new young star's platform even when it bears no relevance, and Leo's actor-comedian father and film producer mother were so far removed from LoveLeo's entertainment trajectory, they may as well have been in a different industry altogether.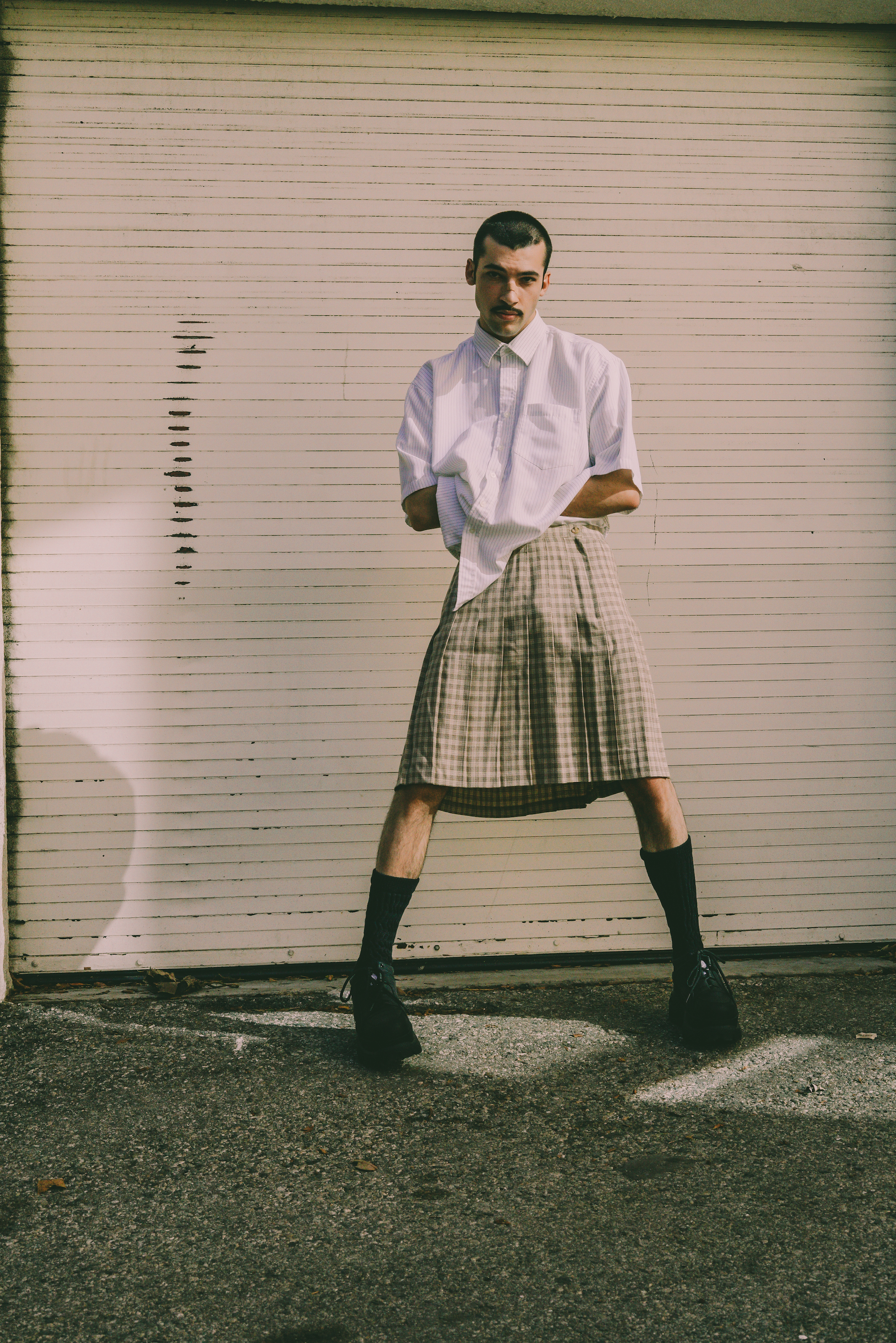 "They didn't prepare me for this world at all," he laughs. "They're always there for guidance, but they're not super in touch with everything that I'm doing. Growing up, they kept the business very separate, so I didn't have any understanding of what it was going to be like when I released my first song."
Those first songs did everything a new artist would hope for. LOOK AT THE MESS I'VE MADE, LoveLeo's debut EP released last July, earned the attention of critics and TikTok alike. "BOYFREN" became a self-empowerment anthem for the app's users, often serving as soundtrack for makeup transformations. His accompanying visuals, manifestations of the most twisted recesses of LoveLeo's mind, might as well have doubled for film festival submissions — eliciting requests for Leo to try his hand at videos for other artists. The music itself, which he brands under the catch-all "experimental pop", is anchored by husky vocals that at times bridge on melodic rap. Mostly, LoveLeo's offering consists of upbeat alt-pop bops, which often disguise deeper social commentary.
"The truth is I go into the studio and make whatever kind of genre that feels like the right thing to make that day," he explains. "I love when people take in what I make and try to explain it on their own terms. On the label side [Leo is signed to Republic Records], it's been whatever I want to do, that's what we do."
This spring, the singer signalled a new era of LoveLeo with "BUZZCUT," the first single from a full-length project slated for release later in the year. While it would be easy to peg the track's inspiration to his new 'do in the video (yes, a buzzcut), Leo revealed the song to be a portrait of his complicated relationship with social media. As his online presence has taken on new — primarily professional — meaning, LoveLeo has found himself conflating relevance with frequent creative releases. "I'm in your head/ you're in mine," he sings on the hook, in ode to the "thousands and thousands of faceless strangers on the internet".
"It feels like you're always expected to have something to say or show every single day. And that thought process alone makes you start thinking from the perspective of what people expect from you, rather than doing what you want to do. There's this big pressure on everybody to have your foot on the gas," he says.
Even at 22, Leo has to remind himself "time isn't going anywhere". An early adopter of TikTok, the young musician has seen the app's capacity to make superstars of adolescents, a convenient development for an industry that has a well-documented youth fetish. He has watched the site shift from earnest entertainment to a "hack in the system" for labels to propel young talent into the algorithm in hopes of viral success.
"It used to be that you had to go through school and college to garner any notability, for anyone to view your work and know about you," Leo says. "Now the age thing is a huge selling point and younger people have a platform, a direct link to their audience0. There's no more buffer of time to build up your career, you can just be a popping 16-year-old who made their first song two months ago."
What concerns Leo most is not the competition, but burgeoning stars burning out in the spotlight. Record deals, he claims, should include "built-in infrastructure" for emotional support, be it as minimal as access to a therapist. "That whole side of the industry is so neglected. Whenever I talk to artists about being in the position we're in, every single one of them has the same issues."
Even when forced to release a project in the grips of a global pandemic, producing an entire music video from his apartment, Leo knew there was "always going to be time to say what [he wants] to say." His time, it seems, is now. It's a "beautiful feeling," he says, to be two singles deep into his most cohesive body of work yet.
Tagged: