The new trailer for Gia Coppola's Mainstream has big cursed vlogger energy
It's much shorter than a David Dobrik apology video.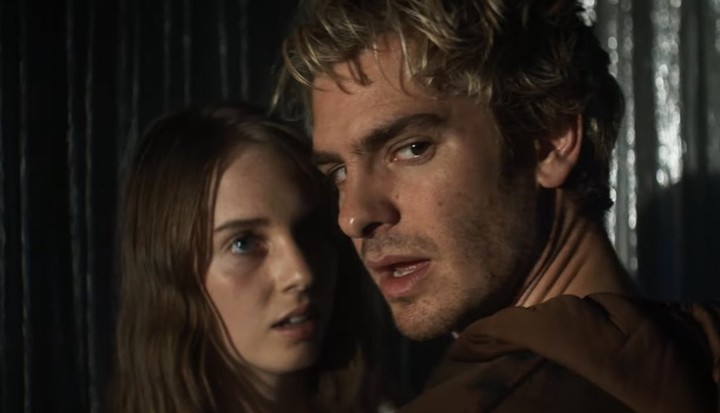 Still from Mainstream
The follow-up to director Gia Coppola's 2013 feature debut, Palo Alto, is a YouTube-inspired nightmare. The film, titled Mainstream, features a laundry list of A-list talent: Stranger Things' Maya Hawke, Nat Wolff (of Paper Towns fame), Euphoria queen Alexa Demie, and Andrew Garfield, who, you should know from Under The Silver Lake (2018) but probably know from The Amazing Spider-Man (2012). Oh, and also Jake Paul is here for some reason? The mind boggles.
IMDb describes the film as a "cautionary tale", where "three people struggle to preserve their identities as they form an eccentric love triangle within the fast-moving internet age". Maya Hawke stars as Frankie, a young bartender who's all too ready to quit her day job when she crosses paths with Andrew Garfield's Link, a soft boy with a yet-undiscovered penchant for virality. In addition to Jake Paul, YouTube mega-creators such as Patrickstarrr and Juanpa Zurita also appear as themselves in the trailer. I mean, you have to appreciate the dedication to realism here.

The trailer is also our first taste of a likely stunning score by musical maverick Dev Hynes AKA Blood Orange, who wrote the music for Gia's debut Palo Alto and added his signature touch to Queen & Slim (2019) and HBO's We Are Who We Are (2020).
Speaking to Vulture in advance of the trailer's release, Gia breaks down what it was like to release Mainstream at a time when our personal lives are more online than ever before (thanks for nothing, Miss Rona!). "For me, making this movie was my catharsis, trying to process all of these things that I was feeling and witnessing and trying to emoji-vomit it out." We hear that. Watch the intrepid vlog squad squabble, kiss and take over the internet in the trailer linked below.