See Yoon's first collaboration with Beats by Dre
As head of AMBUSH®, the Korean designer who's collaborated with Nike, Off-White and Bulgari, brings us Beats by Dre headphones.
|
18 November 2020, 8:56pm
Beloved for her experimental contemporary designs, Yoon Ahn has mastered the art of collaboration. Alongside Yoon's jewellery design role at Dior Homme, she's co-founder of Japanese brand AMBUSH®, and today she launched a special edition of Powerbeats, high technology headphones by Beats by Dre. Inspired by the spirit of her native Tokyo and it's legendary neon nightlife, the young designer easily mixes cultural influences and streetwear for this unique collaboration.
i-D France's Editorial Director Claire Thomson-Jonville caught up with Yoon to discuss the Shibuya-inspired headphones, choosing Burna Boy to front the campaign and what words she lives by.
Congratulations on this collaboration, I love the idea. I'd like to start at the beginning and ask you to describe your process. What was the point of departure when you approached this collaboration?
Yoon: Me and some of my friends were friends with Luke [Woods], who used to be the president of Beats and we always talked about doing something together. When Amazon was doing Tokyo Fashion Week two years ago they actually asked us to participate and I thought that it was the right timing to do a special headphone piece as a promotional thing, but the color that we used at that time was not commercially approved (for safety reasons) so it never got produced. We took a little bit of time but finally we came up with a new version of the headphones with different concepts, what you're seeing is the actually definitive version.
How long does a collaboration like this one take from beginning to end?
Usually it takes about a year and a half. This one took a year just because the company is so big they need to plan things ahead. Obviously it was supposed to debut much sooner than now, but because of the Covid situation it got pushed back a bit.
In general are you more of a visionary or do you work like step by step ? When you approach a collaboration with different brands do you already have in mind what you want to do or is it more of an organic process?
It depends on who the collaborators are and whether they have something in mind. I only collaborate with people who I really respect, the best in the industry. For me Beats make the best headphones, it makes sense to work with Beats and create something like our version of it. When it comes to technology like this, they have something in mind and when it makes sense for us and our customers we go for it. Some collaborators are more open, depending on who they are, what they have in mind and I'm quite flexible although I know what I want. Once we start working, it's pretty quick.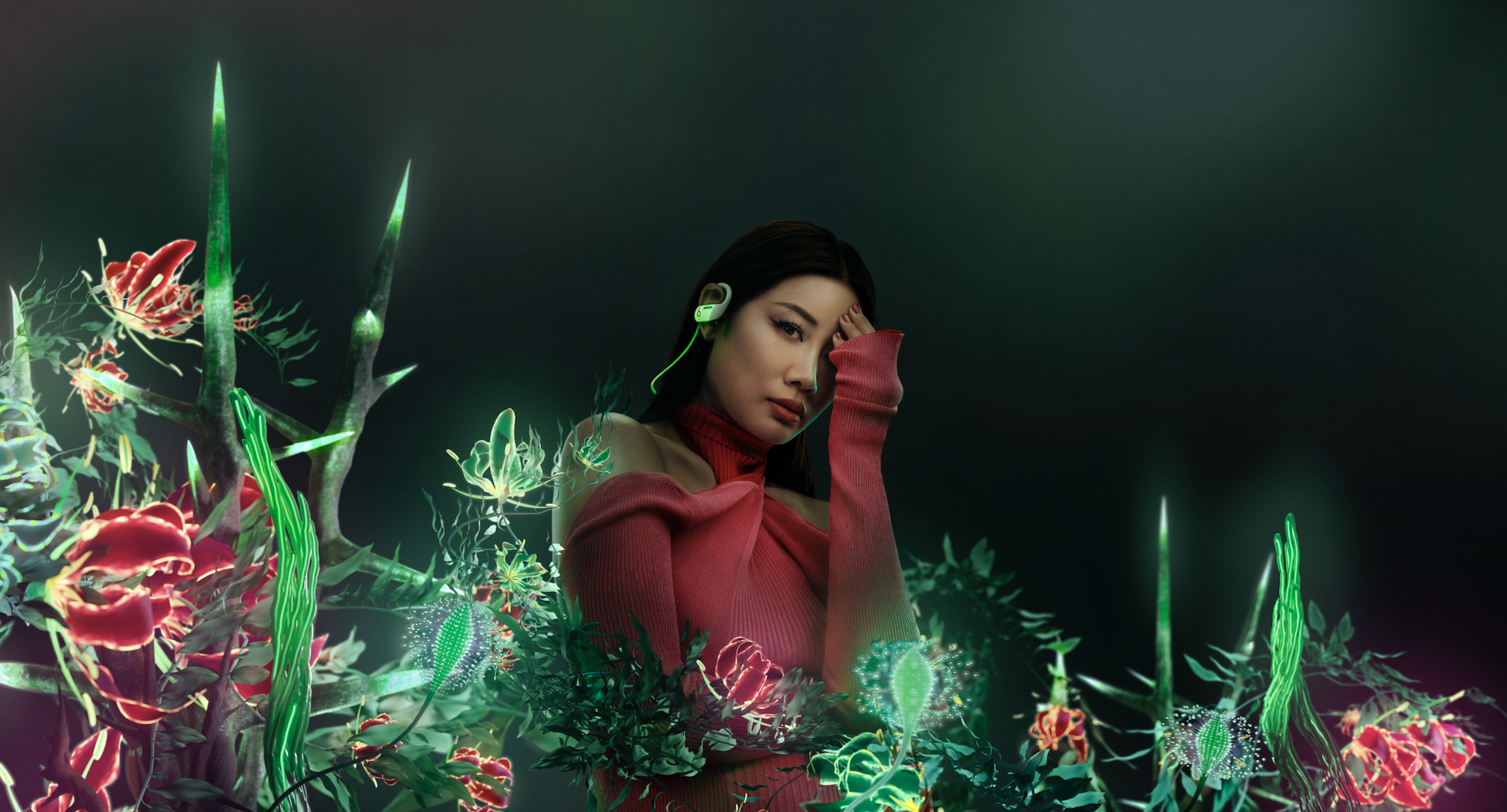 For this collaboration you said how you were inspired by the nocturnal side of Tokyo and this idea of music being a great unifier. How important is music in your creative process?
Music is like my gateway to fantasy, so if I want to get into a certain mood to create something I put on a specific type of music to get my energy up. It's an important process so I get in the right headspace. Going back to the glow aspect, we were going back and forth with Beats and I was like, "What story can I bring into a headphone?" because so many headphones have been done. I live in the middle of Shibuya, which is like the Times Square of New York, it's just ongoing, the lights are on throughout the whole night, people know Tokyo as the city of neon. I was thinking that it would be cool to have a headphone that actually glows with the city. It totally transforms at night when all the neon signs come on: everything is shiny, everything is reflective, it becomes a totally different world. Beats were able to execute that and make the headphones glow for the first time.
Can you talk about Burna Boy and at what point he came in? I would imagine towards the end when you're doing the casting, but what was the thought process behind involving him in this project?
Beats wanted another talent be part of this campaign and we were thinking "What's the next thing?" not in terms of an artist but I'm talking about the cultural impact. I really believe that Africa is the future. There's something so rich about the culture and things seem quite far from where I am in Japan, so I thought it would be great to have someone like him whose appeal is beyond geographical. His music is reaching so many different people.
When you're designing in general, do you design for yourself or do you have somebody in mind?
I never had muses like a lot of people do. I guess my muse is this abstract person, closer to who I am. It's not always my taste. I am trying to bring creativity but I want to make sure I am bringing reality. I'm not one of those designers that just create a fantasy that exists in my head, I want to make sure that everything I design can be worn. How would I use this product? Where am I going to be doing this? It's not a type of specific type of person, it's more grounded in reality.
Do you have a motto or a mantra?
It changes a lot. Right now I guess my motto is "Go with the flow". It's about trusting my instinct and going with that rather than just calculating in my head. I think it's a positive thing to be able to use your gut feelings to approach design.
Tagged: