7 of Julia Roberts' most iconic outfits
The all-American actress is the unsung hero of 90s fashion and fall style inspiration.
You know Julia Roberts from 90s decade-defining rom-coms like Pretty Woman and Notting Hill, nostalgic feel-good films like Mystic Pizza and Steel Magnolias, or as the lead in prestige dramas like Erin Brokovich. Establishing herself as Hollywood's premiere leading lady throughout the 90s — and winning myriad Oscars, Golden Globes and more, along the way — Julia is a bona fide film industry icon. But did you know that she's also one of the 90s most underrated (and understated) fashion icons? The all-American actresses' effortless style — big sweaters, ripped jeans, power suiting — embodies the decade's best-of-the-best. Here, to celebrate the actresses' birthday, we look back on some of her most iconic looks.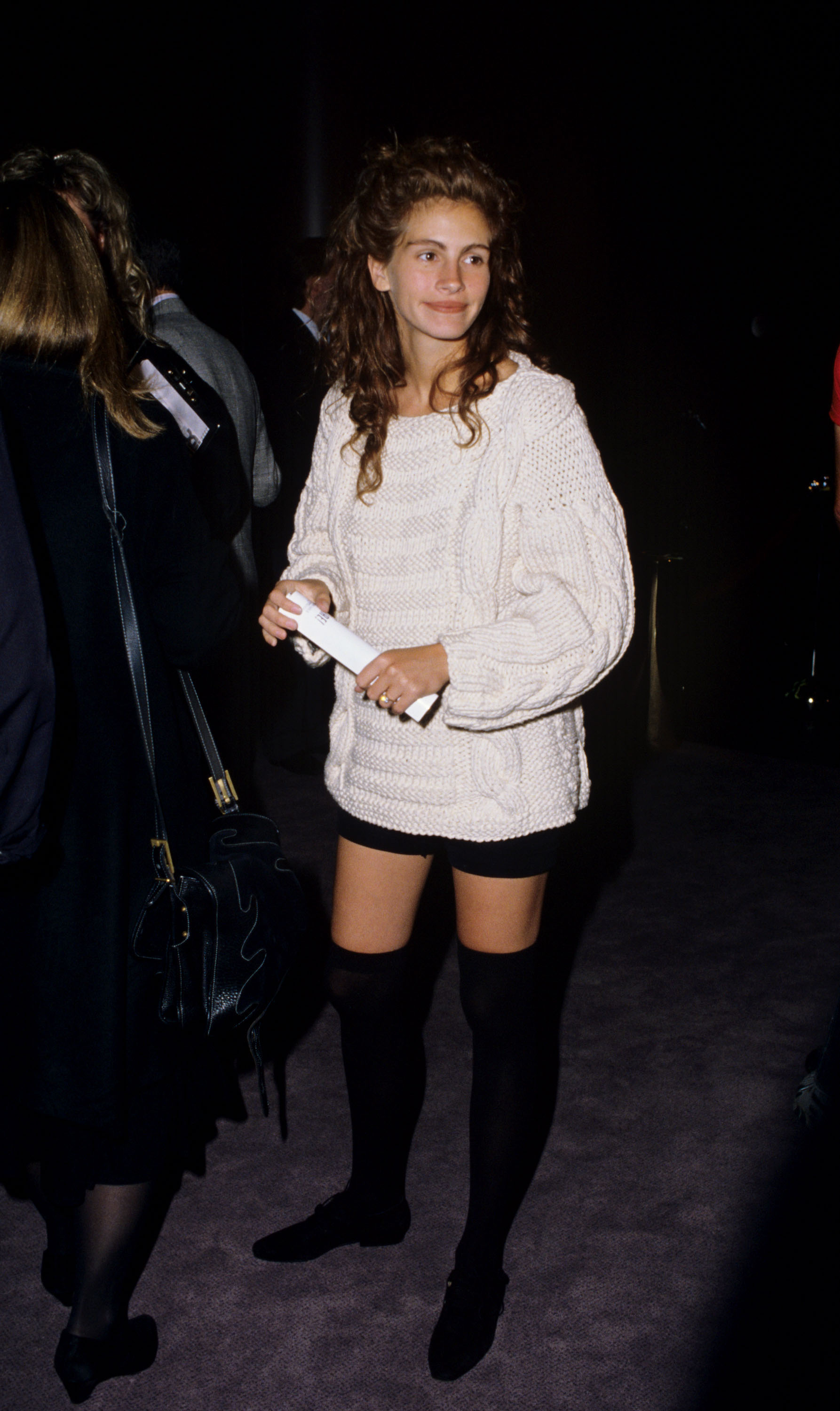 At a movie premiere, 1989
Was it ever a question that Julia would become Hollywood's de facto leading lady? Only one year into her acting career (after making her screen debut in 1988's Satisfaction), she received her first Academy Awards and Golden Globe nominations for her role in the iconic Steel Magnolias. Here is one of Julia's era-defining looks from that very year: oversized cable knit sweater draped over a micro mini and paired with over-the-knee socks. Late 80s meets early 90s perfection.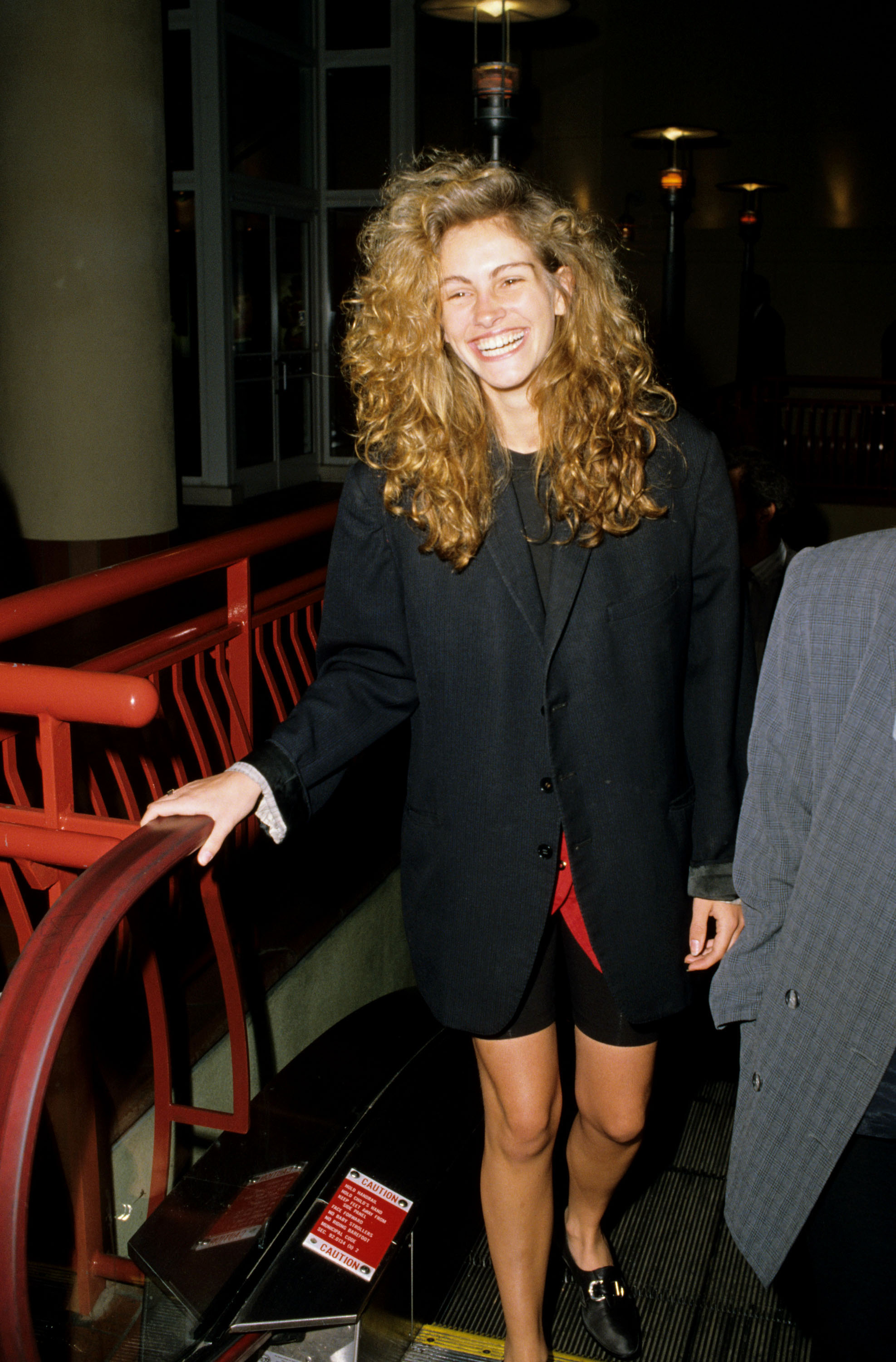 At the Miss Firecracker premiere, 1989
Defined by understatement rather than zeitgeist, Julia's style has a rare, timeless quality to it. Worn to the premiere of Miss Firecracker in 1989, this look combines the best of 80s and burgeoning 90s staples: shouldered blazer, nylon bike shorts, with what looks like a red cardigan, maybe tied around the waist. But this outfit could equally fit into the mid-00s (think Mary-Kate and Ashley's NYU era style or The Cobrasnake scene). Even more so, it perfectly encapsulates 2020's tailored-athleisure uniform.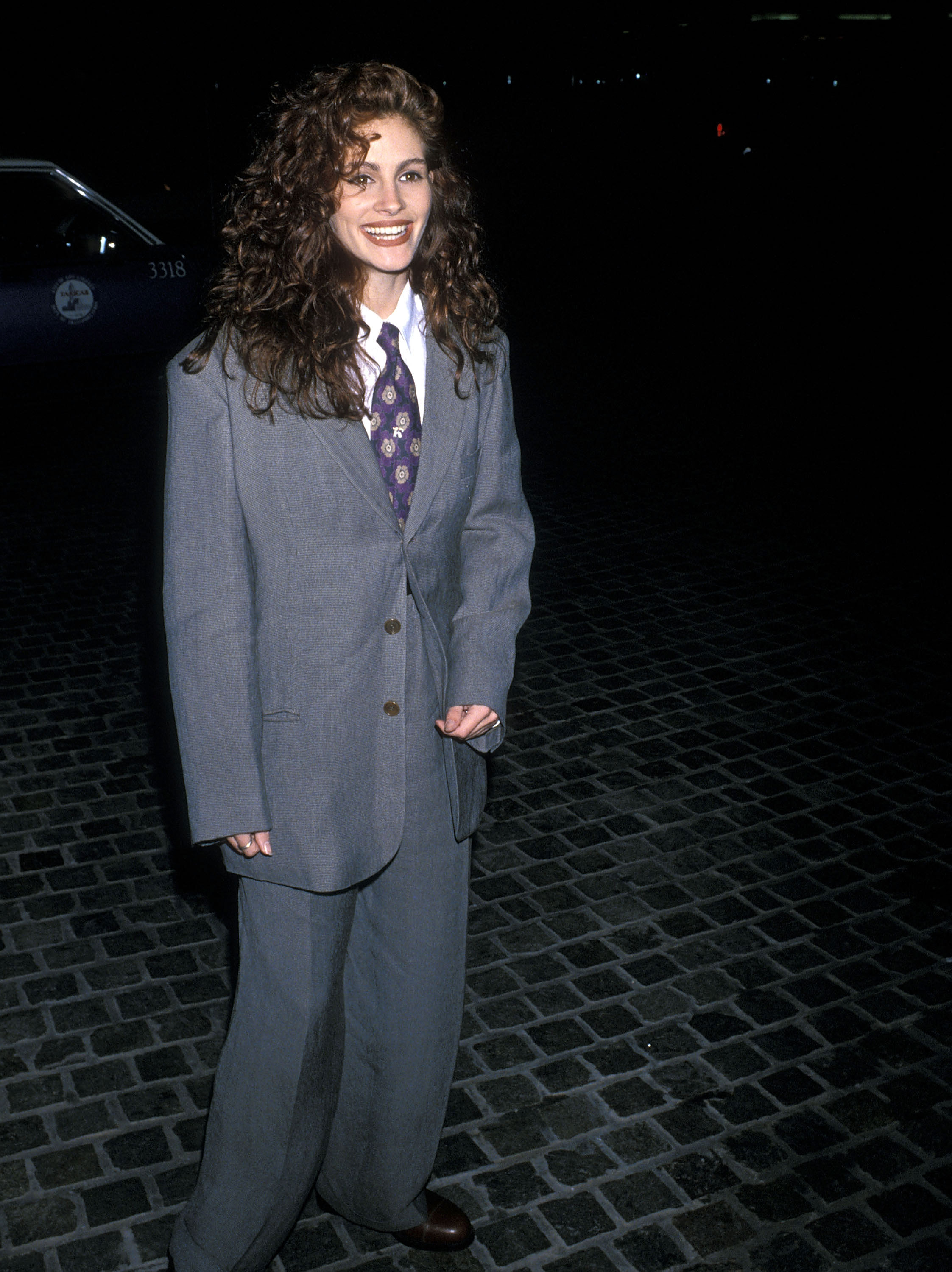 At the 47th Annual Golden Globes Awards, 1990
Julia loved a power suit. The bigger the shoulders, the more oversized, the more androgynous, the better. This all came together for her utterly iconic 1990 Golden Globes look: a grey power suit of David Byrne-esque proportions. At the ceremony, Julia accepted the award for Best Actress for her role in 1989's Steel Magnolias. The evening's outfit encapsulated the turn-of-the-decade's sartorial sensibilities, right down to the details: longline three-button blazer, purple floral wide tie and chunky brown boots.
At a photoshoot, 1990
Every time October rolls around, this photograph makes its way to our Instagram feeds, Twitter TL's, whichever social media platform one uses to moodboard seasonal looks. And it's no wonder why. A classic combo when Julia wore it in the 90s and now, the ultimate autumnal fit: wool turtleneck, ripped blue Levi's, black blazer and cowboy boots. Perfect fare for apple picking, stomping through piles of colourful leaves and maybe even for sipping on a PSL.
Out to lunch in Dublin, 1991
Mini, maxi, fitted, fluid, patterned, plain — the 90s slip dress took many forms, shape-shifting to suit the wearer's particular predilections. On a trip to Dublin with her brand new beau, fellow actor Jason Patric, Julia opted for a floral babydoll iteration of the ubiquitous look, paired to perfection with perfectly slouchy socks, patent brogues and circle shades.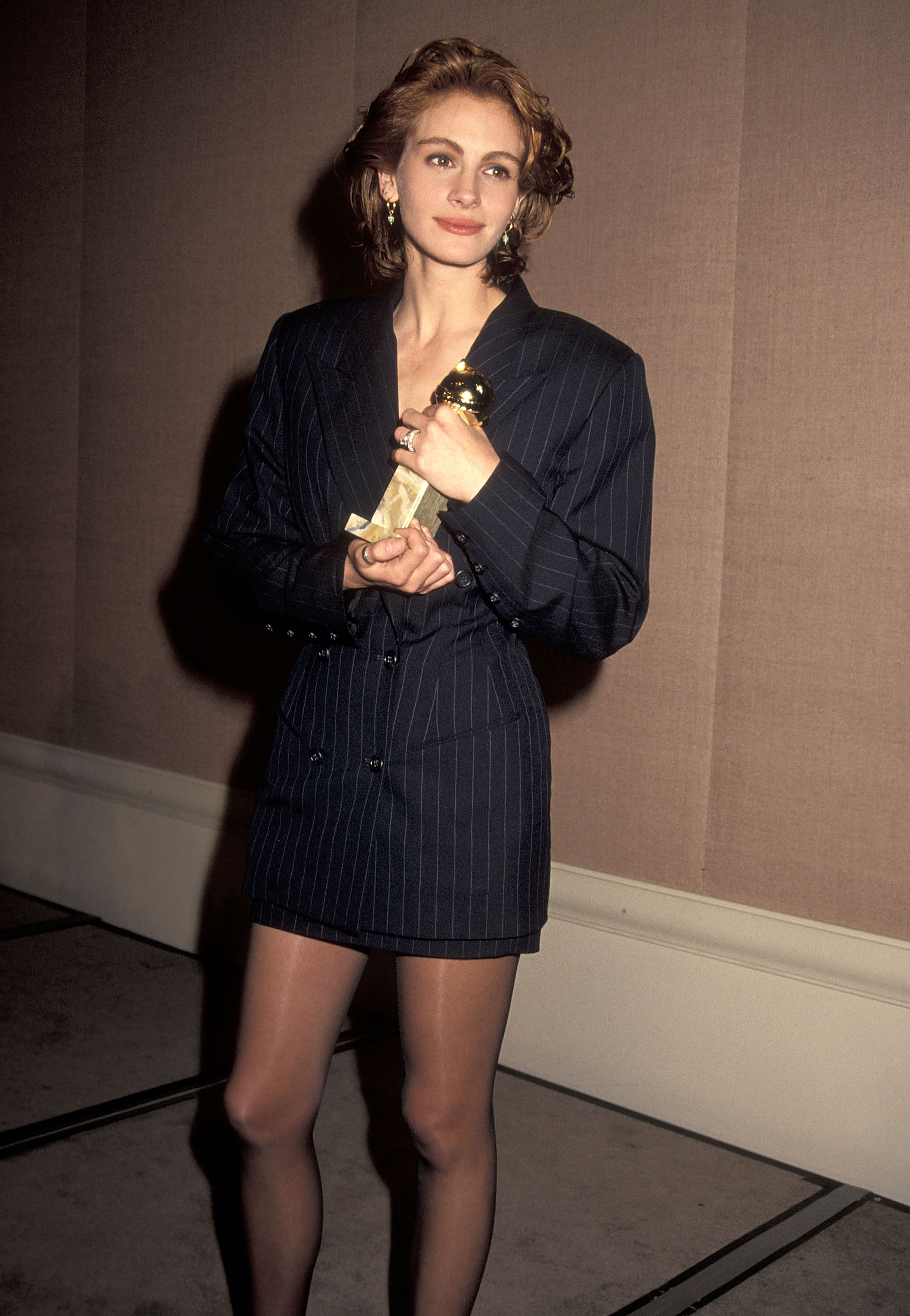 At the 48th Annual Golden Globes Awards, 1991
Julia's unforgettable 1990 Golden Globes power suit is a tough act to follow. But she did, in typical Julia Roberts fashion, at the 1991 iteration of the awards show, with a look, perhaps, even more powerful. Wearing a pinstripe mini skirt suit — with utterly massive shoulders — Julia won the Best Actress award for the second year in a row, this time for her turn as Vivian in era-defining rom-com Pretty Woman. As the 90s progressed, Julia maintained her devotion to suiting, wearing a pale pink blazer dress to a film premiere, donning a waistcoat on the red carpet, and, in one instance, pairing a perfectly-tailored chocolate brown pantsuit with cat-eye sunglasses.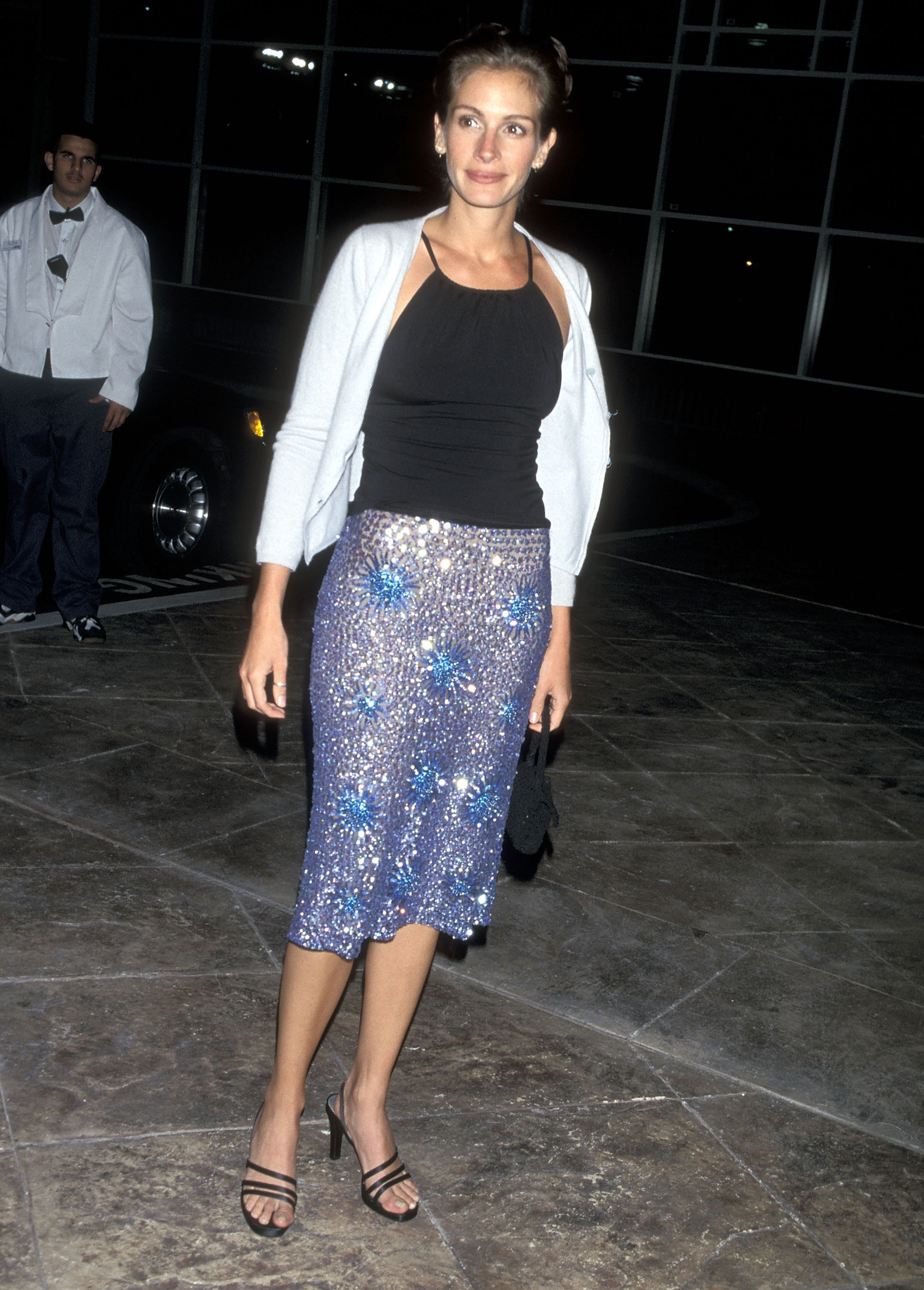 At the Amnesty International Media Spotlight Awards, 1998
Nearly a decade after her film debut, Julia's star continued to rise. Throughout the late 90s and into the early aughts, she was the most in-demand, highest-paid and bankable actress in the world. As Julia evolved into the leading lady we know from Erin Brockovich (for which she won an Oscar) and Mona Lisa Smile (for which she was offered an unprecedented $25 million), her wardrobe, too, began to shift. At the turn of the millennium, Julia's red carpet looks became more fluid, fitted. Go-to's included slinky jersey evening gowns, strappy tops, leather pants, and, of course, (nipped-waist) suits. Here, at a charity event, she wears a halter top, crystal-blue cardigan, strappy sandals and a heavily bedazzled skirt — millennium-era Julia loved sequins. Fun fact: Julia repeated the same halter a year later at the premiere of Erin Brockovich. Celebrities, they're just like us!
Tagged: