Photo by Ron Galella, Ltd./Ron Galella Collection via Getty Images.
7 of Marc Jacobs' most iconic outfits
The legendary American designer knows a thing or two about uniform dressing.
|
12 February 2021, 8:00am
Photo by Ron Galella, Ltd./Ron Galella Collection via Getty Images.
No other contemporary American fashion designer has had the career trajectory of Marc Jacobs. After graduating from Parsons, Marc was brought on at sportswear brand Perry Ellis and then at prestigious French house Louis Vuitton. Of course, all while running his own namesake label, launched in 1986, and its equally iconic diffusion line Marc by Marc Jacobs. From his whimsical designs to his penchant for artist collaborations throughout the decades, Marc has defined and redefined the zeitgeist of womenswear. And the same could be said for the designer's own wardrobe in regards to menswear. Just a few months ago, the designer was named GQ's Most Stylish Person of the Year, thanks to the absolutely massive outfits — think purple hair, patterned coats, platform boots, pearl necklaces, etc. — he's sported on Instagram and on New York City throughout 2020. Here, however, we're taking a look back at some of the designer's formative fits across the 90s and 00s, where his style is a bit more minimal, but no less massive. These are Marc Jacobs' most iconic outfits.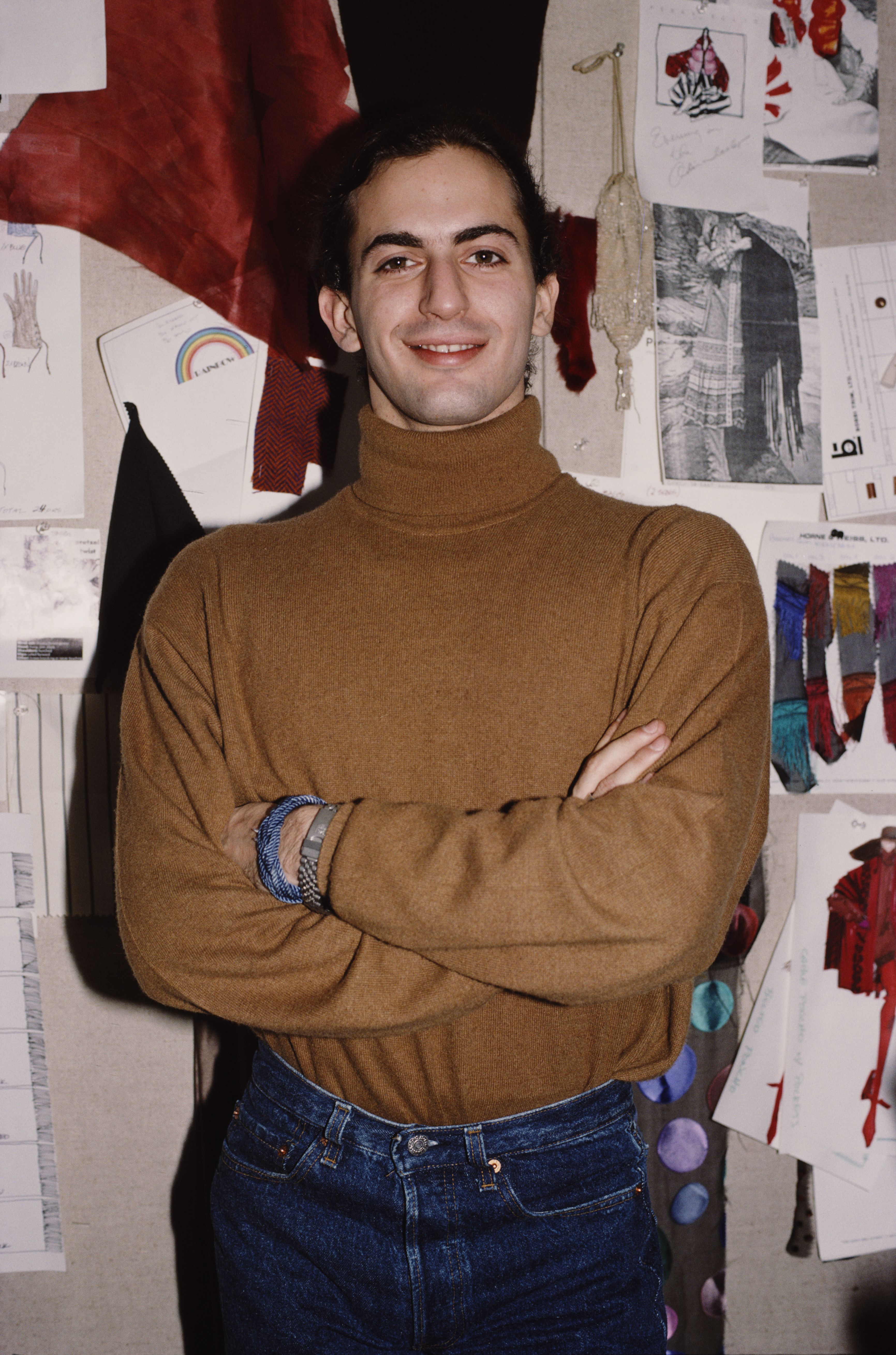 In his studio, 1989
In 1986, Parsons grad Marc Jacobs created the very first designs for his now-iconic namesake label. Two years later, after winning the CFDA's coveted Perry Ellis Award for New Fashion Talent, he was brought on at the American sportswear label as creative director of womenswear. Here's Marc, two years after his Perry Ellis appointment, in his own studio. He's wearing his then-uniform: a wooly turtleneck, jeans and hair pulled back into a pony.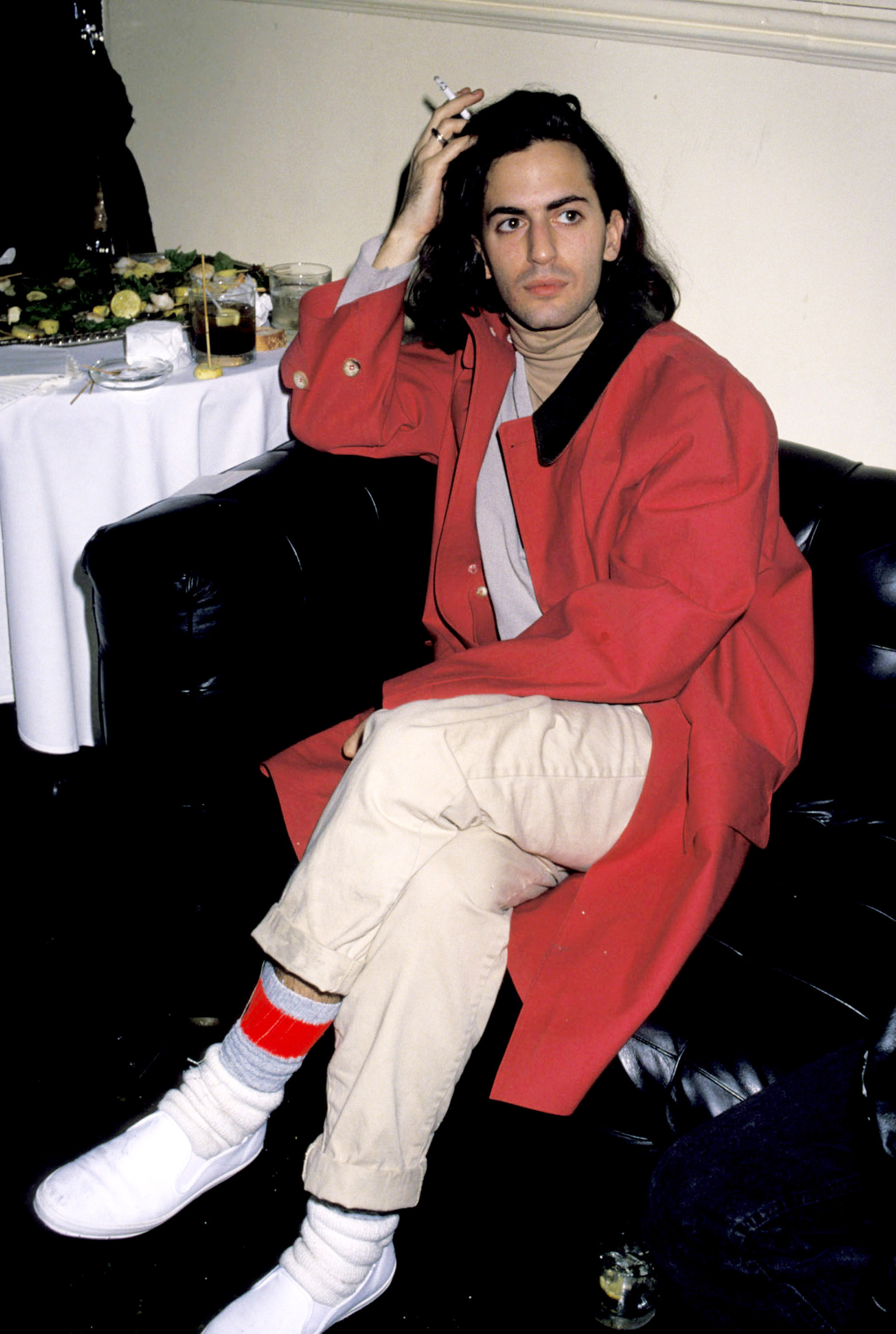 At the release party for Cry Baby, 1990
In the early 90s — and just as he does now — Marc had a penchant for colourful outfitting. Case in point is this look, here, which Marc wore to the release party for the Johnny Depp-fronted flick Cry Baby. The young designer's wearing a firetruck-red overcoat, his signature turtleneck and chinos. Note the matching socks!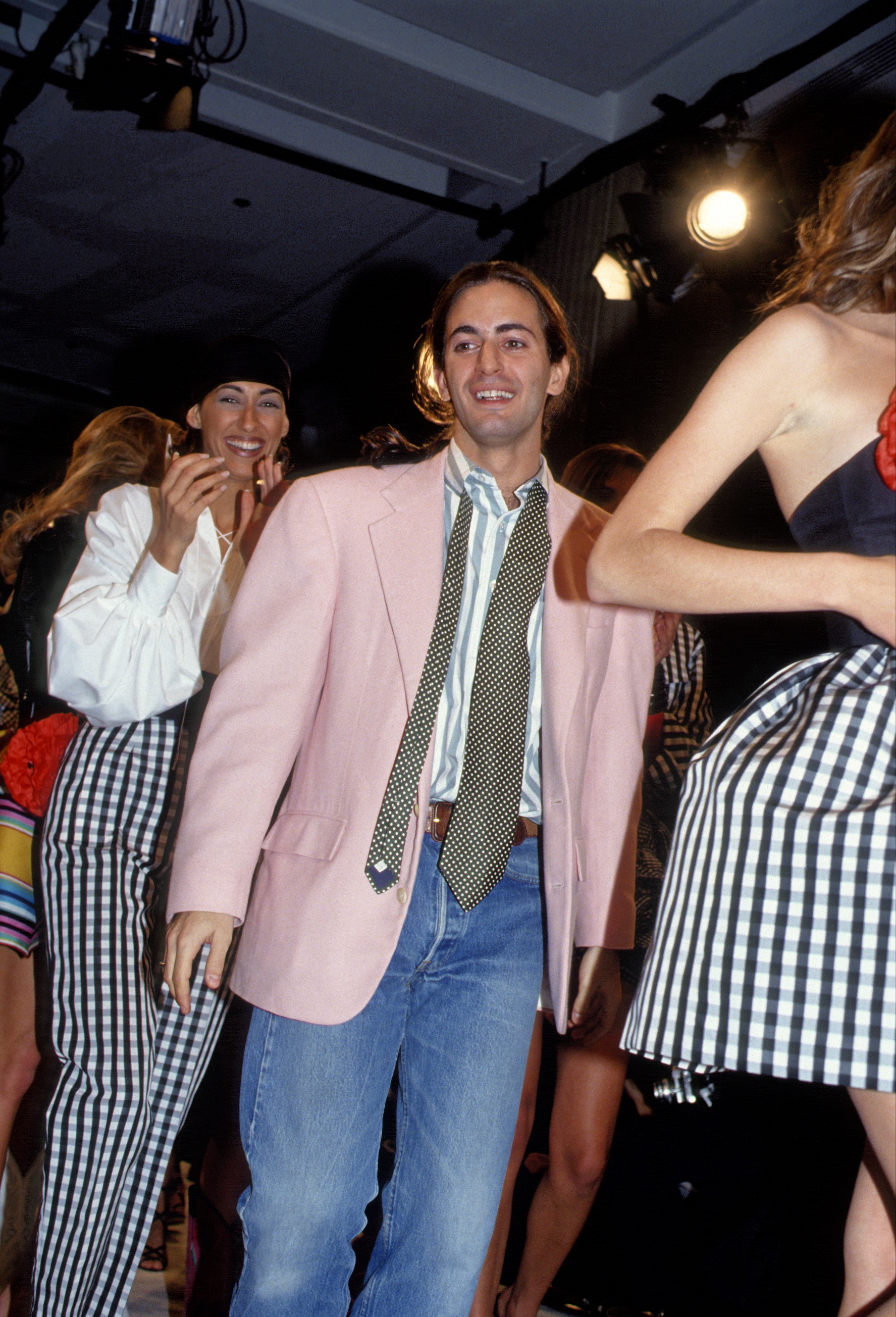 Closing the Perry Ellis show, 1991
In the early 90s, it's easy to see that Marc's own style was influenced by his appointment at Perry Ellis. Throughout the 70s and 80s, the brand was an icon of American sportswear and, as such, a purveyor of perfectly preppy apparel. Here, closing Perry Ellis' New York Fashion Week show in 1991, he dips his toe in the prep pond, himself, in a pink blazer, blue-and-white striped shirt, pin-dot tie and all-American mid-wash denim.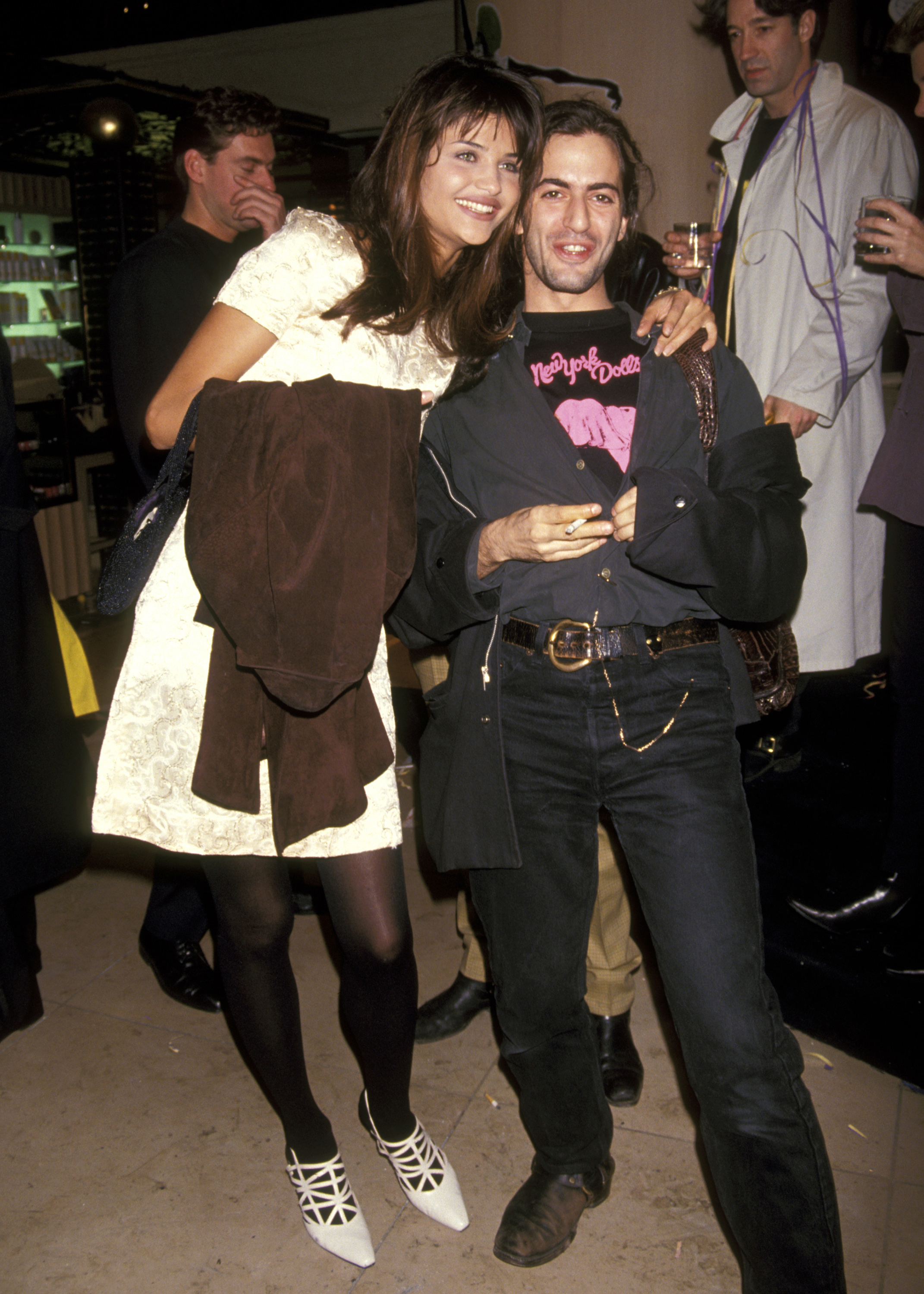 At a Jean-Paul Gaultier show with Helena Christensen, 1992
For spring/summer 93, Marc released one of fashion's most controversial collections of all time. Known as "the grunge collection", the notorious offering saw Marc transform Perry Ellis' customary prep staples into garments to suit the country's subculture du jour. The collection earned scathing reviews from the industry's finest (Cathy Horyn, Suzy Menkes, et al.) and even got the designer fired from his position at Perry Ellis. Here's Marc, months before presenting the now iconic — and now celebrated — collection wearing his own version of the grunge look: a New York Dolls graphic tee beneath a button-up (beneath a jacket), dark denim and scuffed-up brown boots.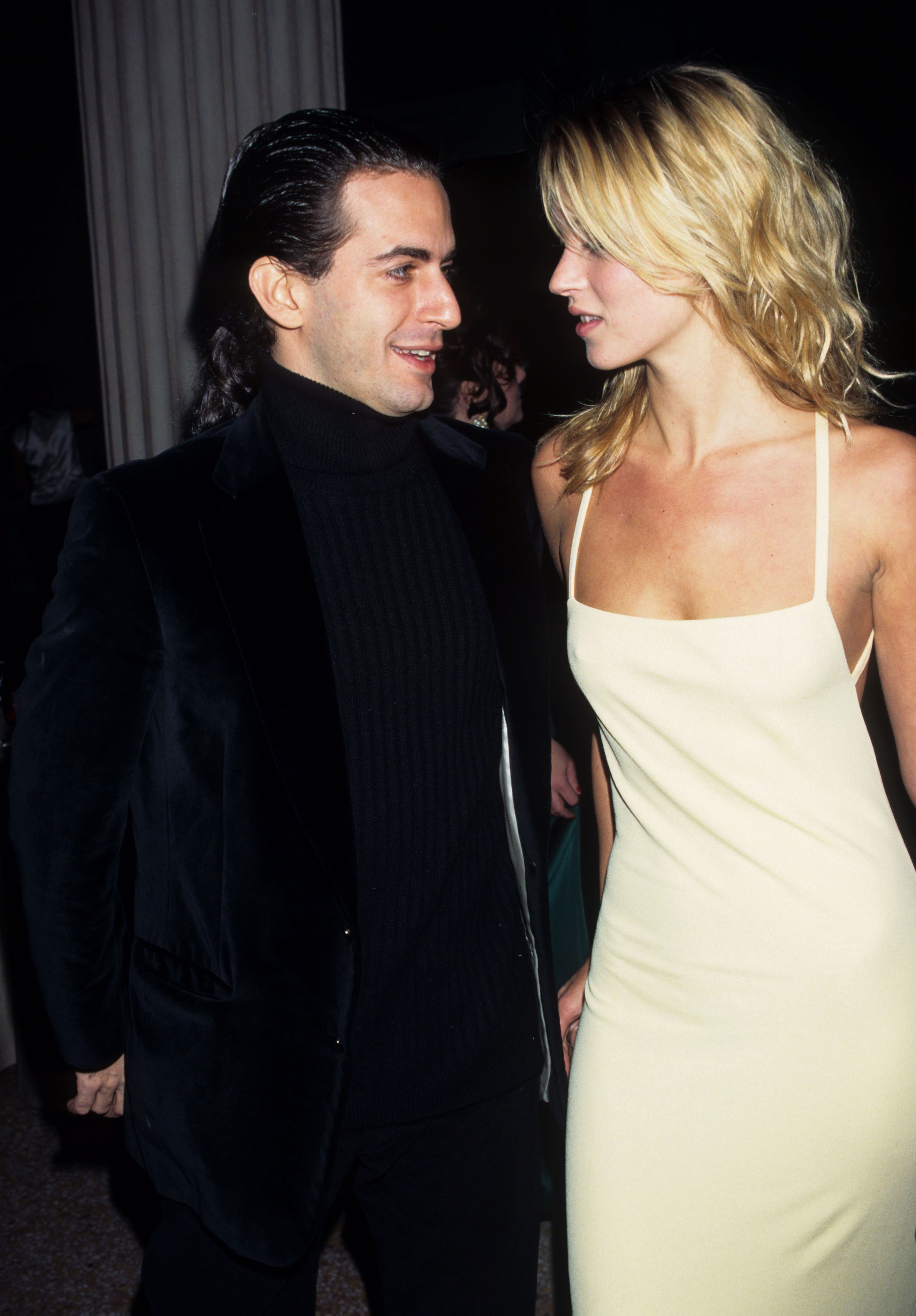 At the Met Gala, 1995
Over the decades, Marc Jacobs and his whimsical, covetable designs have garnered a huge — and incredibly varied — group of celebrity admirers. Among them Catherine Deneuve, Dita Von Teese, Sarah Jessica Parker, Hillary Swank and Hilary Duff, Lil Kim, Nicole Richie, Debbie Harry and the inimitable Mariska Hargitay. Among Marc's closer friends-and-collaborators are Winona Ryder (who starred in the designer's spring/summer 2003 campaign) and Sofia Coppola (who designed a handbag for Louis Vuitton in 2012). Here, Marc's photographed with friend and frequent collaborator Kate Moss at the Met Gala. For the occasion, Marc put his own spin on the classic black-tie look: velvet blazer over top a chunky ribbed turtleneck.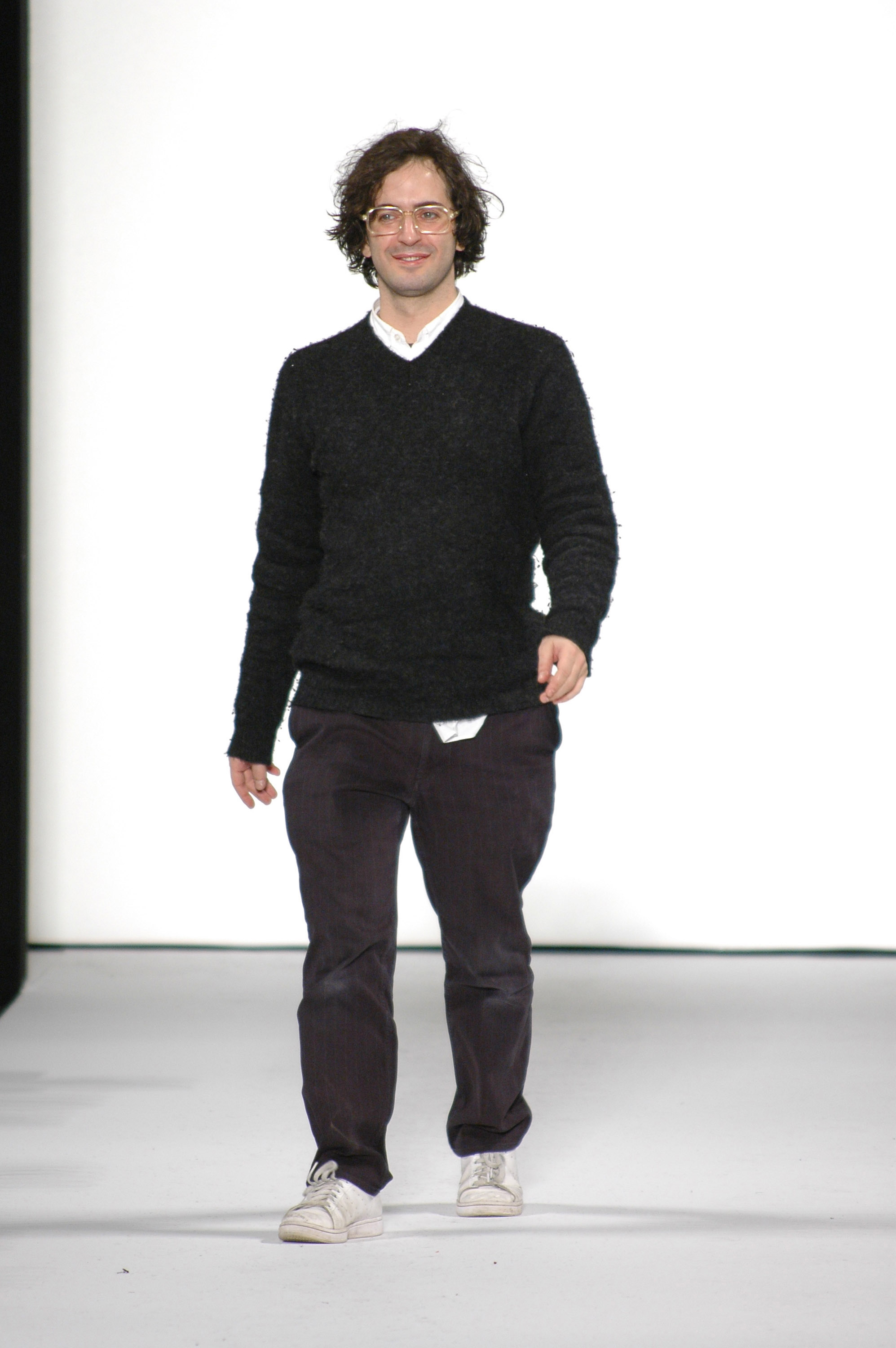 Closing the AW05 Marc Jacobs show, 2005
This is it: the Marc Jacobs uniform of the mid-aughts. Whether backstage, on the red carpet or at home, the designer was rarely photographed in the 00s without a V-neck sweater, button-up, dark wash denim, and, of course, his Stan Smiths. Marc wore this iteration of his then-signature look to close out his eponymous label's autumn/winter 05 show at the Armory.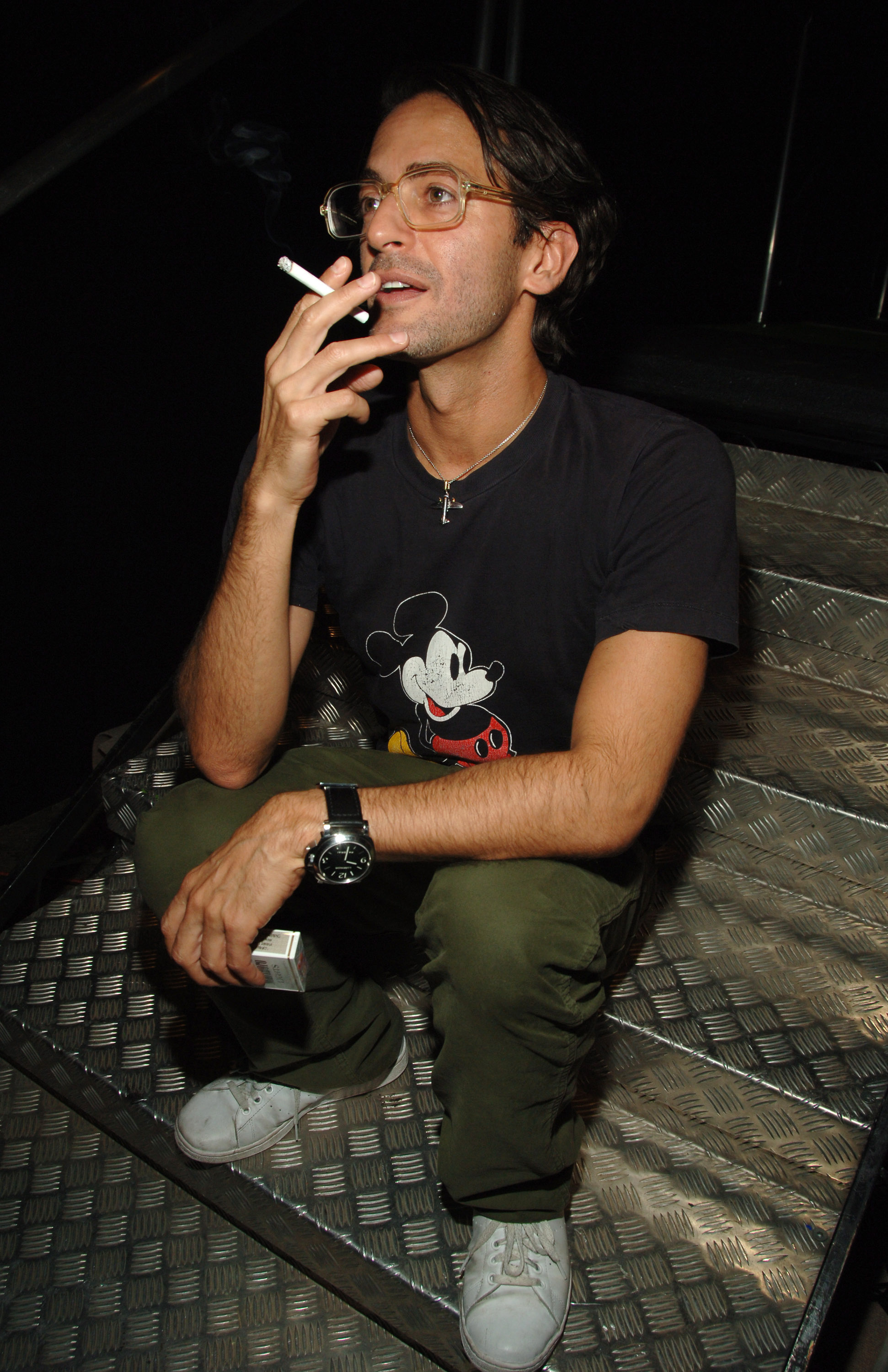 Backstage at NYFW, 2007
Just as we all did, Marc Jacobs went through a pretty heavy graphic T-shirt phase in the late-aughts. We've seen him in record store tees, risqué slogans, Fleetwood Mac merch, and, here, in a classic Mickey Mouse tee, accessorized, again, with his perennial adidas' sneakers. The playful graphics of this style era saw Marc move on from his minimalist mid-00s uniform… and onwards towards the extravagant outfitting he's known and loved for today.