Kim Jones just made his womenswear debut at Fendi!
Inspired by Virginia Woolf's 1928 novel 'Orlando', Kim's haute couture collection for Fendi marked his fabulous foray into womenswear.
Courtesy of Fendi
Kim Jones is the legendary menswear designer who revolutionised fashion by introducing streetwear and counterculture to the luxury arena (you can read more about that in our oral history of the British designer). Now, he's a fully-fledged couturier, too — although, let's face it, his designs for Dior Men were already arguably couture-worthy. Today, at the Palais Brongniart in Paris, a newly-blond Kim made his SS21 haute couture debut for Fendi, which took its cue from the Bloomsbury Group, the circle of artists and literary figures who lived in squares and loved in triangles. But this being Kim, an ardent bibliophile, it wasn't just about looks — but books, too.
He was particularly inspired by Virginia Woolf's 1928 novel Orlando, of which he personally owns nine rare editions of. A cast of major supermodels and the occasional Hollywood star — Kate! Naomi! Demi! Christy! Adwoa! Cara! Bella! — brought the pages to life in Kim's opulent crystalline couture, dripping in Murano glass jewellery as they navigated a glass FF-shaped maze and took their place in vignettes filled with original Bloomsbury antiques — the kind that Kim's brutalist house in London is full of. Welcome to the wonderful world of Kim Jones' womenswear!
Working alongside Silvia Venturini Fendi and her jeweller daughter Delfina Delettrez (who also made an appearance on the catwalk), Kim drew parallels between the bohemian British sensibility of the Bloomsbury set and the Roman heritage of the Italian house — both of which were founded in the 1920s. He also looked to his predecessor Karl Lagerfeld, who designed Fendi's womenswear for an impressive 54 years, leaving behind an immense archive. Kim spent much of his childhood just a stone's throw from Charleston Farmhouse in Sussex, the 16th century Bloomsbury Group HQ, where almost every surface was painted by its inhabitants, Vanessa Bell and Duncan Grant. They often looked to Italian frescoes for inspiration, something that is not lost on Kim.
This was a show about the road from Bloomsbury to the Borghese, with Orlando, the Elizabethan poet who transforms from man to woman and lives for centuries, as its protagonist. Virginia Woolf's binary-blurring, time-travelling story is an apt metaphor for Kim's gearshift from menswear to womenswear. And it's ultimately a love story, romantic in its prose — Virginia wrote it for her lover Vita Sackville-West, whose son later referred to it as "the longest and most charming love letter in literature, in which [Virginia] explores Vita, weaves her in and out of the centuries, tosses her from one sex to the other, plays with her, dresses her in furs, lace and emeralds, teases her, flirts with her, drops a veil of mist around her". What could be more fitting for Fendi?
The collection was full of literal takes on Orlando, like gowns that were half-half hybrids of crisp grey menswear tailoring with satin embellished with hundreds of crystal wildflowers. Amid the starry cast of women was the occasional boy dressed up in fitted Weimar-esque androgynous tailoring or dolled up in a straight-cut gown, resplendent in embellishment. There were subtle nods, too. Christy Turlington's marbled satin suit echoed the paper that once bound books published by Virginia and Leonard Woolf for Hogarth Press, and gowns with scrim-like organza capes were strewn with thousands of ivory pearls and crystals — a nod to the Elizabethan opulence that Orlando begins with.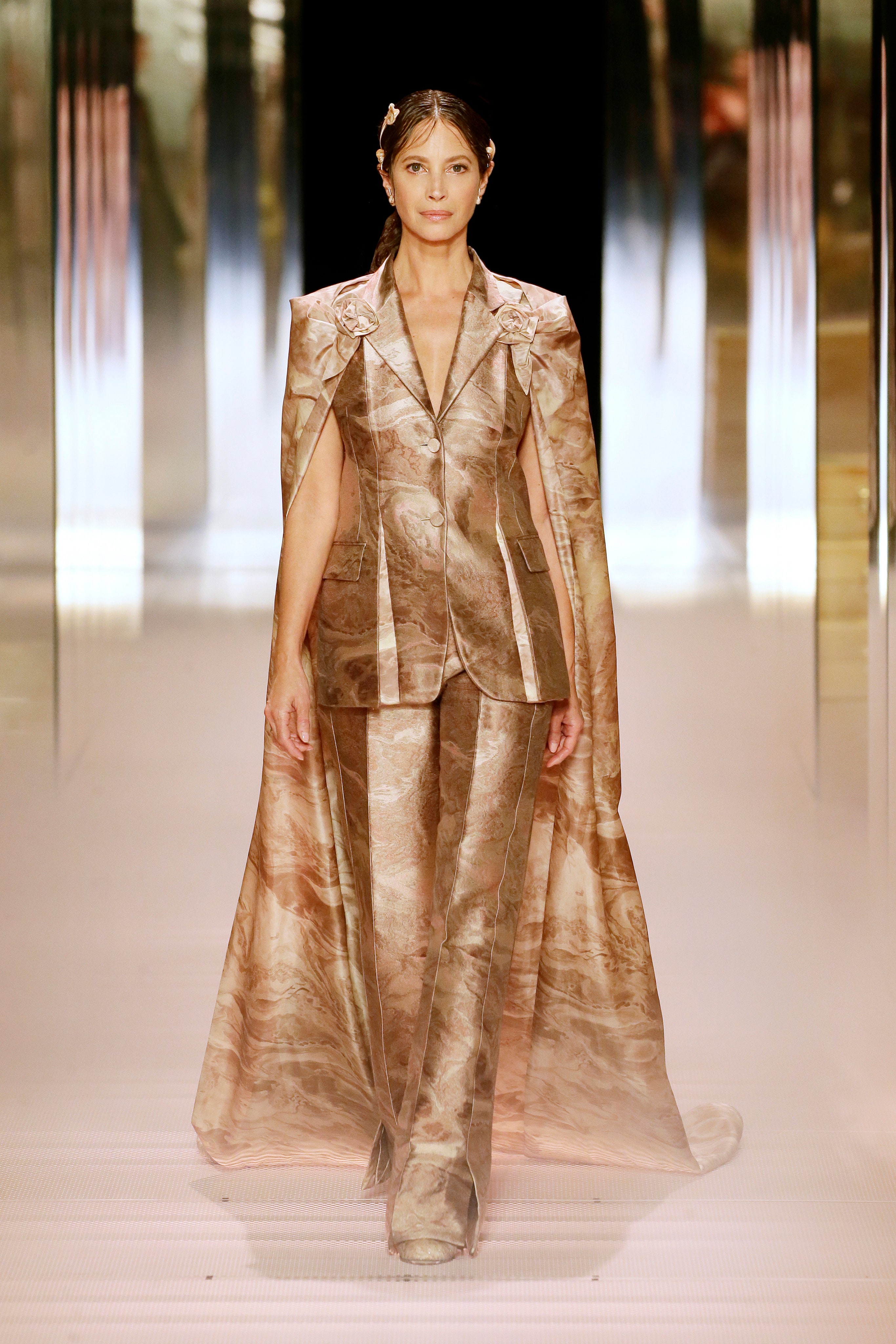 Vita Sackville-West's love for gardening manifested in blooming rosettes on opera capes, glinting floral embellishments and Murano glass droplets dripping from gowns. Bernini sculptures from Rome's Galleria Borghese (where Vanessa Bell would sit and sketch Roman statues) informed the déshabillé toga drapery that sumptuously trailed around each model as they walked to the sound of Max Richter's soundtrack. Meanwhile, motifs from the painted murals at Charleston appeared as embroidery on ornately beaded boots and a handful of the dramatic gowns.
"Fendi represents artisanal quality of the highest order, and it's all about family," Kim said in the show notes, noting that the house is a matriarchal one, founded by Adele Casagrande in 1925 and passed down to her five daughters, and then their daughters. "It's in its third generation with a Fendi at its helm, and I am guest starring while bringing in the fourth," he added. "Here, I am surrounded by strong, powerful women who I love and respect, and want to bring their energy into what I do." Each look, it should be noted, was individually chosen for the women in the show, reflecting each of their own biographies and personalities — a personal, heartfelt touch that emphasises haute couture's ultimate service to its clients. That idea of family, both biological and chosen, is central to Kim in whatever he's designing. Thankfully, now we can add womenswear to the list.