Here's everything we know so far about The Matrix 4
Christina Ricci joining Keanu in the cast and all the other juicy details about the anticipated new Wachowski movie.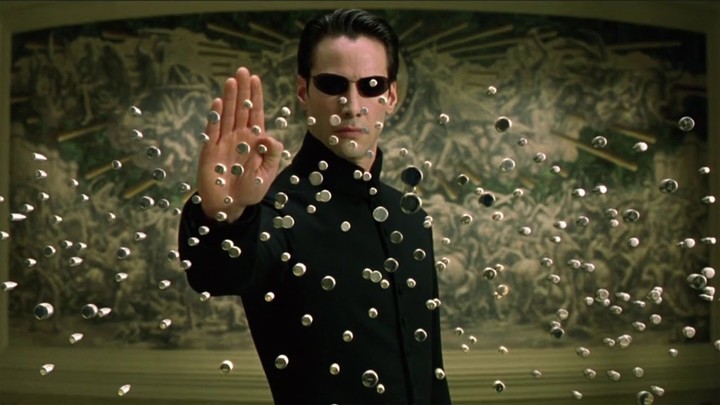 With much of our lives spent looking forward to things right now -- vaccinations, indoor pints, breathing freely in a cinema, tutting rather than having a panic attack when someone in the next row coughs -- it makes sense that we're dreaming of the postponed films we can enjoy when life is back to normal once again. And right at the top of the list, The Matrix 4, or as we like to call it, The Glorious Return of Good Guy Keanu.
While we already had the teaser trailer for the fourth installment in the series, released a few weeks ago via HBO Max, we now know a little bit more about the long awaited update, which follows 2003's Matrix Revolutions.
What's the title of The Matrix 4?
In an image shared on social media by the title's make up artist Shunika Terry, eagle-eyed Keanu stans can spot the official title of the fourth film: Matrix Resurrections. The leak has led to speculation online -- our favourite collective pandemic pastime! -- that the film's title could be a reference to dead characters returning in Resurrections. Namely Neo.
We already know that the movie is not a prequel, but instead a direct follow on, 18 years after the release of its predecessor. And the cast is packed with legends, too.
Who's in the cast of The Matrix 4?
Along with Keanu Reeves and Carrie-Anne Moss returning as Neo and Trinity respectively, Resurrections will also star cult actor Christina Ricci, who last worked with Lana Wachowski on the 2008 candy-coloured action movie, Speed Racer. Who she will play has not yet been announced.
The movie also stars Jada Pinkett Smith and Lambert Wilson, as well as newcomers played by Neil Patrick Harris, Priyanka Chopra, Jessica Henwick, Jonathan Groff, Toby Onwumere, Max Riemelt, Eréndira Ibarra, Andrew Caldwell, Brian J. Smith, and -- exhale -- Ellen Hollman.
Aside from the leaks and trailers, audiences are being drip-fed online though, we don't know much else about the new Matrix just yet. But there's a silver lining at least. With most movie release dates being pushed back, Matrix Resurrections is one of the few titles being brought forward, from next April, to 22 December 2021. Ah, Keanu for Christmas. 😌
Tagged: