Courtesy of Alexander McQueen
Alexander McQueen conveys the essential spirit of London for SS21
In a gritty short by Jonathan Glazer, models wear hybrid tailoring and layered tulle gowns to go mudlarking along the Thames.
|
16 December 2020, 1:53pm
Courtesy of Alexander McQueen
On the banks of the Thames at morning's first light, the wealth of London's history makes itself felt. For one thing, it's there that the Roman settlement that went on to become the global cultural hub we now know was first founded, roughly two millennia ago. Since then, the city's face has changed countless times, but this murky river has remained a rare constant, its twice-daily rise and fall of its tide the pulse of London's beating heart.
On one level, Sarah Burton and Under The Skin director Jonathan Glazer's choice of a riverside setting for Alexander McQueen's SS21 womenswear and Pre-Fall 2021 menswear presentation marks a literal return home for the house, which has near-exclusively shown on the Paris calendar for close to two decades. It's also the first time that the city has acted as such an explicit source of inspiration for Sarah, who in previous seasons has taken her design team on trips across the UK on the hunt for inspiration. Last season, for example, they headed to Wales.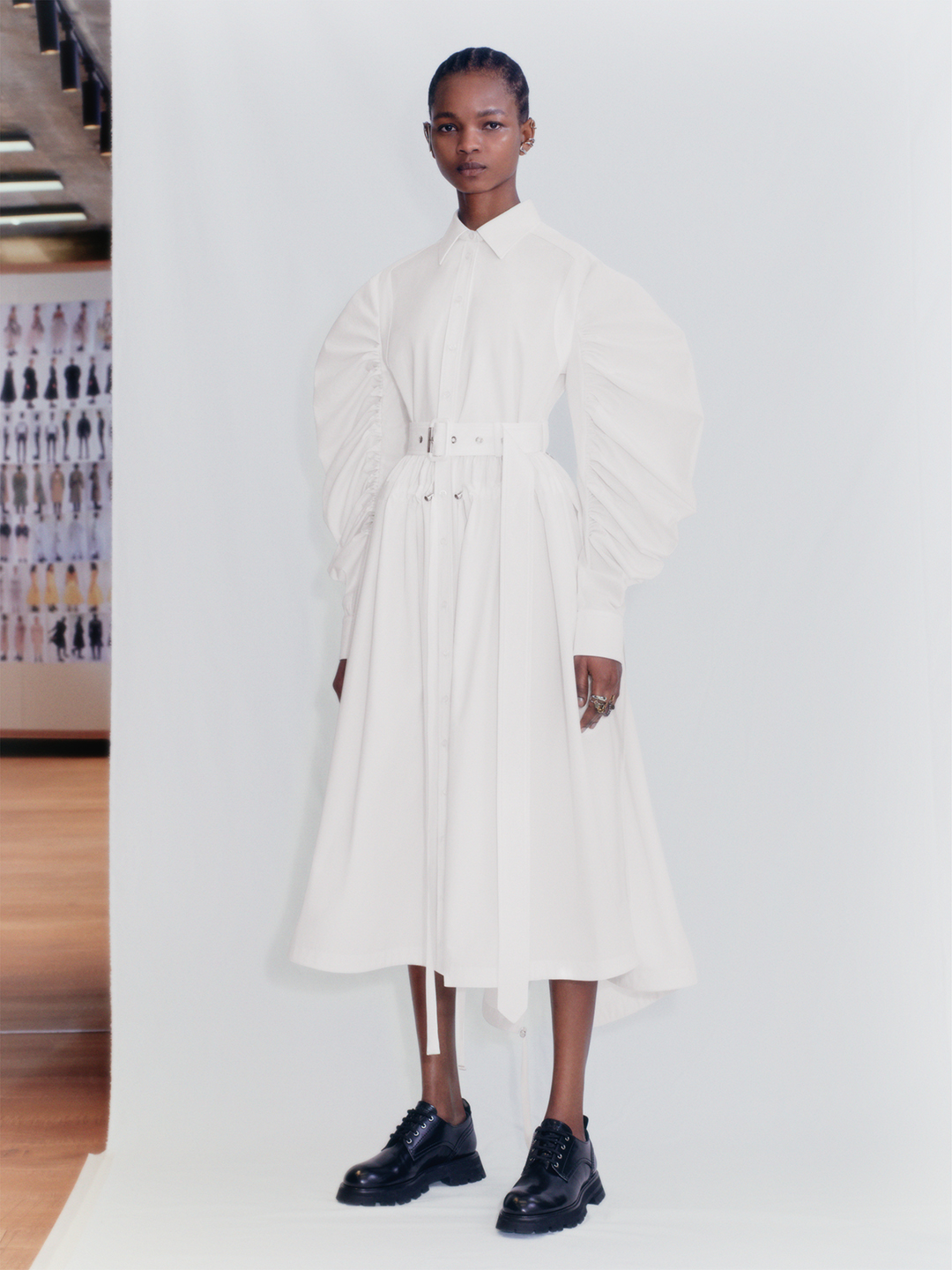 There is, however, further meaning behind the choice of the Thames' silty shores as the seductively gritty short film's set. With its cast of leather-clad rockers, girls in aristocratic Watteau back dresses and impeccably suited boys all mudlarking along the South Bank, it felt like a return to an essential London spirit we often overlook, the lifeblood from which all the city's grit and glamour stems. It's a sentiment that carries over into the clothes, which demonstrate a focus on "shape, silhouette and volume, the beauty of the bare bones of clothing stripped back to its essence", as Sarah Burton writes in the notes accompanying the film.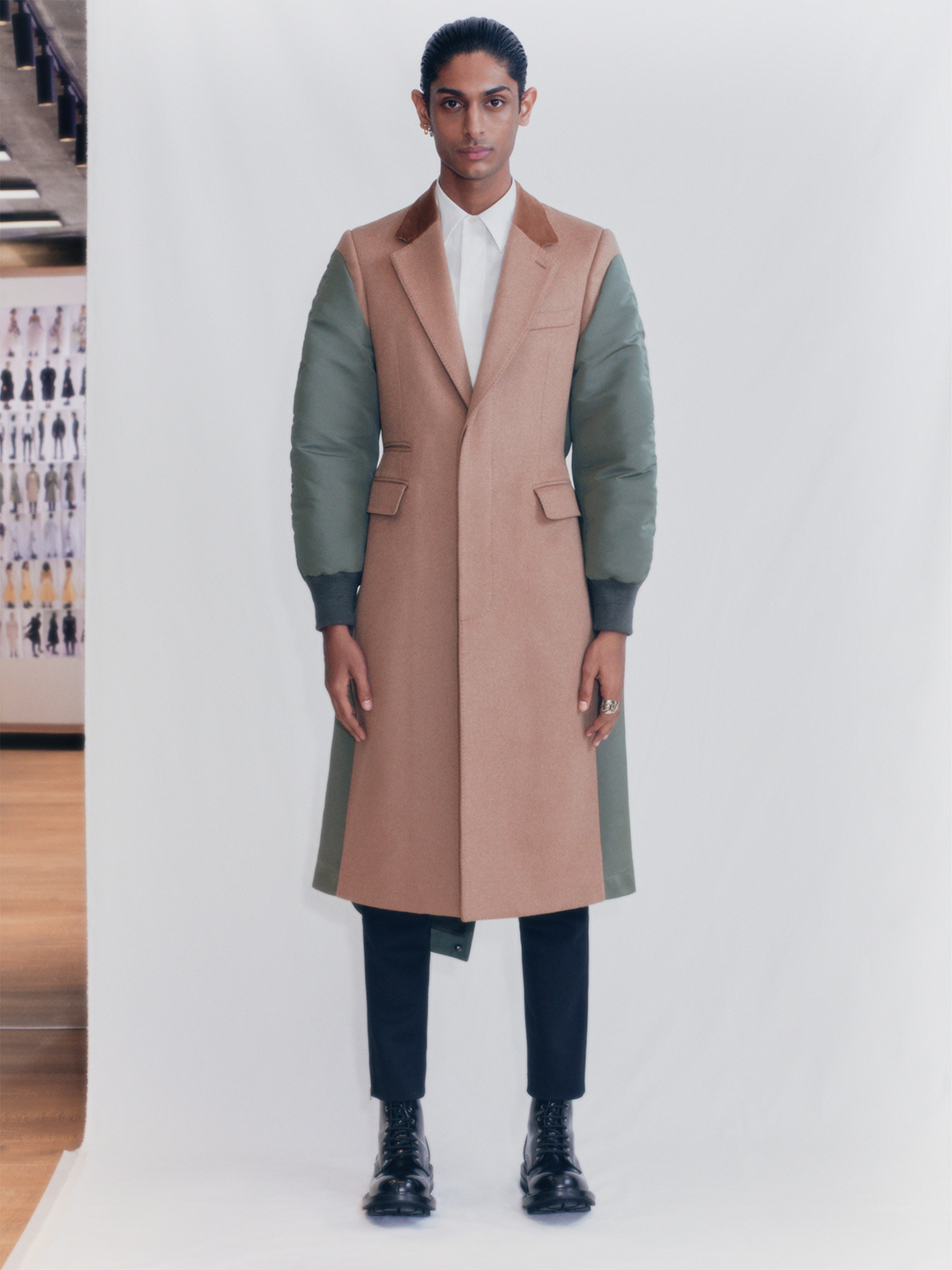 Indeed, this means a renewal of vows to the central McQueen doctrines of tailored excellence and couture-level detail. Pure as this focus may be, the results are far from puritanical. There's a fresh sense of dynamism here, in large part thanks to the hybridity and juxtaposition that give both the men's and women's collections their backbone. Double breasted wool and beige cotton trench coats are given eccentric gigot sleeves, flaring out into pleated skirts at the waist. Corsetry, a proud mainstay of the house, is translated into trompe l'oeil prints and sculptural ribbed knits, and the romance and froth of layered tulle and paintbrush-effect embroidery is counterposed by subtly stern harness details in buttery black leather and clodhopper boots. A similar approach informs the men's looks, especially where the coats are concerned -- the dapper single breasted-tailored wool coats with fishtail parka backs, one with dropped MA1 bomber sleeves, are particular highlights.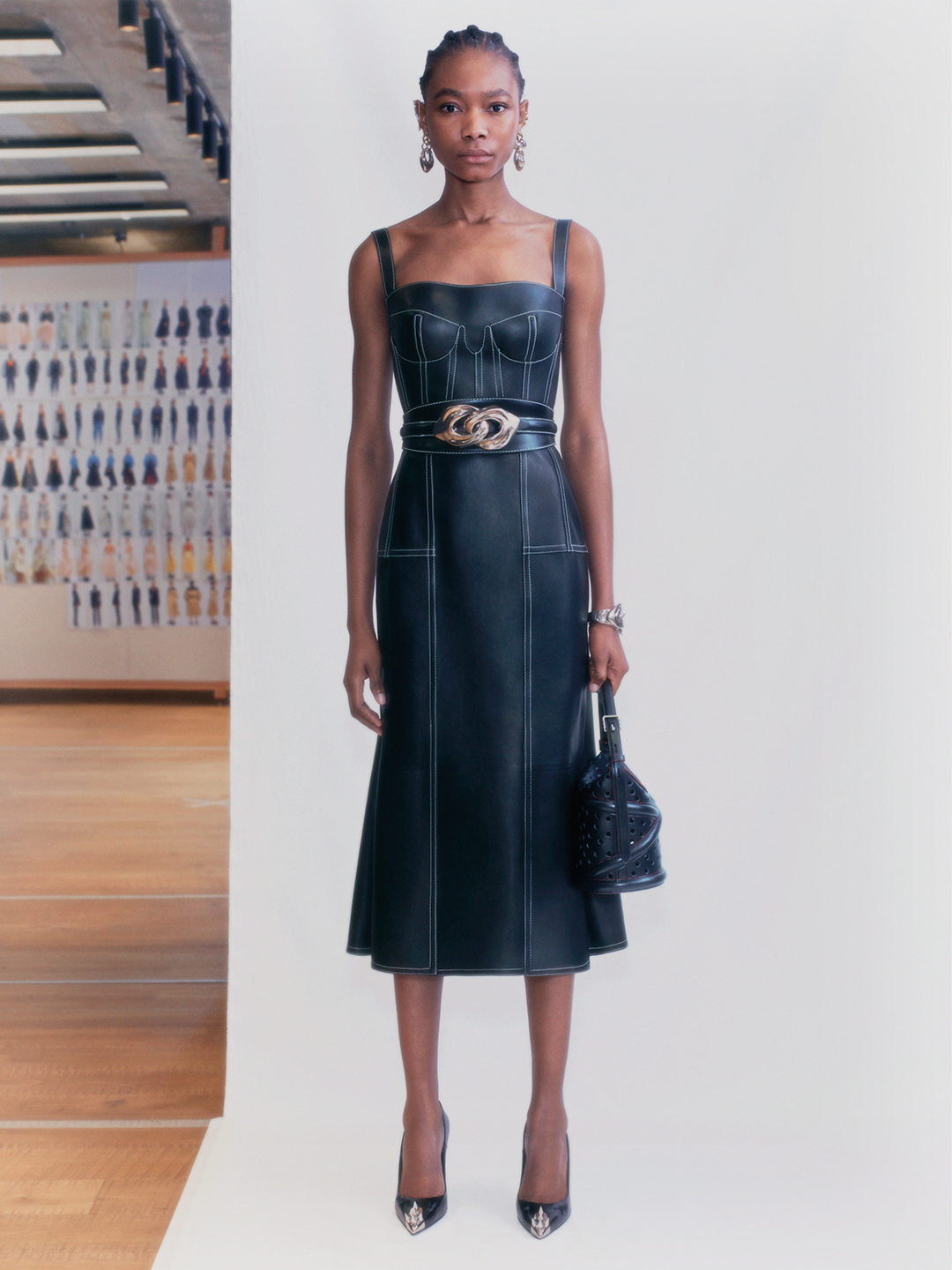 The only thing lacking here is preciousness. This season, Sarah Burton has struck an enviable balance, creating clothes endowed with perennial elegance that are inviting enough to be worn wherever you are, whatever you're doing. Given the on-again-off-again pace that life looks like it'll be taking over at least the next few months, this is just the wardrobe for whatever lies ahead.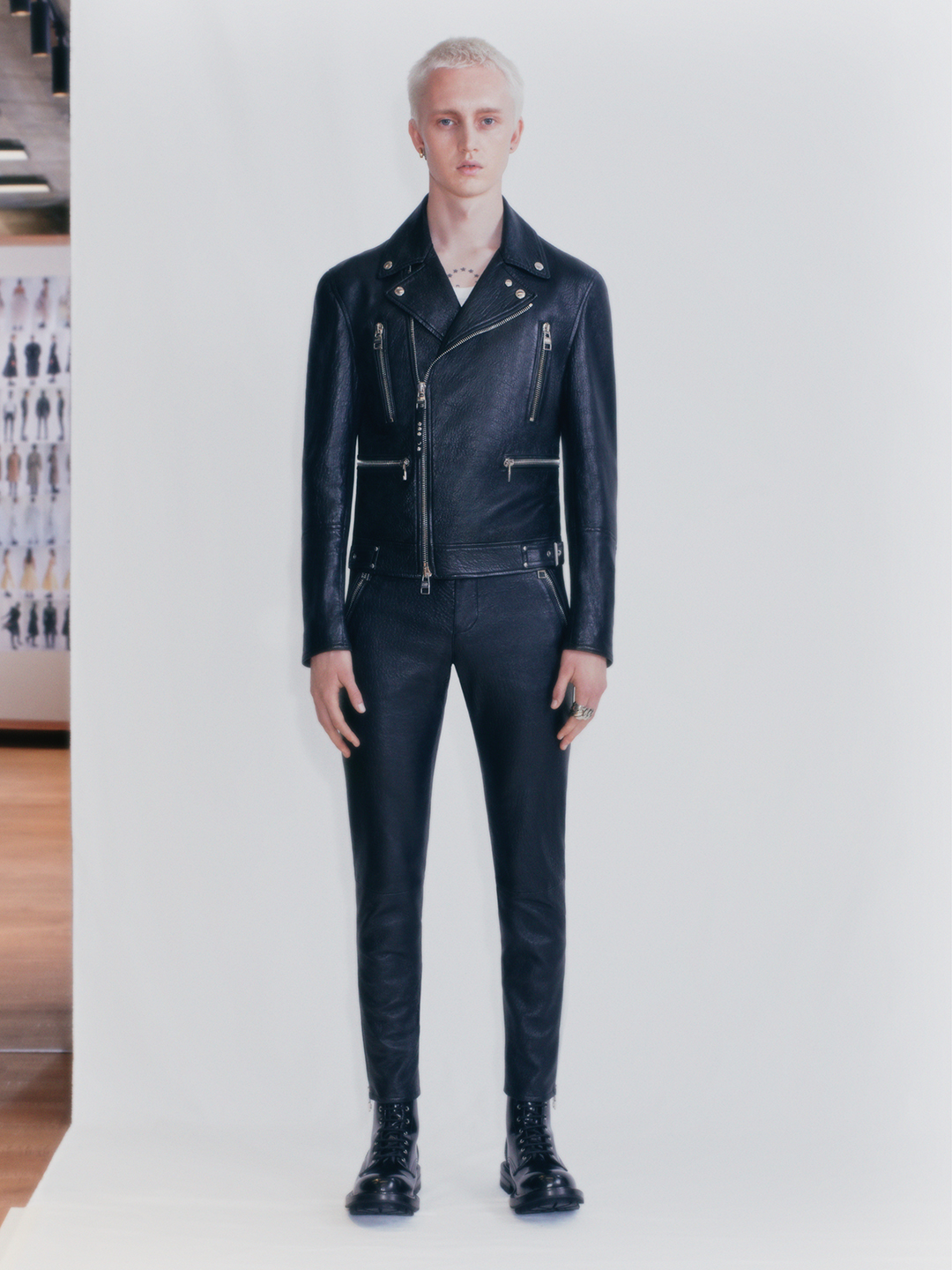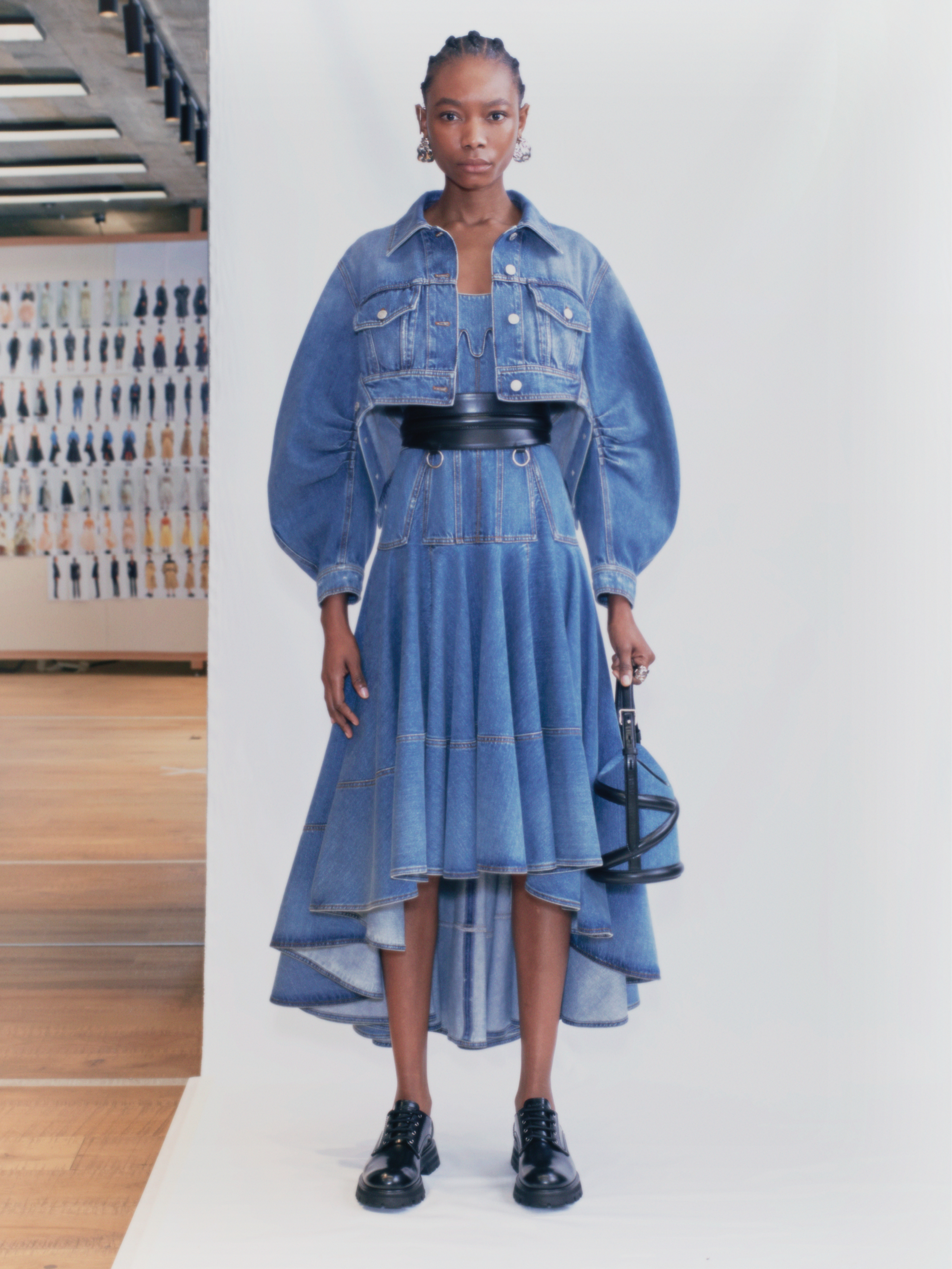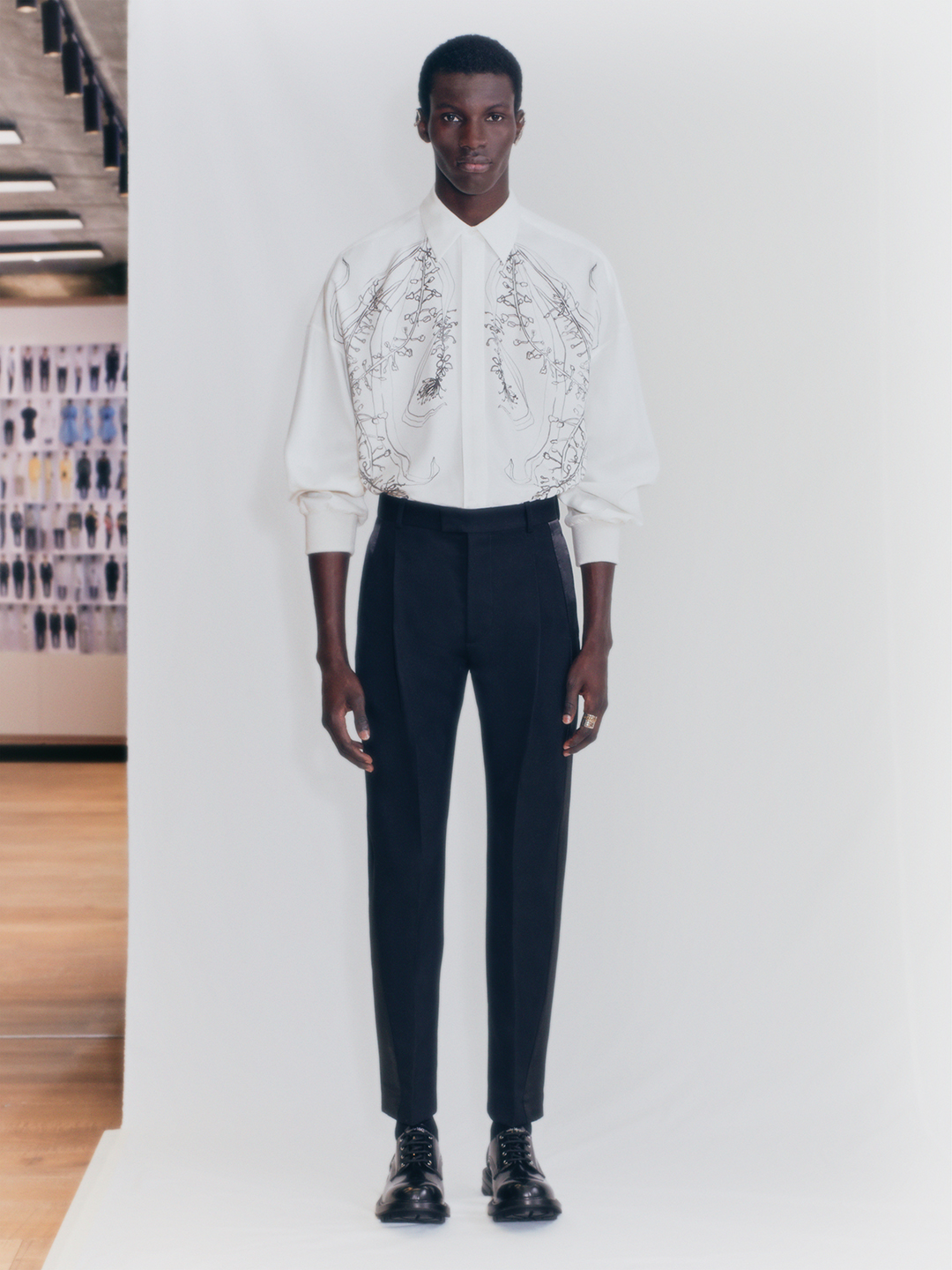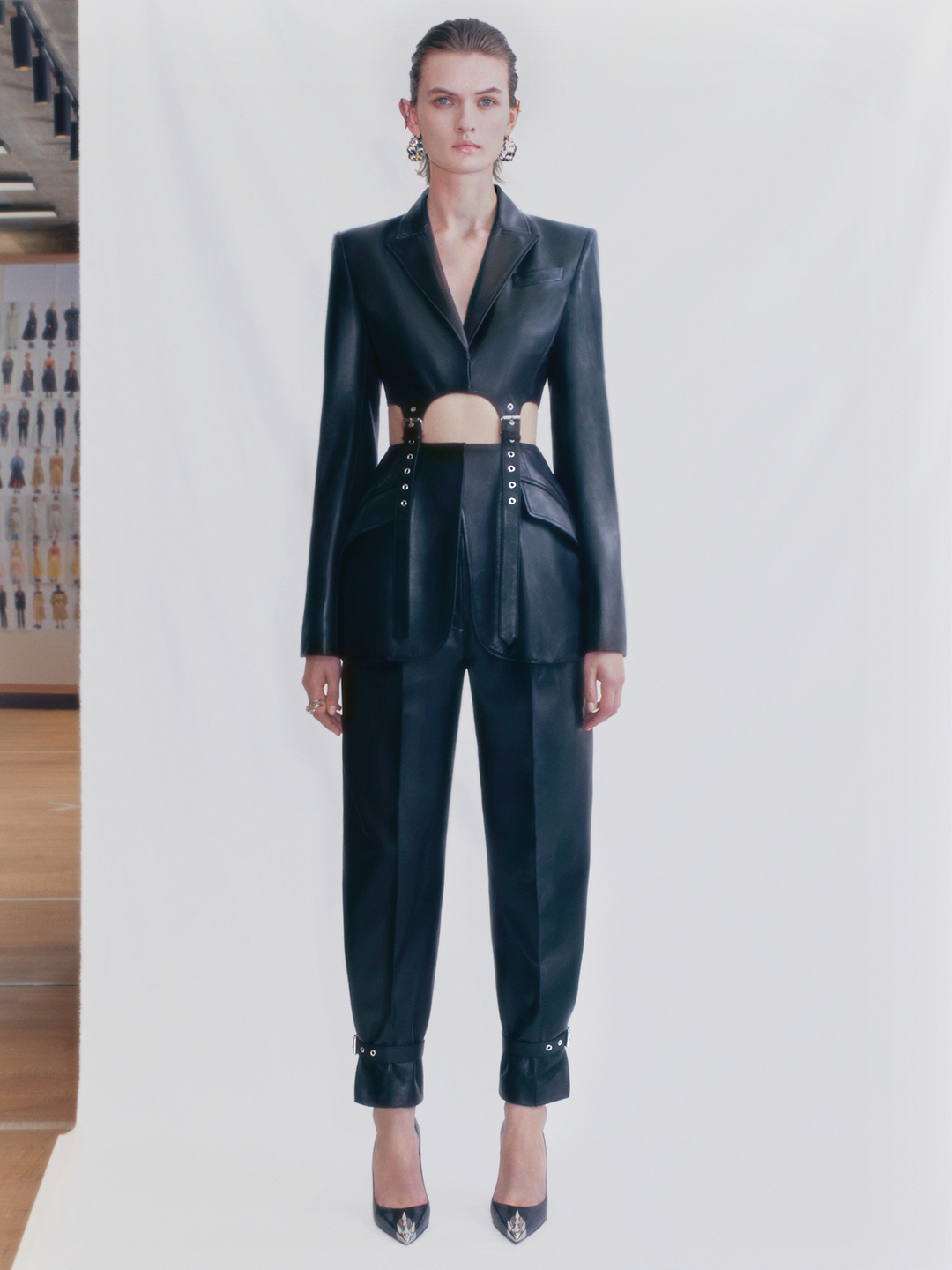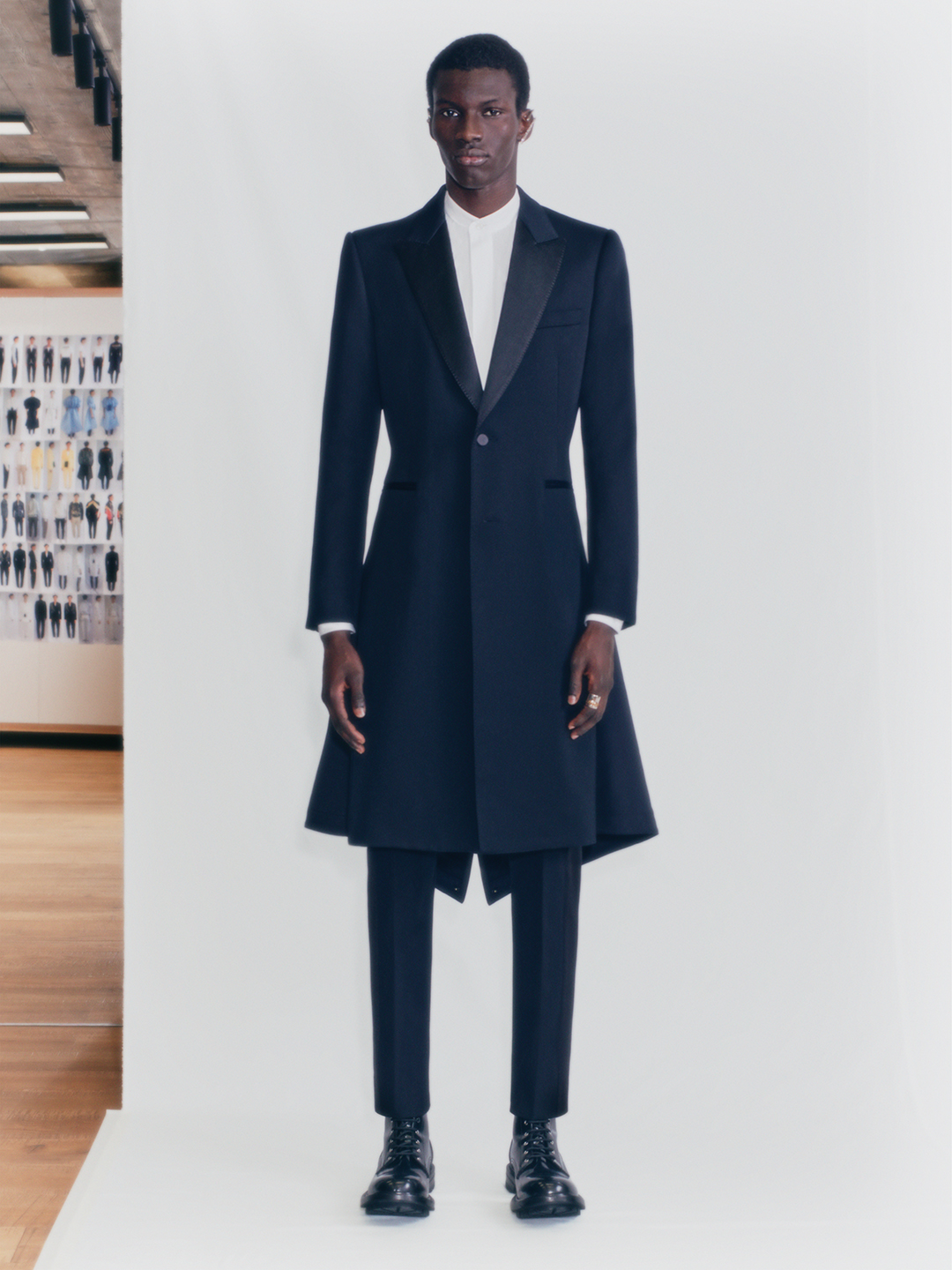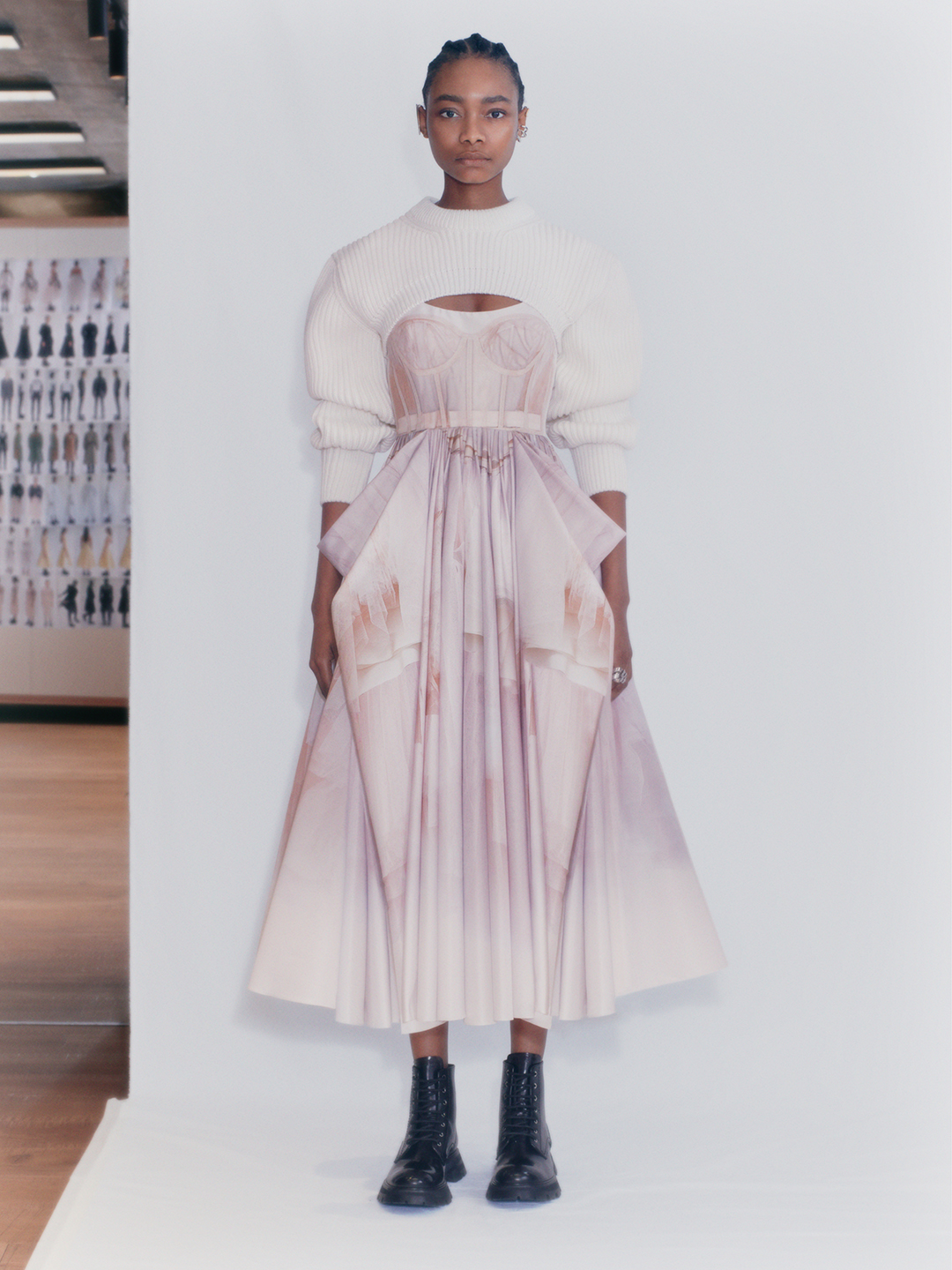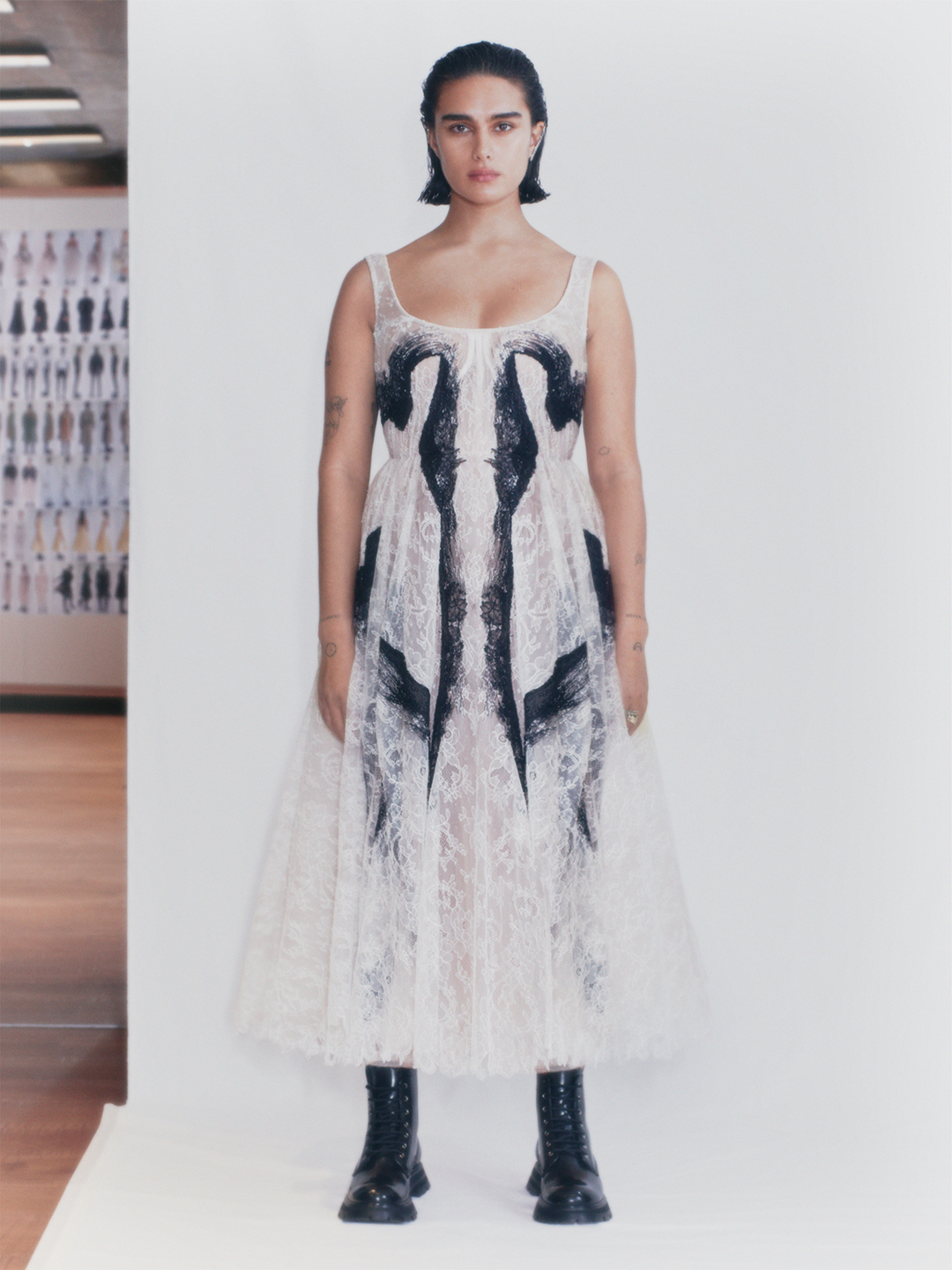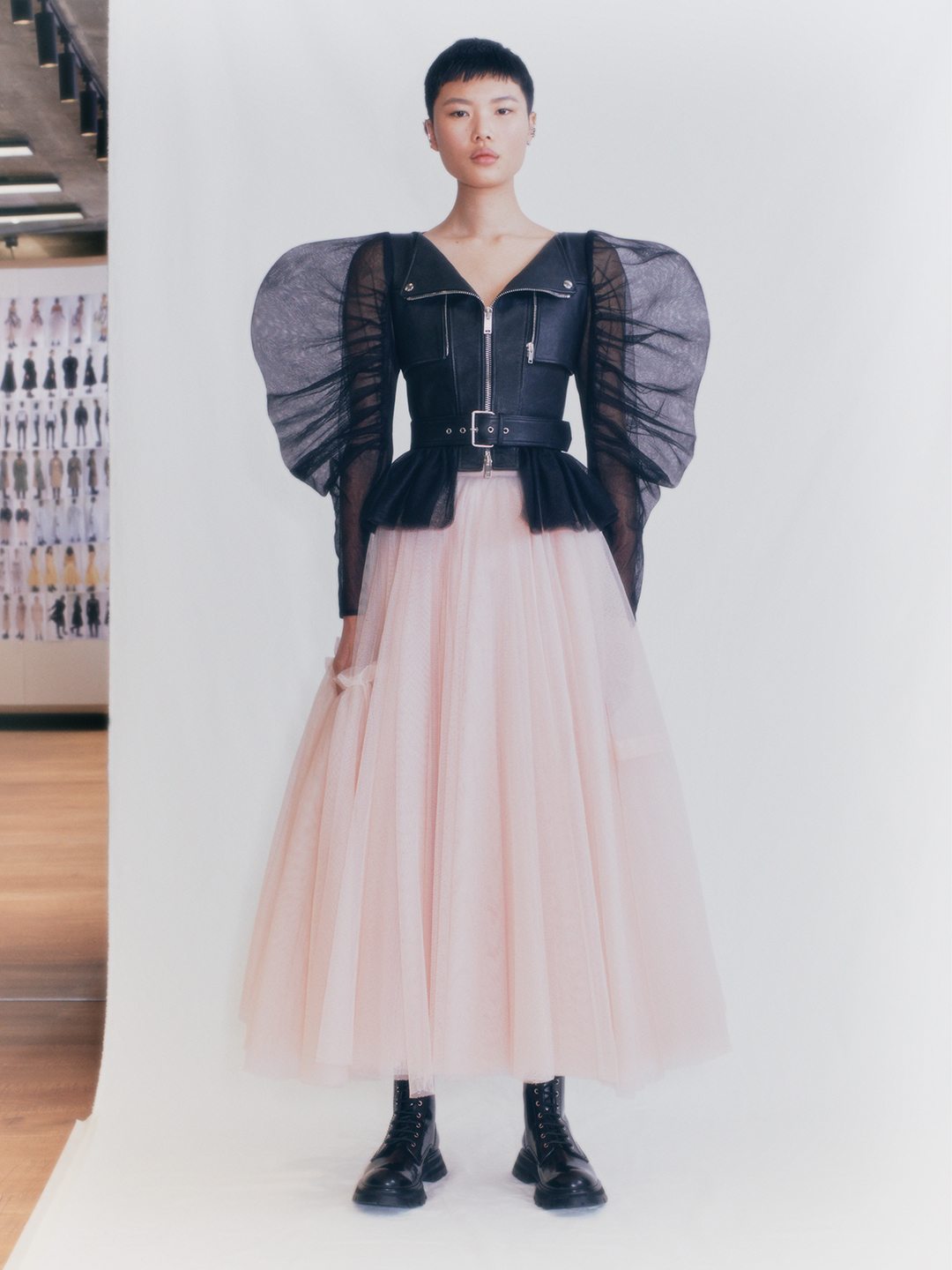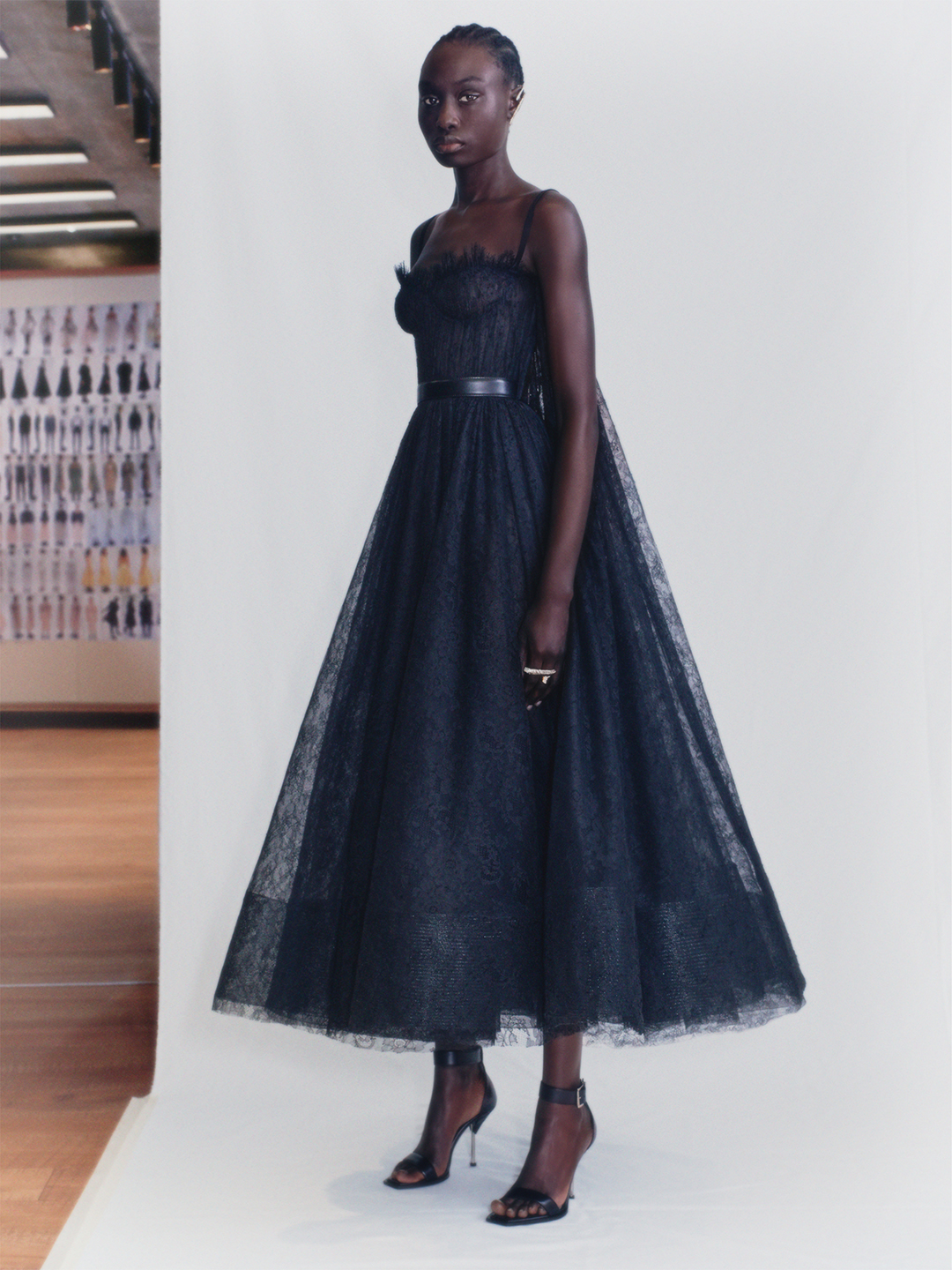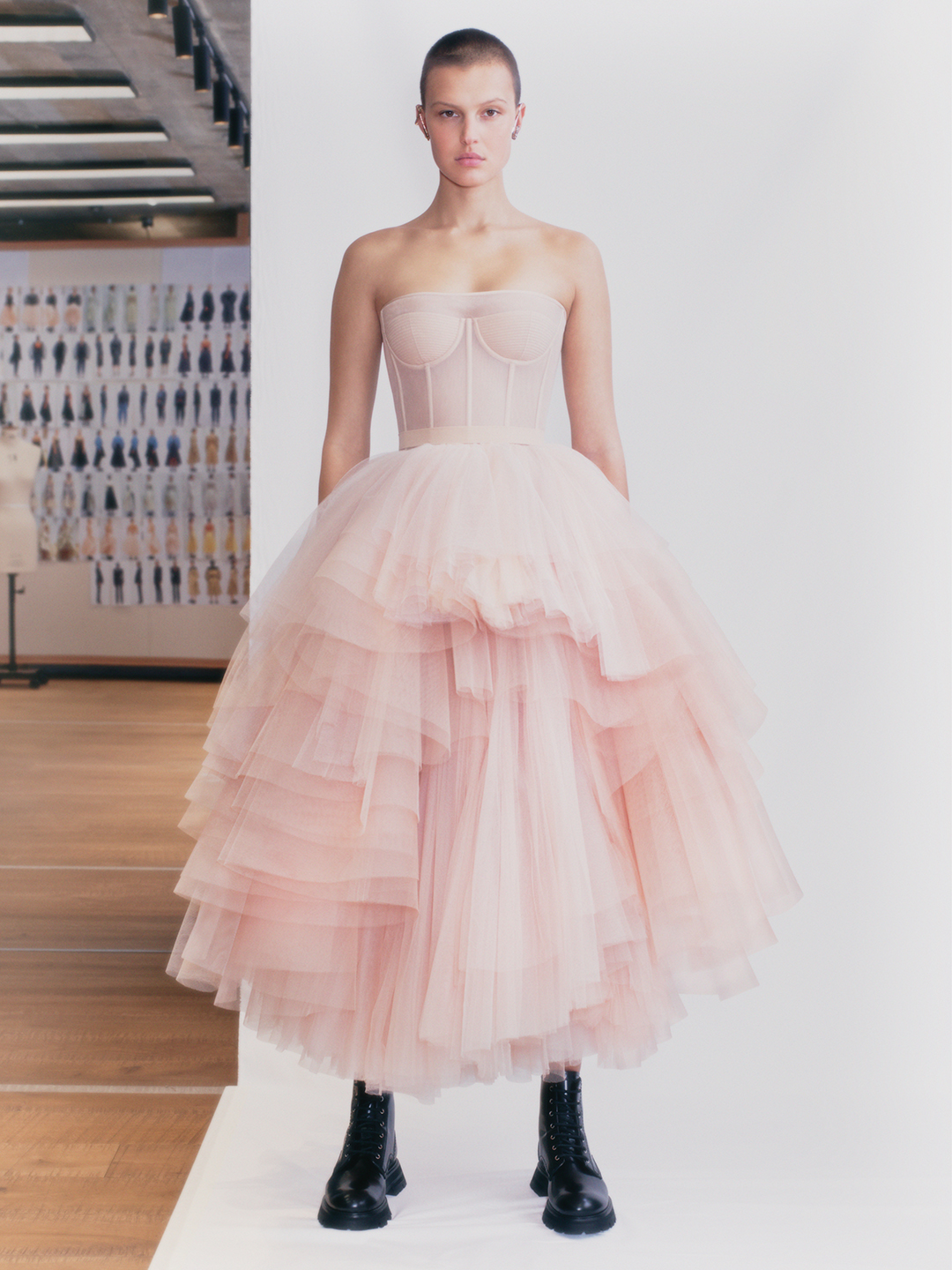 Tagged: