Images courtesy of Marine Serre
Marine Serre spotlights its eco-futurist core values for AW21
In a boundary-pushing presentation, the Parisian label focusses on its regenerative making processes and the changes the fashion industry needs to make now.
Images courtesy of Marine Serre
In fashion, rallying behind calls for 'greater transparency' are, well, very much in fashion. As chic a statement as that may sound, however, embarrassingly few folk in the industry seem to really understand what it means in practice. One designer who's hell-bent on teaching them is Marine Serre, the founder of the namesake label which, in just four short years, has become the figurehead of a progressive new guard of Parisian designers.
Since 2017, she's spoken out loud and clear on the need for an 'eco-futurist' revolution in fashion, using neo-apocalyptic presentations — SS20's 'Marée Noire' (French for 'oil spill') and SS21's 'Amor Fati' being two of the most salient examples — as a tool to draw attention to the tasks at hand, and the grisly fate that awaits us if don't get to work on them. This season, though, Marine decided to forego the alarmist theatrics, turning the spotlight on what her work is about at its heart: ecologically-motivated innovation and actively reimagining what a healthier fashion system could look like.
The results of this reflection were revealed today on the Paris Fashion Week schedule. Titled 'Core', Marine offered up a triptych comprising a 69-look AW21 collection, as well as a fragmented documentary and a limited edition book.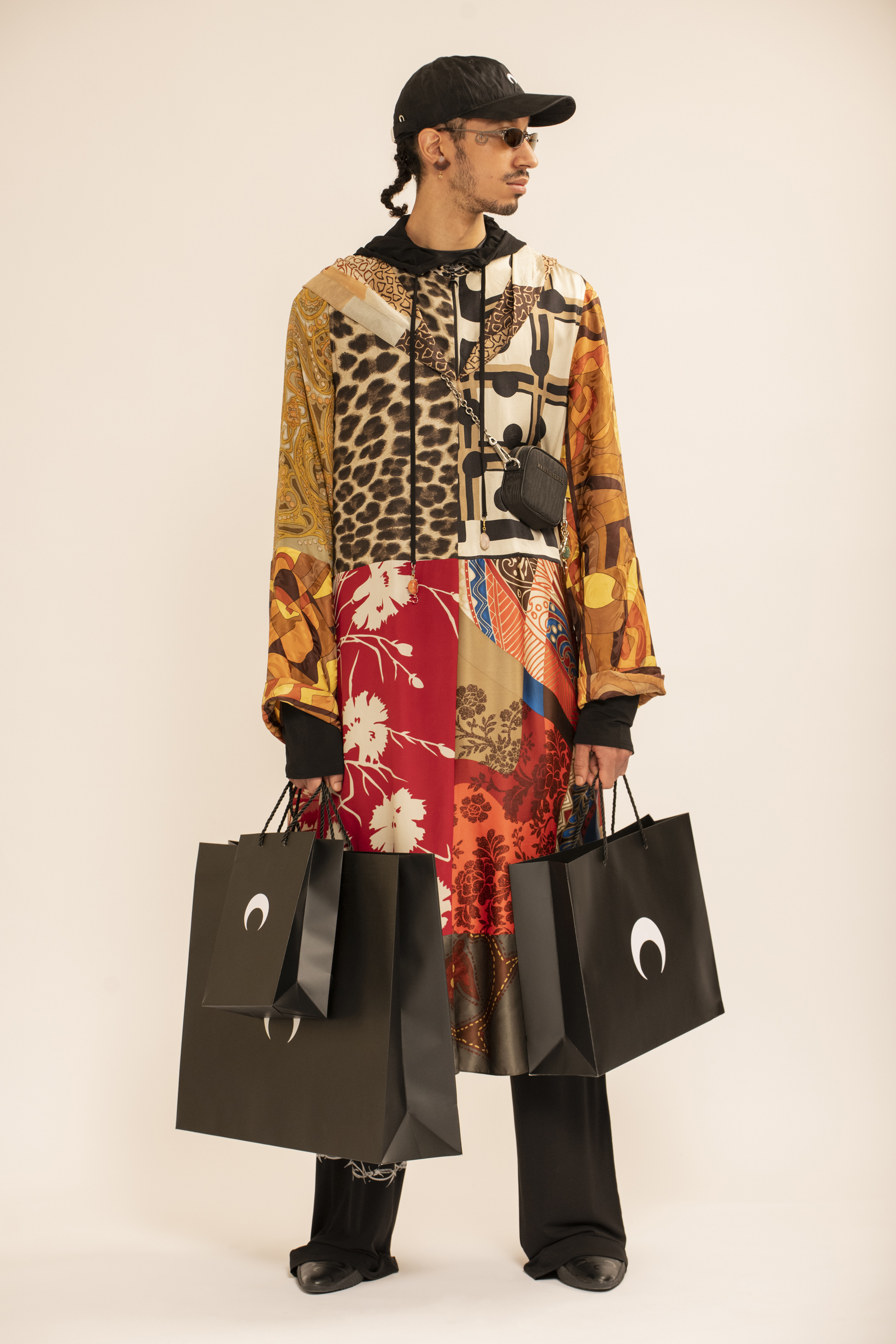 The clothes abound with Marine-isms that are now cult motifs. There are those crescent-moon printed lycra pieces, a staple in any influencer's wardrobe. But the label's signature is also laser-etched onto upcycled leather trousers, and woven into the recycled wool jacquard from which this season's tailoring is cut. There's outerwear in an oil-slick finish moiré, and skirts and dresses composed of sensuously draped silk and tartan scarves.
It's a collection of universally desirable, easy-wearing pieces, but the effortlessness they suggest belies the work that goes into making them. That's where the documentary — a 12-part deep-dive into the regenerative processes and techniques used to create each fabric — comes in, telling the story of how each garment came to be. "We wanted to show the full circle in the treatment of a piece," to highlight warehouses piled high with salvaged blue jeans, unwanted carpets found at flea markets and lots of old silk foulards that are transformed into the collection you see here before your eyes," Marine says.
These informational segments are complemented by warm clips of friends of the house sporting the collection as they go about their days — a quick whip round the shops in Paris, reading in front of the fire or flexing their greenfingers in the garden. It all makes for one of the most poignant, meditative digital presentations we've seen yet — a step back from the many fantastical distractions from reality we've seen, and a reminder of the uplifting magic of garments in even the most humble contexts. "There's something quite fascinating around, you know, like knitting or reading a book. In fashion, we've been so consumed by the idea of the extraordinary, but I almost just want to make gardening fashion," the designer muses.
Ahead of today's show, we sat down with Marine to discuss her stand-out presentation, moving away from doom and gloom and why talk about change needs to turn into action, now.
**The title of the book, documentary and collection — 'Core' — seems quite self-explanatory, but could you tell us about the thoughts behind it?
**Every season is a process. It's never really about a different set of inspirations from the previous season, it's a continuity. And what we create really depends on what is happening in the world. This collection follows 'Amor Fati', which was clearly quite dystopian, and the product of the first six months of lockdown. There, we were trying to alarm people, awaken them to how problematic things were and show that we all needed to make radical changes together. 'Core' is what comes after that big call, focusing more on actions, on making and on the relationships that we need to create in order to bring about those necessary changes.
I thought it was really important to show all the processes that lie behind one garment. The end result may look or sound quite simple, but it takes a huge collective effort to arrive there. Based on that, I felt that a documentary was the best way to show that without using too many words. One reason is that we saw a real increase in enthusiasm for our 'REGENERATED' videos when confinement first began. We started doing them back in 2019, and the main reason was to allow people to see who is stitching your garment, the hands it passes through. You realise that it's hard work, and the amount of time that it takes, but I think it's something really beautiful, and something that hasn't really been shown very much in fashion
**Some of the videos are quite therapeutic to watch, too.
**Yeah, they kind of calm you down in a way, which I quite like. It wasn't necessarily an intended effect, but the time that you need to take to watch through the whole documentary is quite something. In a way, it's quite a luxury. People have more time to look at things now. Before, a show was just 10 minutes, but now, if you combine the videos on the website and the book, you need at least three hours.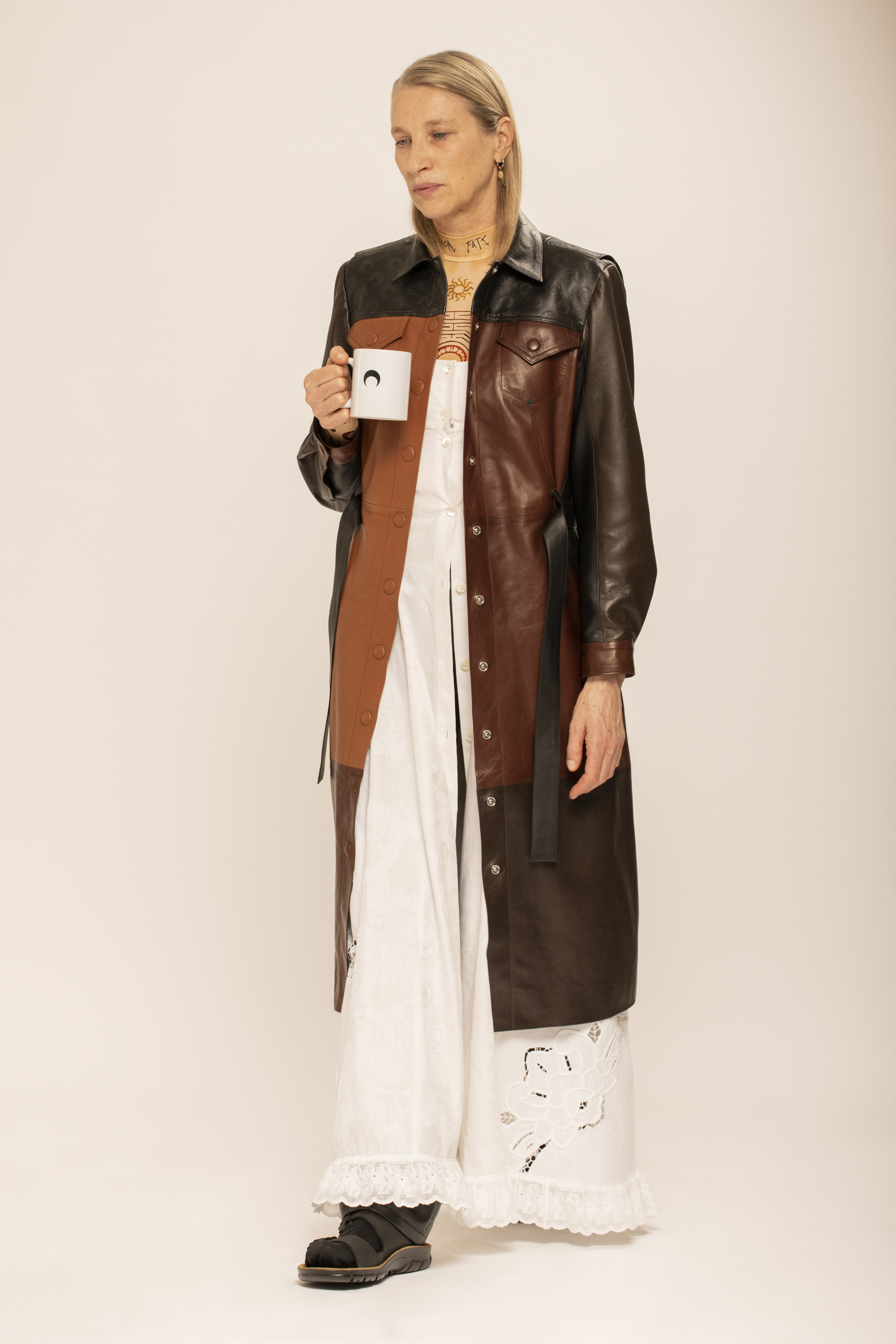 **It's quite a departure from the intense, dystopian visual narratives you've previously put out. What prompted this shift in tone?
**I think with 'Amor Fati', we reached the furthest point possible in terms of building a dystopian world. And the world around us is changing, too — we don't really need to talk about disruption as much anymore. We're living in the middle of a kind of chaos, with no visibility towards the future; we're all already really anxious enough. So I wanted to look at what we can do, and almost try to find solutions. Before we felt like we needed to raise an alarm and try to take action at the same time. But our actions — the regeneration processes, for example — weren't things that we really talked about much before. They were kind of obscured by this sense of alarm. I think it also has to do with the fact that the brand has now existed for three years. We're a fashion brand; we make garments. I thought it was important to underscore that.
**Another important feature of 'Core' is the book. What can you tell us about it?
**Well, we've never really had time to go back into our archives, and there are so many things that we do that people don't know about. So I thought it would be nice for us to sort of refresh our memories. But also, it's quite an intimate object — there are a limited number of copies, and it really tells you about the 'recipe' for each fabric in a way that's organised and easy to understand.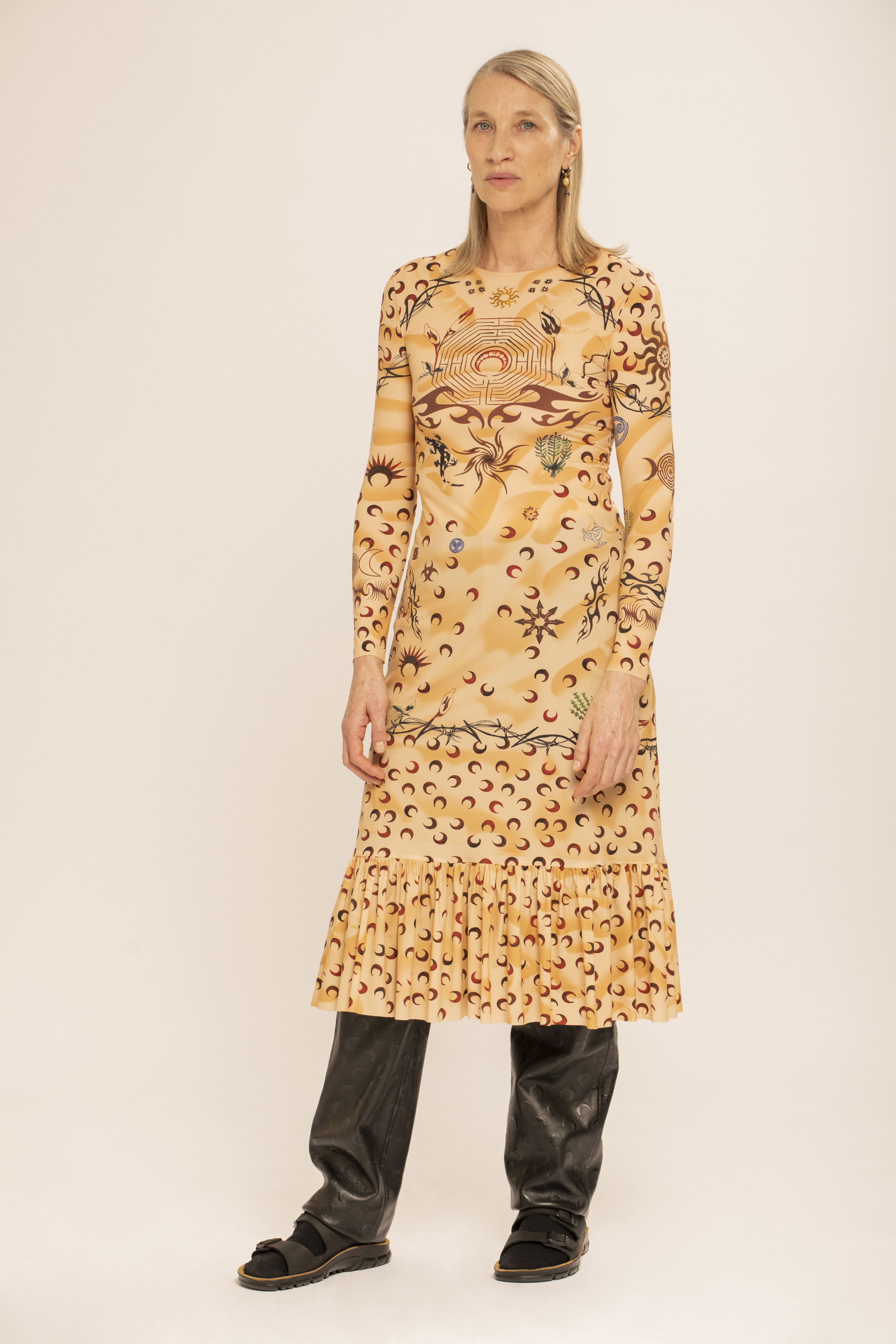 **Speaking of fabrics, there's a line in the audio narration on the 'Core' website on how "fabrics give way to the silhouettes, and therefore to the clothes". What are the best examples of this process in the collection?
**The carpet pieces are quite iconic in that sense. There, it's quite important to find the balance between the past, and what this piece refers to in our unconscious, and how you transform it. With transformation, I also mean things like simply cleaning, cutting or refreshing a piece; we're often trying to take as little action as possible, especially if the piece already means a lot in and of itself. It's then about taking it and making it stronger, without too many modifications. When you see someone wearing those pieces, you're just like 'Come on, she's dressed in the carpets of my living room!' It's quite funny, but at the same time, it's quite a provocative gesture. I really liked that balance, and I think it's something that also comes through strongly in the tartan pieces. You, of course, have the references to pleated kilts, and it's quite punk, but they're old tartan scarves turned into skirts. With the printed t-shirts, it's about this idea of collecting concert t-shirts that mean a lot, and combining them in a way that acknowledges the past without being nostalgic. Almost the whole collection this season is about that.
**That also seems to speak to the concept of 'eco-futurism', a term you've used when discussing your work for a while now. What exactly does it mean, and how is it applied in practice?
**It's imagination in the service of transformation. We try to define it in three terms to make it quite simple: circularity, climate neutrality and resilience. It's there in the fact that we regenerate our materials in the Regenerated line, which makes up about 50 per cent of the collection, and then the other 50 per cent is recycled. With the tailoring, for example, the fabric is created using fibres that we recycle. At the end of the day, though, it's about rethinking the future. I think we're all quite aware of the importance of climate neutrality, for example, but we also need to try to find new ways of living. Eco-futurism is a word that implies a way to live and a way to act; a way to create and to get inspired, and that makes sense with what we want from the future. I think that a major part of our current collective depression is that we have no hope for the future. So we need to transform things. Of course, that's a large scale endeavour. It's not just about designing a garment, it's about who's stitching it and how you create, too.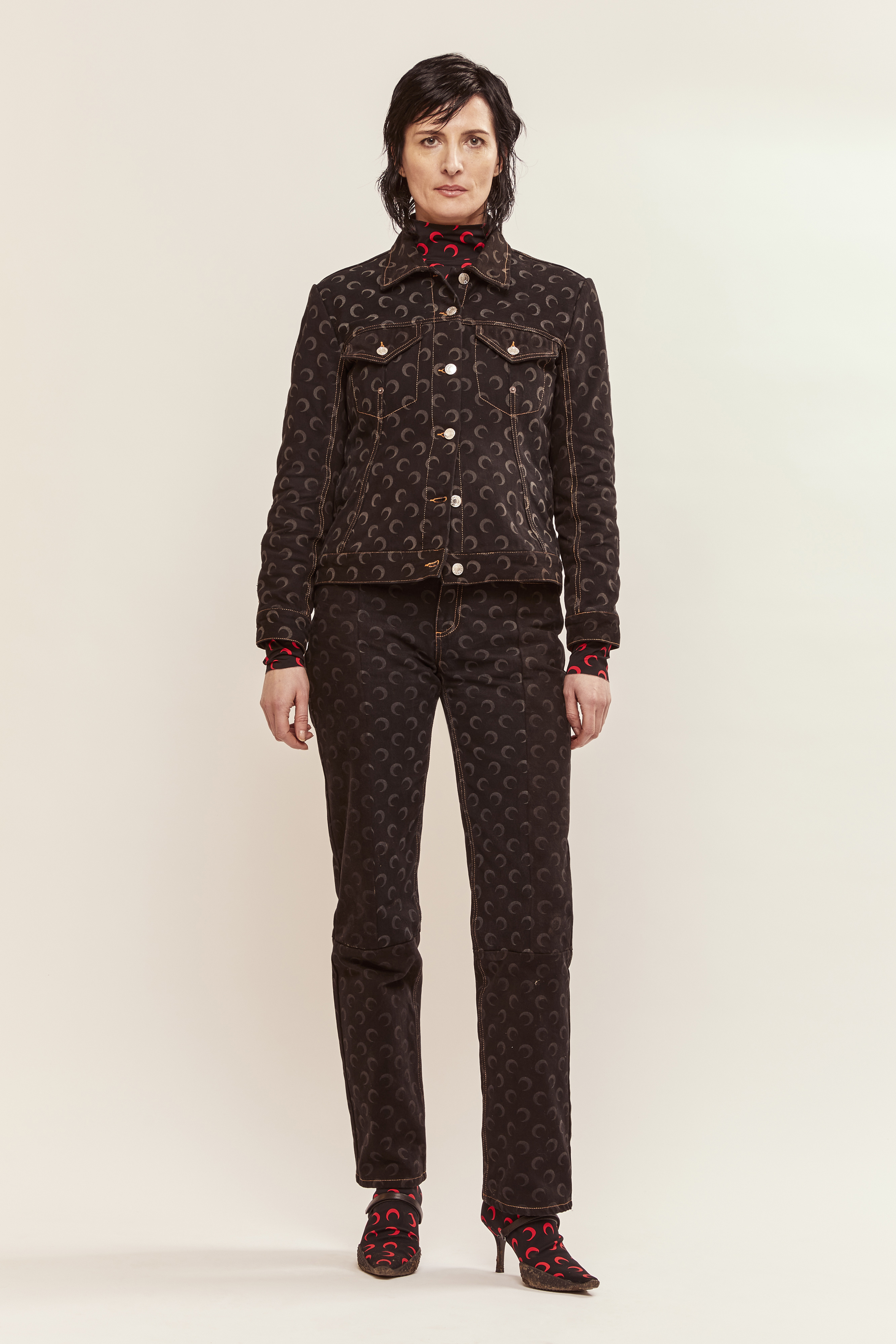 **In the show notes, it reads that "'Core' seizes a moment of systemic revolution within the fashion industry". If what we're currently witnessing really is a systemic overhaul, what do you think needs to come next in seeing it through?
**Action. Words are nice, but it really is about taking action. But there is cause for hope, I feel. During the emergency that we are in, a lot of doors that were firmly closed have now opened. We need to be imaginative when it comes to systemic transformation. When I think about the past three years, evolution has been so slow. But now, I feel that we need to use these strange times we're living through as an opportunity to achieve that transformation, to take steps towards lasting change. If we all work towards that now, then things will happen.