Forget Carrie, Samantha Jones is the unsung style hero of Sex and the City
With the resurrection of the well-flogged SATC franchise — sans Samantha Jones — we dive into the PR icon's best fashion moments.
|
15 January 2021, 10:00am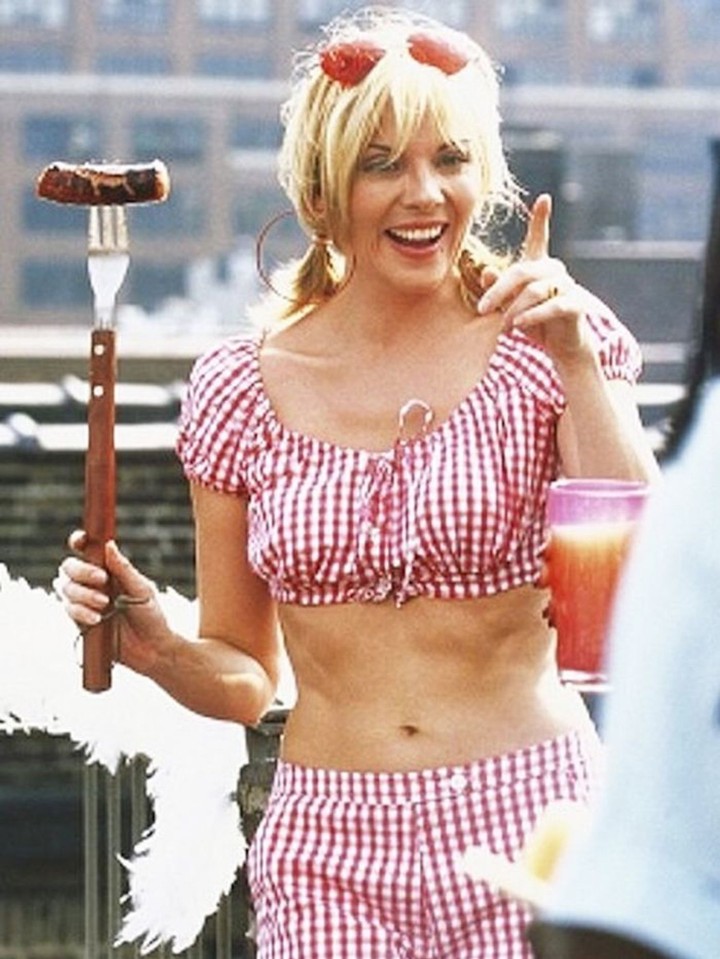 Still from Sex and the City.
New York City has taken many hits this year. Between the pandemic and protests, club closures and restaurant restrictions, some mused whether it could still be considered the cultural capital of the world. Then, another blow: Sex and the City. The TV show, put to bed almost two decades ago, besmirched by two critically-panned movies, would be resurrected as a 10-episode limited HBO series, only, without its one redeeming character: Samantha Jones.
This spring SATC: And Just Like That will go into production in a city stripped of many inhabitants and institutions, where casual sex now means a Covid-19 test, to follow the journeys of its three other characters. You know them well: the (let's face it) rarely pleasant Miranda, perpetually prudish Charlotte and ever-problematic Carrie. Kim Cattrall, who has openly expressed her distaste for series lead and executive producer, Sarah Jessica Parker, has avoided public comment. "I don't dislike her," Parker told a fan on Instagram. "I've never said that. Never would. Samantha isn't part of this story. But she will always be part of us. No matter where we are or what we do."
So what does "this story" look like without Samantha? Rumours are aswirl, but in the meantime, we can reminisce. The gingham two-piece. The cleavage-baring onesie. The many, many blue sequins. Costume designer Patricia Field certainly played to Kim's strengths — as her fashion often outshined even her brightest-burning co-stars. While we're precluding any post-show installments of the PR maven's looks, take our hand (or don't, definitely don't) as we take a left-turn at the Meatpacking district and down memory lane to celebrate Samantha Jones' inimitable style.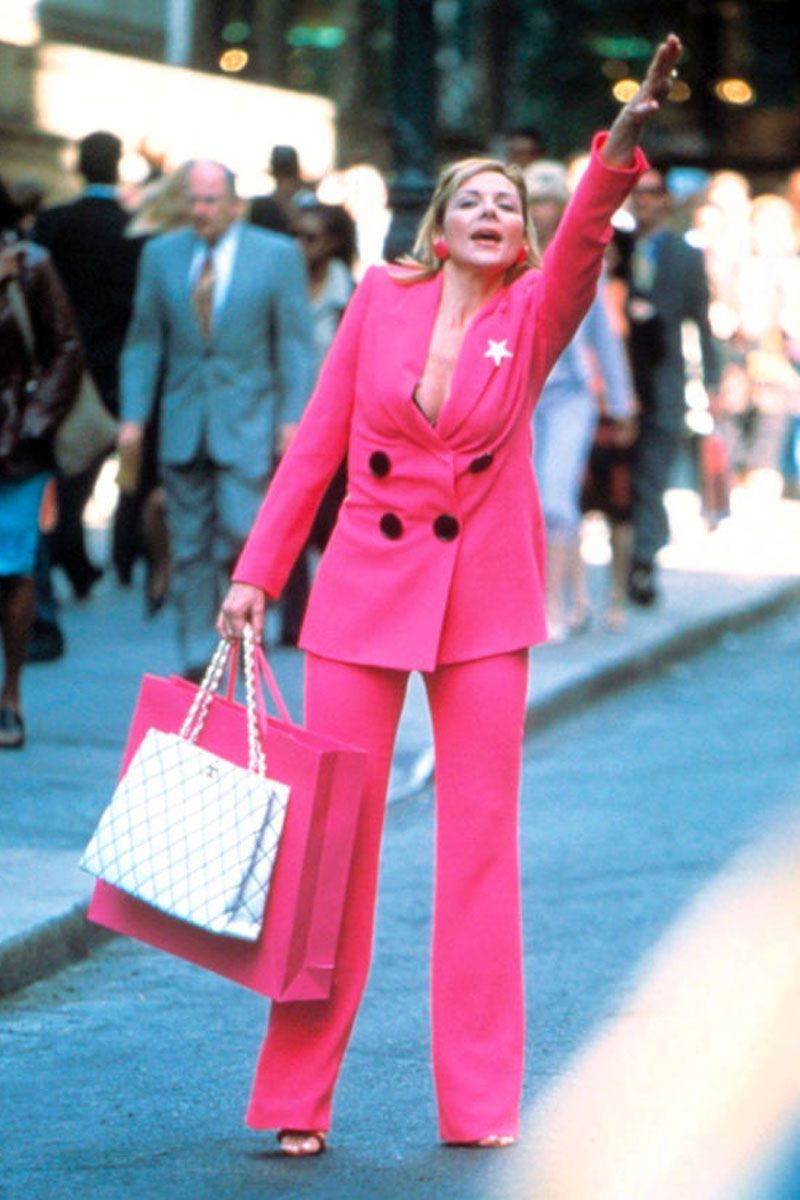 The power suit
Few female characters in television history have been as professionally successful and sexually autonomous as Samantha Jones, and her outfits often served as testament to that fact. This cerise double-breasted number (possibly Chanel) — worn shirtless with the flash of a lacy black bra — pioneered power suiting. Finished with a white quilted Chanel tote, matching accessories and a strappy black sandal, it's hyper femininity in full force: a woman worth every penny in her expense account.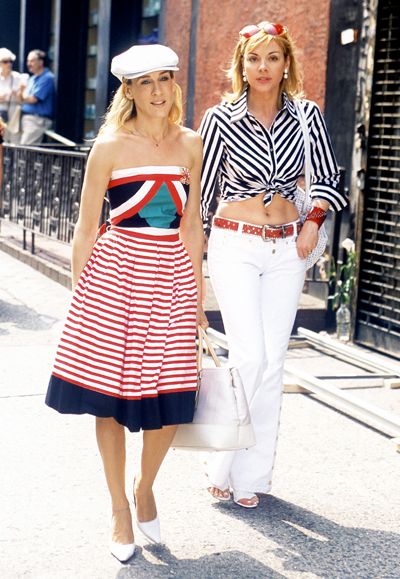 Belly-baring bonanza
There are very few episodes wherein we don't see Samantha in the throes of passion, which means her impressively-proportioned physique was often on full, nude display. When it came to Cattrall, showrunners clearly mandated as much skin as possible — and Field obliged. While a tied button down is standard New York summer attire, Samantha pairs hers with low-rise white jeans for an extra edge. In another styling feat, she matches her belt to her wrist cuff and sunglasses. Phew, mama.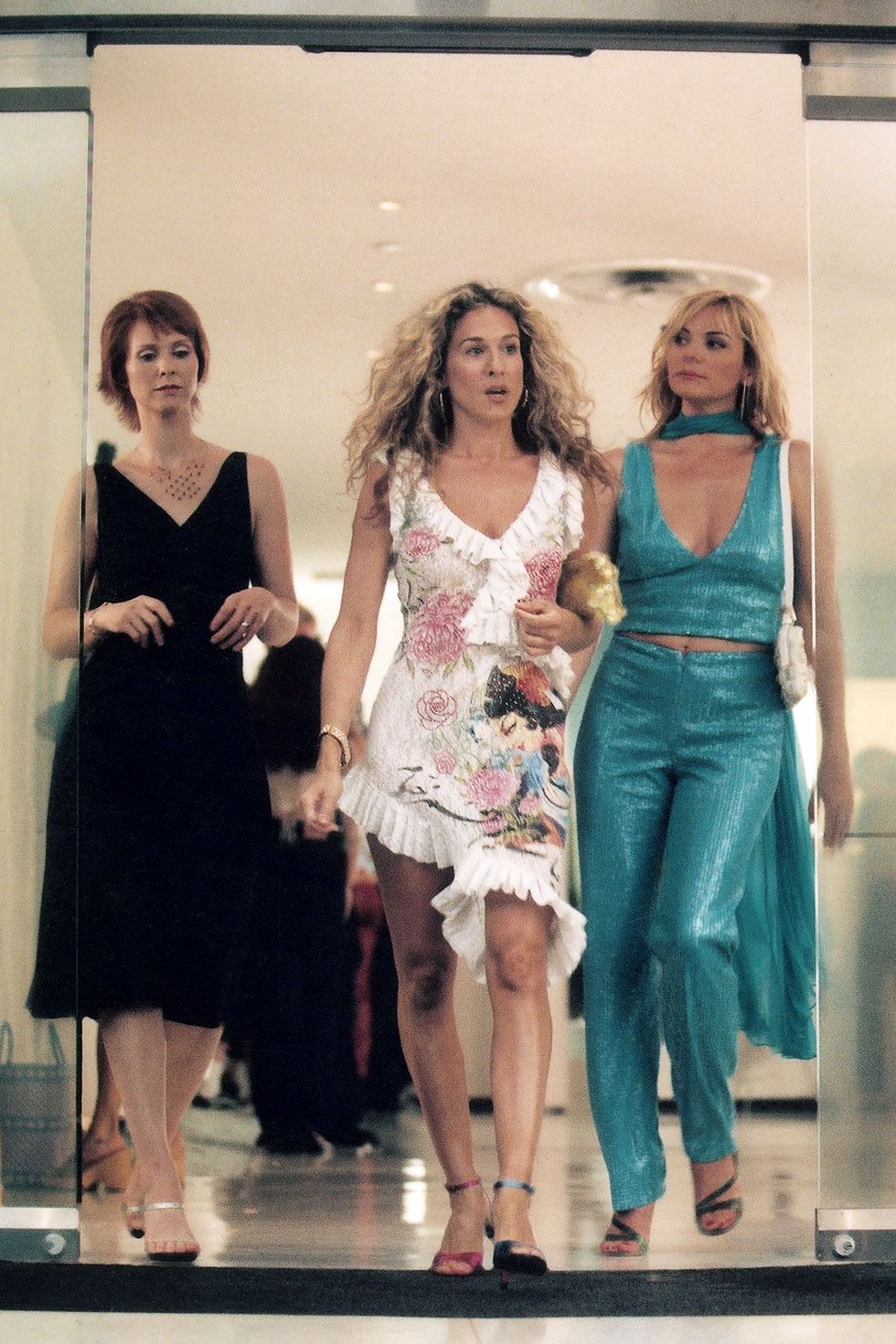 Attack of the cerulean sequins
This is by far one of Samantha's standout outfits, worn on the group's ill-fated trip to Los Angeles. Sequinned mid-rise pants, a deep v-neck tank (cropped to the perfect length) and a scarf, all in a vivid blue? Timeless. It would have been a true treat to see a matching blue sandal or purse, but we'll settle for what is hands-down one of the series' most iconic looks.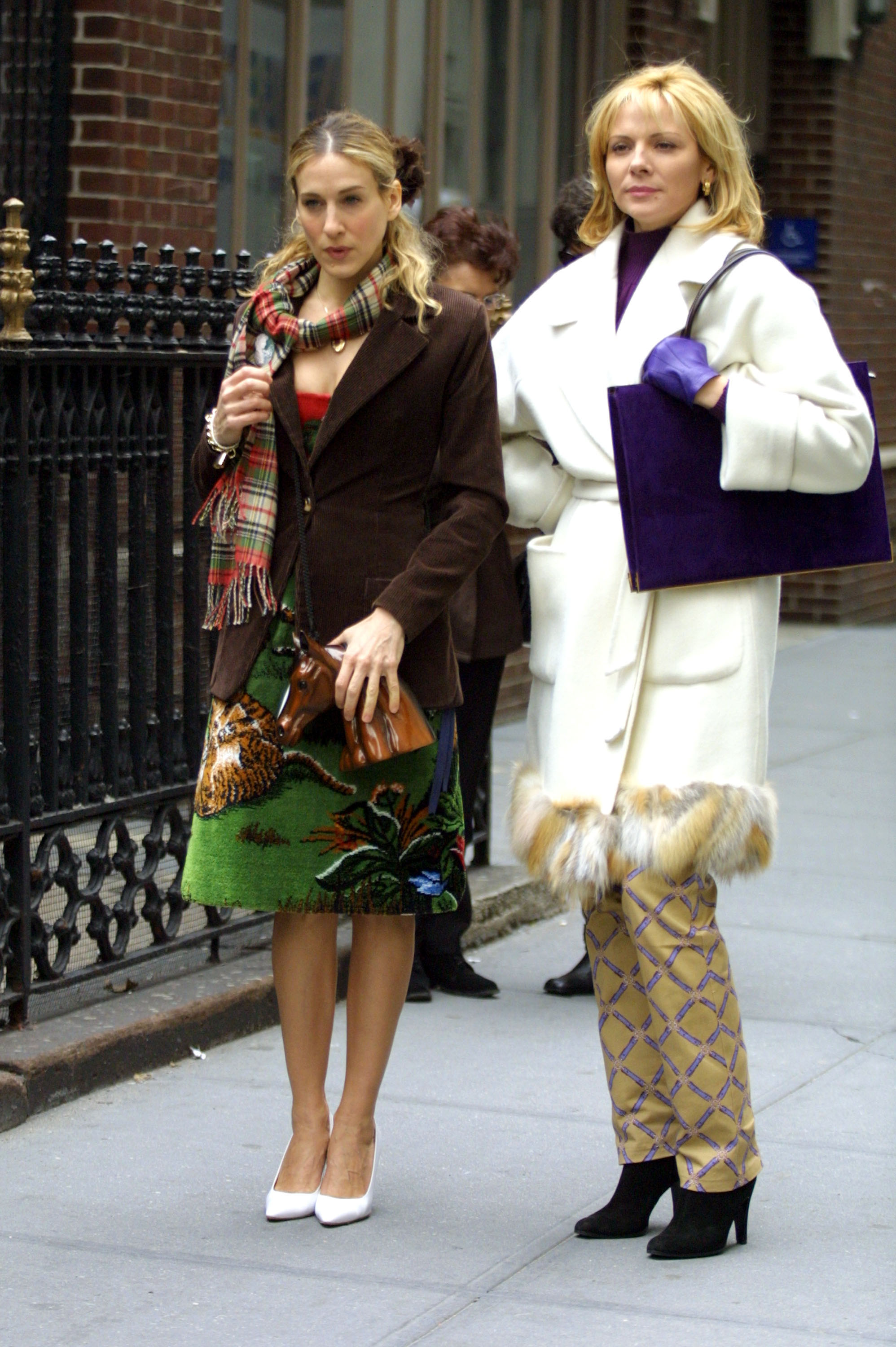 Elevated winter wear
If you ignore the travesty that is Carrie in this scene (the ceramic horse head doesn't help), you'll notice the carefully-considered details of Samantha's cold weather offering. The turtleneck, bag and gloves are all various shades of plum, which expertly complement the violet-hued patterned pants. Somehow, even the fur trim on her cream coat takes on a lilac shade. Complete with black stiletto booties and simple gold hoops, this is nothing less than chef's kiss.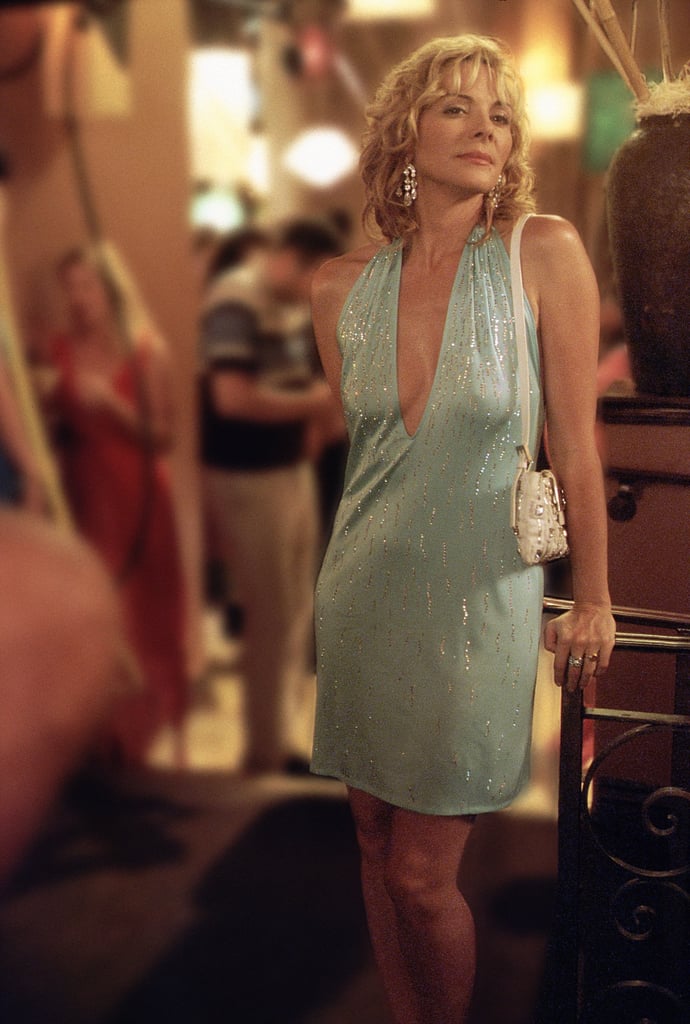 Diamonds are forever
You're likely familiar with this image, because it has been widely circulated between Pinterest and Instagram archive accounts — primarily because the dress is just, well, so good. This plunging halter mini dress is delicately decorated with winding rhinestones to give an almost 'wet' effect. Because Samantha redefines "more is more," she ensures she's the centre-of-attention with dripping crystal earrings and a sparkly mini purse as a final flourish. Icy.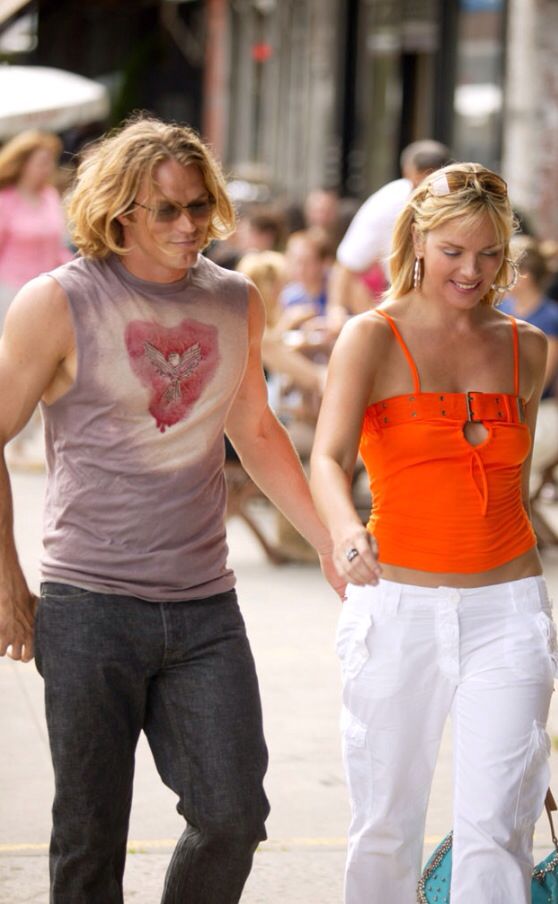 Resort ready
Patricia Field really took us to school with this look, which is a masterclass in colour-blocking. The peek-a-boo orange buckled tank top and turquoise bag are perfectly off-set by a low-rise white, yes, white, cargo pant — which is promptly ruined when Samantha falls into a sidewalk hatch to avoid holding Smith's hand. A purveyor long before Bella Hadid, Samantha Jones knows a good cargo pant… and isn't afraid to wear it.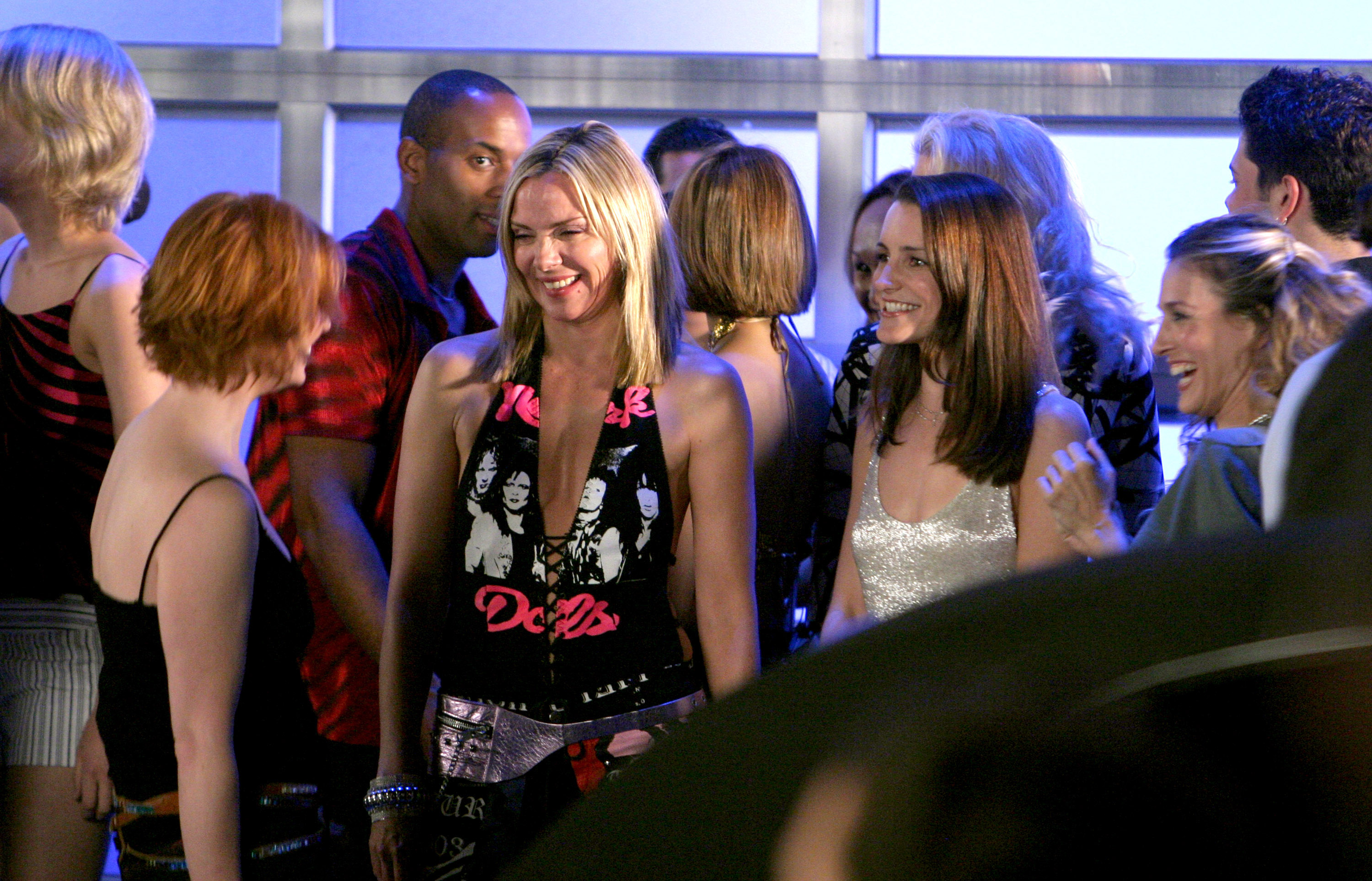 New York Doll
Just when you thought Samantha Jones might have become too sanitised, she pulls out a showstopper like this. Yes, it's a bootleg, halter-neck, lace-up jumpsuit with heart pockets cut from what looks like New York Dolls merch, why? You've got to hand it to Field for adding a silver chain-linked fanny pack, and still delivering just the right amount of camp. This outfit is perfect for watching your unacknowledged, much younger boyfriend go on TRL and denounce his relationship with you.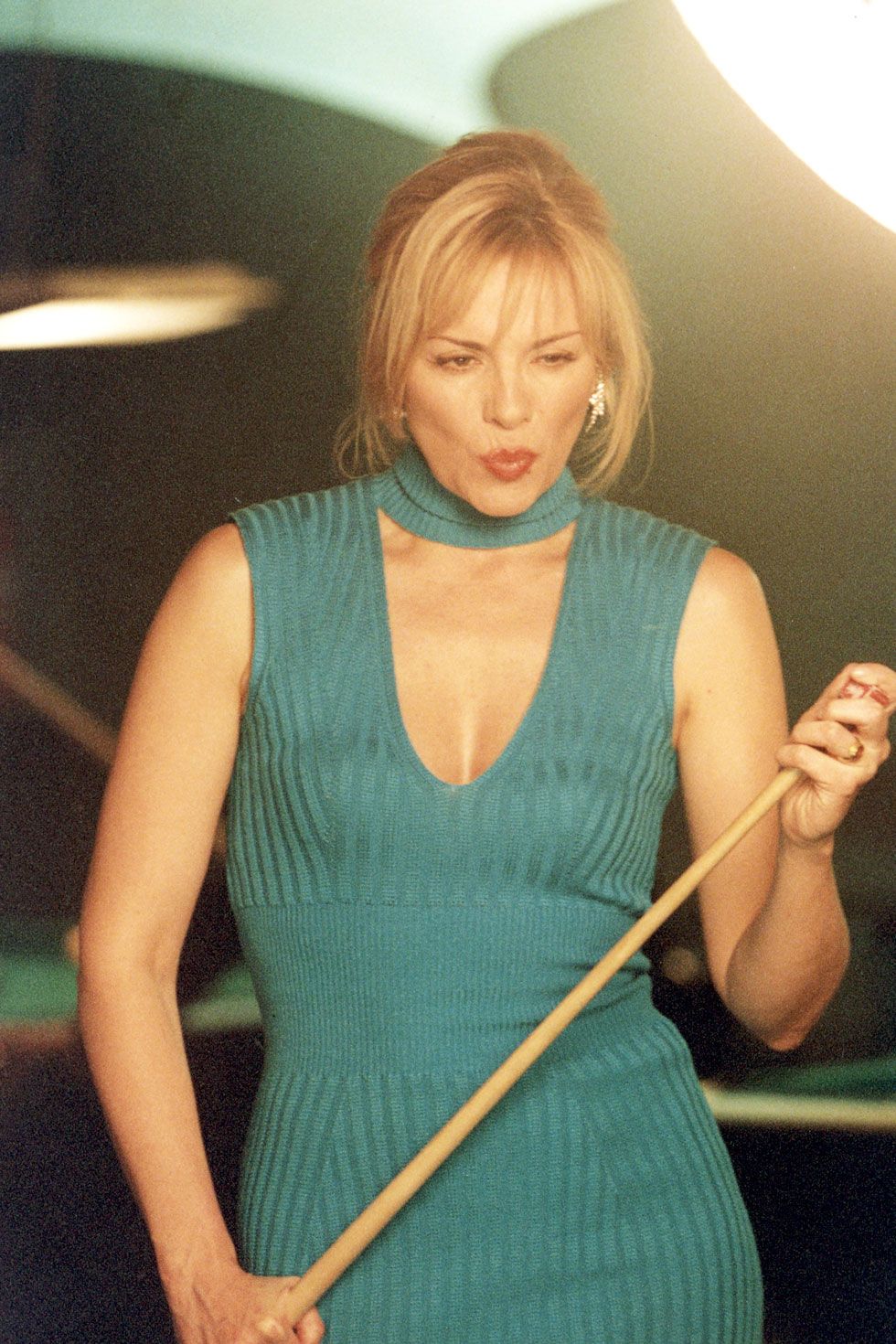 Boardroom to (dive) bar
Ah, the blue Jersey dress. You might remember this one from all of Samantha's insensitive ball talk (Steve had just been diagnosed with testicular cancer). A ribbed, body-con dress is the articulation of casual sexy, and this slinky cut-out number is no exception. Once again Sam dons her trademark aqua blue, with a turtleneck on top, and cleavage down south.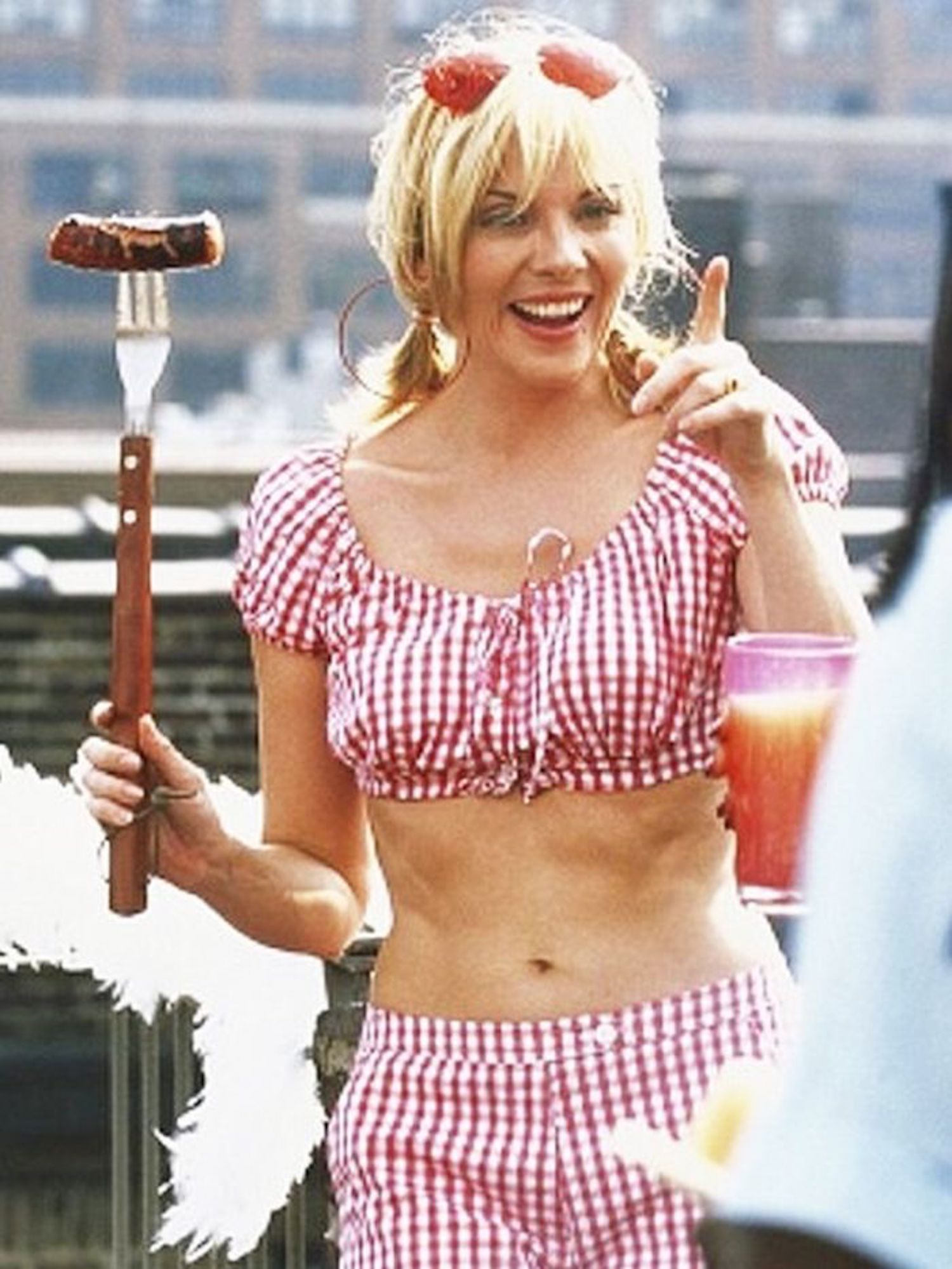 Provocative picnic chic
Who could forget? It's the outfit that's haunted many dreams — and Zara collections — for generations. This two-piece red gingham set, including a pair of mid-rise short shorts and uber-cropped milkmaid shirt, is the best Dorothy-all-grown-up-and-lost-in-Oz take in the history of television. Rounding out the look that changed lives are wide red hoops and red heart sunglasses (to say nothing of the sausage on the BBQ fork). Everything after this point is simply derivative. We owe Samantha Jones more than we will ever understand, and you soho girls could never.
Tagged: