André Leon Talley 1948 - 2022
Following his passing, we're resharing a conversation with the truly iconic fashion figurehead on his 'fairytale' and the change he wished for in fashion.
Courtesy of UGG
On Tuesday, André Leon Talley — the trailblazing fashion critic, longtime creative director and editor-at-large of Vogue, author of The Chiffon Trenches, and figurehead for Black talent in the creative industries — passed away in White Plains, New York. As the fashion world mourns the loss of one of its greats, we're resharing an interview with André, originally published in January 2021, in which his wit, strength, eccentricity, and sheer generosity of spirit shone through.
The word 'icon' is thrown about with such abandon these days that it often feels like it's lost all meaning. If there's anyone out there deserving of the term, though, it's esteemed fashion journalist and author of The Chiffon Trenches: A Memoir, André Leon Talley. Even if you're only fleetingly familiar with him and his work, you can understand why Southern Californian lifestyle brand UGG would want to tap him to star in their SS21 Icons in Icons campaign.
Of course, the reasons for UGG seeking out André go beyond his publicised love for the shearling shoes — over the past decade he's regularly been seen sporting a pair at fashion week front rows. UGG's FEEL series — of which this is the latest episode — is all about allowing fashion icons to tell inspiring stories about their lives, their work and what fuels their creativity. The fact that André Leon Talley's story is an inspirational one is impossible to contest. An eminent change-maker in the fashion industry, and a precursory figure for so many of the talents taking up leading roles within it today, André started out as an intern under Diana Vreeland in 1974. Over the close to five decades that followed, he has risen to the highest ranks of fashion publishing, most notably serving as the creative director of Vogue for seven years. His accomplishments speak for themselves, but more than just a talented editor, he was one of the first figureheads for Black visibility in high-ranking positions in fashion, and at a time when diversity was thought a trivial conversation.
In The Chiffon Trenches, André's memoirs published last year, he relays his experiences of carving a path through an environment as hostile as it was glamorous with unflinching frankness, sensitivity and conviction. These qualities reveal themselves again, here, in André's UGG FEEL campaign: sat on the porch of his home in White Plains, New York, he tells the story of his journey from his upbringing in the American South to the industry's heights. André peppers his recounting with the sort charming eccentricity you'd only expect of a man known for lacquering his Louis Vuitton trunks with yacht varnish.
When we reach André, he's right where you see him in these pictures — albeit inside; New York winters don't make for ideal porch-sitting weather. Below, with a blend of warmth, courtesy and incisive wit that's all too rare to come by in fashion, André Leon Talley tells us all about his love for rabbits, why Bridgerton is a leap forward for diverse representation and how he first fell in love with UGG.
You've described the discovery of UGG as "a revelation". When did you first make that discovery?
I don't remember the exact date. I would surmise it might have been a decade ago. I was aware of UGG for women, but when they introduced them for men I went right in and got myself a pair! My first experience with UGG was the ubiquitous slide — it's like a mule, and I always wear them at home. I've also had the UGG moccasin, which I wore for a very long time. And I have the ubiquitous UGG boot. Once I decided that I really loved them, I depended on them. I decided to wear [them] despite the stigma, as at one point, wearing UGG, especially for a man, was not exactly as popular as it is today. So I consider myself a pioneer in that respect. It's [my] equivalent to what the Converse sneaker is to Vice President Kamala Harris.
For the Icons in Icons campaign, you chose to shoot at your home, rather than opt for a big studio production. Still, there's a sense of the eccentric spirit you'd expect of a large fashion shoot. Could you tell us more about the creative direction that took with film in particular? The rabbits and the requests for a baby elephant certainly stand out.
Well, I love rabbits! Wild rabbits populate my property — they live here, they are part of the organic situation. I really love elephants, too, but then we couldn't come up with an elephant. So they arrived and we decided to have the rabbits. They said 'That sounds great', but when they arrived with the rabbits, they were not exactly what I thought they would be. They were hybrid rabbits, something I was not aware of until I actually saw them in real life. I expected the brown bobtail rabbits I see here, but they came with some hybrid rabbits that looked like Pekingese lap dogs! I didn't relate to them, so they photographed them around an UGG boot at the end of my property, near a shed.
So what story were you trying to tell through the campaign?
It was the story of who I am, and of my home. My home is my sanctuary, I just couldn't have them come in during Covid. Had it not been for that, it could have happened inside. But I love the fact that it was shot on my porch: I entertain there; I have conversations there; in the summer it's where I spend long afternoons. And as a child, I grew up on the porch. So that's what I tried to reflect: porch life. Conversations and porch life.
It sounds like a profound insight into you beyond your public persona.
Yes, it's different from what you would normally see of me.
Speaking a little bit more about that side of you, though. you've previously described your story and journey through the industry as "a fairytale". What do you mean by that?
Well, every story is a fairytale, and I consider my life one. But in every fairytale, there are some nightmares. My book was called The Chiffon Trenches; it's about living life in these trenches. There are sometimes victories, but the journey is never always just a grand, dazzling, glamorous moment. I had struggles with my weight. I've had struggles with racial inequality that I have resolved in my own way.
That's a topic that has really come into prominence past year. Your story has always stood out for its singularity in the contexts that you worked and came up in. Today, we're seeing an increasing number of Black people from backgrounds that were typically excluded from society's highest ranks break through. How does it make you feel to see this happening now?
It's fantastic. The fact that we have our first female Vice President, that she is Black, a woman of colour, and the daughter of an immigrant, is a very historical thing. That's the highest level of achievement, and I'm very feeling very proud that I've lived to see that. And I'm very proud to witness so many moments of inclusion that were not allowed before for people of colour. We're seeing it in every walk of life: the entertainment industry, movies, music, writing, literature. I feel that the country is evolving.
Unfortunately, it's sadly due to the tragedy of George Floyd's death and Ahmaud Arbery's death and Breonna Taylor's death that the country universally awoke to America's systemic racism, and people marched into the streets. But it was a rainbow coalition of people walking the streets protesting these injustices. I feel that we've been empowered by the tragedies that we've experienced — terrible tragedies and terrible losses of life — and we move forward.
You also said that "you'd never thought about being a man of colour throughout your career until recently." When was that turning point?
It came a long time ago now. I can't remember the year or date, but it was a long time ago. But I did not have the format to talk about it until I wrote my book. But I was aware of it, not in the 70s, but definitely by the 90s. I felt that I was very much conscious of having a voice and my responsibility to use it. I tried to contribute in any way that I could, but I contributed quietly — I did not do it with a foghorn.
Did that shift in self-awareness change how you thought of your role within the fashion space?
It made me a much stronger human being. When I was young in the 70s, I was at the top of my game in Paris. That's not what I thought about. But as I became older, it was very much at the forefront of my brain, and part of my everyday consciousness.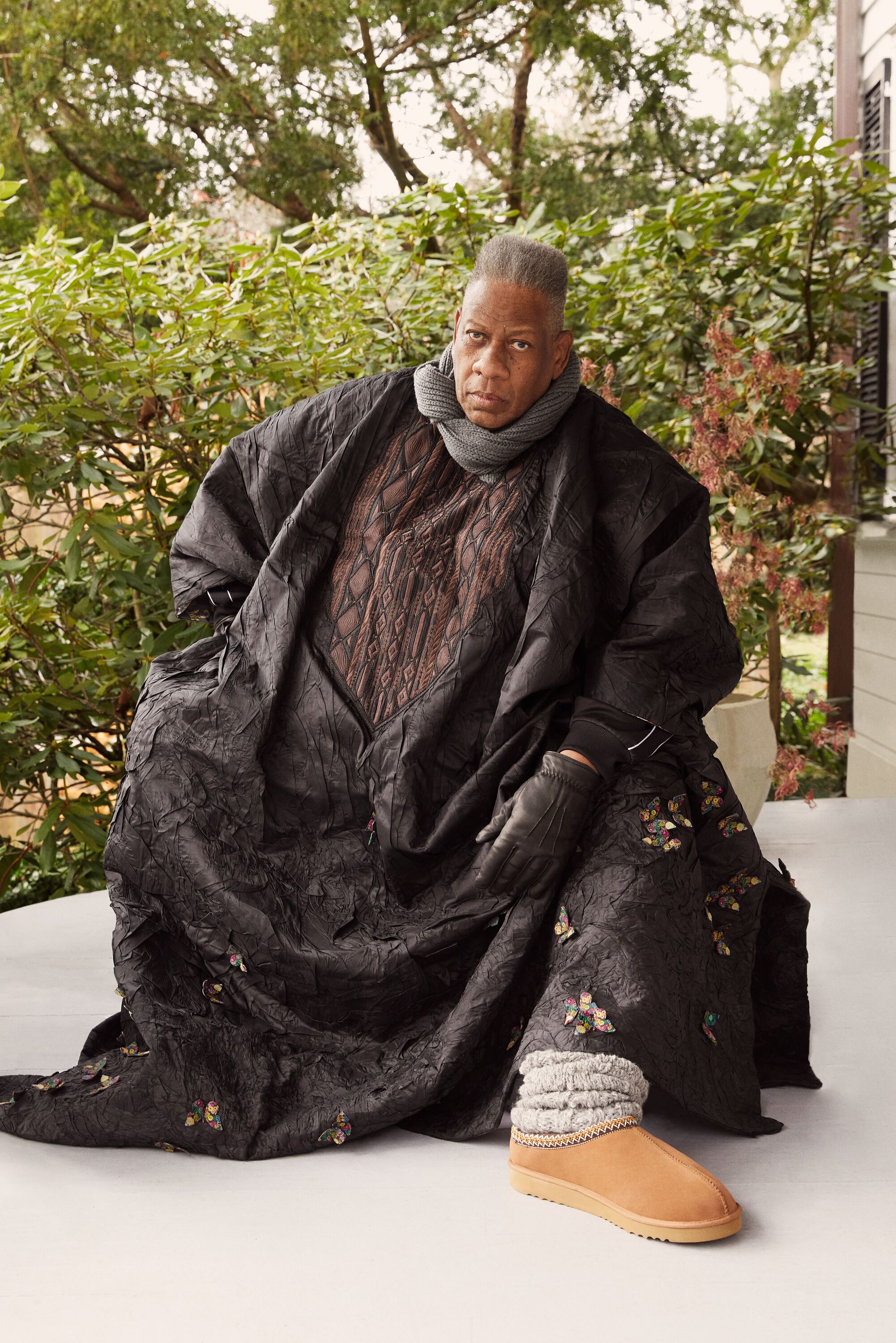 From working in the 70s in Paris to the present day, yours is one of the most accomplished and lengthy stints in a famously fickle industry, and you've witnessed and weathered many significant changes. 'Change' is a current buzzword in fashion, but what does it actually look like to you?
It looks like covers that reflect colour, and policies that reflect colour and diversity in the industry. At companies like Gucci and Prada, for example, they now have boards of trustees that help advise them on the correct moves to make. Change looks like charity and giving back through education. That change has come about, and I'm happy to see it. There's also a sense of diversity without having to push for it, it just sort of organically happens.
Coming back to the campaign, what does it mean to you to be a part of it?I'm very proud of it. I'm very proud to be a 72-year-old African American male from the South representing UGG. This was an organic thing: it was not forced upon me, or forced upon them. It was a wonderful experience, and I think that journey's reflected in the content. This is just a part of the way the world is today. If you watch television, you see so many moments of diversity. There are more and more people of colour in the commercial ads on television for anything: cars, insurance, Dove soap, Dove shower gel, Aveeno lotion. That did not happen before. That's not to say that we are excluding whiteness, but we are a part of the rainbow diversity of the world, which I think is so important. But colour does not matter if you are talented.
I'll give you an example: the recent Netflix series Bridgerton, produced by Shonda Rhimes, is a defining moment. Shonda Rhimes has redefined the romantic English costume drama by casting people of colour, and that's what makes it rich and beautiful. Black people are not only servants. They are the aristocrats, too. They are considered part of the population in every walk of life that you see in the series; they are footmen, but they're also there inside the carriage. They're on their way to the gala!
Tagged: