Ludovic de Saint Sernin's ode to TikTok's e-boys continues for AW21
The Parisian designer's poppy young protagonists are back, and this time they're heading out into the night. 
Photography Amit Israeli
For proof that Ludovic de Saint Sernin is a designer of the times, you just need to look back at his previous collection, e-boy. A poppy, racy ode to the Extremely Online dress codes of TikTok's bright young things, it was designed with a keen awareness of the fact that, right now, the only way for most of us to engage with fashion, and culture at large, is through our screens. A home-run hit with his loyal online following, Ludovic chose to renew e-boy for a second innings for AW21.
"I love pop culture, and I think that's the reason why I wanted to call it e-boy Season 2," Ludovic says. "When you have a hit show, you know the fans are going to start a petition for a second season, even if it was only meant to be for one, so that's how I came up with the name." Audience popularity aside, Ludovic's decision to further develop the story he started telling last autumn also owes much to an urge to rebel against the inflexibility of the fashion system, and its persistent demands for designers to reinvent the wheel every six months. "The pandemic has really taught me that it's really important to dig deeper into what we do and give it a more meaningful insight," the designer reflects, "I enjoyed working on the first season so much that I just wanted to keep doing it." The result? The brooding character development seen here for AW21, of course.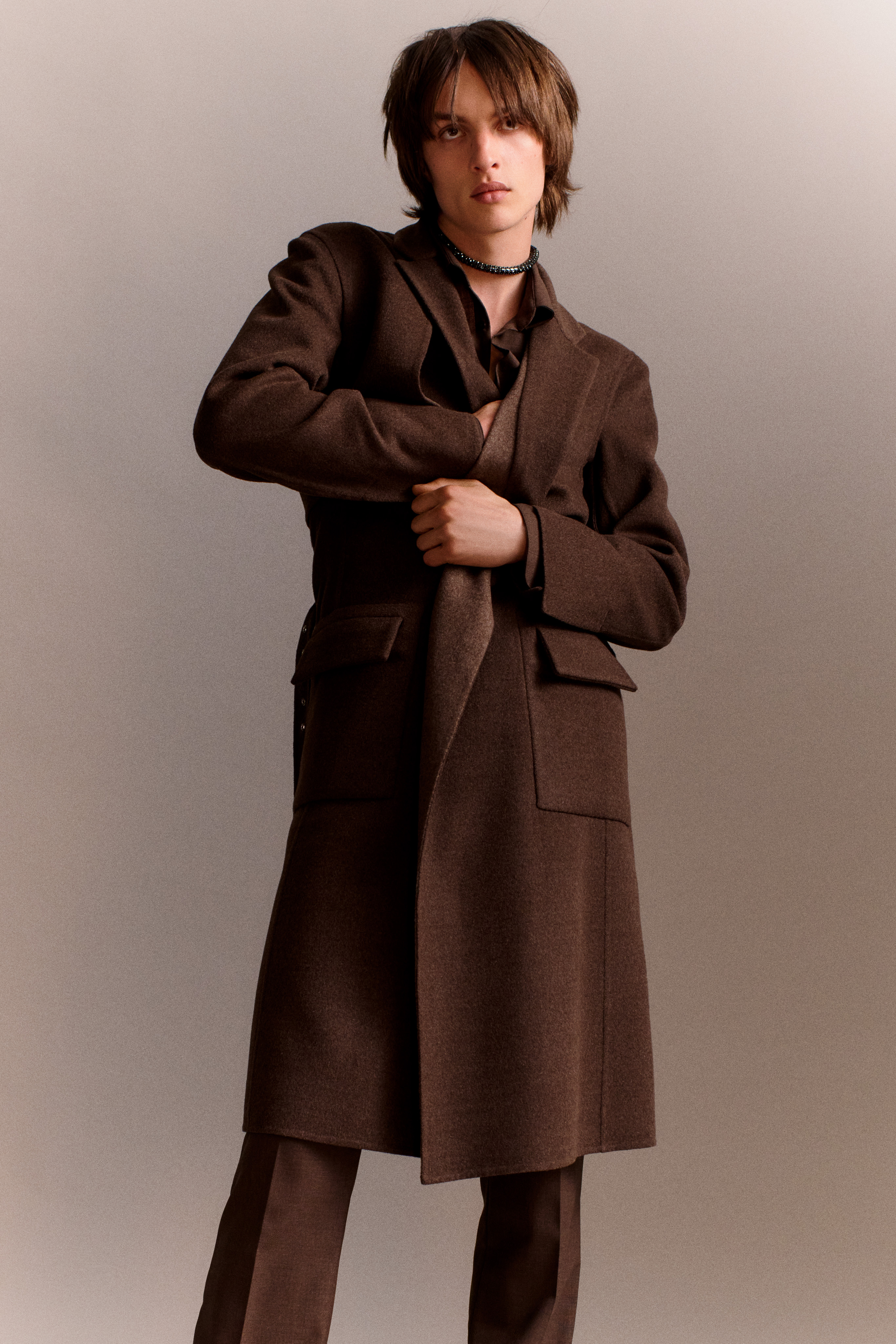 This season's e-boy takes on a sexier timbre, stepping out from his daytime life of perky bedroom dance routines and into the night. Double-faced Loro Piana wool coats are worn over sleeveless pinstripe separates, roomy shirts and single-sleeved tops in chocolate brown and warm beige hues; a uniform Ludovic imagines this season's protagonists — you, basically — wearing to a "secret dinner party at some friends house," he writes in this season's self-penned show notes.
Haute-ravewear comes in the evolved Swarovski pieces — checkerboard strapped crop-tops, gingham dresses, bralettes and briefs, and a sky-blue and orange tartan miniskirt among them. They suggest a surprising nonchalance for pieces that are composed of tens of thousands of minute crystals, though don't let that fool you — effortless as they may appear, each took up to two months of handwork from the designer and his Paris-based team.
The effort has paid off though, bringing a new dimension of visual texture to the label. Another particularly notable development is the vertical diamond pattern that files down the front panels of a black wool coat and a silk shirt, arranged from the designer's trademark silver eyelets. It yields a strong graphic impact that translates well on a screen, but there's something about the glinting metal hardware set in nightshade fabric that begs to be seen in live-action; lit up by a pulsing strobe or by candlelight, rather than the backlight of an iPhone screen. "It's been cute being online and entertaining yourself digitally and stuff, but we're human and we need human interaction at some point," Ludovic says. "This collection is really the perfect wardrobe for a night out." If everyone's pulling looks like these, then what a night out it'll be.