Photography Olivia Rose. Styling Karlie Shelley. Jacket Christopher Nemeth. Boilersuit Supreme. Necklace and badges Judy Blame archive.
talking love, loss, and new album 'broken politics' with neneh cherry
From stapling the first issues of i-D together as a late teen, to creating the generation-defining record 'Buffalo Stance,' we owe a lot to the inimitable Neneh Cherry.
|
07 November 2018, 8:00am
Photography Olivia Rose. Styling Karlie Shelley. Jacket Christopher Nemeth. Boilersuit Supreme. Necklace and badges Judy Blame archive.
This article originally appeared in i-D's The Superstar Issue, no. 354, Winter 2018.
Neneh Cherry is flitting between the photo shoot taking place in her back garden and getting ready to leave for Sierra Leone. Stylists, assistants, and children congregate in the kitchen of her small house on a quiet estate in Notting Hill, some on laptops, others rolling cigarettes in licorice papers and handing them to Neneh through the French doors. A stack of CDs of her soon to be released new album, Broken Politics, sits on the kitchen table.
The trip to Sierra Leone will be Neneh's first since 1984. She had visited once before then, with her siblings in 1979, after leaving her native Sweden. This time she'll travel with her whole family -- including her husband, producer Cameron McVey, and daughters Naima, Tyson, and Mabel -- to bury her father, the musician Ahmadu Jah, who passed away a few days ago.
"We're going to bury him in the village where he was born," she says, sat on the sofa in her living room after the shoot. "It's been a trip, because I went when I was 15 and, I don't want to say that it changed my life, but it put my life on the path. When I see pictures of myself after moving to London, I think 'you were such a little kid' -- but then, after I'd been to Africa, I felt very complete. I went when I was 15 and now I'm going when I'm 54 and I'm at another big threshold in my life. It feels… significant."
Neneh, the "little kid," arrived in London at a pivotal moment in the city's cultural history. As punk "fell out" the other side of the 70s, she became part of a scene that sparked a seismic shift in fashion, music, art, and youth culture forever. Soon, she was performing in post-punk band Rip Rig + Panic, living with the late Ari Up of The Slits in a squat in Battersea and working at Better Badges, the badge manufacturer that published influential zines like Kill Your Pet Puppy, Toxic Grafity, and, of course, i-D. "I met Joly, the founder of Better Badges, because they also used to sell things at The Slits gigs," she recalls. "I don't really know how I landed the job, but I used to pin badges and staple issues of i-D together with these two punks, Sarah and Scrubber. That's when i-D was just pictures of people on the street, with little captions."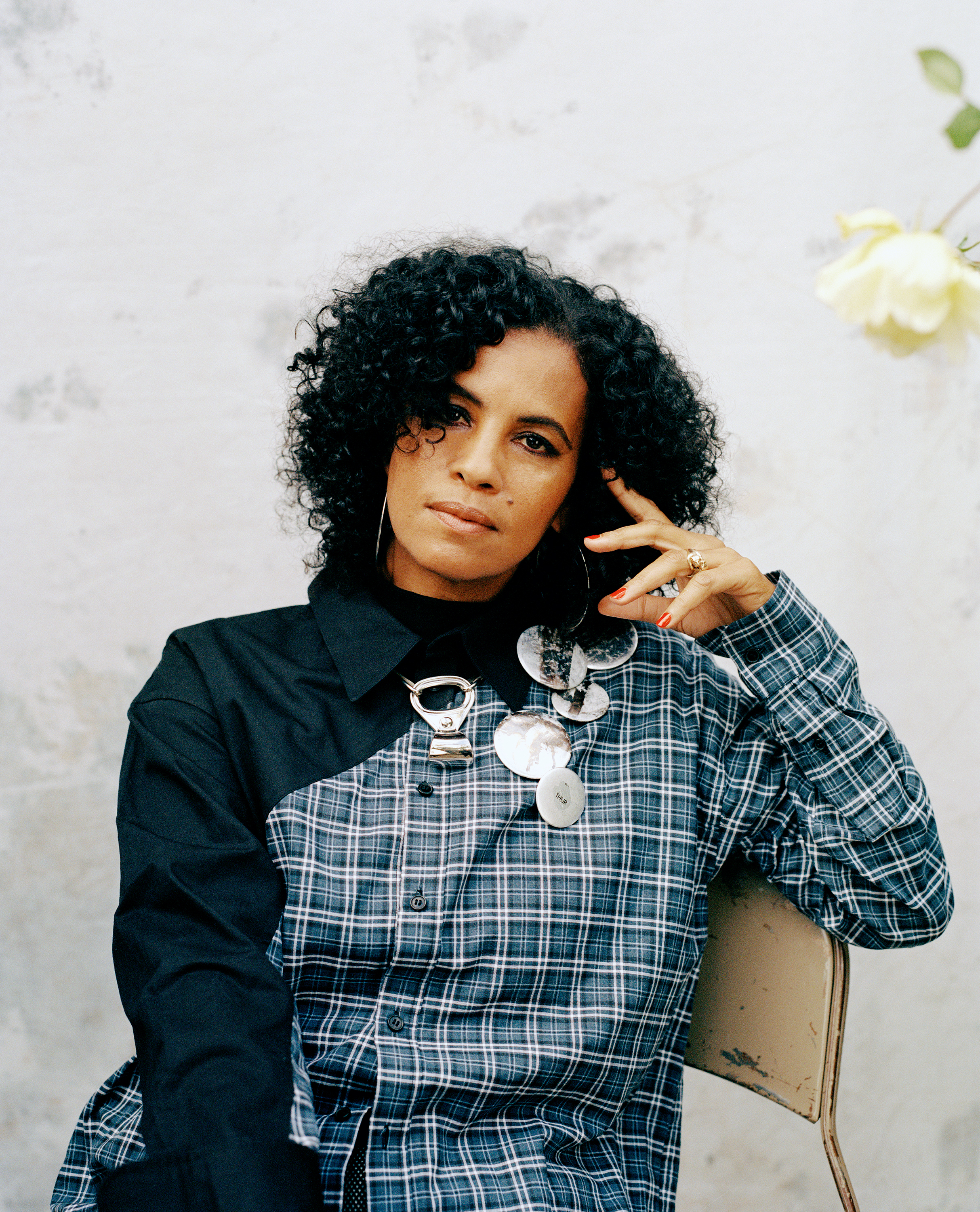 Neneh left Sweden in the 70s, partly down to her alienation from a country that wasn't as progressive or open-minded as it is now (although there is an increasingly large fascist underbelly these days – "a twisted rebellion", as she calls it). "Culturally, when I was growing up, Sweden was a very different place, and I felt like I stood out like a sore thumb." Even though she gushes about her maternal home (she moved back to Stockholm for 10 years, until five years ago) her relationship with Sweden has always been a little complicated. "It is very closed, but it's cultural, and I'm sure it's to do with the dark, the cold. There's a lot of deep aspects to Scandinavia... the schizophrenic light. The things that are intrinsic to Swedish culture that I carry with me and I've learned to nurture, because I felt that the cultural representation wasn't of me."
Neneh's mother, Swedish artist Moki Karlsson, and stepfather, the American jazz musician Don Cherry moved between Sweden and America throughout her childhood, and Neneh began to lose focus in school as she entered her teens. "I had started hanging out with these local Swedish roughnecks... but they were kind of racist, which was pretty fucked up. Somehow I managed to keep my defenses high enough that no one gave me any shit."
After a racially motivated verbal attack, Neneh left for New York with her mother. "I thought I don't belong in Sweden right now. I need to get out." Stopping off in London on the way, Neneh stepped back onto the plane to New York two days later with "crazy color" in her hair and a burning desire to return. After four months in Sierra Leone with her biological dad later that year ("I arrived in a Clash T-shirt and left with 44 braids in my hair and wearing a two-piece suit!") that's what she did.
"I did a deal with my mother and said 'I don't think I can deal with being at school for a while' so she said 'that's fine, if you really apply yourself and read a lot of books -- 100 Years of Solitude, Crime and Punishment -- get through those and you can chill for a while.' I never went back."
"I used to staple issues of i-D together with these two punks, Sarah and Scrubber. That's when i-D was just pictures of people on the street with little captions."
Instead, Neneh's education became the cultural explosion that was Buffalo. The radical, diverse collective of artists, photographers, designers, musicians, models and students who set the tempo for the creative wave that i-D, The Face, Arena, and other street style magazines rode. Helmed by Ray Petri, a pioneer of fashion casting and styling, the imagery they made subverted the iconography of masculinity in ways never seen before in fashion or on the pages of a magazine. In 1988, their mainstream moment came courtesy of Neneh's performance of " Buffalo Stance on Top of the Pops, eight months pregnant, styled by Judy Blame. But then, in 1989, Ray Petri died of AIDS. "When Ray got sick, with his genius, he said, 'I'm not going to make it, but Judy's the one'. He was right."
Neneh can barely put into words her love for Judy Blame, nor the impact he has had on her life for the last 30 years. Eight months after his death and the reality of life without him is only just beginning to sink in. "I don't know if I really have dealt with it yet," she says. "It's only just started to hit me... I saw a picture of him yesterday and my heart shattered into little pieces. Judy, Cameron and I all thought we were gonna grow old together, somewhere in Spain or something."
Judy and Neneh first met in a club -- "I can't remember exactly where or when, I just remember the feeling when I met him, we noticed each other" -- followed by a meeting at Buffalo HQ. "Buffalo had a building on New Cavendish Street, where Ray and Mark Lebon lived. I think Judy was sleeping in a closet in Mark's bit of the house. I remember going in, and Judy and Chris Nemeth were in there, talking. He made me feel quite shy. You know when you feel awkward, but it feels really natural. They were making these jackets out of postal sacks -- the ones you see lying on the platforms at the tube station -- I really wanted one, so I said to them if I see one will they make something out of it for me?"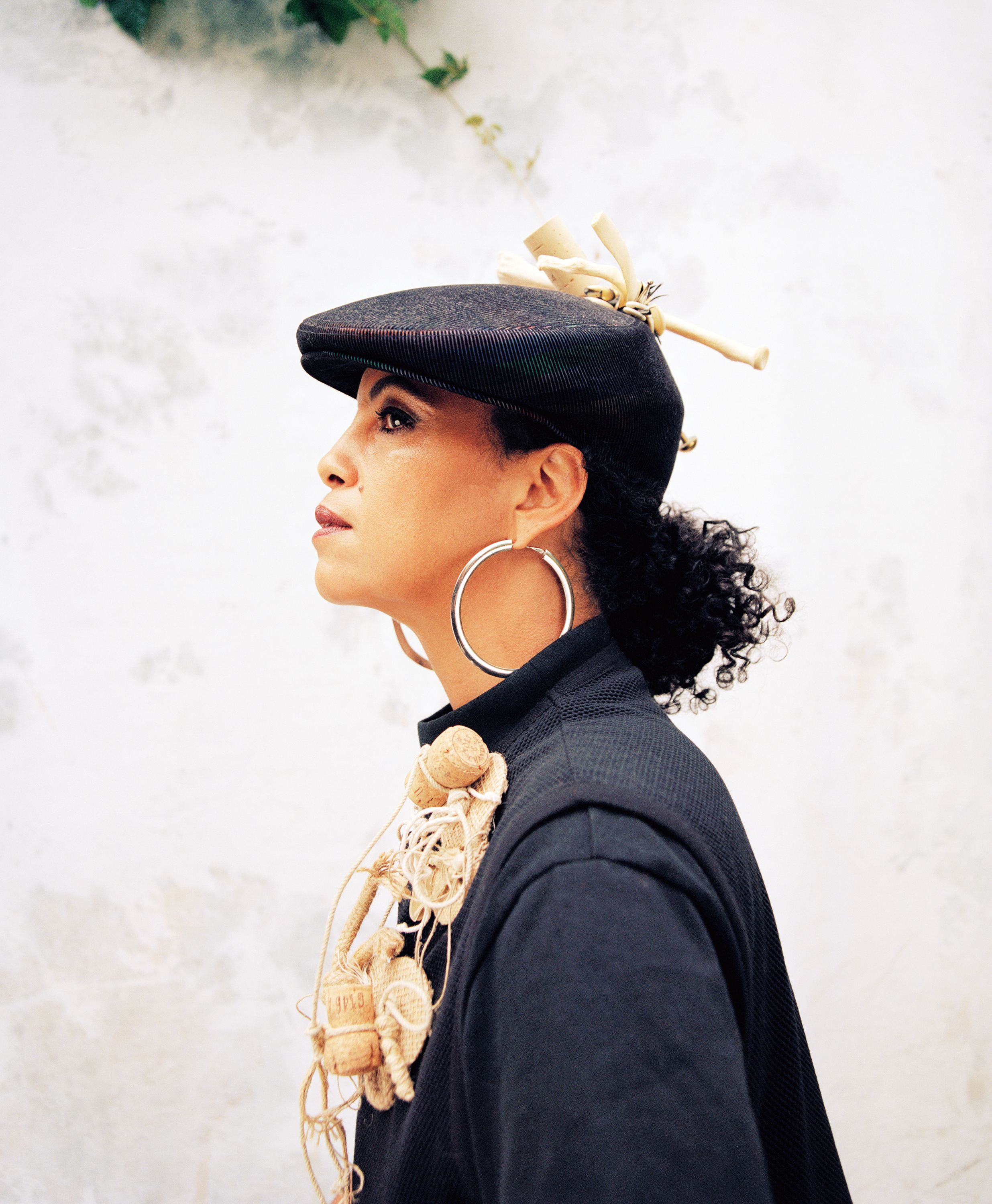 When Judy became unwell at the beginning of this year, Neneh and their extended family and friends gathered at his house. "It was February 14, Valentine's Day, when it started, the end. But he hung around. Myself, Karlie Shelley, Cameron, my daughters came in and out, Mark Mattock, Dave Baby, Philip Treacy, Flora, we were at his house, sleeping on mattresses. Philip made a bed behind the couch with a few little towels." Six days later, he died.
"I think that time together has given us all strength, because we can share it and make sense of it, and just be close. Judy led the way, so when he eventually left, I felt like I was lost. Lost in a neighborhood that I recognized, walking around in a familiar area but not knowing where to stop, or where I'm going. He gave detail to life… But, you know, he's definitely still around, I can hear him, his comments, what he might say, knowing that the time we spent together, the work, the family time, friendship, the intimacy, it's all in there somewhere. It has instilled itself somewhere in my DNA."
Before Judy's passing, the pair were planning to work together on Neneh's latest project, her fifth studio album, Broken Politics. Written by Neneh and her husband Cameron, and produced by Four Tet, the record, sonically, ties together the threads of her previous work. But, Neneh hastens to add, it only looks forward. "I would talk to Judy a lot about the danger of nostalgia, and just wanting to copy something," she says. "There are parts to this record that I can tie into Homebrew, through to Raw Like Sushi. I guess it's about allowing yourself to be like, 'Yo, I've come to a place where I've actually done quite a lot.' I mean yeah, I could've done more, I will do more, but also honoring these things a little bit. The last album [Blank Project] was a stream of consciousness, an outpouring of stuff I had been harboring internally. Almost like an exorcism. My mother had died, and I had been in a dark place. On this new record I needed to reflect, and open up my consciousness. Because the other record was a lot more looking in."
"There are parts to this record that I can tie into Homebrew, through to Raw Like Sushi. I guess it's about allowing yourself to be like, 'Yo, I've come to a place where I've actually done quite a lot'."
Since releasing Blank Project in 2014, Mabel, Neneh's youngest daughter, has risen up through the music industry – scoring two MOBO newcomer nominations and opening for Harry Styles on tour. It's an interesting parallel to see their careers at such different stages, under such different pressures. But the ins and outs of Mabel's career is not something Neneh gets involved in. "I'm not going to be a stage mum, hanging out," she says. "No one's going to tell Mabel what to do. When I was her age doing what she's doing, my parents weren't gonna tell me what to do. But I knew they were there, and Mabel and I have that. I love the fact we can exchange ideas, share music, it's deep."
A lot else has changed since Neneh's last album, socially and politically. As the name suggests, Broken Politics addresses this. The album's lead single, " Kong," meditates on the refugee crisis and Britain's history of colonialism. "But love is big and every land / Every nation seeks its friends in France and Italy / And all across the seven seas / And Goddam guns and guts and history / And bitter love still put a put a hole in me." Then " Shot Gun Shack" takes on guns, violence, and war. "It's institutional resolutions / Lack of direction intersections / Pick up a gun you know you gonna use it / Know that gun it's gonna get loaded."
Neneh's music has always been a reaction to the political landscape, and today -- from Brexit to Trump -- there is too much going on to avoid it. "I was listening to Theresa May on Radio 4 this morning because I couldn't sleep," she concludes. "Some Tory guy was going on about the amazing changes they're going to make and I was just thinking... 'That's a lie. That's a lie. That's a lie. That's fucking bullshit.' A lot of major things are going on around us. The very natural place to digest this is with music and writing songs. They're a reflection of life."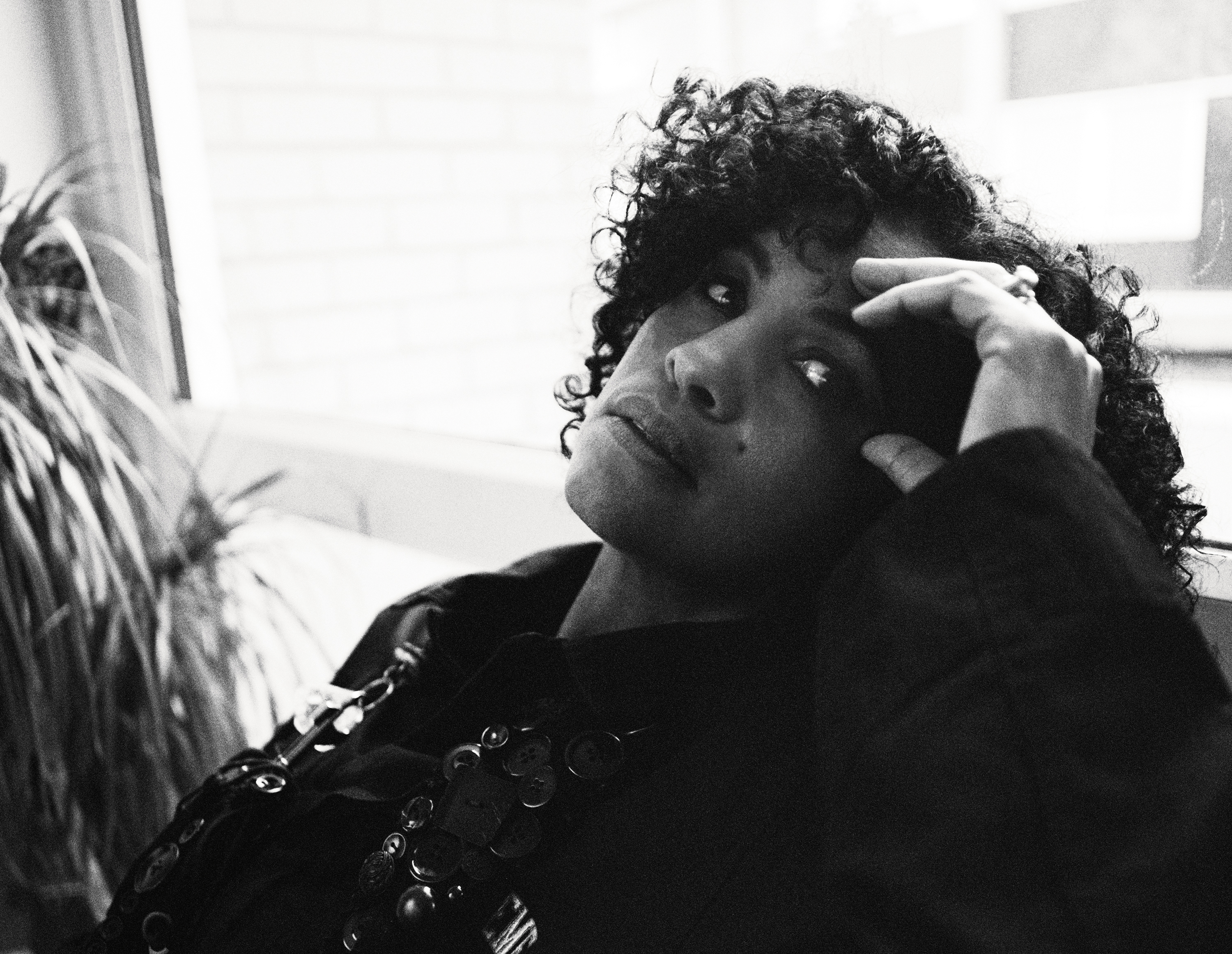 Credits
---
Photography Olivia Rose
Styling Karlie Shelley
Hair Johnnie Sapong at The Wall Group using Leonor Greyl at Salon Benjamin. Make-up Sharon Dowsett at CLM using Apotheosis - Le Mat de CHANEL and CHANEL e Lift. Photography assistance Zelie Lockhart. Make-up assistance Amanda Jah
This article originally appeared on i-D UK.