where were all the female directors at the vmas?
Here are 2017's underrated music videos -- directed by women -- that should've made the cut.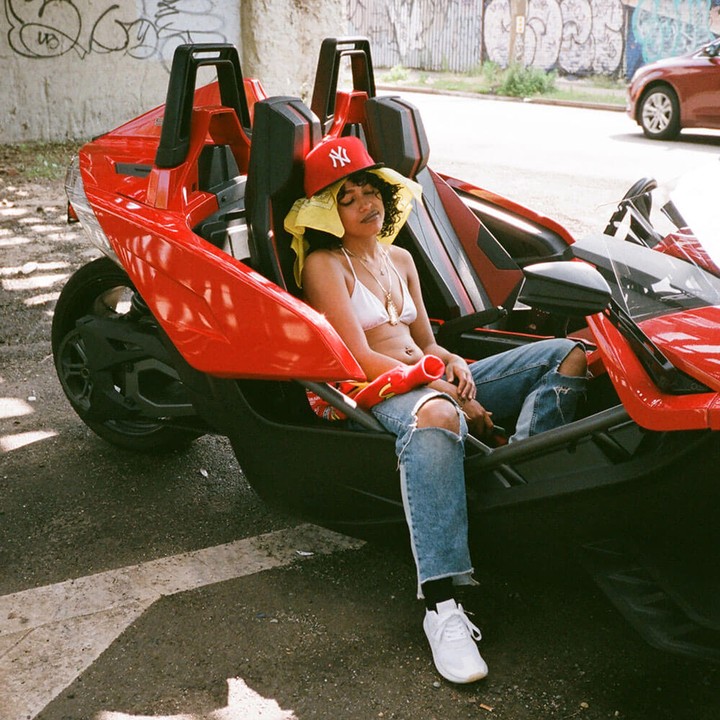 This article was originally published by i-D UK.
Although last year saw Beyoncé's powerful music video for "Formation," helmed by director Melina Matsoukas, take home the iconic Best Video of the Year Moonman (now known as the Moon Person), this year's VMA's did virtually nothing to continue the legacy of celebrating women filmmakers. Indeed, neither Video of the Year, Best Direction, nor Best Cinematography had a single woman nominee. Although the VMAs are known to promote spectacle and guest bookings over visual prowess or creative ingenuity, acknowledging the body of work by women music video directors shouldn't be overlooked. In an industry that undervalues the talent of female creatives, highlighting their output is key in order to keep on walking down the long and winding road to equality.
The following filmmakers have honed their own sensibilities and style to create clips of creative excellence. Whether up-and-coming directors or accomplished auteurs, the following eight women have all contributed to the visual oeuvre of music and for that we salute you, even if big awards ceremonies refuse to acknowledge your presence!
Princess Nokia, "G.O.A.T." Directed by Milah Libin and Destiny Frasqueri.
Princess Nokia has gone through multiple style phases throughout her career; from cyber punk to 70s funk and Afro-Latinx flower child. And while her aesthetic maneuvering mirrors the adaptation of any young artist, one thing that has stayed is her dedication to working with fellow female creatives. "G.O.A.T." marks Nokia's first release on Rough Trade Records and the fifth music video directed by friend and frequent collaborator, Milah Libin. In addition to the co-directing credit, the duo also co-run Smart Girls Club together, a safe space designed to foster female creativity. Knowing these two push each other (and other smart girls) to create and center art leaves us excited for their next visual project.
Oyinda, "Serpentine". Directed by Pussykrew.
The most eccentric visual on our list comes from the hands of the Polish interdisciplinary art duo, Pussykrew. The first minute and a half showcases a stunning black-and-white portrait of Los Angeles, with Nigerian-British artist Oyinda as the focal point, before completely transforming into an alternative sci-fi universe. Oyinda said she wanted to create an alternate reality that mimics hypnosis and there's no other group that's as dedicated to exploring imaginary virtual space and other universes than Pussykrew.
Jamila Woods, "Holy". Directed by Sam Bailey.
In "Holy", the Chicago based Jamila Woods lounges in a bathtub surrounded by her suspended long, black braids and reflecting on the might and magic of black womanhood. Her tranquil vocals reverberating in the chorus, "woke up this morning with my mind set on loving me," highlights her mission to "represent self-care as a sacred act, to make ordinary daily rituals in bedrooms and bathtubs feel magical." Directed by frequent collaborator, Sam Bailey, the eyes behind Emmy nominated webseries, Brown Girls, which is now being developed by HBO. Bailey doesn't end the Chicago love there, she also directed a stunning music video, "Ride", for season nine RuPaul Drag Race runner up and homegrown talent, Shea Couleé, for her recent three-song EP, Couleé-D.
Grimes, "Venus Fly ft. Janelle Monae". Directed by Grimes.
Grimes somehow continues to outdo herself with every new project. Venus Fly is a bizarre self-directed seven-minute-long cyber-goth mini movie complete with an elaborate credit sequence showcasing a glimpse inside the mind of the brazenly independent musician. Finally linking up with fellow psychedelically-inclined singer, Janelle Monae for a CGI fantasy visual to accompany their 2015 Art Angels collaboration, Venus Fly proves that good things really do happen to those who wait.
GoldLink, "Meditation ft. Jazmine Sullivan Kaytranada". Directed by Christine Yuan.
This is the summer of Goldlink. Fresh off his smash hit, Crew, the Baltimore based rapper teams up with Jazmine Sullivan and Kaytranada for what looks like another hit single. Channeling the aesthetic of an AFROPUNK after-party, director Christine Yuan explores how a night of blissful opportunities can ends in chaos. The LA-based filmmaker dabbles in music videos, documentaries and short films, and recently signed to London production company, Knucklehead.
The Kills, "Whirling Eye". Directed by Sophie Muller.
Winner of two Grammys and several VMAs, Sophie Muller is the woman behind iconic visuals such as No Doubt's "Don't Speak", Shakira's "Hips Don't Lie", and Beyoncé's "Ring the Alarm". In this, Muller explores new terrain by weaponizing underutilized technology, which can either be a hit or miss depending on who is behind the vision. In the 360 VR experience, we follow Alison Mosshart and Jamie Hince through a retro roller rink, an empty parking lot, and an LA street corner for the latest single off last year's Ash & Ice album.
M.I.A., "Powa". Directed by M.I.A.
Opening shots of the British-Sri Lankan rapper laying down in a floral pantsuit in a marigold flowerbed truck make way for a cinematically arresting video featuring a synchronized chain of choreographed men in front of a Trumpian wall. Never one to shy away from getting political or starting beef with pop stars, "P.O.W.A" references Rihanna, Mariah Carey, Ariana Grande, the Spice Girls, and Madonna with some political jabs at Osama Bin Laden and Barack Obama. Throughout all the controversies, M.I.A. remains one of the most influential alternative artists in the world, and this self-directed piece solidifies her running for the Video Vanguard Award in the near future.
Wild Beasts, "Alpha Female". Directed by Sasha Rainbow.
The latest video from Wild Beasts centers on the all-girl skateboarding movement in India. Following the first professional female skater, Atitia Verges and the skateboarding collectives, Holystoked Skate Crew and Girl Skate India, as they navigate the streets and skate parks of Bangalore. After being embraced by the community, creative director and filmmaker, Sasha Rainbow, was left with such a great impact that she has decided to travel back to the city and film a documentary about the girls who inspired the nucleus of the video. Like the chorus suggests "Alpha female, I'll be right behind you," we'll be following the careers of these bright women filmmakers.