social media sensation benny harlem's guide to giving great hair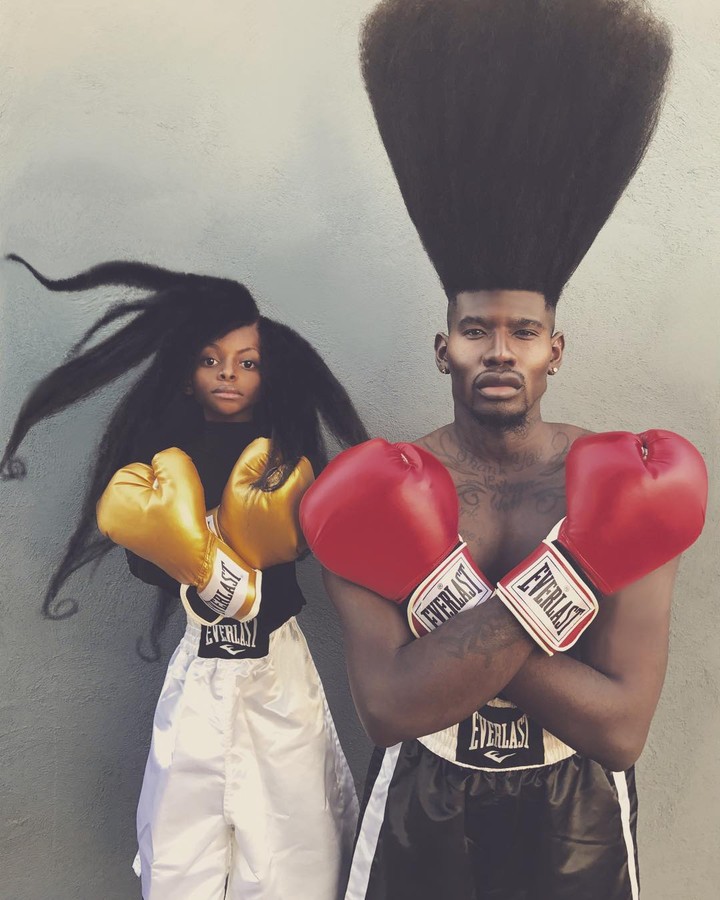 This article was originally published by i-D UK.
If artist, singer, model, and social media sensation Benny Harlem was a superhero much like Samson, his superhero strength would lie in his superhuman hair. Worn up, down, to the side, braided, or left hanging loose, it's both a work of art and an expression of individual power. It's also a bold political statement, defying typical conventions of race and gender in its natural, grown out form.
Born in New England, but moved to New York at a young age, Benny got his first taste of fame at the tender age of 11, after entering a talent contest at Harlem's legendary Apollo Theatre. "The crowd embraced me with an enormous empowering kind of love that I had never experienced before," he reflects, "I won four consecutive weeks singing Otis Redding's rendition of "Respect" and "Try a Little Tenderness." Harlem has been the heart of my life's experience ever since." Fast-forward to today and Benny's fame extends a little bit further than Harlem, spreading all over the internet, thanks to a couple of pictures he posted two years ago of his seven-year-old daughter Jaxyn, and her now iconic matching hair.
Yep, as well as giving good hair, Benny also gives great 'Gram. Take for instance, the snap that went viral of little Jaxyn bending down on a beach to give her father a kiss, with their matching afros blowing in the wind, or a portrait of the pair of them sitting on a bench, bound together by their braids. There's also artistic shots of father and daughter dressed as king and queen, as boxers, tribal royalty, and even Black Panther type figures.
"We are divinely connected," says Benny, of his relationship with Jaxyn. "A lot of things are too personal to speak on but my connection with my baby exceeds anything I've ever known. That's a huge reason why I give her the world."
"Daddy is magical!" exclaims Jaxyn. "He really is the most wonderful man in the world. His soul inspires me to be my best. Daddy is my confidant and my teacher. Not just in my school studies, but my teacher in life." Indeed, when Jaxyn was getting bullied at school about her hair, her father instilled in her the confidence to rise above it. House rule No. 1: never allow anyone to touch your hair. "My parents believe in me and because of that I believe in myself so much!" she adds. "I've been taught to remember where I've been and to honor those who have come before me, while I hold my parents hands as I walk into my destiny."
With over 380K followers to date, Benny and Jaxyn are celebrated far and wide for their close bond and powerful messages about self-love and individual strength. Currently working on their very own book about hair care and a documentary series with HBO, we asked the dreamy duo to come up with an extra special guide to giving great hair. #BigHairDontCare
Benny Harlem's top five tips to maintain prosperous well-moisturized hair
"There are so many secret hair regimens I'd like to share on the subject of growing and maintaining healthy lively hair, but one of the key elements of growth and maintaining is MOISTURE! Here are 5 tips that may help you get your hair goals."
1. Know your porosity...
Understanding your hair type is the most important thing in maintaining healthy hair and creating a healthy hair regime. Low porosity means it is hard for your hair to absorb moisture. Normal porosity allows just the right amount of moisture to come in AND go out. High porosity hair is more susceptible to moisture, in other words it lets in too much moisture. There are two easy tests to identify your porosity.

a) The Float Test Place a strand of your hair in a cup or bowl of water and observe the strand. If your hair floats, you have low porosity hair. If your hair sinks, you have high porosity hair.
b) The Slip n Slide Test Run your fingers up a strand of your hair starting from the end and making your way to the root. If your hair feels smooth, then you have low porosity hair. If you feel little bumps while you slide, you have high porosity hair.
2. Consume a ton of water and use a ton of water…
Practice using water mixed with your preferred oils to moisturize your hair. This is especially important when washing and preparing for any protective style. You can also add in essential oils to this mixture for a fresh and rejuvenating scent.
3. Add deep conditioning...
Do this at least twice a week to your hair.
4. Use a sealant daily...
This will help seal in moisture to your locks if it is wash day or not. It also adds additional moisture and nutrients to hair when used daily.
5. Refrain from using heat on your locks...
There are many ways to style your natural hair with no heat including cool methods to straighten and curl hair.