the 'sweat beret' is now a thing, btw
The gym-friendly hat from BEAMS Japan and Champion has split opinion on social media.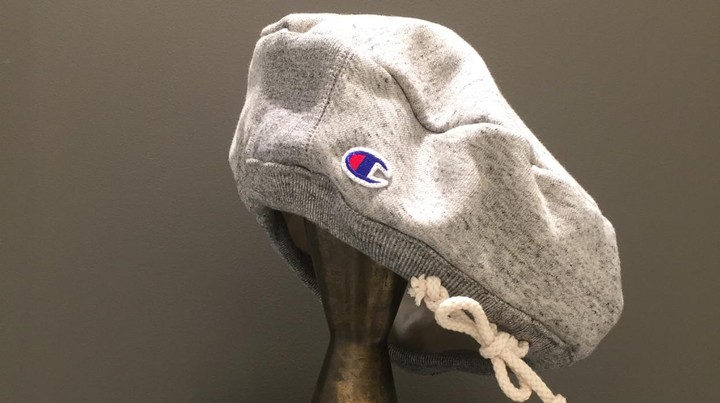 This article originally appeared on i-D UK.
We all know the one thing stopping us from renewing our gym memberships is the lack of seriously chic outfits we can wear there. When we're fumbling about on the treadmill, or gawking at a set of weights wondering what we're supposed to do with them, it's hard not to think that this arduous experience would be made better by a head-turning statement piece. Thankfully, we've been blessed with some new, exercise-friendly headwear that might actually be worth adding to our wardrobes.
Enter, the sweat beret: a mutant meeting of the sophisticated French hat, and everybody's lazy Sunday pair of lounge pants. Coming to us courtesy of two brands famed for their crazy popular fashion crossovers, BEAMS Japan and Champion, this could be the real sportswear hybrid moment we've all been waiting for.
Coming in two colourways, heather gray and royal blue, the BEAMS Boy x Champion renditions are made out of jersey material and have an elasticated hem with a drawstring motif. Essentially, this is the closest you'll get to wearing a pair of sweatpants on your head without being called out for looking like a dick (hopefully).
On social media, shockingly, the opinion seems split.
Some think they might be ready-made for the fuck boys of the world:
While others think the coolest of Hollywood legends might be placing their orders for both colors already:
Then there's a few who've warmed to them, and think they're actually pretty iconic:
To be honest, if you look past the slightly off-putting name -- the 'sweat beret' -- you might find yourself falling for this quite kitsch version of everybody's favourite throwback accessory. After all, the beret's classic silhouette practically begs to be tampered with, so serious props to BEAMS and Champion for really messing with tradition and revamping it for a street-ready audience.
It goes without saying that when these eventually drop they'll wind up on the heads of every fashion-forward kid in town and become a coveted, sell-out piece. Right now though, it looks like they're a Japanese exclusive. The rest of us will have to hang tight a little longer to see if we truly have what it takes to pull off the sweat beret look. Fingers crossed!